"The White Rabbit put on his spectacles. 'Where shall I begin, please your Majesty?' he asked. 'Begin at the beginning,' the King said gravely, 'and go on till you come to the end: then stop.'"
-- "Alice in Wonderland" - Lewis Carroll
The plan seemed simple; with the start of the IBR being in Pittsburgh, I'd need to ride ~2,500 miles just to get to the start line, so in the interest of having myself and the bike be as ready as possible, I would ride 2,000 miles to Milwaukee a week or so ahead of time and visit my friend Gabby, do an oil change in her garage and get fresh tires (which I'd ordered and had sent ahead to a shop in Milwaukee) put on, and then migrate the remaining 500 miles in to Pittsburgh. Of course, I added far more time to the schedule than I actually needed, and ended up leaving for Milwaukee on 3 June despite not even having a hotel reservation until the 14th.
Still, leaving early would give me time to adjust to being on the road, and find out if anything else on my 94,000-mile GSA would rattle loose and fall off. Since the distance door-to-door between my place and Gabby's is almost exactly 2,000 miles, the ride over would be a good way to stretch out a bit by riding a Saddle Sore 2k (2,000 miles in 48 hours.) To make it a bit more rally-ish, I decided to combine it with making each 1,000 mile day a Tour of Honor ride by visiting at least 4 Tour of Honor locations each day. If you're not familiar with the Tour of Honor, here's how they describe it on their website:
Tour of Honor is a great reason to hit the open road, honor our nation's heroes, and contribute to a few good charities. The event is a season-long, self-directed ride to memorials and monuments around the continental U.S., Alaska and Hawaii. Beginning April 1, visit as many sites as you want, with any route you choose.
The rules are pretty simple:
Visit as many selected state memorials as you want, with whatever route you choose, between April 1 0001 hours ET and October 31, 2023 2359 hours ET.
Visit any seven STATE memorial sites to receive a Finisher's certificate.
Trophies are awarded to the first three riders to visit all seven memorials in a state, or all sites in a region (Dakotas, New England, Mid-Atlantic).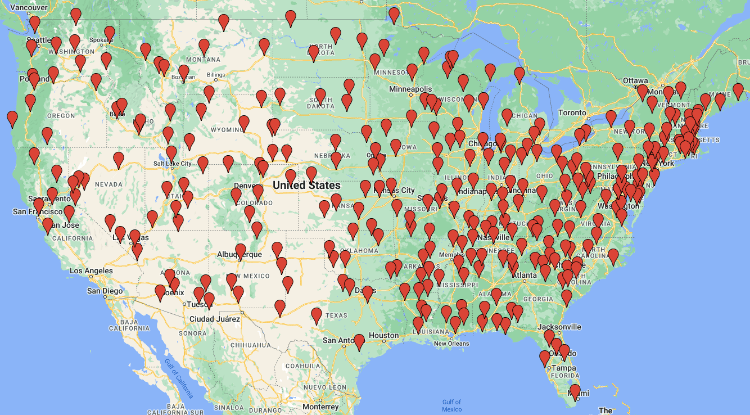 Visiting 8 bonus locations, even if they are for the most part "just off the highway" will, in theory, help get me into rally mode, and let me practice balance enduring the hours of riding slab with navigating smaller roads, side streets, and towns, figuring out bonus details, getting stops properly documented, etc.. and also get some crucial practice time with the digital camera that is required by the IBR; cellphone camera use isn't prohibited, but the rules do make it a burden, so with a fully charged, new-to-me digital camera and bags packed for 6-7 long weeks on the road, I was on my way early on a Friday morning before dawn.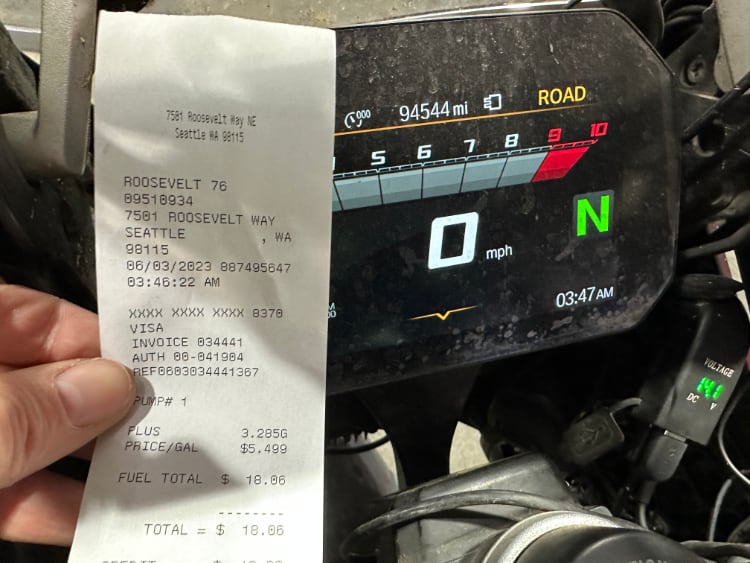 I made good time out of pre-dawn Seattle and even though I almost always spot a few elk in the early morning, I crossed the mountains without seeing wildlife of any kind. Sunrise caught me at 5am outside Cle Elum, WA, and needing a bathroom break and a breakfast snack, I hopped off the highway to grab coffee at my usual coffeeshop there in town. I thought they opened at 5am, but I misremembered, they open at 6am.. luckily, there's a rest area just a couple miles past town; crisis averted!
I crossed the Columbia River and climbed up out of the gorge, riding straight into the sun.. oh well, at least there wasn't any wind this morning, and the forecast was for clear skies and warm-but-not-hot temps all weekend long.
1) WA3 - Ephrata, WA
---
This granite memorial pays tribute to residents of Grant County whose lives were lost in the Vietnam War.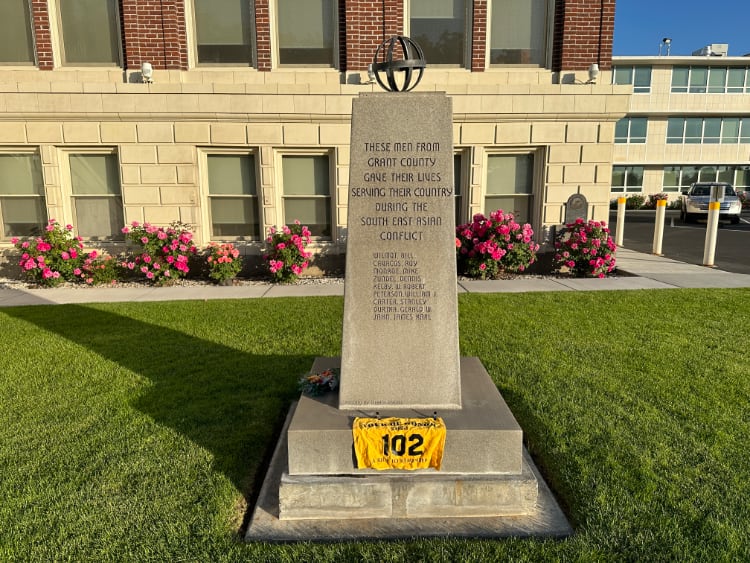 Ephrata is like most of the towns between the Columbia River and Spokane, where not much happens except potatoes, grains, and hay farming. Situated a couple blocks off the main drag through town, the county courthouse and it's neighborhood at 6:20am was quiet. Tour of Honor doesn't have the strictest photo requirements, asking only that the bike in the photo OR submitting extra photos if we can't get close. The first few I took from the street with the bike and the monument in them weren't great, so I gave up and crossed the courthouse lawn to get a photo where you could see it was actually the right monument. I worried a little since this was the first Tour of Honor stop where I couldn't replicate the sample photo, but I didn't really need to worry.
| | |
| --- | --- |
| This segment: | 176 miles, 02h34m |
| Total: | 176 miles, 02h34m |
Finally feeling a bit hungry for breakfast, I stopped at the McDonalds in Ephrata and got my usual: Sausage & Egg McMuffin and a medium coffee, 1 cream. Browsing through my stops for the route, it looked like they would be spaced just out about perfect for small rest breaks, which should make for a pretty easy ride, all things considered. I finished up breakfast and took WA-17 east towards Moses Lake, WA, following the old wagon trail across the Gloyd Seeps, one of the few fresh water springs in central Washington, cold pure water burbling from a series of cracks and creases in the 2 mile-thick "German chocolate cake" layers of basalt.
The sun had climbed out of my eyes, and I called my dad and chatted for a while, discussing the pros and cons of getting a new bike at the end of 2023. The rest of eastern Washington passed quickly, interrupted only by a stop at a gas stop where I got into a conversation with a guy on a Triumph Rocket who was 3 days on the road with a half-helmet and no gear. He was having some kind of electrical issue, but said he had it all sorted and was just trying to find someone to tow him to Spokane.. he seemed on the up-and-up, like it was clearly his bike and he knew how to ride, but something seemed really wrong with the situation, so I just nodded and moved on.
Spokane traffic was starting to pick up, and several state troopers were out running laser on the long hill down into downtown.. but then, they're always there, so if you pass through frequently you know to pay attention through there. Traffic was continuing to build as I got across the state line, turning north onto US-95 for the short distance into my next stop in Hayden, ID.
2) ID2 - Hayden, ID
---
The memorial is a large semi-circle brick and mortar raised flower bed with large boulders and a fountain. Around the memorial are memorial bricks for veterans from the conflicts our nation has endured.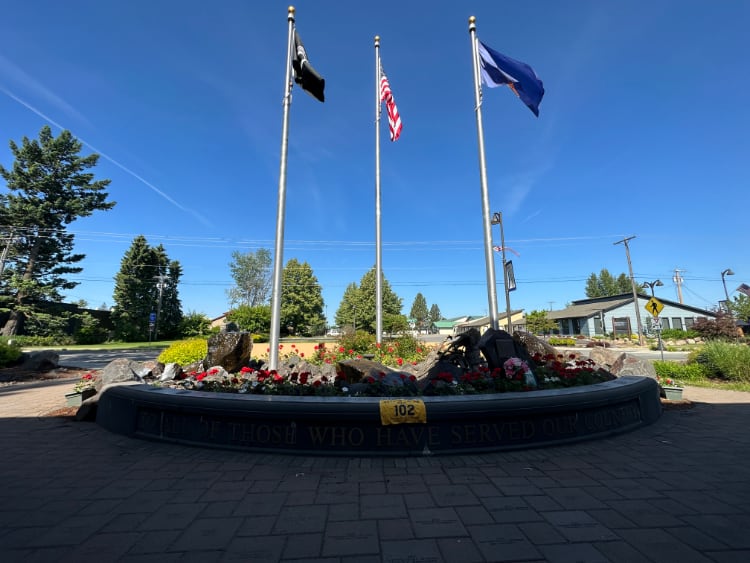 Due to construction in the parking lot, I had to park in a bit of an awkward spot, so I hustled to snap this photo. Of course, I didn't really remember that it was a Saturday, and thus the offices here City Hall of Hayden, ID would be closed.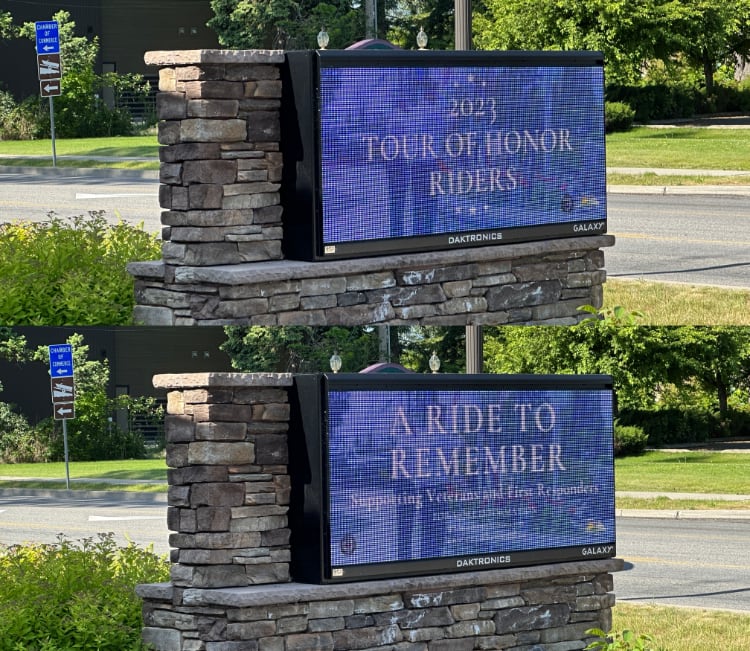 A quick photo, then a stop in to the rest room at the park behind the building, and I was quickly back into traffic of trucks pulling trailers of side-by-sides and ATVs heading for the mountain playgrounds.
| | |
| --- | --- |
| This segment: | 159 miles, 02h53m |
| Total: | 335 miles, 05h27m |
I-90 through the Idaho panhandle and Montana into Missoula is a fun stretch; climbing, falling, twisting through the mountains, a fast road with just the right amount of traffic. I gave a half-thought to stopping in Wallace, ID; besides the bordello museum and home to "the last stop light on I-90" there's a coffee shop that does a huckleberry latte worth the stop, but the other thing worth a stop is a huckleberry milkshake in St Regis, MT, another 45 minutes east, so I zip past, cresting the Bitterroot Mountains at Lookout Pass as I-90 follows the old Mullan Road along the valley carved by the St Regis River.
Of course, the line for milkshakes was ridiculous as it so often is, so St Regis was a quick bathroom break, bought a couple sports drinks, and headed on to my next stop in Missoula.
3) MT7 - Missoula, MT
---
Located in the Memorial Rose Garden, the Montana State Vietnam Veterans Memorial commemorates all the Montana service personnel that served during the Vietnam War. The names of all the Montanans that died in Vietnam are listed on 8 bronze plaques on either side of the sculpture.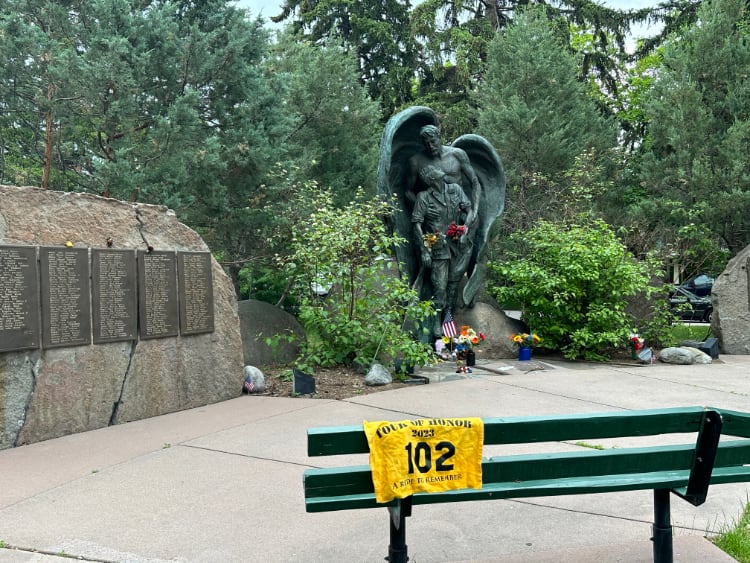 This particularly moving memorial is tucked into what almost feels like a grotto, and the religious theme of the statuary here makes that feel appropriate. A quiet refuge from the frisbees and picnicking families on the sunny grass expanse of the remainder of the park.
| | |
| --- | --- |
| This segment: | 171 miles, 03h01m |
| Total: | 506 miles, 08h28m |
Missoula is just a smidge over 500 miles from Seattle, and serves as the turn around point for many folks out-and-back Saddle Sore 1k rides, and it's a nice marker for me around the pace of my ride; I should be able to confidently run Seattle to Missoula in 7.5 hours; 8.5 hours is a little slow, but that includes 2 detours off the interstate for bonuses.. and I'm lingering at these bonus locations, to take in the memorial, read the names, and give the respect and honor due not only to the individual men and women they represent, but the communities as well. The clock can wait.
4) MT3 - Butte, MT
---
Located at the United Veterans Memorial in Stodden Park, this memorial was dedicated to the 22 Butte-Silver Bow KIAs.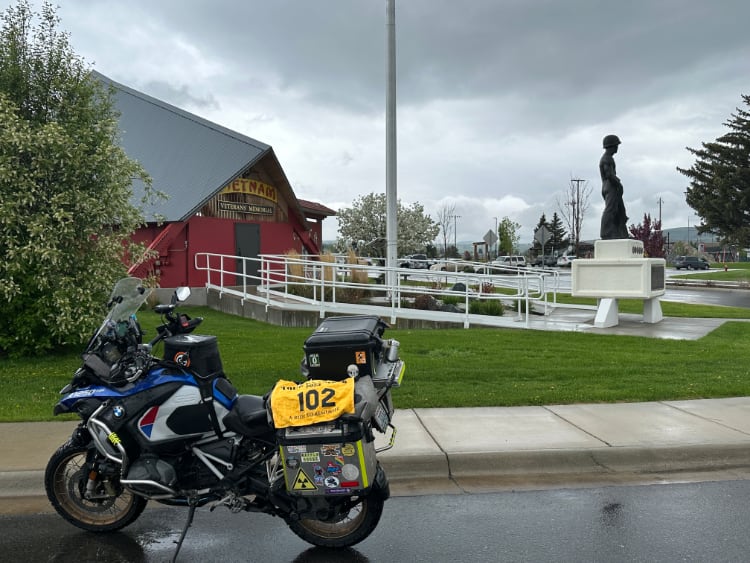 Rain had picked up by this point, and the parking lot was slick with oil spots and loose gravel, and strangely busy with large family picnics, several of which seemed to revolve around toy haulers and large RVs. The memorial itself was the statue to the right; the structure to the left holding the sign (with the somewhat "problematic" font choice..) is the backside of a bandstand/amphitheater, filled with kids running around screaming… literally just screaming. I found an empty bit of curb, threw on the flashers, and got my photo before high-tailing it out of the way.
| | |
| --- | --- |
| This segment: | 120 miles, 02h23m |
| Total: | 626 miles, 10h51m |
I donned my rain gear, but soon enough got ahead of the storm, making really good time the rest of the day, with high speed limits and no side quests to speak of. For a Tour of Honor 1000 ride, I needed to ride 1,000 miles in 24 hours while visiting 4 Tour of Honor stops along the way; I've 4 planned out for tomorrow, so the rest of today is simply getting to Glendive, MT, just a bit over 1,000 miles from Seattle. Crossing Montana is a bit like crossing Texas, in that it's a long stretch of being in the same state, but Montana's changing scenery is a bit more dramatic at times. I made it to Billings around 7:30pm, taking a left turn onto I-94 as it bends north towards North Dakota, eventually pulling a stop receipt in Glendive, MT at 10:35pm, for an 18-hour Saddle Sore 1000. Not my best, but not the worst. Perfectly serviceable.
Of course, a certificate ride isn't complete without at least one gas pump not generating a receipt, and this was where it happened to me today. I went inside.. and the duplicate receipt didn't have an address, so I tried a trick I've learned: I bought something and paid cash. This can be a handy hack to get a DBR, as often it gets you a receipt from the register rather than the credit card POS printer, and most registers are a bit older and still include a street address.. which this one did, but didn't have a time stamp!
I was more than a little steamed at this point, but I managed also to laugh at myself being mad; I'm just tired, that's all. I started googling for ATMs and noticed that inside this gas station, they had a sketchy "Bitcoin ATM", so I decided to risk it and pulled $40 out of my checking account… and VIOLA! A valid DBR to document the end of my Tour of Honor 1000.
I crossed back over I-90 towards town and my hotel, finding a clean room and a soft bed waiting for me at the La Quinta. In bed asleep by 11pm, alarm set for 4am.. livin' the dream!
5) MT4 - Glendive, MT
---
This monument is dedicated in memory of Vietnam and Korean Veterans of Montana and Canada. It was placed by the Vietnam Veterans of America Chapter #23. The American Flag behind the black granite monument was dedicated "In memory of those who made the supreme sacrifice in Vietnam."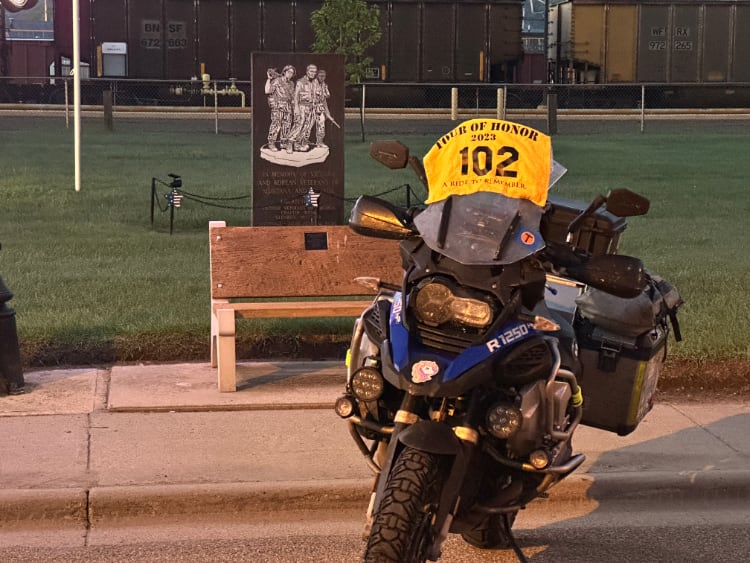 If you thought Glendive was quiet during the day, wait until 4:30am rolls around! I packed and left the hotel, venturing into its small downtown area to claim this Tour of Honor bonus and starting the clock on my next Tour of Honor 1000 segment at 4:41am. A sheriff's deputy rolled by with the window down and gave me a friendly wave, but didn't stop; I guess I look somewhat interesting but not quite sketchy enough to warrant an in-person greeting by the local law enforcement. Nice change of pace!
| | |
| --- | --- |
| This segment: | 446 miles, 12h59m |
| Total: | 1,072 miles, 23h50m |
Heading east on I-94, I crossed into North Dakota as the sun began to rise, and I stopped just inside the border of Theodore Roosevelt National Park to switch to sunglasses and had to take an obligatory "good morning from the North Dakota badlands" photo.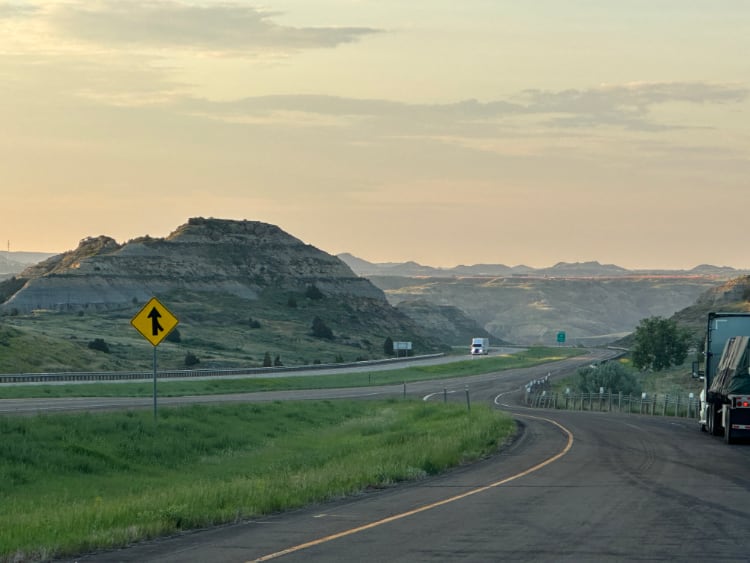 Shortly thereafter, I hopped off in Dickinson, ND for breakfast at a Taco John's, striking up a conversation with the guy running the drive up window. He was the only person of 3 who showed up this morning to open up the restaurant, and was running the entire place by himself. Luckily I was the only customer at 6am, so we chatted about riding motorcycles in the Dakotas. Apparently his girlfriend really wanted to go for a long, multi-day trip, so I have him the usual bits of advice from the script on how to be comfortable and safe, etc.
6) ND2 - Mandan, SD
---
This beautiful memorial recognizes 461 Prisoners of War from North Dakota, and soldiers who are still Missing in Action. The Vietnam Vets/Legacy Vets & 2nd Brigade Motorcycle clubs came up with the idea for the monument back in 2007. At a cost in excess of $200,000, it was paid for entirely with donations from the community.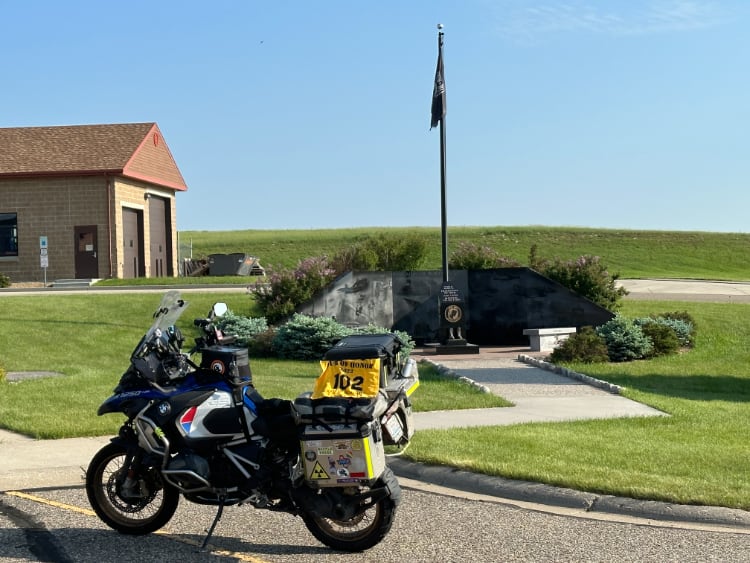 Construction in Mandan's downtown made for a 2+ mile detour on the way in to this memorial, located in the North Dakota Veterans Cemetery next to Fort Abraham Lincoln State Park. The cemetery overlooks the Missouri River, and was just starting to have a few visitors at 9am on a sunshine-filled weekend morning.
| | |
| --- | --- |
| This segment: | 198 miles, 03h28m |
| Total: | 1,270 miles, 27h18m |
Rehydrated, I got back onto I-94 – ok, I tried to get back on I-94, but a train was now parked at the only way back to the highway that wasn't blocked by construction. I tried to wiggle around this mess and ended up looping through the unpaved cul de sacs of a trailer park, cut through a self-storage business, but eventually I found the on ramp and got back on my way, only slightly perturbed.
The day was turning out to be MUCH hotter than expected, getting north of 95F, and I took a couple extended stops. In Jamestown, ND, I turned what should've been a 5-minute gas stop into a 25-minute "stand inside the walk-in beer cooler at the minimart" and once in Fergus Falls, MN I stopped at a Caribou Coffee for an iced coffee, a scone, and 35 minutes of blessed air conditioning.
7) MN3 - Fergus Falls, MN
---
This memorial is dedicated to all wars, and to all veterans. A portion is established to honor those who were either KIA, MIA, or POW. The names of those individuals are reserved for the pillars themselves.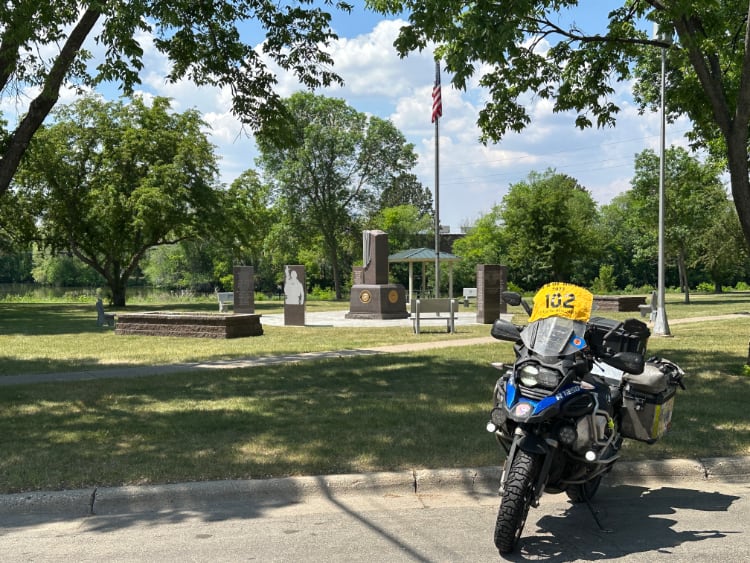 This memorial is located in a quiet park on the banks of the Otter Tail River, which flows through the middle of town. The scorching sun had me considering jumping into the river despite the signs warning against swimming.
| | |
| --- | --- |
| This segment: | 262 miles, 04h55m |
| Total: | 1,532 miles, 32h13m |
The heat was really cranking up, and I took several longer than usual stops, including a half-hour afternoon siesta at one particularly green and shady rest area.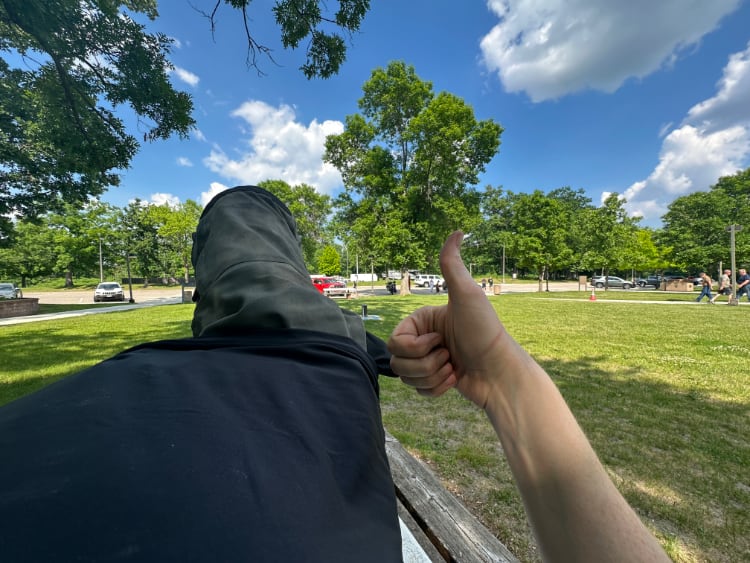 I hit the Twin Cities at 5pm, and elected to take the usually faster I-694 beltway around then north side of Minneapolis, but got caught in stop-n-go traffic nevertheless. It was a slog of molasses until I-35E, heading south through St Paul at a "well, at least we're moving" pace, and traffic disappeared entirely once I switched over to US-52 south, a divided 4-lane through the farmland of southern Minnesota. The evening sun beat down, and I was finding myself doing Dumb Shit, so I pulled over in Zumbrota, MN and parked in a scrap of shade offered by a Dollar Tree store. I ate a banana, chugged some liquids, and tried not to think about the sweat accumulating in my boots.
Finally, I met up with I-90 and continued east, stopping at the last rest area in Minnesota, about 15 miles west of the Mississippi River and the border with Wisconsin. I had another small snack and some sports drink, and chatted on the phone for a little bit with friends, enjoying the green shade. I wasn't making good time, but I also was a bit out of practice, and still had plenty of time left on the clock.
A hint of wildfire smoke tickled my nose as I got back onto the road, and as the highway wiggled down a ravine to the Mississippi, I plunged into a wall of thick, yellow smog, courtesy of wildfires in Ontario. By the time I made it to the next stop, my last of the ride, I could feel it coating my eyes and throat, my nose running and itchy.
8) WI4 - La Crosse, WI
---
The La Crosse Vietnam War memorial is in Veterans Freedom Park and was recently dedicated in June 2022. This memorial was made to honor those 1,239 service members from Wisconsin who made the ultimate sacrifice during the Vietnam War. The memorial was the vision of Jordan Briskey, a 2020 graduate of Holmen High School, who wanted to create a wall to capture the true reality of the fallen from Wisconsin so others could feel the emotions he felt when he was talking with Vietnam veterans. It started out, not as an Eagle Scout project, not an exit school project, it was just something a 15-year-old kid decided he wanted to do.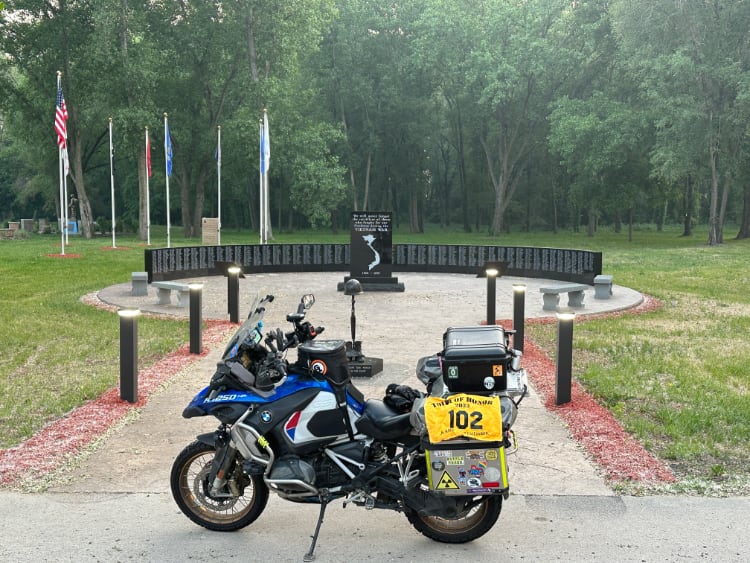 This memorial is inside a large park that takes up the entire southern end of an island in the Mississippi (or at least in a slough of it..) The silty dirt of the parking lot, chewed up by trucks hauling boats to the boat ramp at the water's edge, caused me to fishtail a little bit, but a wide apron of pavement around the memorial provided a safe pad for parking.
| | |
| --- | --- |
| This segment: | 332 miles, 06h20m |
| Total: | 1,864 miles, 38h33m |
Tour of Honor stops completed, all that remained was a pretty simple ride across Wisconsin. The smoke was bad, but it helped to keep the sun at bay to some extent, and by the time the sun actually set the air was cool, if a bit unhealthy still. I was feeling super beat by the time I stopped at an ATM a couple blocks from Gabby's place and pulled a receipt at 11:52pm local, having completed 2 back-to-back Tour of Honor 1000s and a Saddle Sore 2000.
| | |
| --- | --- |
| This segment: | 209 miles, 03h38m |
| Total: | 2,073 miles, 43h11m |
This was a great ride, for many reasons. I was glad to have completed a pair of Tour of Honor rides, as well as visit the memorials themselves and pay my respects. The ride also accomplished my goal of being a shake-down ride for the IBR, and there were a handful of things to tweak and fiddle with over the next couple weeks. It also proved to be a good workout for my ride stamina, not having to have contended with summer heat or the air pollution that would hang over so much of the northeast quadrant of the continent for the next month or so, serving to remind me of the signals my body was going to send, how my responses would change, and what I needed to to do counter them. Endurance-wise, I felt stretched and ready to go.. pitter patter!