🎵 I'll be your blue-eyed bandit if you'll be my renegade
I count a thousand tumbleweeds roll by me everyday
I'd like to grow a rose and stow it in that desert safe
Like a message in a bottle floating down the open plains
Where the Llano Estacado rises up to meet the sky
I ain't crying that's west Texas in my eye 🎵
-- "West Texas In My Eye" - The Panhandlers
Deciding that Mexican sounded better to me than BBQ, and feeling like the window for getting back north to Mookie's was too tight, I elected to head south. I've never been time-barred or "earned" penalty points for being late, and am seldom significantly behind schedule - am I too conservative? Perhaps.. but also, the idea of fighting back up through Austin and Waco traffic just didn't sound fun to me.. and hey, I'm not running a competitive rally here, so no need to push things..
Heading south along US-59 to Beeville, skirting to the west of Corpus Christi, the temperature began climbing along with the humidity, and I got a little taste of summer. I hopped over to TX-359 south in Skidmore, and continued a long, straight, hot, humid ride parallel to the coast. I stopped briefly in Mathis to follow my Grammma Miller's advice of "Fill what's empty and empty what's full" (in this case my water jug and my bladder) and soon enough the small farm communities passed by and I found myself in the bustling retail strip of Alice, TX.
31) X01A - El Jalisiense - Alice, TX - Exponent: 2
---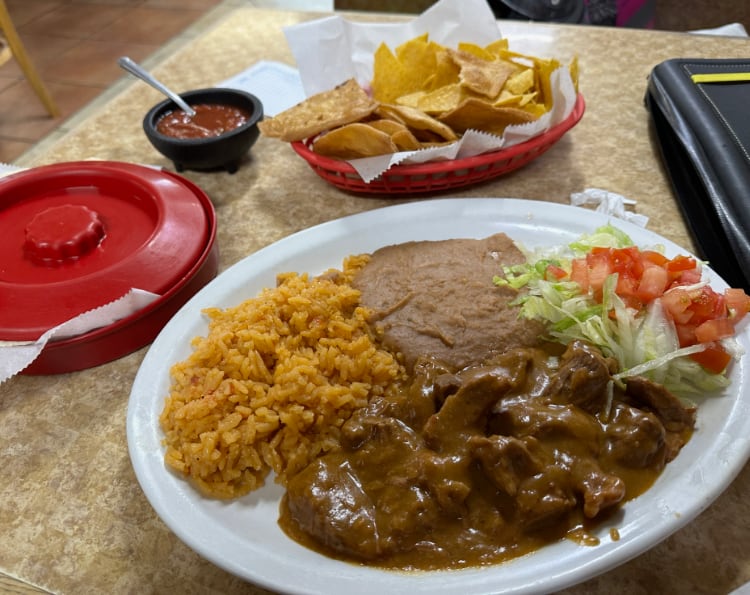 El Jalisense is the place to be today! Almost every table was packed with groups of 3 or more, wait staff swirling around with big pitchers of water, sweet tea, horchata, and more, the din of the kitchen bringing with it toasting cumin and coriander, roast meats and beans.. I grabbed a booth, shedding all my gear, and ordered the thing on the menu I don't see often in the northwest - carne guisada, a beef stew with a silky, thick gravy of beer, tomato, garlic, peppers, and onions that is sticky and amazing on fresh flour tortillas. I meant to only order the tacos, but I didn't complain when the waitress dropped off a plate. I ate almost the whole thing (and most of those chips) and honestly, have I ever eaten this well on a rally before?
| | |
| --- | --- |
| This segment: | 108 miles, 2h35m |
| Total: | 108 miles, 2h35m |
| Time Remaining: | 46h54m |
| Tours complete: | 7 |
| Rest bonus exponent: | 7 |
| Points scored: | 10,956 |
Out in the parking lot, I did my paperwork, and tucked away my receipt with the other meal receipts into.. the pouch.. where I keep them all? The EMPTY POUCH?!
Crap.
I still had the receipt from JJ's Roadhouse, but the receipt for The Heart of Texas Cafe on day 1 was gone. I spent 10 minutes searching every pocket, pouch, folder, and case three times, but it was nowhere to be found, and it dawned on me what happened. When I went to pay at Heart of Texas Cafe, the older, hard-of-hearing gentleman who was running the register asked where I was from, and we struck up a conversation about Seattle while he made change for the $20 I handed him, and while I didn't mind I WAS keeping an eye on the clock. My brain started thinking about the next thing, and in the process I walked outside and left,forgetting to get the receipt BACK from him.
I was amused and quite frankly angry at myself; one of the techniques I use to manage my multi-track, ADHD brain is to focus on the Zen Buddhist teaching of "ichigyo-zammai" - do one thing, at one time. It is the practice not of physical or mental stillness or lack of action, but of the concentration of action. Focus on doing one thing, doing it well and to completion, and then take on the next task. I forgot the task I was working on, neglected to ensure I had completed it, and was living 5 minutes ahead of the present..
So was that it? Did I just blow my entire rally? I cursed myself and my stupid, horrible, rotten, no-good brain, and not for the first time in my life wished I could just "choose" to "do better", to not just be.. broken. As I rode north, I needed to snap that loop, so I sent a couple texts to rally staff to let them know I had biffed the rally completely, a mistake that was going to cost my 90,000 points (40% of my projected total!) and I gave some thought to just quitting.
Of course, that's when I get the ding of a new message came in. Nancy confirmed that my bonus submission was clean, and since the only reason I'd need the receipt was if I wanted to contest the meal bonus not being accepted, I'd be fine. Whew!
I chilled out, even if the day was starting to roast me a bit. It wasn't that hot compared to full summertime temps, but it was hot enough for a PNW girl who hadn't had time to acclimate, so I stopped at the first rest area after merging onto I-37 north to San Antonio to sit in the shade, have a drink, and wet down my gear. I was NOT going to drop out, but instead I wasn't going to make stupid mistakes. I was going to eat and drink more frequently. I was in this rally to have FUN and there's still 2 days of rally time to go see some cool shit, eat wicked good food, and have some adventures worth remembering. THAT is what is important, THAT is the point of all this, and who even CARES what the score is or where I end up in the standings? The only competition here is with myself.
..and Ben Ernst. I'd really love to beat that guy for once. 😄
Freed from some burdens of my own making, I headed back north on I-35, wiggling onto I-10 through early rush hour traffic into and through San Antonio. I stopped in Comfort, TX on the western edge of the San Antonio metro area just before 4pm for an extended gas stop, shoving calories and electrolytes into my face in a scrap of shade. The truck stop was super busy, and several young guys in giant pickups played chicken with me getting first to a gas pump, and then getting out of the parking lot. I wasn't in a mood to fight about who had less manners as it isn't a fight you win on two wheels. I was thrilled to get back on the highway.. which isn't something I say about I-10 very often.
Around 5pm I made it to Junction, TX and turned north past the slow-as-molasses McDonalds that had wasted my time on the ride over from Arizona. US-83 would take me north all the way to Abilene, but first I needed a couple stops, one in Menard for a quick bio break (and to load up on some small-town pecan brittle) and then around 5:50pm a stop in the tiny, arty town of Eden for my next bonus.
32) C42A - Garden of Eden Park - Eden, TX - 212 pts
(+212 pts - Eden Tour Complete)
---
Take a picture of the entrance to the Garden of Eden.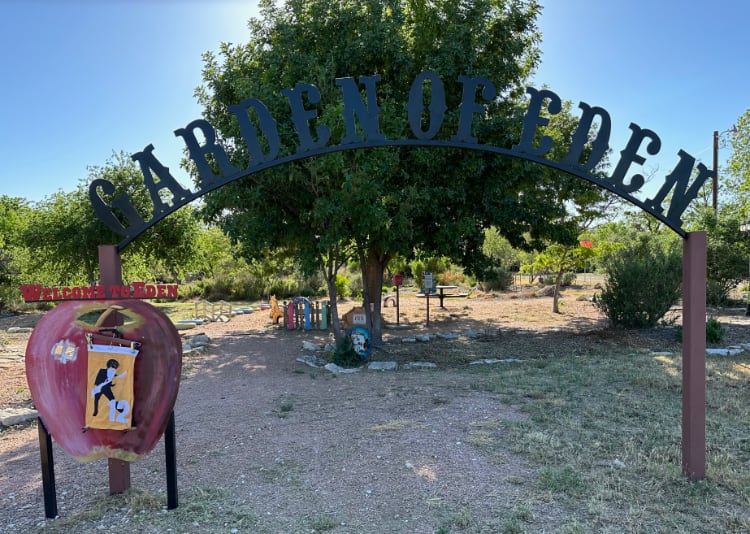 | | |
| --- | --- |
| This segment: | 293 miles, 4h47m |
| Total: | 401 miles, 7h22m |
| Time Remaining: | 42h07m |
| Tours complete: | 8 |
| Rest bonus exponent: | 7 |
| Points scored: | 11,380 |
I finally felt like I was actually making halfway decent time, even if I did have a few extended stops to rehydrate and recover from the heat.. again, it wasn't bad, I just wasn't used to it. As the sun grew old in the west, the temps cooled back to what I am more normally used to and I kept the pace north on US-83.
Another part of Texas I hadn't really been through before, right on the dividing line between West Texas and Hill Country, there were just miles and miles of smaller farms and ranches, gorgeous little towns and hamlets. Ballinger, TX had a lovely courthouse square and some great stone block architecture, and it's downtown, while built in a more prosperous time, seemed like it was doing pretty well these days. Abilene was the next big city, and I skirted around to the east around 7:15pm. It was a quiet evening, but I still managed to miss a turn because I was yakking away on the phone with Gabby about IBR plans, and had to double back a mile, but I was out of the metro area and back into sage brush, pines, and deer munching away placidly by the side of the road, unperturbed by my passing. Dusk fell and night soon followed, and I found myself pulling up to the gravel parking lot of the Scotland VFD at 9:30pm on the dot.
33) C68A - Scotland Volunteer Fire Department - Scotland, TX - 244 pts
---
Take a picture of the Scotland VFD. You can get closer to the sign if you want.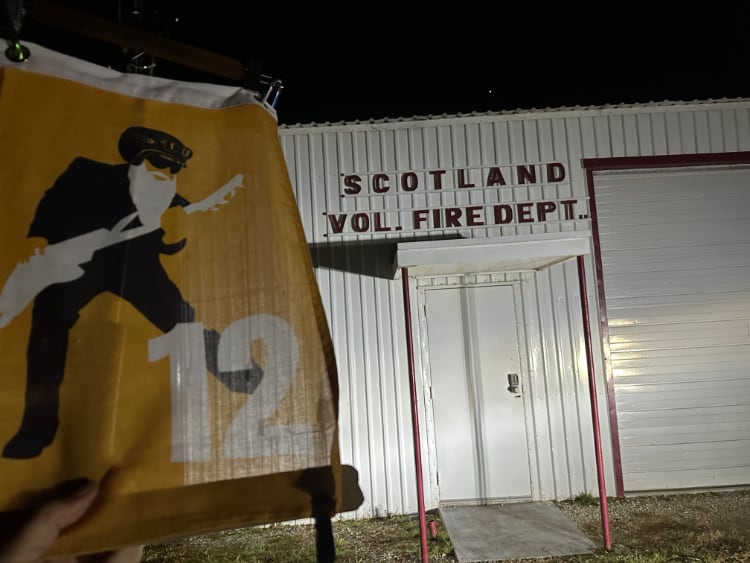 None of the side streets of this small town were paved, including the access road and parking lot of the fire department.. which isn't a slight, but more an observation that they quite likely aren't running big trucks out of here.
| | |
| --- | --- |
| This segment: | 224 miles, 3h37m |
| Total: | 625 miles, 9h59m |
| Time Remaining: | 38h30m |
| Tours complete: | 8 |
| Rest bonus exponent: | 7 |
| Points scored: | 11,624 |
I took a couple minutes to look at the map, and decided to take my 2nd full 8-hour rest break in Wichita Falls, about 30 minutes north. It was the last big town on my route today so hotel options should be decent, and I knew that after an 8-hour break (the most I could claim points for) I'd still have 3 hours of unclaimed rest bonus to claim (because of the shorter 5-hour break yesterday), which meant taking a 4-hour break tomorrow (since 4 hours was the minimum rest period we could claim, even though I'd only get credit for 3 of those hours.) I booked a motel online and headed north, feeling good that I had a PLAN.
34) Z03R - Rest Bonus 3 - Wichita Falls, TX - 7h00m (420 minutes)
---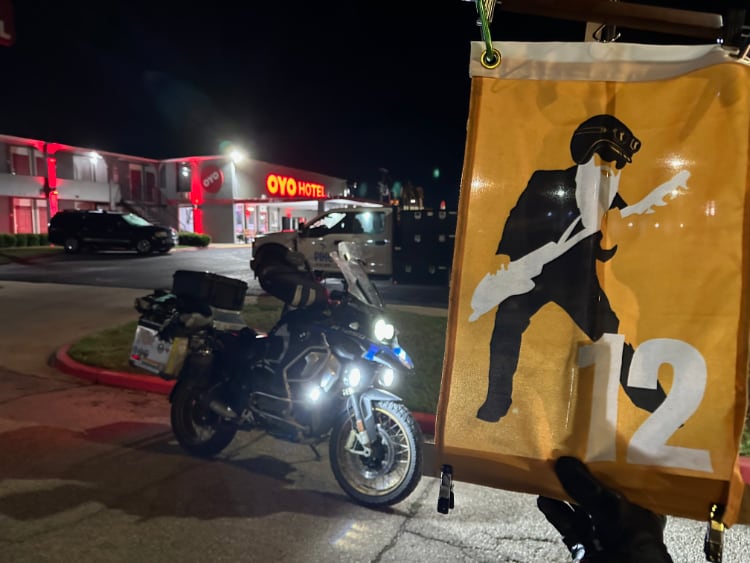 I parked in their car port and ignored every signal to my brain that this was the kind of hotel under the highway that exists for… liaisons. Must have been all the red neon. I took 15 minutes with Basecamp to confirm the itinerary for tomorrow morning, showing that I'd arrive at the Earth, TX bonus at 11:40am; a little early, 20 minutes before the window for the next day would open, but not disastrously early.
I woke up about an hour before my alarm was set to go off, feeling wide awake and antsy, and knowing that my 4-hour break tomorrow would have an hour of "wasted" time, I decided to cut this rest break short at 7 hours. I submitted the bonus at 5:00am on the dot.
| | |
| --- | --- |
| This segment: | 21 miles, 7h31m |
| Total: | 646 miles, 17h30m |
| Time Remaining: | 31h00m |
| Tours complete: | 8 |
| Rest bonus exponent: | 7 |
| Points scored: | 11,624 |
35) S11A - Iowa Park Historical Marker - Iowa Park, TX - 267 pts
(+267 pts - Iowa Tour Complete)
---
Take a picture of the historical marker at this location for Iowa Park.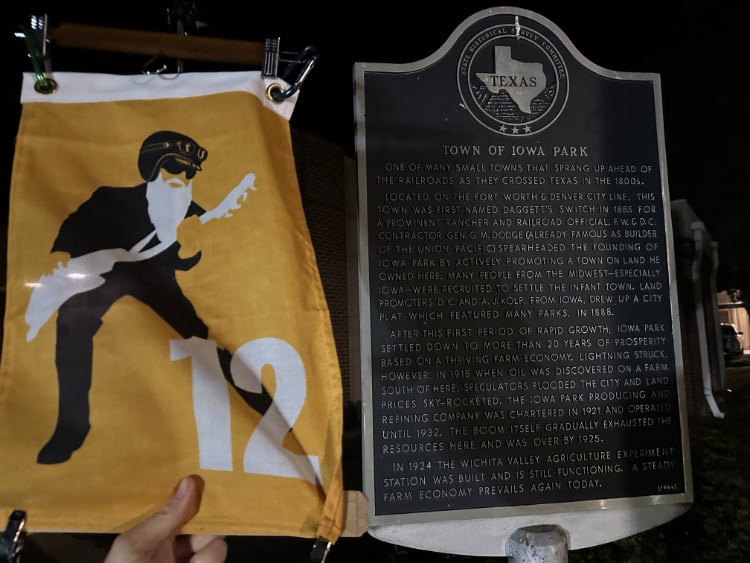 Just a short hop up US-287, this historical marker was on the front lawn of the city hall/police department. There wasn't any real street lighting, so I parked in the middle of the street and blasted the sign with my aux lights, sure that someone would come out to ask what I was doing lighting up the police station, but Iowa Park is a pretty sleep little town at 5:14am..
| | |
| --- | --- |
| This segment: | 13 miles, 0h14m |
| Total: | 659 miles, 17h44m |
| Time Remaining: | 30h46m |
| Tours complete: | 9 |
| Rest bonus exponent: | 7 |
| Points scored: | 12,158 |
36) C75A - Bob Wills Monument - Turkey, TX - 372 pts
---
Take a picture of the Bob Wills monument.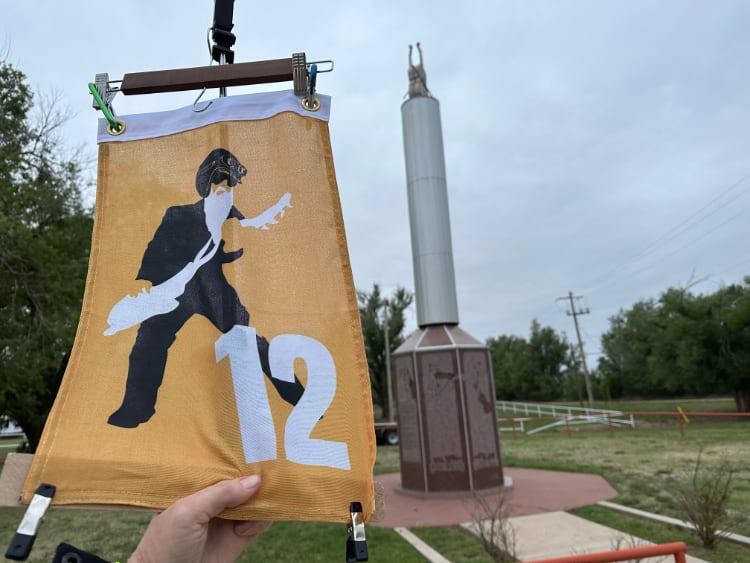 The sun came up, as did the wind, which turned the giant windmills at a good clip by the time I rolled into Turkey, TX. The monument was at one end of the cute little downtown, which had a number of art galleries and coffee shops, as well as an RV park; was this a snow bird destination? What brings tourists out here? One of the coffee shops had 3 mismatched side-by-sides and a golf cart parked in front, and it looked like the Old Man Coffee Club had taken up residence at an outside table sheltered from the wind.
| | |
| --- | --- |
| This segment: | 144 miles, 2h07m |
| Total: | 803 miles, 19h51m |
| Time Remaining: | 28h39m |
| Tours complete: | 9 |
| Rest bonus exponent: | 7 |
| Points scored: | 12,530 |
From here I wiggled first south and then west through fields of wheat, cotton, and windmills, on a series of county roads of increasingly… interesting maintenance choices. Waze made some interesting routing choices, and I stopped in the crossroad hamlet/glorified rest area of Muncy, TX to make sure I was moving in the right direction; I was making blisteringly good time compared to what Basecamp and my Garmin were claiming; I knew I'd picked up an hour by leaving an hour early from the hotel, but impossibly, I'd gained ANOTHER hour along the way. I don't know what Garmin though it was suggestion, but I was yet again decidedly not impressed with it's accuracy, and would be cooling my heels somewhere for 2.5 hours.
Oh well, at least it always overestimates the time a trip will take, instead of underestimating it.
The wind really started kicking up on this stretch, becoming a fierce 35-40mph steady wind from the north. I flipped the visor shut to keep as much of the dust out as I could and leaned into it as best I could. I did stop in one small town and quickly threw the chin curtain back into my helmet; without it in place, I get more ventilation, helping to prevent fogging issues during rain storms, but the wind was acting like an invisible hand grabbing onto the chin bar and constantly twisting my head around to the left. The chin curtain helped immensely, with the trade off being of course that I was even more sealed in than normal.
Weather radar showed some light rain to the northwest, but it didn't seem to be moving in my direction anytime soon. I passed through Earth, TX on my way to the next bonus in Sudan, TX, maybe 15-18 miles further on, so I scoped out the bonus location and looked for any place to sit for 2 hours out of the wind, but other than the church and a tiny Allsup's, there really isn't much in the way of amenities there. Maybe I'll find something in Sudan…
37) C70A - Quanah Parker Arrow - Sudan, TX - 432 pts
(+432 pts - Sudan Tour Complete)
---
Take a picture of the Quanah Parker arrow here in Sudan.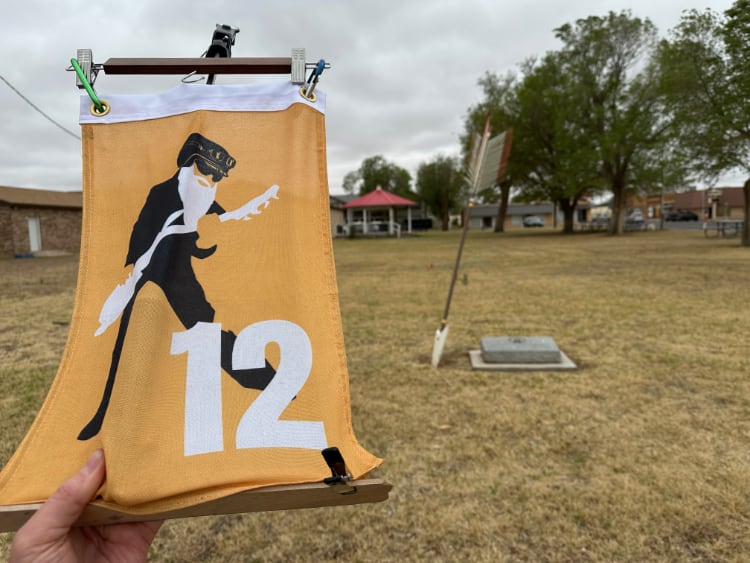 What you might notice in this photo is how the flag is straining like a sail; the 40mph is coming from behind me, and even though I was blocking it as best I could, the flag was still snapping and straining, threatening to fly away.
| | |
| --- | --- |
| This segment: | 128 miles, 2h11m |
| Total: | 931 miles, 22h02m |
| Time Remaining: | 26h37m |
| Tours complete: | 10 |
| Rest bonus exponent: | 7 |
| Points scored: | 13,394 |
I circled around the city park a couple times to look for an open cafe or library or something, but didn't find anything other than an Allsup's. I parked the bike, and worried about the wind, brought my helmet inside with me. I bought a coffee and a chimi, and puttered around the store for a bit, making small talk with the ladies working the counter. They seemed fine with me loitering out of the wind, but I knew I couldn't stay there all day, so I stepped outside and went around to the back parking lot on the south side of the building. It wasn't comfortable, but it was out of the wind.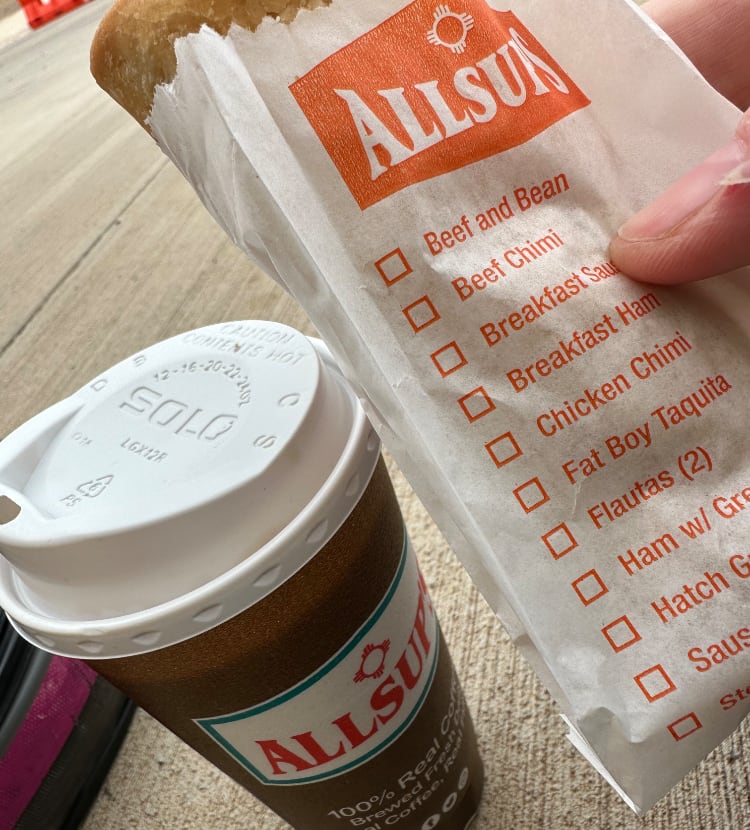 I fiddled around with Basecamp trying to figure out what the heck had happened to the routing, but couldn't figure it out.. still honestly don't know. I assume it was some kind of default map mismatch between Basecamp and the GPS unit itself.. something to keep an eye on, certainly.
Not having anything else to do, around 10:30 I got all my gear back on and headed the 18 miles back north to Earth, straight into the wind. After a few minutes of the ceaseless buffeting, you kind of get used to it. At one point I rode straight through a thin squall line that was like a white wall of hail and dust, but it only lasted a mile or so before moving through it completely.
Back in Earth, I had over an hour to kill, so I poked around town, went to the baseball park, made sure I knew where the bonus was, and finally settled on parking by the church and pacing a bit inside it's somewhat protected breezeway. That lasted maybe 20 minutes before a caretaker/handyman appeared to politely ask what I was doing there.. I explained I was just waiting to meet some friends at the sign at noon, and he seemed to believe me, although a bit reluctantly.. I mean, after all, what kind of thief or suspicious character would make up such a ridiculous story?
It didn't matter, really, since right as he was inviting me into the church, I saw a couple rally bikes go by, and since time was getting a bit short, I moved over to the Allsup's, where a half dozen rally bikes had already converged as it was the only place in town to shelter inside out of the wind.
I bought a couple of things to justify why I was huddled inside, and soon enough there were nearly a dozen of us - Daniel Ekert, Ken Andrews, Paul Meyer, Bryan and Melissa as well as a few others. when the clock ticked down to 10 minutes until noon, we remounted and headed over to the sign, just as Ben Ernst came peeling in dramatically. Since the 8 Planet bonuses were the only ones available between noon and 2am, I expected to see a lot of other riders swarming around them.. and I wasn't disappointed.
Day 3 ended up not being a high scoring affair, but a day where I picked up a few more tours (3) and most importantly, repositioned myself to make a run for a high-ish planet combo, and to pick off the last remaining high-value meal location.