🎵 There's a little bit of everything in Texas
Just look around and you will see
There's a little bit of everything in Texas
And a whole lot of Texas in me 🎵
-- "There's a Little Bit of Everything in Texas" - Ernest Tubb
Ernest Tubb might have written it first, but The Reverend Horton Heat did my favorite version.
🎵 There are forty seven states around her
And each of them have treasures of their own
And everything they boast of I sure found it
But we've got them all right here at home

Now you may love old sunny California
Or perhaps the hills of Tennessee
No matter what you love just come to Texas
And I'll bet my boots you will agree

There's a little bit of everything in Texas
And really I'm not bragging, you see
There's a little bit of everything in Texas
And a whole lot of Texas in me! 🎵
Spending so much time riding around Texas the last 3 years, I feel like I've really gotten to see why so many Texans love the place. There really is "a little bit of everything in Texas".. but right now, I'm focused on the places that AREN'T in Texas!
14) T13C - Old Boston historical marker - Boston, TX - 223 pts
---
Take a picture of the Texas historical marker for Old Boston.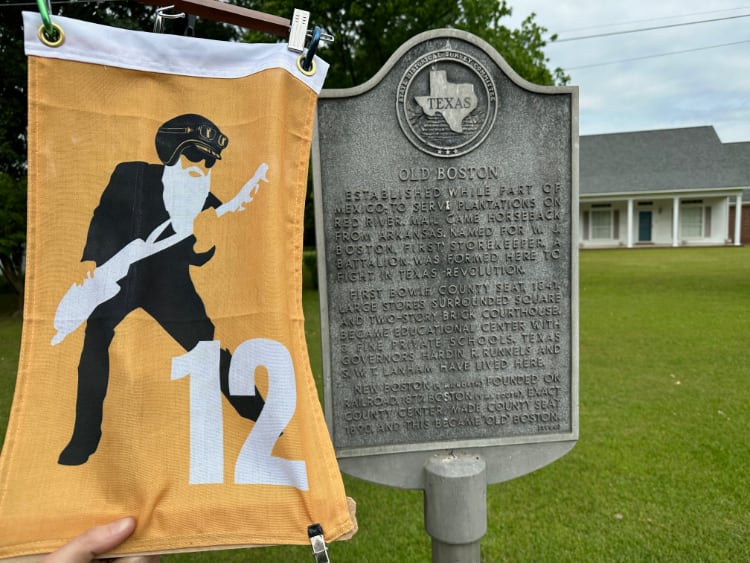 I snapped the photo around 11:30am, and went and napped in the park across the street. As soon as my phone alarm went off at noon, I hit submit, fired up the bike, and scooted!
| | |
| --- | --- |
| This segment: | 7 miles, 0h00m |
| Total: | 7 miles, 0h00m |
| Time Remaining: | 72h00m |
| Tours complete: | 4 |
| Rest bonus exponent: | 3 |
| Points scored: | 4,227 |
15) T13B - Bowie County Jail - Boston, TX - 225 pts
---
Take a picture of the old Bowie County jail.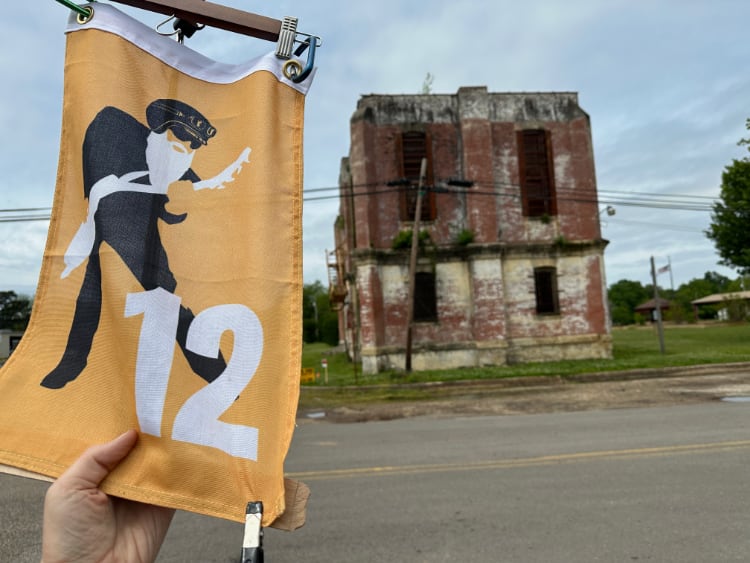 This old jail made me start seeing other dilapidated structures with an almost identical size and building materials all over.. I'd always thought they were maybe fire houses or banks or something, but now I'm not so sure..
| | |
| --- | --- |
| This segment: | 3 miles, 0h07m |
| Total: | 10 miles, 0h07m |
| Time Remaining: | 71h53m |
| Tours complete: | 4 |
| Rest bonus exponent: | 3 |
| Points scored: | 4,452 |
16) T13E - James Bowie - Boston, TX - 227 pts
(+1,161 pts - Massachusetts Tour Complete)
---
Take a picture of the statue of James Bowie.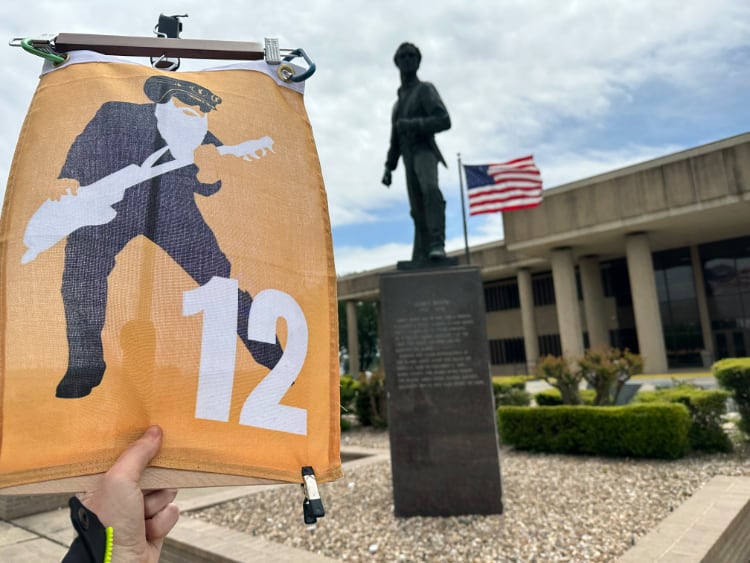 I retraced my route back up into town; wasn't I just here? Somewhere in my wandering around town killing time until noon, I flipped the order of these 3 bonuses, and while it's only 5 or 6 miles, it's still a bit of a silly routing mistake to make.
I always forget that Heart of Texas runs right around spring elections in Texas; the compact, modern courthouse and troopers barracks had lots of American flags out along with signs declaring this building a polling location, no loitering, no campaigning, etc. Not wanting to get kicked out of ANOTHER small town community, I took my photo quickly and skedaddled.
Only later did I notice how blurry the photo was! 😬 Luckily it was accepted, as it completed the Massachusetts tour, netting me an additional 1,161 points!
| | |
| --- | --- |
| This segment: | 5 miles, 0h10m |
| Total: | 15 miles, 0h17m |
| Time Remaining: | 71h43m |
| Tours complete: | 5 |
| Rest bonus exponent: | 3 |
| Points scored: | 5,840 |
17) T16B - Jefferson Fountain - Jefferson, TX - 188 pts
---
Take a picture of the Jefferson Fountain. Be advised that this location is located located between 114 and 124 W Austin St.
Heading south again, the hardwoods and pine and swamps and farms passing me by - I was in the zone. I cross over the head of Wright Patman Lake, a flood-control reservoir holding back the waters of the Sulphur River and a fair bit of the runoff from northeast Texas.
Just before entering the town of Jefferson, I came up on a small white utility pickup truck, and suddenly my radar detector started going nuts; it was a sheriff! I wasn't speeding, though; he was going 5 under the limit, but I made sure to give him plenty of space. He made a left turn down a side street right before the main intersection in town, where I myself was turning left. Of course, 5 blocks later, he popped out behind me.. not like he was trying to catch me, I'm pretty sure he was just taking a shortcut for locals and I happened to catch the traffic light. Still, it was a little unnerving that he was following me.. until I realized that the bonus was located in a small park adjacent to the county courthouse! He was just going to work.
Speaking of work, I saw the strangest landscaping crew outside the courthouse, working on the 5' strip of lawn next to the street. It must have been some kind of uniform, orange-and-white striped shirts and solid orange pants. Not really landscaping attire, it almost looked like hospital scrubs…
I took my photo, swigged some sports drink, and left as quickly as I could, before someone decided they might need someone else to help trim the grass!
| | |
| --- | --- |
| This segment: | 56 miles, 1h00m |
| Total: | 66 miles, 1h17m |
| Time Remaining: | 70h43m |
| Tours complete: | 5 |
| Rest bonus exponent: | 3 |
| Points scored: | 6,028 |
Jefferson was such a cute little town; lots of old hotels, B&Bs, and signs everywhere for the kind of specialty, niche museums I can get lost in - one for Gone with the Wind, one for old watches and clocks, an old train depot.. I've added it to my map of places to stop in again sometime.
Heading south out of Jefferson, I next passed around Marshall, and was thankful for the ring roads that even these small Texas cities have built out. Soon I was through it and on the south side of town I picked up I-20 heading west, and.. wait, wasn't I just here? Longview? It's that where I stayed last night?
I thought I recognized it, but also my attention was being diverted to the large wall of fuzzy black clouds ahead of me, the big fat COLD drops of rain starting to smash into my visor and windscreen…
I hopped off at the next exit and sought shelter inside a combination Kwik Stop and Sonic. It was ~1:50pm anyways, and I could use a bite to eat. I hunkered down and watched the Texas skyline uncork enough rain that I could barely see across the frontage road to the edge of the highway.. I was glad to be inside. I got a coffee, a donut, and a banana and kept vigil, and after about an hour it had finally tapered off enough that I felt comfortable riding again. As I was gearing up on the sidewalk, a pair of riders on old Harleys sloshed up. Lacking rain gear or windscreens, they squished and squelched in all their leather as they passed me into the store, leaving little puddles behind them. I was glad to have sat again, but started to wonder if another 1h20m sitting on my butt instead of riding was doing me any favors.. at least everyone ELSE also had to deal with rally complexity and the weather!
Back on I-20, I was even MORE pleased to have made the safe decision when I came upon a wreck in the median; a huge pickup truck facing the wrong direction, buried to it's belly at the end of 100 feet of deep gouges carved in the grass and earth by it's tires. On the shoulder of the road, 3 passenger cars with their flashers on, all with significant body damage… did the pickup truck hydroplane and take out these bystanders as flew, uncontrolled, into the ditch? Local fire department was on the scene, so I kept moving and said a prayer of thanks for being a scaredy cat about storms.
18) F44g - New London School Monument - New London, TX - 699 pts
---
Take a picture of the monument to the students and teachers who died in the New London School accident.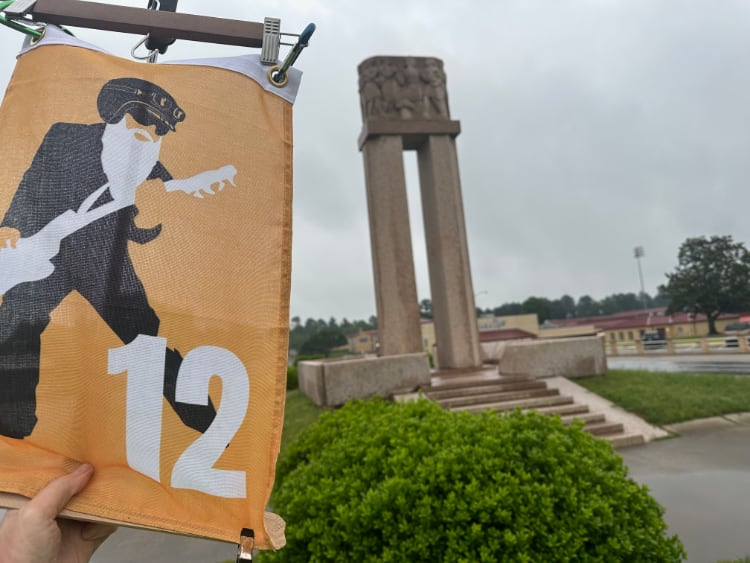 School was just getting out, and busses and kids were all over. I carefully parked in an off-camber parking area for a boarded-up store and ran across the street to grab my photo. Everything was wet, and the skies, which had settled down after the storm passed through, still seemed a bit heavy and chaotic; I was in for more rain, no doubt about it.
| | |
| --- | --- |
| This segment: | 65 miles, 2h26m |
| Total: | 131 miles, 3h43m |
| Time Remaining: | 68h17m |
| Tours complete: | 5 |
| Rest bonus exponent: | 3 |
| Points scored: | 6,727 |
From here, I'd planned to go due west through Tyler, pick up a low-value bonus in Athens, and then on to The Palace Theatre in Corsicana. Only problem? Another large storm cell was sitting halfway between Athens and Tyler, and it was barreling due east straight for where I was sitting! My radar app was flashing tornado warnings and displaying a crowded field of lightning bolts at the front edge of the storm, and the reflectivity layer (showing wind direction) was showing the beginnings of some rotation… yikes, no thanks! I decided to take the slower, southerly route and skip the Athens bonus (only 113 points and not part of a tour combo for me); heading directly into the teeth of that particular storm would waste just as much time trying to find a place to shelter as it passed.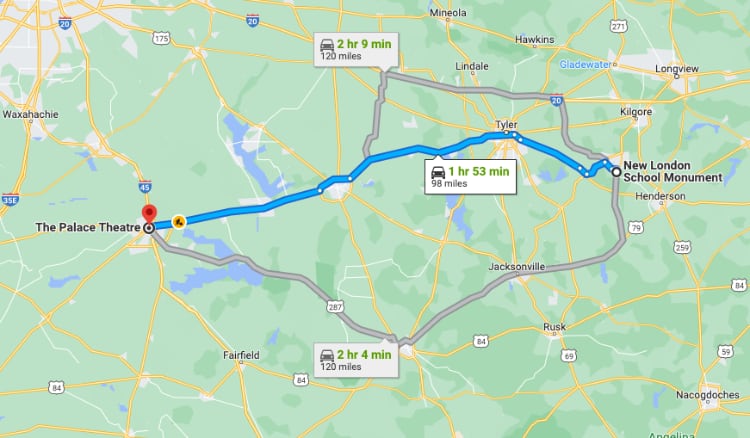 So I turned south.. I pulled over to the shoulder at a wide spot just past Jacksonville (wait, wasn't I just here yesterday?) to check the radar and make sure I'd gotten far enough south - looked like I'd clip the edge of the storm, but it looked like just rain, with the lightning on the northeast edge. While I was fiddling with the radar, a local cop slowed and stopped alongside me, to make sure I was ok. He started asking me a ton of questions, and I gathered he was a rider himself, but traffic started backing up behind him and he eventually waved and drove on.
19) R45C - Palace Theater - Corsicana, TX - 102 pts
---
Take a picture of the front of the Palace Theater in Corsicana where Billy Joe Shaver once played and where a future statue in his honor will be displayed.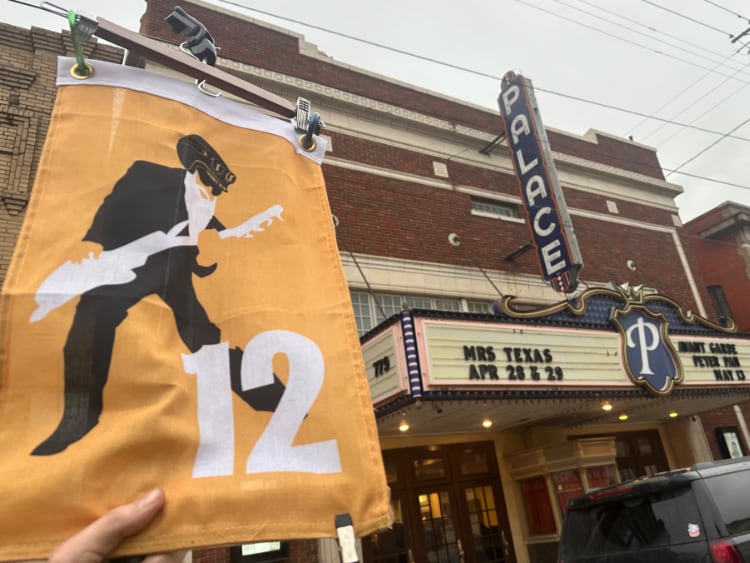 I was so focused on the storms and getting the bonus scored that I didn't even notice the Mrs Texas pageant was happening!
| | |
| --- | --- |
| This segment: | 120 miles, 2h17m |
| Total: | 251 miles, 6h01m |
| Time Remaining: | 65h59m |
| Tours complete: | 5 |
| Rest bonus exponent: | 3 |
| Points scored: | 6,829 |
I actually managed to stay dry on the run in to Corsicana, which was nice, but I wasn't making good time or big miles today. I'd only gone a little over 250 miles in 6 hours, barely a Saddle Sore pace, and I could see danger up ahead…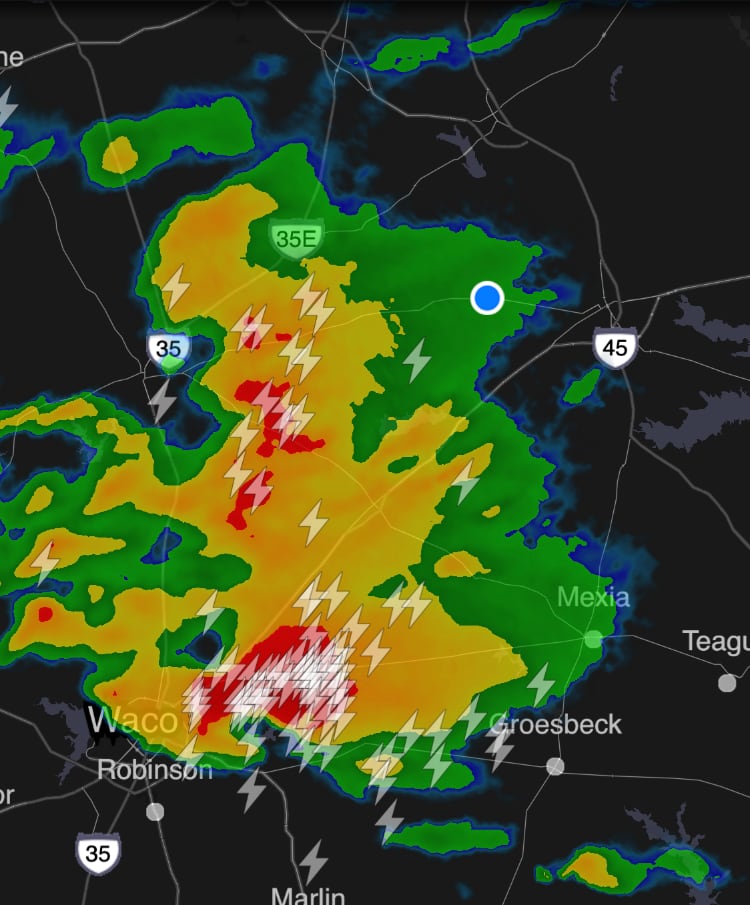 My route was driving due west, straight through the middle of that angry mess, and it was drifting northeasterly to meet me. I didn't see any way around it, as my next stop was to the northwest of Waco, and I'd need to go far south or north to get around it. Instead, I looked at the series of small towns along the way, deciding that there was a reasonably good chance of shelter for the worst of it, and I rolled the dice and cracked open the throttle.
I made it as far as Barry, TX before the first bits of hail started smacking into my visor. Purple-white lightning was striking now, close enough to see the bolts splashing down to earth. I kept my eyes peeled for any kind of shelter, and spotted and old, out-of-service gas station and mechanics shop, so I peeled off the pavement and onto the gravel. Pulling up to the garage bays, I spotted a couple guys working on a truck inside, and asked if I could shelter in the garage bay at the end of the road.. at least, I think that's what I asked them. They didn't have much English, but it was a lot more than I have of Spanish, so I parked the bike under cover.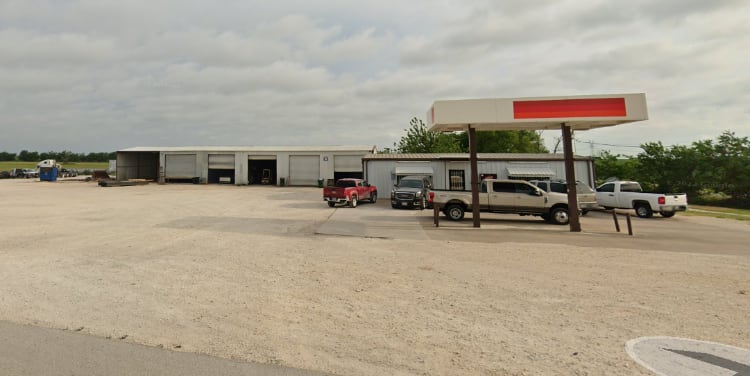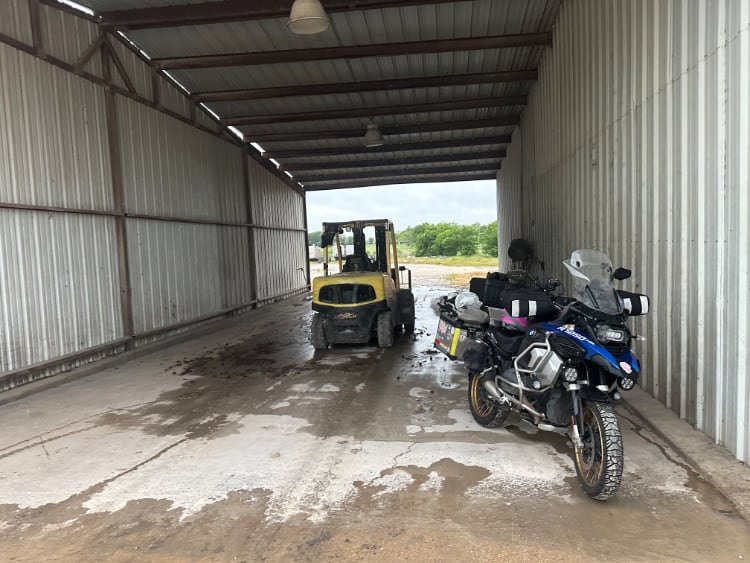 The sky started getting much, much darker as the storm began to bow and my phone started squealing with tornado and hail warnings. The bow front hit, and the wind whipped leaves and sticks through the air, hail rattled down, and the gap between the flashes and the cracks thunder converged. Here I was, standing in a metal-sided pole barn on a wet concrete floor in the middle of a thunderstorm. I decided that probably wasn't the smarted thing to do, so I hopped up into the cab of the forklift - big rubber tires and the metal cage should protect me from the worst of a direct strike on the building. I distracted myself by calling Shawn Kitchen and chatting for a bit, then texting with friends back in Seattle until the worst of it had passed, a bit more than an hour.
As I was packing up to head out, the 2 mechanics came out to lock up, generously offering me water and a poncho. I thanked them and explained I had all I needed, and they took off, and I followed them right behind.. smack into another slightly smaller storm about 10 miles down the road. On the radar it had looked like a small squall, but it was moving MUCH faster than the last one, so I had to get off the road in a hurry. Blooming Grove, the next town, I pulled over at a small gas station market and huddled for another half hour, eating some snacks on a lovely little bench they had set up.
The storm passed over fairly quickly as it hurried east to catch its bigger brother, and I went west into a gorgeous sunset that was peaking out from under the next line of storm clouds, a massive, roiling wall of sheet lighting, bolts dancing across the entire sky ahead of me. I hurried as fast as I dared as the sun finally dipped below the horizon and the clouds closed in. Lighting lost it's interest in the sky, and started dipping it's toe down to earth as I picked up I-35 south for a couple exits, then west into the darkness on some county road of questionable quality, straight at the heart of the storm. There would be no getting around this one, stretching as it did from Fort Worth almost to Austin.
My next stop would be JJ's Roadhouse to today's meal bonus, and I watched the GPS slowly count down the miles… it was better than watching the pyrotechnics furiously bursting ahead of me! The road itself improved in one section, the potholes being recently filled in with fresh asphalt; I steered for these black stretches of pavement, seeking relief from the cracks and divots left by who knows how many years of farm vehicles passing this way. Of course, I quickly discovered these were NOT patches of pavement, but instead deep ruts full of standing water! There's nothing quite like the blast of water hammering your feet and legs while the bike's traction control lights pop off like a tacky Christmas tree to focus the mind. I slowed down and picked my way through them, when the electric flashes that were now coming down not just ahead of me but to either side revealed I was riding across the top of the Aquila Dam, completely exposed, the highest point around!
I hunkered down, knowing it wouldn't help, but it made me feel slightly less like a prey animal, and within 5 minutes I found myself pulling into the muddy lot of JJ's Roadhouse. I parked near the metal-sided barn of a building between a couple pickup trucks that were actually used for their intended purpose, started my meal break timer at 8:44pm, and headed inside.
20) X05A - JJ's Roadhouse - Whitney, TX - Exponent: 2
---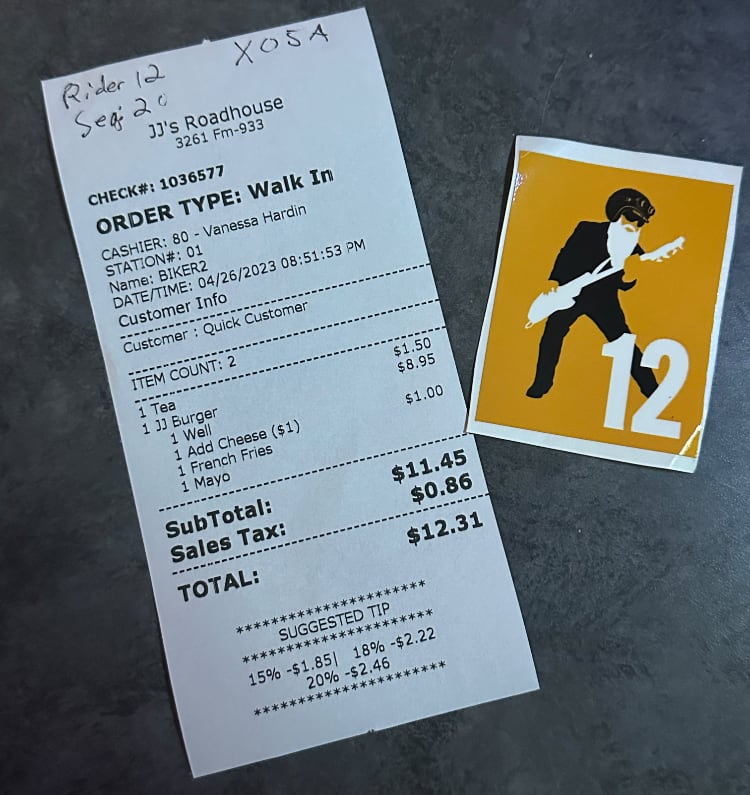 I scanned the crowd for any other riders, and spotted Art Garvin in a booth towards the back. He was just finishing up his meal but had some time still on the clock, so I joined him and we grinned at how insane this weather was. He told me "just before you came in, I asked the waitress if any other riders had stopped in, and she said 'No, no one is as crazy as you!'"
The rain and wind finally arrived, rattling the roof while thunder shook the walls; even the locals looked up from their pool and darts at a couple of the blows. I pointed out to Art that the roadhouse had a stage area set up at the far end, and it was far enough away from the bar to be empty and somewhat quite. "I wonder if the waitress would take $20 in exchange for letting me sleep there until closing?" I joked, and after Art packed up and headed out, I actually gave the problem some thought. I'd lost so much time today sitting around waiting for weather to clear that it really messed up my plan for a full 8. If I wanted to get back on track, I'd have to take a shorter rest break tonight, but that would mess up my plan a bit for Friday.. I'd built enough slack time into the schedule for a 3-4 hour break Friday night/Saturday morning so I could still max out my rest bonus, but I might have to get creative with routing in the last 24 hours. That, however, is a problem for Saturday Kerri; Wednesday Kerri's sole job right now was to eat this cheeseburger and fries!
| | |
| --- | --- |
| This segment: | 57 miles, 3h30m |
| Total: | 308 miles, 9h31m |
| Time Remaining: | 62h29m |
| Tours complete: | 5 |
| Rest bonus exponent: | 5 |
| Points scored: | 6,829 |
The rain was mostly stopped by the time I was ready to go, and radar showed the worst of the storms had moved far enough east that it was safe to venture back out. I decided to grab one more bonus tonight and then find a hotel and log a rest break.
Back outside, the rain had stopped, but the muddy dirt lot prevented me from backing the bike up. I never, ever nose into parking spots if I can help it, and now I was stuck! I couldn't go back… but maybe I could go forward? There was just enough space between a pair of concrete blocks for the fat butt of the GSA with it's huge panniers to squeeze through, onto a narrow paved path and slippery grass. Riding it the length of the building, it ended in a large mud puddle that had prevented anyone from parking there, so I made yet another water crossing and escaped.
I wish someone had filmed it; I must have looked like a real ADV rider! 🏍️💦
21) F56C - Tokio Store - Corsicana, TX - 934 pts
---
Take a picture of the front of the Tokio Store.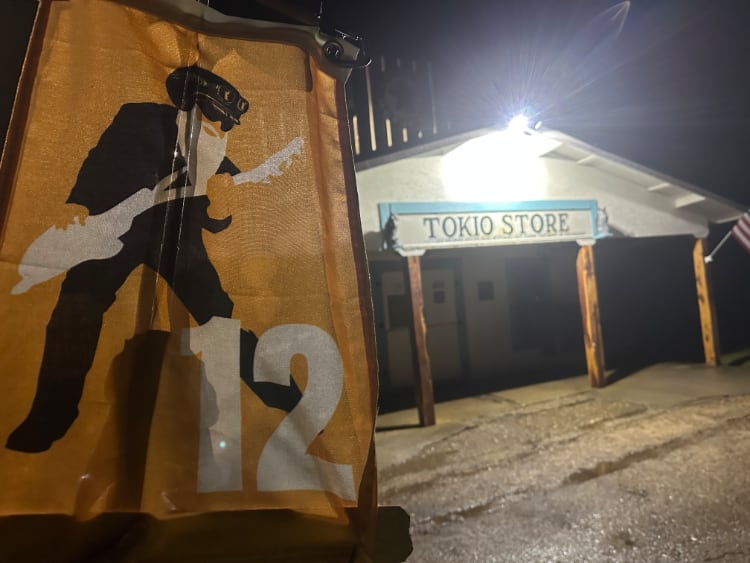 No sign of the vicious dog rumored to guard this location!
| | |
| --- | --- |
| This segment: | 17 miles, h30m |
| Total: | 325 miles, 10h01m |
| Time Remaining: | 61h59m |
| Tours complete: | 5 |
| Rest bonus exponent: | 5 |
| Points scored: | 7,763 |
22) Z02W - Rest Bonus 2 - West, TX - 5h10m (310 minutes)
---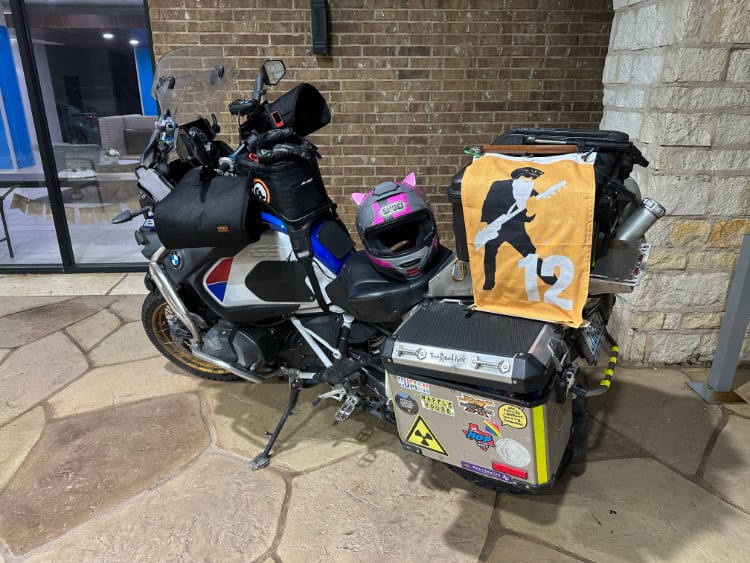 I booked this while at the last location (Tokio Store) as it was close by and available. I stopped and gassed up, then headed in. The young kid at the front desk was a bit slow, but before I knew it I was in bed and asleep, my alarm set for 3am - a short rest, but I really needed to start making miles.
| | |
| --- | --- |
| This segment: | 5 miles, 5h23m |
| Total: | 330 miles, 15h24m |
| Time Remaining: | 56h36m |
| Tours complete: | 5 |
| Rest bonus exponent: | 5 |
| Points scored: | 7,763 |
By this point, I'd made embarrassingly few miles, been skipping bonuses left and right. Sitting around waiting for weather was just… the wheels simply weren't turning, and when the wheels aren't turning, you're not making miles, and if you're not making miles, you're certainly not scoring points! Pulling out from under the hotel's carport at 3:24am, I wasn't giving up, but I certainly felt… resigned to just having a good time. Emotionally, I checked out from any expectation of being competitive, and refocused on the skill targets and process changes I was working on. I was happy that I was making safe decisions, and if nothing else I would at least finish this rally.
23) T09B - Springfield Cemetery - Corsicana, TX - 234 pts
---
Take a picture of the road sign for Springfield. There should be ample safe space to park in this area.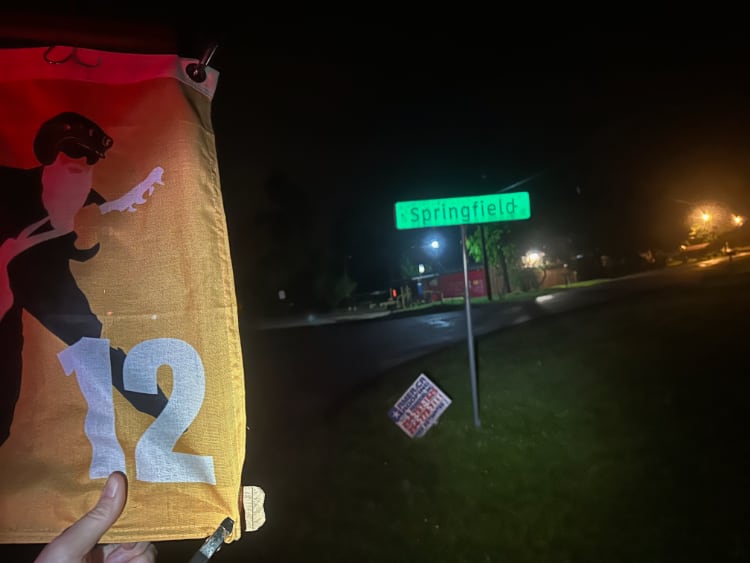 By this point, I have no idea where I am. The darkness hides any sense of direction, but the occasional star peeks out through the clouds that are breaking up behind the long-departed storm. There's nothing but me, the bike, the road, the stars… and about 50 million suicidal possums.
| | |
| --- | --- |
| This segment: | 48 miles, 0h54m |
| Total: | 378 miles, 16h18m |
| Time Remaining: | 55h42m |
| Tours complete: | 5 |
| Rest bonus exponent: | 5 |
| Points scored: | 7,997 |
24) T30B - Texas Centennial Marker - Nashville, TX - 333 pts
---
Take a picture of the Texas Centennial marker for Nashville.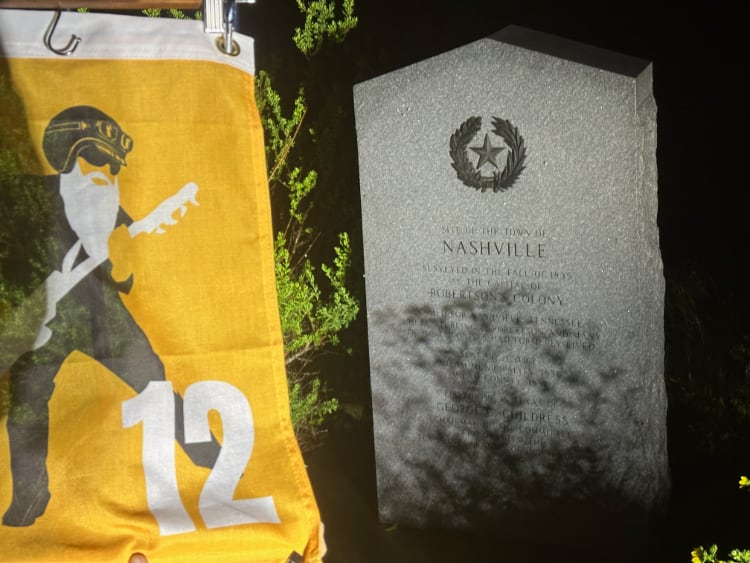 Nothin' but possums out here, baby.
So many possums… they just lie in the middle of the road, frightened into their stupor by the boxer drone and the false sun of the sizzling aux lights burning away the darkness.
| | |
| --- | --- |
| This segment: | 58 miles, 1h02m |
| Total: | 436 miles, 17h20m |
| Time Remaining: | 54h40m |
| Tours complete: | 5 |
| Rest bonus exponent: | 5 |
| Points scored: | 8,330 |
25) T17B - Lincoln Volunteer FD - Lincoln, TX - 244 pts
---
Take a picture of the sign for the Lincoln VFD.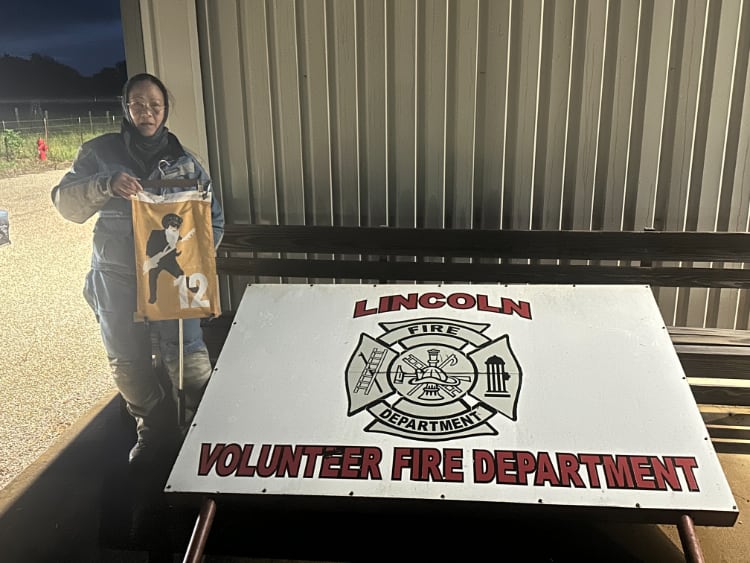 Well well well… look who decided to show back up! Bryan and Marissa pulled up just as I was dismounting, so we did the photo trade again.
| | |
| --- | --- |
| This segment: | 51 miles, 0h51m |
| Total: | 487 miles, 18h11m |
| Time Remaining: | 53h49m |
| Tours complete: | 5 |
| Rest bonus exponent: | 5 |
| Points scored: | 8,574 |
26) F46B - Eben-Ezer Berlin Church - Brenham, TX - 232 pts
---
Take a picture of the Texas historical marker at this location.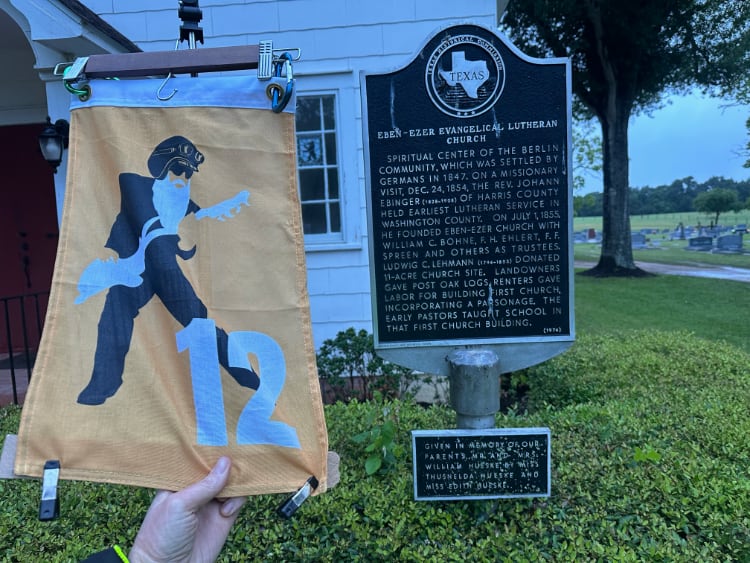 The world was starting to wake up as the sun rose, and after heading south on US-77 to Giddings, TX I merged with the early morning workers heading east on US-290. The Eben-Ezer Church was just down a side road that I almost blew past, plopped down in the middle of farm country, strangely quiet despite being so close to the highway..
Also, what is it with these small, out-of-the-way Texas churches and cemeteries having convenient and clean porta-potties for me to use? (I'm not complaining!!)
| | |
| --- | --- |
| This segment: | 40 miles, 0h42m |
| Total: | 527 miles, 18h53m |
| Time Remaining: | 53h07m |
| Tours complete: | 5 |
| Rest bonus exponent: | 5 |
| Points scored: | 8,806 |
27) T25B - Salem Cemetery - Salem, TX - 535 pts
---
In the cemetery, towards the center by the two large trees is a cross with a sign. Take a picture of this cross.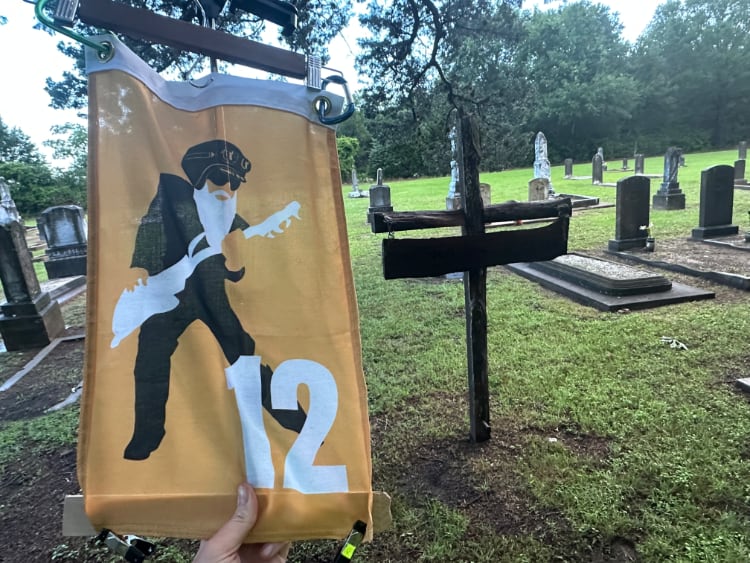 Waze sent me wiggling down a maze of farm roads, with sharp turns, over little hillocks and bumps that clearly date this road; if it were built today, they would've scraped the road flat, but instead they just paved over the wagon paths from the original settlers, leaving a series of whoops and dips that were fun, if not a little sketchy to be moving quickly through.
The cemetery was at the end of a short gravel access road, and I rode the circumference of this quiet, green acre to find the bonus. Later on, people would complain about this bonus location being difficult to find, to access, or some kind of muddy bog, but at 7am this morning, it was a well-drained lane of hard-pack gravel, and my GPS brought me right to where I was going. Funny how conditions can change so quickly, how much a few minutes of rain or sun can completely change the tenor of our rides..
| | |
| --- | --- |
| This segment: | 5 miles, 0h14m |
| Total: | 553 miles, 19h08m |
| Time Remaining: | 52h52m |
| Tours complete: | 5 |
| Rest bonus exponent: | 5 |
| Points scored: | 9,341 |
Leaving Salem Cemetery, I backtracked a couple turns and found myself heading southwest again on smaller farm and side roads. Traffic was minimal, but I kept seeing other rally riders heading in the opposite direction, all getting a wave and a head nod, of course.
I had one scary moment, about 15 minutes down the road. The route I was on crossed a busy farm-to-market highway, and I didn't see the stop sign, and had to panic break HARD not to shoot out into traffic! The back wheel tried to lock up, and even ABS couldn't stop it from trying to skitter free, fishtailing a big on the broken pavement of this under-maintained side road. Luckily I managed to keep it upright as I came to a stop a foot past the stop sign, although the bike tried to dump itself over… scary, and a wake up call that I was tired and needed to just back off a bit; after all, I'm not competitive in this rally, so why push it?
I got stuck for a while behind a caravan of white pickup trucks ferrying work crews to a pipeline or power line that was being built; every few hundred yards one of the trucks would turn off into a dirt construction area, all along a long, straight gash carved through the landscape.
Passed through La Grange, and given the rally theme, you know what I had to listen to…
The weather was perfect, and past La Grange the road was quiet and empty all the way to Flatonia and I-10. I needed to pee, so I stopped at the McDonalds, picking up an iced coffee and a breakfast sandwich in the process. A quick 15-minute stop, but it was a nice wake-up pause before continuing to the next bonus, just a mile or two away.
28) F41B - Maticka Praha - Flatonia, TX - 971 pts
---
Take a picture of the sign as you enter Praha. (Maticka Praha translates into Mother Prague)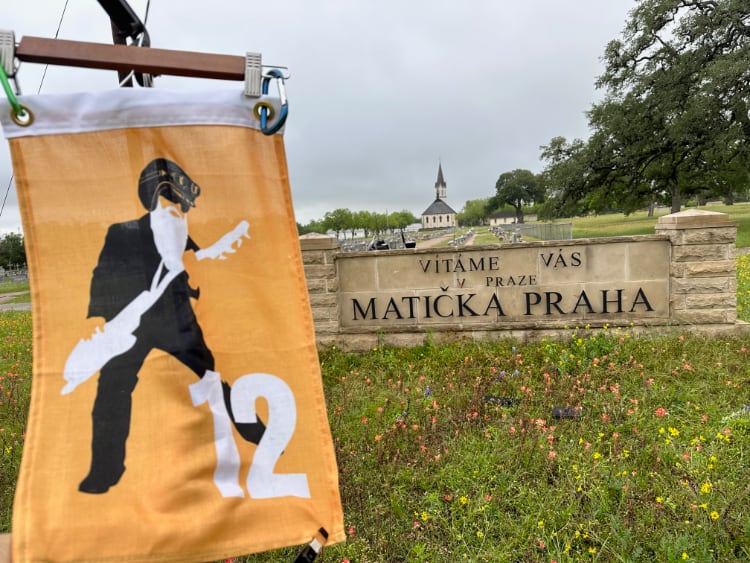 The sun was drying everything out, and I took the time to photograph some of the wild flowers sprouting up in the un-mown grass around this sign. A tour bus pulled up to that lovely church in the background and disgorged a group of 25-30 folks, not quite sure what the significance of it or the cemetery are, but it was quite lovely. I tried to remember if I stopped here during Heart of Texas 2021; I'm confident this was on the bonus list.
| | |
| --- | --- |
| This segment: | 65 miles, 1h29m |
| Total: | 618 miles, 20h37m |
| Time Remaining: | 51h23m |
| Tours complete: | 5 |
| Rest bonus exponent: | 5 |
| Points scored: | 10,312 |
Heading to the next bonus, I almost dumped the bike AGAIN! I did a u-turn in the road, but misjudged and went just a bit wide, and the soft, grassy shoulder dropped down into a ditch almost immediately! I managed to stay in the little 8" strip between the road and the ditch, but was going to have to gun it up out of the soft, wet grass and up onto the road surface, made all the more unnerving because I was on the inside of a surprisingly high-cambered turn, and I could barely see what was coming around it! I gave it, and got up and out before getting hit, but man.. twice in one day? I gotta settle down.
29) F34B - Vienna Church - Vienna, TX - 290 pts
(+90 pts - Austria Tour Complete)
---
Take a picture of the front of the Vienna Baptist Church.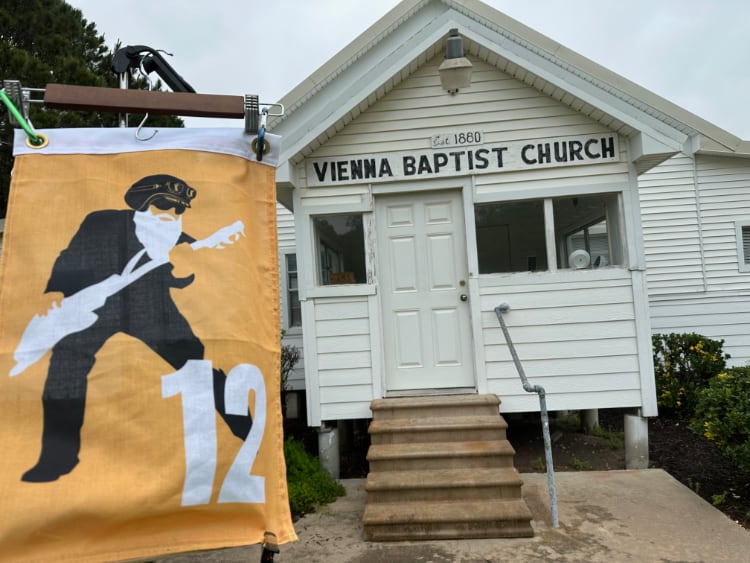 It was turning into a really great day, warm and sunny. The rally book warned about one of the approaches to this location being at the end of several miles of dirt, and I was glad to have all my nav devices set "avoid dirt unless absolutely required" - the short bit of dirt, maybe 100 yards, that I did have to ride on to get to the church proper was slick clay! At the finish, I heard horror stories from folks who had ridden the 5 miles or so of dirt, and none were pleased with their life choice that day.
| | |
| --- | --- |
| This segment: | 36 miles, 0h46m |
| Total: | 654 miles, 21h23m |
| Time Remaining: | 50h37m |
| Tours complete: | 6 |
| Rest bonus exponent: | 5 |
| Points scored: | 10,692 |
30) F69B - DeVaca and LaSalle - Victoria, TX - 132 pts
(+132 pts - Seychelles Tour Complete)
---
Take a picture of the De Vaca and La Salle monument at this location.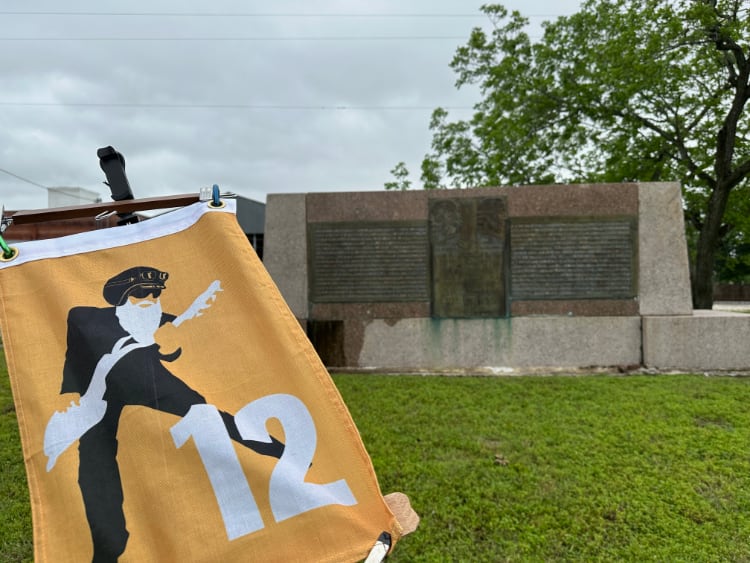 Getting close to the coast now, and I remember wandering around this town when I visited Port Lavaca just south of here last year, hunting lighthouses. This park felt deserted and forgotten, but also it's still morning on a Thursday, so who knows what evenings and weekends are like!
| | |
| --- | --- |
| This segment: | 57 miles, 1h08m |
| Total: | 711 miles, 22h31m |
| Time Remaining: | 49h29m |
| Tours complete: | 7 |
| Rest bonus exponent: | 5 |
| Points scored: | 10,956 |
Now came a really critical junction. It was 10:31am, and I had just enough time to run back north to eat lunch and claim a meal bonus at Mookie's Mesquite Patch BBQ and it's 2 exponent points back up in Waco, but since it's just over 4 hours away and closes at 3pm, that would only give me 28 minutes of leeway, and I'd have to make a gas stop along the way. Alternatively, I could continue south to El Jalisiense in Alice, TX, another 2 exponent place, which was less than 2 hours away.. but it would put me just to the west of Corpus Christi, waaaaay down south. A quick look at the map showed that there were a couple more locations eligible for the next time period (which starts at 12 noon) but… was 28 minutes enough of a window to risk my entire rally when I'd decided that I wasn't competitive and was just out to have fun? What sounded like more fun? BBQ or Mexican food from down by the border?