🎵 Five o'clock in the Texas morning
I got a long, long ride 🎵
-- "Texas Morning" - BW Stevenson
Up at 4am, I throw on street clothes and head down to the conference room for the riders meeting. The doors open at 4:15am, and a line quickly forms at the ridiculously slow Keurig machine. I manage to get a cup and find my seat. The tables all had heavy document boxes spread across them, each with a different rider's name on them, but we were not allow to touch them until instructed. 4:28… 4:29… 4:30am! The doors are "locked", and the lights dim.. and a 5 minute intro video played (embedded at the bottom of this page), detailing the history of ZZ Top's "World Wide Texas Tour" (in which they never actually traveled abroad!) The video ended, and then we discover that when they're not busy herding cats, our rally staff had started a ZZ Top cover band! Beards and sunglasses perfectly on point, they played just loud and long enough to wake everyone up, and you could tell who had coffee as we were the ones cheering and clapping.
As they cleared the stage, the lights came on, and we were instructed to open our rally packs. Inside was our rally flags, rally stickers (including one with our rider number on it), a fake ZZ Top beard, a pair of sunglass, and of course, our rally book.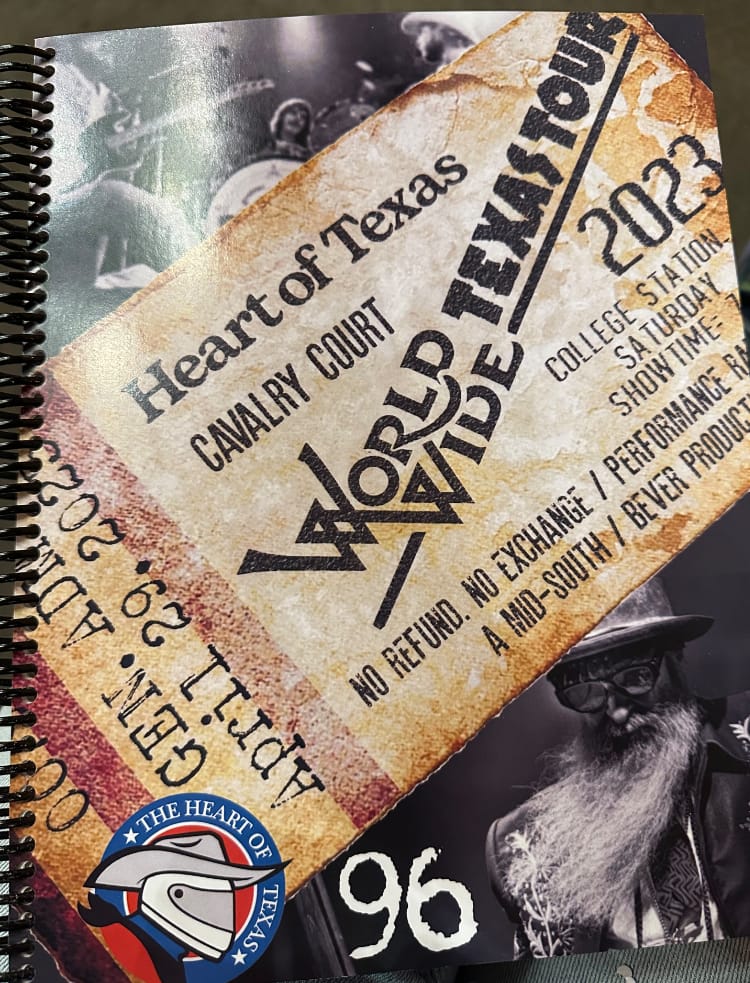 Unleashed, we began to go over the rally theme and details.. but first, some additional backstory. Back in early April, I noticed that my passport didn't expire in August, but in April.. in fact, it was already expired! Amazing how fast 10 years flew by.. I hurriedly sent off my passport to be renewed, as at best the US State Department offers 7-9 weeks of turnaround on renewals. I was pretty sure I would have it back in time for the IBR, but I certainly wouldn't have it for Heart of Texas. In previous years, all bonuses were inside the state of Texas, but just in case, I emailed Paul and Nancy to ask if I'd need my passport. His simple reply? "Can all bonuses be in the US and still necessitate the need for having a current passport?"
So what was this year's theme?
Welcome to the 2023 Heart of Texas Rally : World Wide Texas Tour. For the next 96 hours, you will travel (presumably) to the far corners of Texas and to many points within. You will be visiting cities, towns, and ghost towns named for famous places, countries settlers came from, or perhaps the name of the place just sounds like somewhere else. Texas is very large, allowing early settlers and pioneers to spread out, giving many thousands of land seekers to find their own places, and build their own communities. Groups from France, Germany, Czechoslovakia, Poland, Norway and others founded communities, marking their new communities with their Old World names. Some communities no longer exist, the only evidence of their previous presence being an aging cemetery and/ or a Texas historical marker. Others are large towns and cities.</i>

You can find the whole world in Texas, so step right up, it's time to embark on your World Wide Texas Tour.
While at first, it seemed pretty ordinary - visit places named for locations outside of Texas, and assemble combos of them around a "tour".. for example, you would score, say, 542 points for visiting Montgomery, TX (named after the city in Alabama) BUT if you also visit the Alabama-Coushatta Indian Reservation (199 points), you'd not only score points for both, but an additional "tour" bonus of 1866 points. Each tour consisted of 1-6 locations, and we would be required to complete at least 16 of these tours to be a finisher.
In addition to tour combos, there were 2 additional combos - the "Planetary Combo" which awarded you an ever increasing number of points for each location visited as you visited more of them and the "Ultimate Tour Combo" which was an additional 75,000 points for visiting 18 locations that shared a name with a city that ZZ Top played at during their 1975 World Wide Texas Tour.
Finally, there was Paul's usual very generous rest/meal breaks, where you score so many points it's impossible to not max out. All you had to do was take a meal break at one of the restaurants listed in the rally book each day, and you could claim up to 24 hours of rest bonuses, earning a certain number of points every minute. We had to log at LEAST 3 separate rest periods, each a minimum of 4 hours. The maximum rest in one bonus is 8 hours (you can rest longer, but 8 hours is the maximum you receive credit for) and you can only earn a maximum of 24 hours worth of rest bonuses. All rest periods had to be logged between 8pm and 6am (a 10 hour window.)
How many points per minute resting do you earn? Well, that depends.. each location had an "Exponent" value associated with it, ranging in .25 increments from 1 to 3. As Paul explained to us in the rider's meeting, your meal/rest score is your total number of rest minutes times 1.7 to the power of how many meal points you earn. For example: 1000 minutes rest; total meal points 5 is 1000 x 1.75 = 14,199 points.
Paul really leaned into explaining this, and I've learned riding in his rallies that when he says "It would behoove you to _____" you should pay really, really close attention to what he's suggestion you do! My ears also perked up at the mention of "exponential"; I'm not a math whiz, but I work enough with computers to know that "exponential" and "multiplier" mean different things.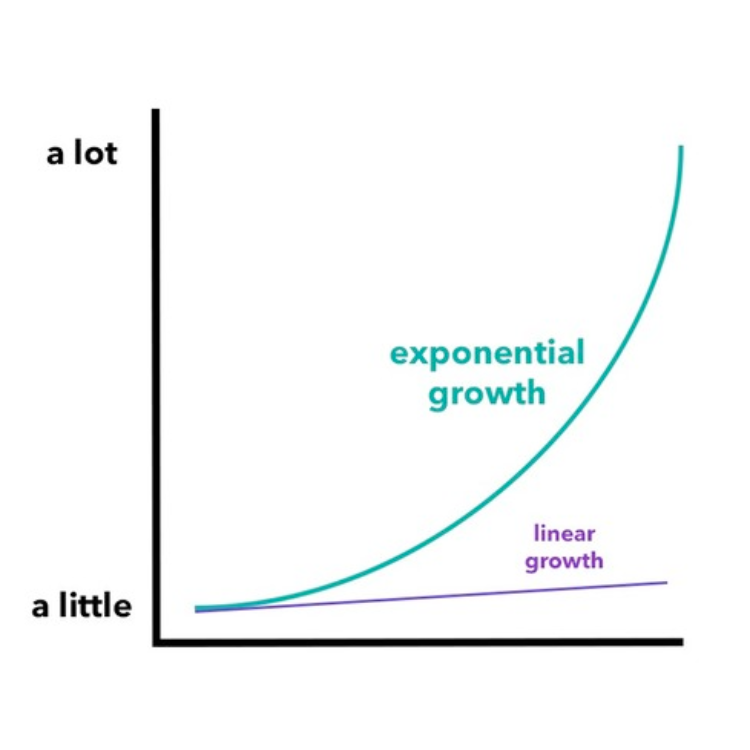 By 5:30am, thoroughly confused, we all scattered back to our rooms to work on our routes ahead of our rally start time of noon. It quickly became apparent that this was going to be a complicated puzzle to sort out, as there was, of course, a huge wrinkle; each bonus would ONLY be available on one of the 4 days of the rally (and each day is considered noon-to-noon.) This made the higher point value tours, with multiple stops, exceedingly difficult to plan around, as you may have to score 1 or 2 of its locations each day. This was markedly different than the "big rocks" approach to rally planning, where you identify high point value locations and combos and build a route around those, and then fill in with "little rocks" that happen to synergize with your overall route plan.
Got it? Perfectly clear? Judging by the noises of confusion and frustration on the Zoom call (which Paul and Nancy also did for LDX, and it's kind of genius) we were all struggling to wrap our heads around this puzzle, as previous route planning experience was not as helpful as a more straight-forward rally, and it even might hurt you! Just getting one's head around how to organize all the data.. most of us use Basecamp or some other planning tool, but with this format, beyond being comfortable with moving data in and out of the program, it still didn't really help solve the puzzle.
After playing with a number of different approaches, I did finally figure out how to represent the data in Basecamp. I started with each day's available locations as "onion skins" that I could flip between, but ended up finding a better approach. Normally I use a 🟢, 🔵, 🔴, 🟣 system to denote low, medium, high targets, but by switching to using not a circle to mark each location, but a letter as well to mark which day it would be available, I was better able to discern the data for the entire rally. This was important, as I later explained to someone, because like a game of 9-ball, as important as making any single shot is, it is also important where the cue ball comes to rest. You could easily score a big run of locations on Day 1, but if it left you starting Day 2 isolated from bonuses that worked with those to build out additional tours, you could find yourself scoring big points but not completing enough tours.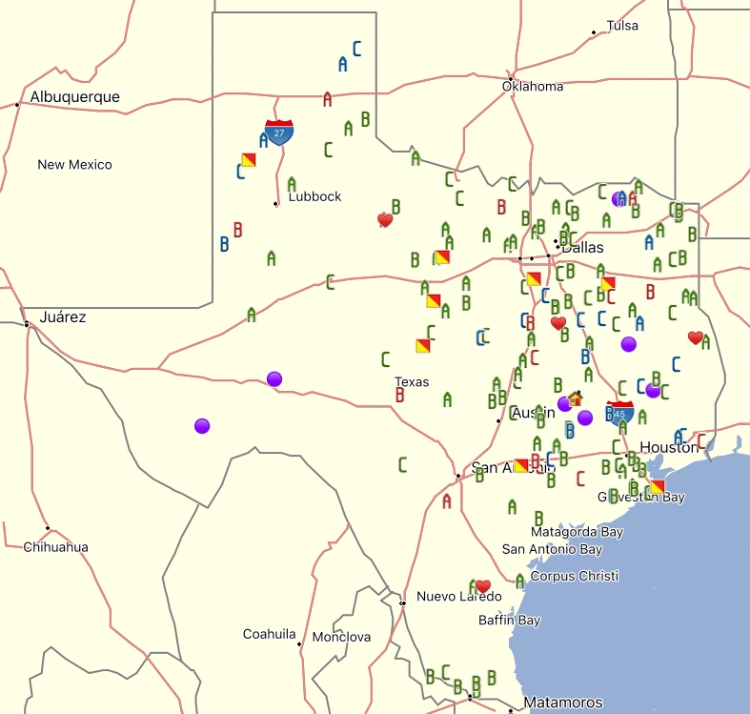 2 additional wrinkles, just to make this all the more interesting - planet locations were only available starting at noon on Friday.. and in fact, were the ONLY bonuses available between noon on Friday and 2am Saturday morning, when the 2nd wrinkle kicked in. From that point on, you could score ANY location rally-wide, but you had to be in the photo, along with your flag or rally sticker (which could count as a flag if need be) AND you had to be wearing the fake ZZ Top beard and the 🕶️.
So as I said.. it was a lot. I did realized 2 things - the first being that effectively, each 24-hour period (noon to noon) was essentially another leg. Limiting bonus availability meant we'd be doing a lot of backtracking, and that being able to quickly determine what bonuses were available to you on any given day was a critical tool for not losing points at scoring.
The other thing I realized was that maxing out the rest bonus was going to be key. You simply had to claim meals at the restaurants with the highest exponent value. There was one worth 3 points, 4 worth 2, and then rapidly falling from there. The highest exponent total you could claim, then, across 4 meal stops, was 9.. and would result in a rest bonus of 170,767 points! Due to how exponents math out, substituting a single 2 exponent stop with one worth 1.75 would cost you over 20,000 points! With that in mind, rather than starting with a "big rock" combo to build around, I instead used the locations of these restaurants as my base route, and built from there.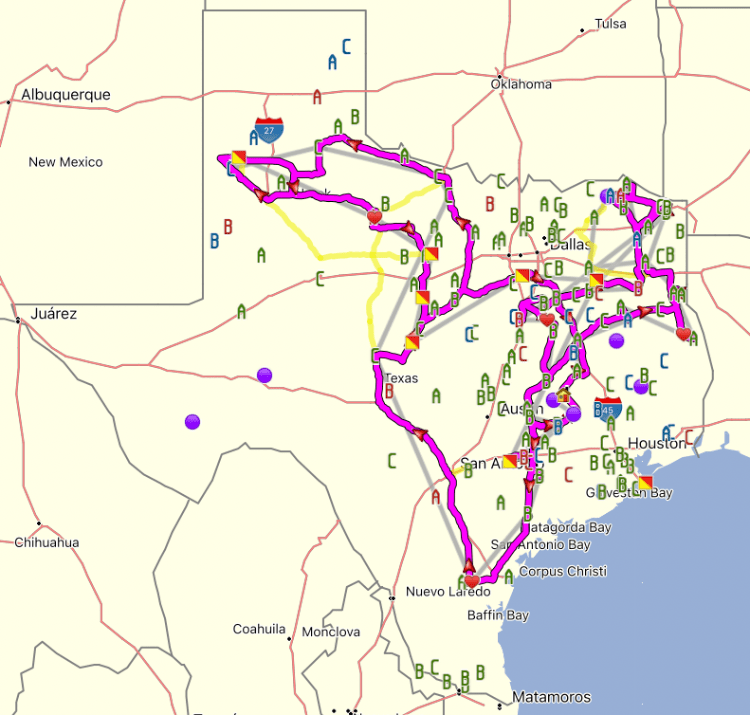 I finally landed on a route shortly before 10am that I was happy with, and locked it in. The plan was to eat at the highest exponent restaurants, first heading east, with the goal to end up in the panhandle at Earth, TX by noon on Friday when the Planetary bonus opened, sweep up as many of them as I could before circling back towards the finish, hovering up as many bonuses as I could in the final hours of the rally. I planned on scoring an 8-hour rest break each of the first 3 nights, and try to power through Friday night/Saturday morning, leaving myself 3-4 hours of slack in the schedule for naps as I needed them.
I say I was happy with it, but.. I wasn't sure it was competitive. In fact, I worried that I might have gotten down a rabbit hole or two with all the complexity, and I would frequently return to the thought of "well, at least I'll win 'Had The Best Time' award!"
I transferred some notes around the itinerary to my phone, and having detected a pattern in the names of the bonuses that indicated which day they were available on, I wrote out a quick cheat sheet and tucked it into my tank bag's map window. I then headed down to the hotel's bar and had some breakfast tacos and listened to other people's ambitious plans, trying not to second guess my decisions… at least I'd eat well (since Paul always recommends the best food stops!) and get plenty of rest!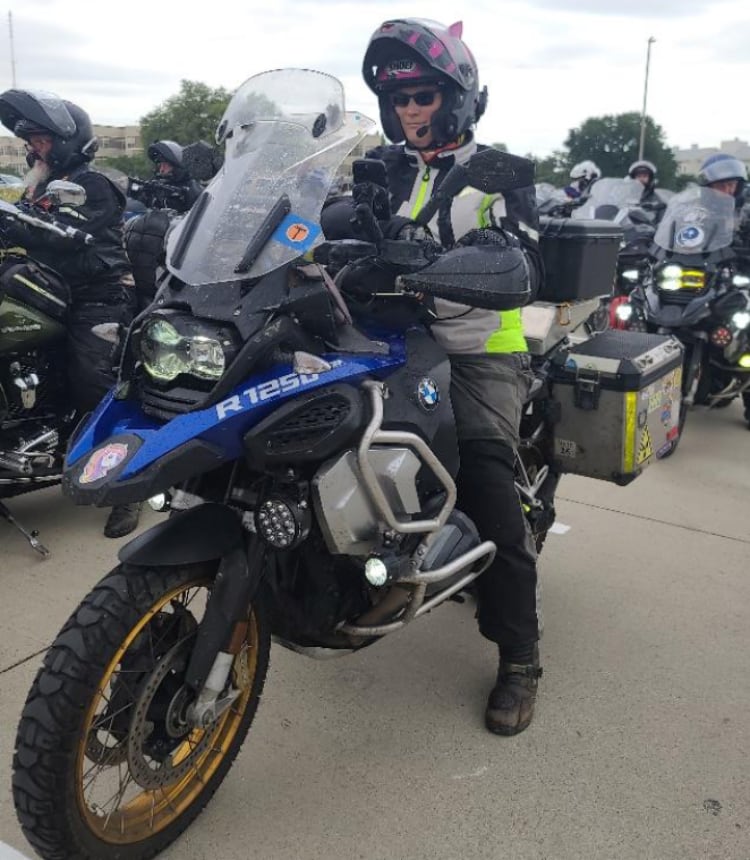 The sky was overcast, and the forecast was for chilly temps (by Texas standards) and light rain the next few days, with the potential for big storms each day. Lined up in the starting area, I somehow ended up positioned to leave 3rd; there's no real advantage, of course, but psychologically it was a little boost of "I'm already winning!" 51 bikes ready to roll, we count down the minutes, make sure every strap is cinched, every zipper closed, every latch secured, and before we knew it, we're off!
1) B67C - Mecca road sign - Mecca, TX - 29 pts
(+29 pts - Saudi Arabia Tour Complete)
---
Take a picture of the sign for Mecca. Do not stop in the road. There is a drive just up the road about 100 feet where you can park and walk back.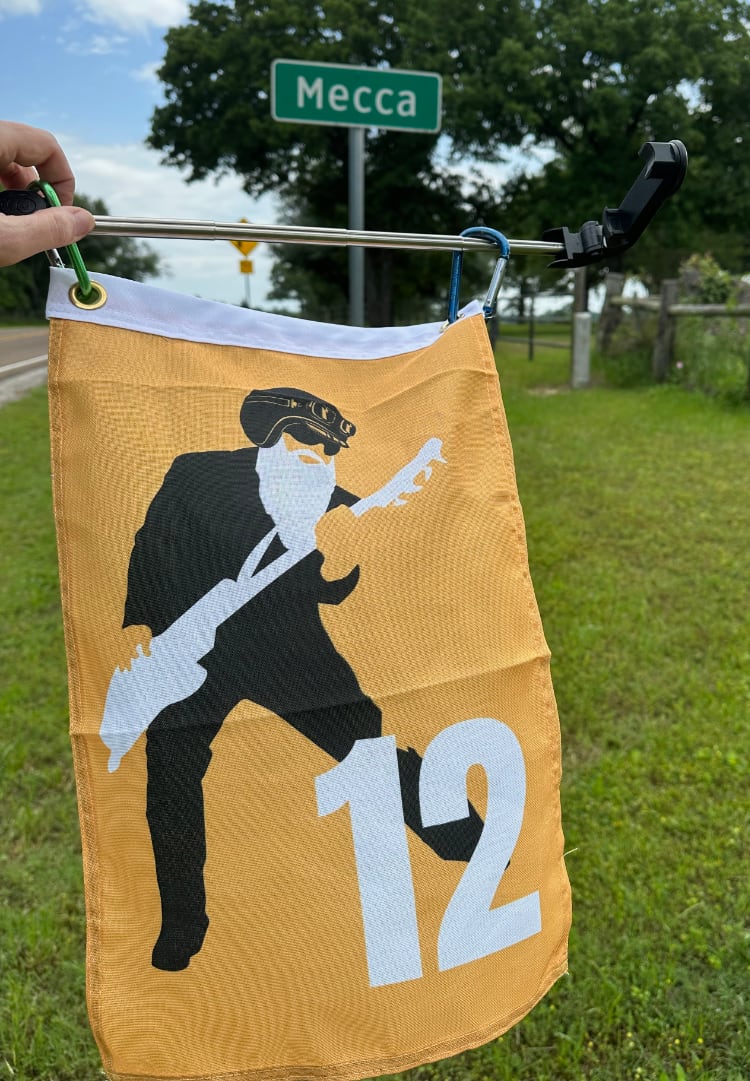 Waze took me on a twisty tour of the bucolic side streets of College Station, eventually dropping me onto US-190 East. Rally start nerves quickly subsided, and I settled into a steady pace. The bonus, a town line sign for Mecca, had a couple small turnoffs, and I pulled in behind someone who'd gotten here just seconds before me. As I was getting back on the bike and pulling away, a pack of 12-15 other ralliers poured in.. and distracted me from paying attention to the GPS telling me to turn around instead of continuing forward, so I got to flip a u-turn and ride back through the crowd.. luckily no one saw me, crowding the sign, intent on scoring their own bonuses.
| | |
| --- | --- |
| This segment: | 34 miles, 0h37m |
| Total: | 34 miles, 0h37m |
| Time Remaining: | 95h23m |
| Tours complete: | 1 |
| Rest bonus exponent: | 0 |
| Points scored: | 58 |
2) M21C - Brookshire Buffalo - Buffalo, TX - 360 pts
---
Take a picture of the buffalo statue located in front of the Brookshire's grocery store.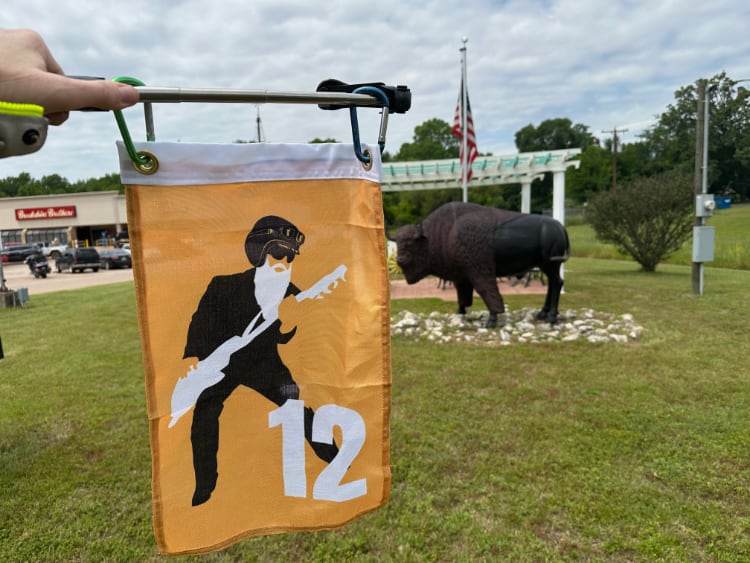 The same rider who was ahead of me at Mecca was also here, just packing up to leave. The parking lot was a bit uneven, so I just parked in front of the statue itself and snapped my photo. As I was doing paperwork, the herd behind me at Mecca started filtering in… given the obvious nature of the rest bonus exponents and the time-windows, would this be the rest of my rally?
| | |
| --- | --- |
| This segment: | 36 miles, 0h40m |
| Total: | 70 miles, 1h17m |
| Time Remaining: | 94h43m |
| Tours complete: | 1 |
| Rest bonus exponent: | 0 |
| Points scored: | 418 |
3) M13D - Salem Missionary Baptist Church - Salem, TX - 406 pts
---
Take a picture of the sign for the church with the church visible in the background.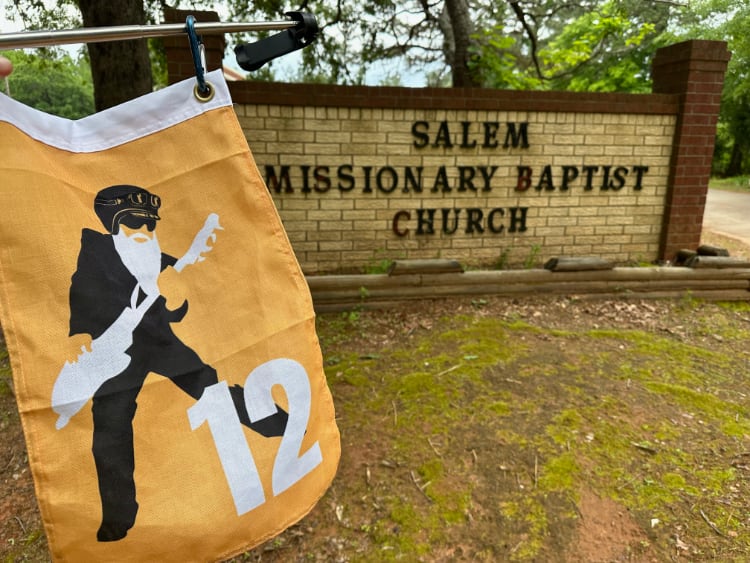 Traffic picked up a little bit as I skirted around Palestine, TX. Hey, is there a bonus here? Yes… but not until Thursday! Ah well.. maybe I'll be back.
Surprisingly, no one else was at this stop, although as I was leaving I passed Bryan Bailey and Marissa Scott, riding 2-up, just coming in. A peek at the Spotwalla page showed that we were starting to spread out now, although the majority of people were still clustered east of College Station.
| | |
| --- | --- |
| This segment: | 69 miles, 1h15m |
| Total: | 139 miles, 2h32m |
| Time Remaining: | 93h28m |
| Tours complete: | 1 |
| Rest bonus exponent: | 0 |
| Points scored: | 824 |
4) M07D - Jacksonville Town Square - Jacksonville, TX - 112 pts
---
Take a picture of the Texas historical marker for Jacksonville.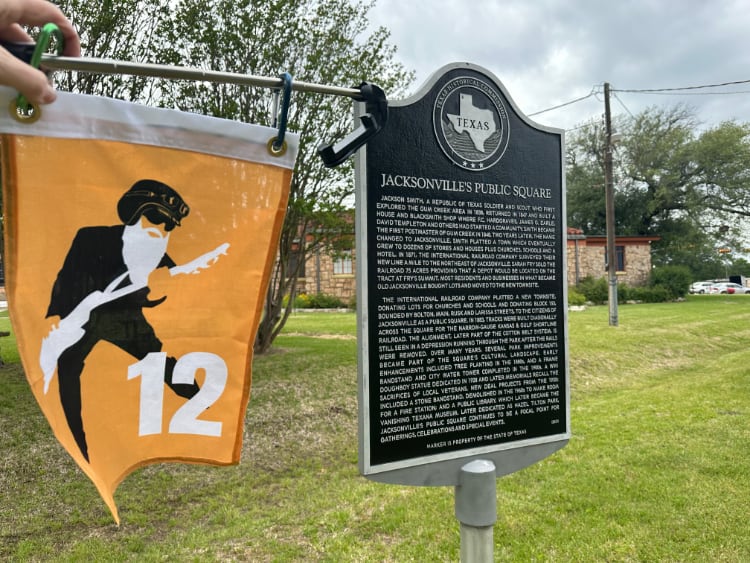 Leaving the church, Waze took me on a scenic little loop of some backroads, as it sometimes does, since it's set to never tell me to take a u-turn.. I sometimes forget to turn that off. Oh well; it only added 5 minutes or so to the clock, and I was making good time (or at least, beating the often inaccurate estimations of Garmin!)
This historical marker is in the middle of the lawn of the Vanishing Texana Museum, and with my love for small-town or niche museums, I made sure to add it to my map of them.
It was getting a bit windy, so it took some clever positioning and fortuitous timing to get a photo with my rally flag unfolded; I'd somehow misplaced the usual skirt hanger and clamps I use to weigh down the flag.. I'll have to keep my eyes open for a solution along the way.
It took me long enough to get a photo that a gentleman from the museum came outside to make sure I was ok. I briefly explained the rally, then begged off as politely as I could. A quick stop in town for a bathroom break and to top off the tanks (I mean, as long as I'm stopped, might as well!) and I was soon heading back south, retracing my steps..
| | |
| --- | --- |
| This segment: | 17 miles, 0h28m |
| Total: | 156 miles, 3h00m |
| Time Remaining: | 93h00m |
| Tours complete: | 1 |
| Rest bonus exponent: | 0 |
| Points scored: | 936 |
5) X04A - Heart of Texas Grill - San Augustine, TX - Exponent: 3
---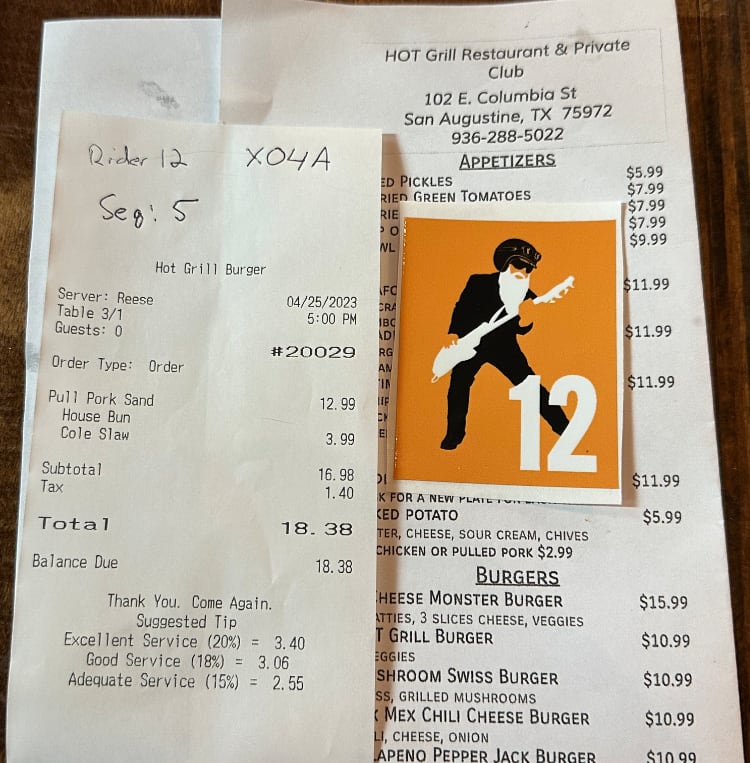 There must be some kind of law that every Texan town has to have a picturesque town square; there's no other explanation for how many I've seen over the years of riding Heart of Texas events! This one was just as lovely as the others, and the Heart of Texas Grill was just steps off it. I parked next to another rally bike and stepped inside; Paul Brown was just finishing his meal, and we chatted a bit about our afternoon, and the quirk that this restaurant didn't print their address on the receipt, so we were being asked to include the menu in the documenting photo. The waitress was on the spot, bringing me a menu saying "I think you'll need this for our address?" Clearly, we weren't the first here today..
I splurged a little and got the pulled pork sandwich and coleslaw with an unsweet tea, and was impressed. I'm no expert, though – we get so little BBQ in the PNW that I can be fooled into thinking it's good, but at the moment it really hit the spot. A couple other riders filtered in as I was finishing, and I passed along the warning about the receipts, paid my bill, chatted with the hard-of-hearing gentleman manning the register, and when outside to start gearing up. As I was fiddling with something, Bryan and Marissa pulled in, and they warned me about a construction zone just east of town; we were both on the same general route, it seems, as they were just coming from my next bonus, so I was going to hit it. Seeing no way to detour, I resigned myself to toughing out whatever the construction zone gods decided to dish out to me today.
| | |
| --- | --- |
| This segment: | 84 miles, 2h41m |
| Total: | 240 miles, 5h41m |
| Time Remaining: | 90h19m |
| Tours complete: | 1 |
| Rest bonus exponent: | 3 |
| Points scored: | 936 |
6) B72C - Geneva Baptist Church - Geneva, TX - 155 pts
(+155 pts - Switzerland Tour Complete)
---
Take a picture of the sign for the Geneva Baptist Church.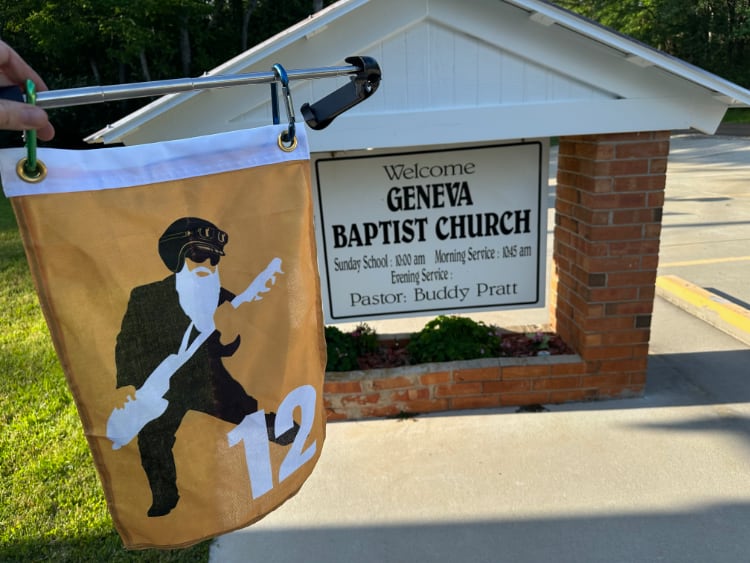 The construction Bryan and Melissa warned me about seemed to be wrapping up; they'd warned of soft, fresh asphalt, and it still smelled pretty bituminous, but I only had to wait about 10 minutes for a pilot car to lead the small group of us waiting to get across.
At the church, another rally rider was there, and we exchanged minor chit chat. I was doing paperwork and I realized that we had both taken a picture of the wrong side of the sign.. although it was technically the same sign on both sides, with the same exact design and information, I decided to take an extra 30 seconds and grab a photo of the "correct" side, just in case; I learned my lesson about taking shortcuts when capturing bonus photos!
| | |
| --- | --- |
| This segment: | 14 miles, 0h27m |
| Total: | 254 miles, 6h08m |
| Time Remaining: | 89h52m |
| Tours complete: | 1 |
| Rest bonus exponent: | 3 |
| Points scored: | 1,246 |
7) B74C - Jim Reeves guitar - Carthage, TX - 162 pts
---
At the Jim Reeves memorial, take a picture of the guitar sidewalk as shown in the example photo. Do not drive your motorcycle up the sidewalk or you will be disqualified and DNF.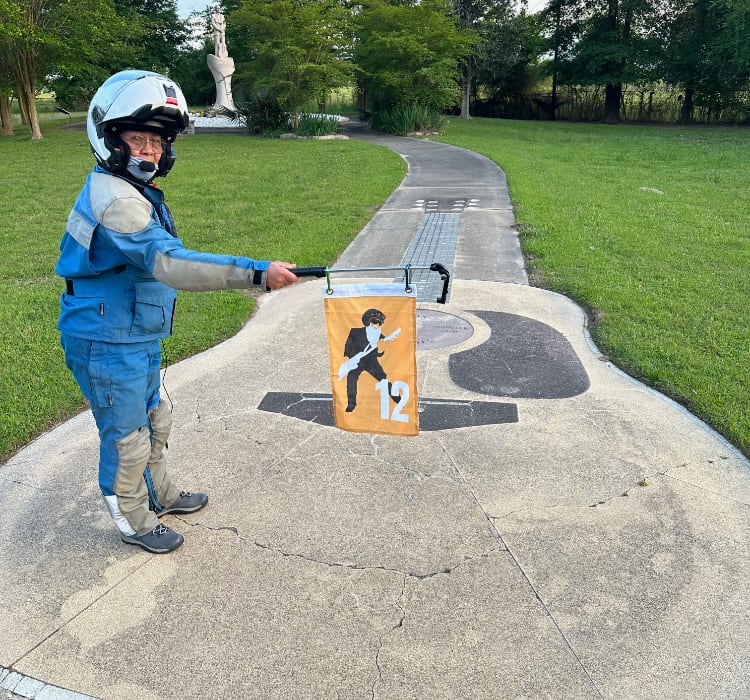 I made good time, and right behind me, Bryan and Marissa showed up as well. Thank you, Marissa, for doing flag duty for all of us!
Someone else rolled up right as we were walking back to the parking lot, confirming for me that a large percentage of folks saw the same rest bonus exponent play, and would be running this same basic loop. While I really was intending to just have fun, I was also holding in my head the idea that this would be the last rally for me before the IBR, and so I needed to keep pressing, and to focus on the skills, tools, and methods I had identified pre-rally as needing work. That is my focus in this rally, not standings.
| | |
| --- | --- |
| This segment: | 63 miles, 1h02m |
| Total: | 317 miles, 7h10m |
| Time Remaining: | 88h50m |
| Tours complete: | 2 |
| Rest bonus exponent: | 3 |
| Points scored: | 1,408 |
8) M29C - Deadwood Cemetery - Deadwood, TX - 167 pts
(+167 pts - South Dakota Tour Complete)
---
Take a picture of the Texas historical marker.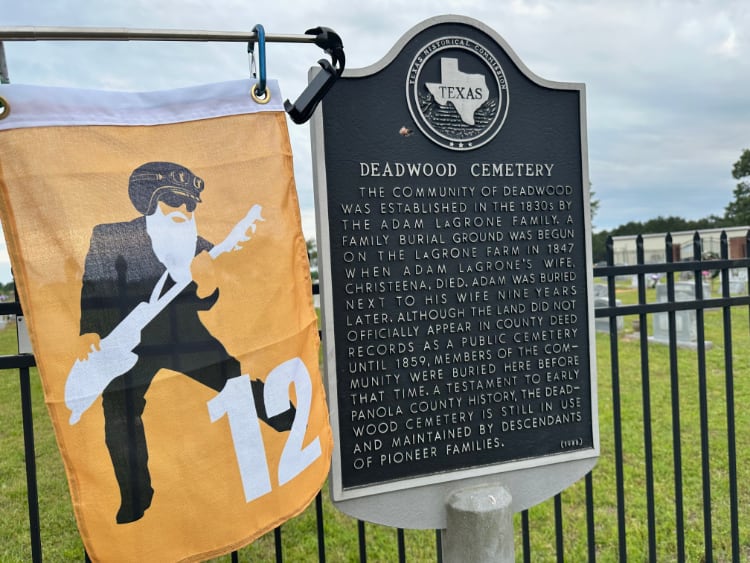 Crossing the Sabine River, the road just cut a straight line through the woods, from time to time passing over what looks like bayou.. and then signs start appearing labeling these swampy setbacks as such. I'm getting close to the Texas-Louisiana border, and I realized I've only ever spent time on the highways out here, except for a couple hours during the JBR.. today and tomorrow I'll be seeing a whole new part of Texas, here in the eastern side.
There was no one here when I pulled in and parked. The evening was turning out to be the perfect temp for me now, and the wind of earlier was muted to a gentle breeze that carried the buzzing and chirps of insects in fields. I turned off the bike and just listened to East Texas for a moment in this lovely, secluded spot. I found out just now, while writing this up, that this old cemetery is where the actor Powers Boothe was buried.. I would've liked to think he'd've appreciated it if I visited his grave, and just quoted him his most famous line from the movie Tombstone:
"Well… bye."
He seemed like the type to appreciate it. I mean.. he is buried in the "Deadwood" Cemetery, after all.
| | |
| --- | --- |
| This segment: | 17 miles, 0h24m |
| Total: | 334 miles, 7h34m |
| Time Remaining: | 88h26m |
| Tours complete: | 3 |
| Rest bonus exponent: | 3 |
| Points scored: | 1,742 |
9) Z01T - Rest Bonus 1 - Longview, TX - 8 hours (480 minutes)
---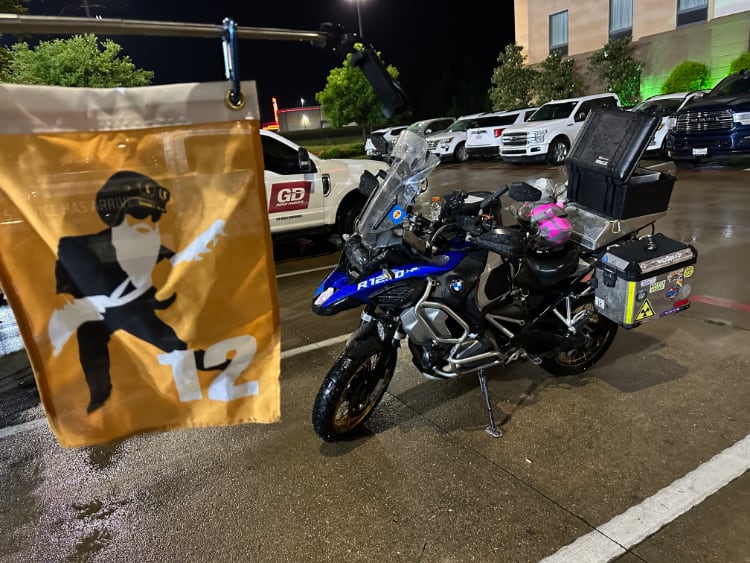 An hour later, I found myself another 55-ish miles north, on the northern edge of Longview, TX, pulled over in the parking lot of a Buffalo Wild Wings, staring at the weather radar and the mass of yellow, red, and bit of purple barreling down on the road ahead of me. In case I somehow talked myself into distrusting the satellites, lighting popped on the horizon, confirming the presence of the storms. I'd originally meant to stop closer to 10pm, to maximize my miles, but looking at the storm situation and the towns ahead…
I really, really wanted to push it, but decided that the best play would be to start my rest bonus here a little earlier than I had been planning, but in a relatively bustling retail corridor rather than scrounge for something when I'm wet, cold, and stressed from riding in lightning. It just so happened that I was next to a Hampton Inn, which had rooms available.. sweet! I started my rest bonus timer in the app at 8:35pm, booked the room, and went on inside.
Check-in was the usual questions once the lady at the desk saw my Washington state license. "You rode your motorcycle all the way here? What ever for, darlin?" I was obliged to explain the whole "scavenger hunt on motorcycle" thing, exactly how long it takes me to get from Seattle to Texas, yes I travel by myself, etc. She was genuinely impressed, and called out her manager and told me to repeat everything, so I went through it all again while she pushed buttons and did something with the computer.
The manager was QUITE impressed, but still a bit flabbergasted at the physicality of LD riding. Surely it hurt? Don't you get sore? Are you sure you rode all this way? "You know what this lady needs?" asked the manager. "Oh, you know what she needs… give it to her!" She leaned a bit forward over the calendar, and with a grin said "girl, don't you worry, we'll take care of you!"
…and that's how I found myself in a king suite with this next to the bed.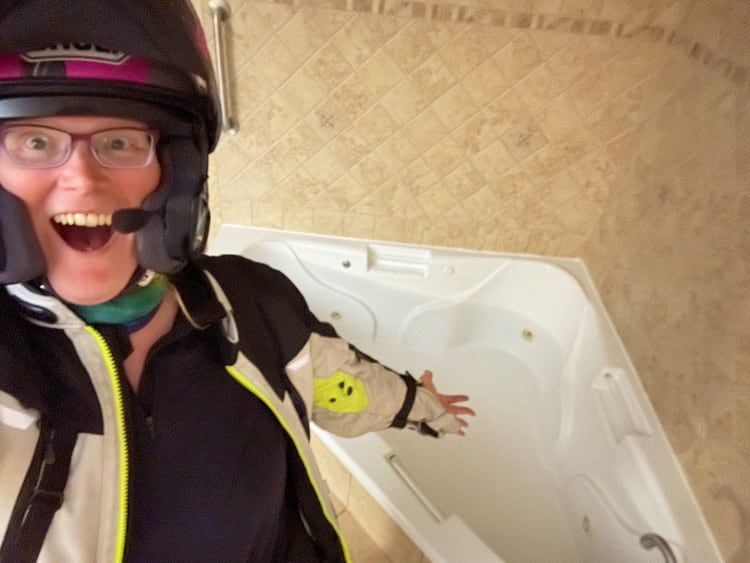 I took a really long shower and a quick dip in the tub (I mean, I had to, didn't I?) Not entirely tired, I managed to drop off to sleep around 10pm, my alarm set for 4am. Shortly before 3am, I was jolted awake by a loud explosion, no lights, and a fire alarm going off - lightning hit the hotel! The fire alarm quickly was squelched and power flickered back on, but I threw on my riding pants and a sweatshirt and went down to the lobby just to make sure nothing was actually on fire. A wall of rain outside was just dumping down, and everything seemed to be ok - the night clerk hardly seemed concerned, so I assumed I would either be totally OK or totally FUBAR, so I might as well go get some more sleep.
I tossed and turned and dozed until my alarm when off at 4am, rain still dumping buckets. A quick peek at the weather radar, and yet again, I was sitting right under a storm cell.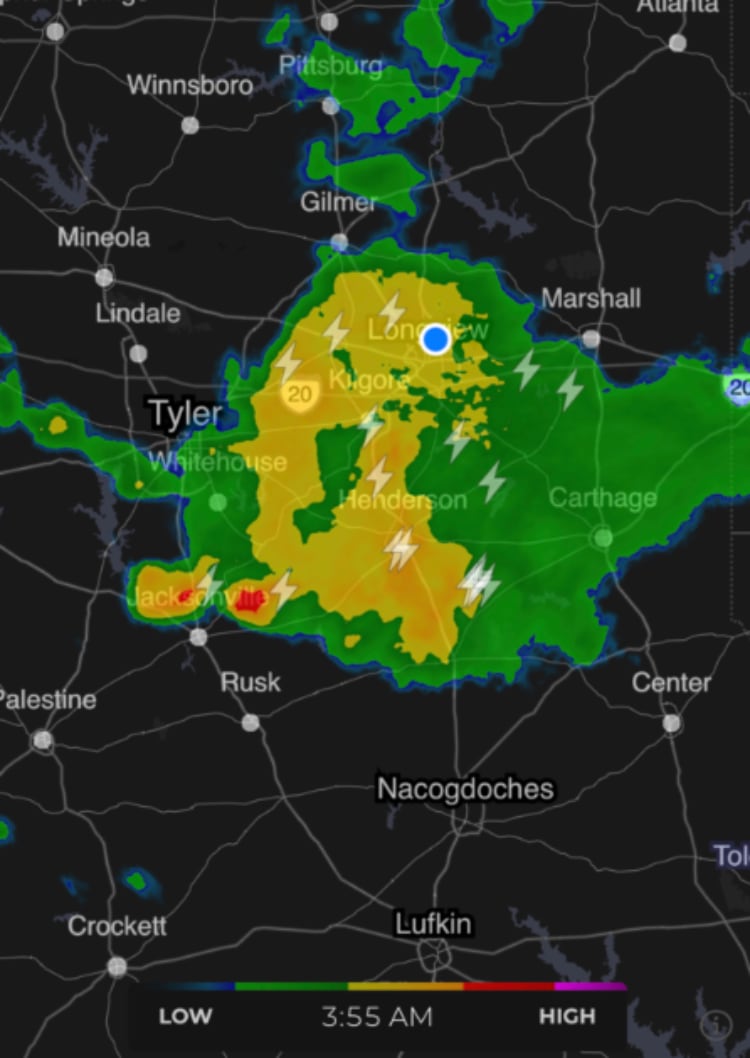 The silver lining here was that the storm was moving ESE, albeit slowly. I watched my 8 hour maximum window slide by as I watched the storm drift, listening to the intensity of the rain start to fade and weaken. I spent some time looking at the route and the radar, trying to predict what the morning was going to hold. Stopping early, and stopping long meant that I didn't have quite as much time as I had originally budgeted to complete this day, so I cut out a long loop cutting east close to Dallas. A long line of storms were marching across Dallas, but by heading straight north towards Paris, TX instead, I could clear the northern edge of the worst of it. It'd cost me 2 tours, but since I'd planned for ~20 I had some cushion there. The rerouting opened up a higher-value location, so it would only cost me ~170 points.. it seemed like a reasonable trade.
By 5:30am, the rain had slackened to a drizzle and the brunt of the cell moved well clear, and by 5:45am I was loaded up and back on the road. It had been a longer break than I intended, and I had to scoot north in a hurry to stay out of the storms, but with any luck it'd work out.
| | |
| --- | --- |
| This segment: | 57 miles, 10h11m |
| Total: | 391 miles, 17h45m |
| Time Remaining: | 78h15m |
| Tours complete: | 3 |
| Rest bonus exponent: | 3 |
| Points scored: | 1,742 |
10) M26C - Pittsburg Prayer Tower - Pittsburg, TX - 483 pts
---
Take a picture of the west side of the Witness Park and Prayer Tower located in Pittsburg.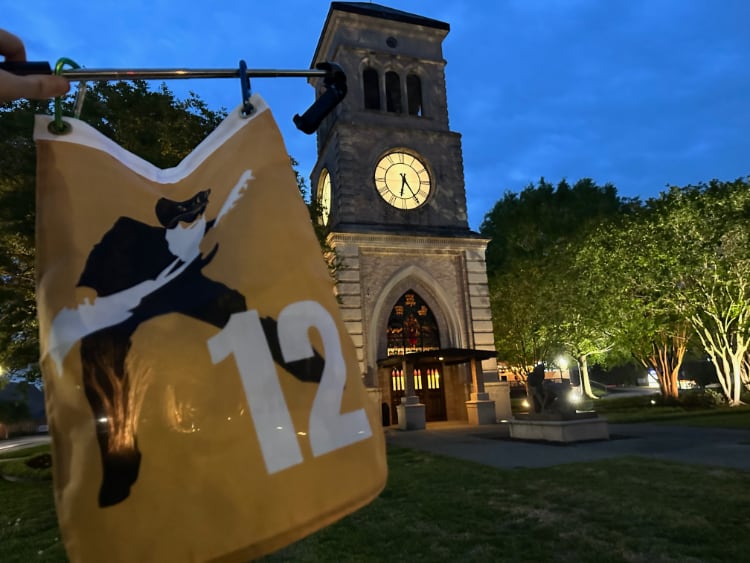 Everything was drenched-slick and humid, but the rain was stopped completely. Keeping an eye out for deer and other wildlife, I dodged a couple possums but no other wildlife made any appearance, and I quickly found myself in Pittsburgh, TX under a brightening sky. I parked and turned my back to the storm front to the west, walking across the wet, shaggy lawn of the Prayer Tower to grab my photo and submit it. As I was hopping back on the bike and pulling out, Bryan and Marissa made yet another appearance!
| | |
| --- | --- |
| This segment: | 39 miles, 0h43m |
| Total: | 373 miles, 18h28m |
| Time Remaining: | 77h32m |
| Tours complete: | 3 |
| Rest bonus exponent: | 3 |
| Points scored: | 2,225 |
The storm to the west of me started making more and more loud, angry pyrotechnics, so I pulled over and checked the radar. I wasn't quite yet getting rained on, but it was going to be close!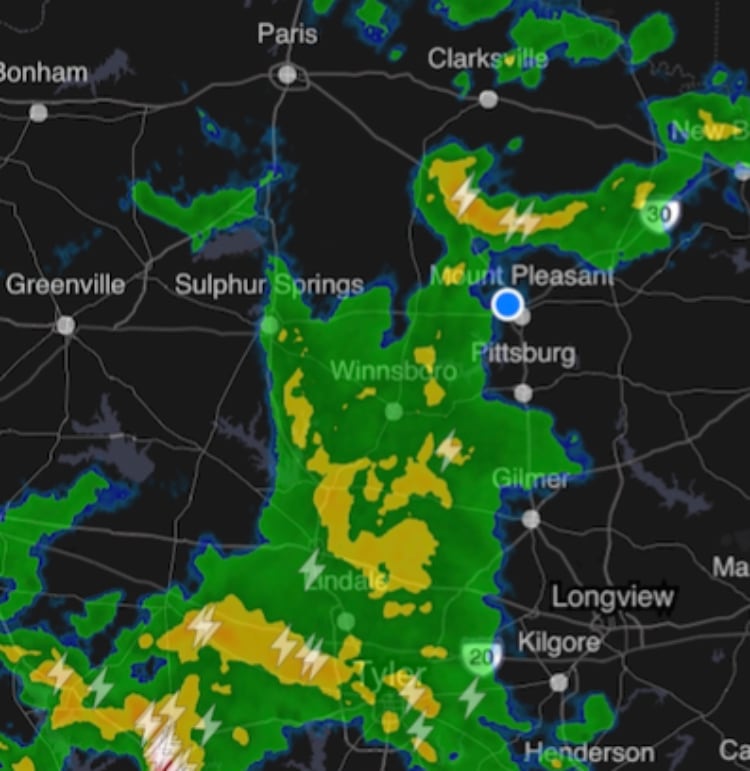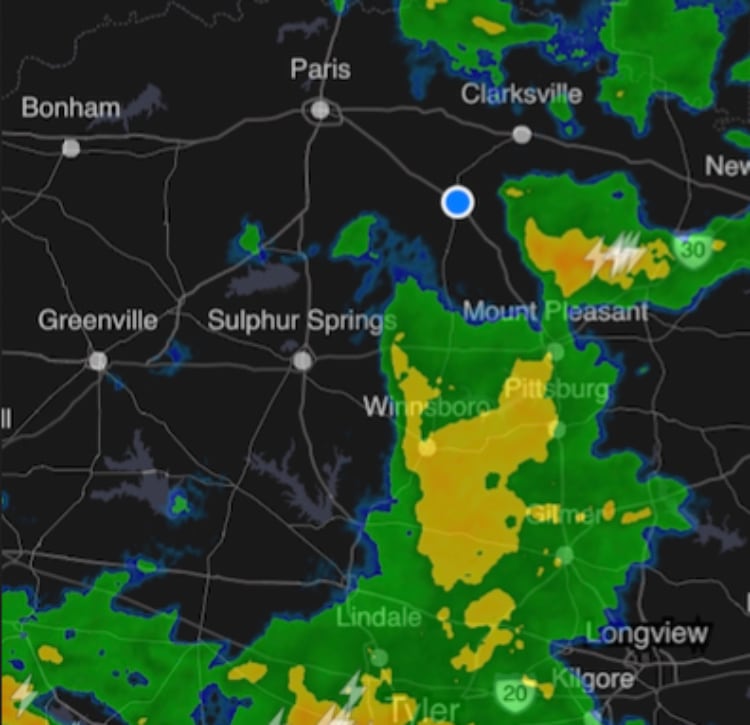 I only suffered through about 15 minutes of light rain before squirming through to the backside of this line of storms. I almost didn't make it clear of the active thunder and lightning, and I was nervous still about dropping the 2 low-value bonuses to the west, but I also wasn't charred from a lightning strike nor huddling, drenched, in some gas station bathroom or the dugout of a little league field somewhere.
11) M18D - Reno City Hall - Reno, TX - 587 pts
---
Take a picture of the sign for Reno, TX on the wall of the municipal building.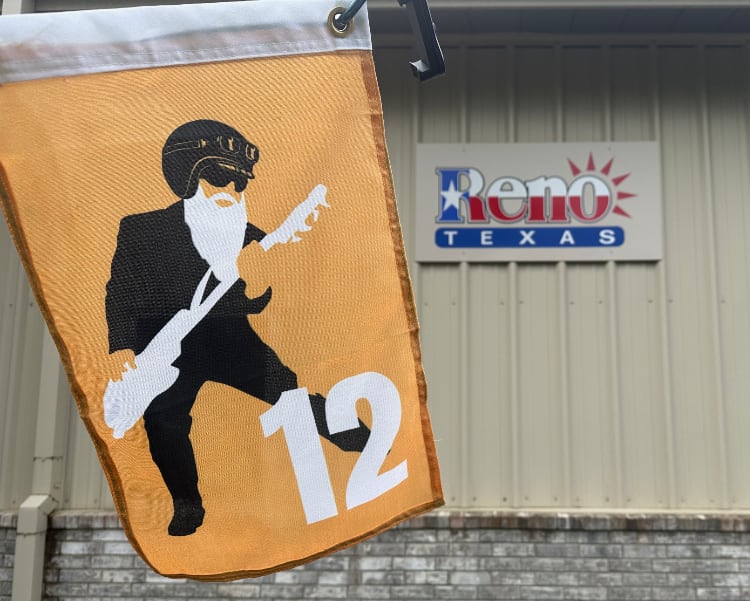 The sun was fully up and the storms were dropping away behind me. I made a gas stop and did some stretching to work out a crick in one of my adductors; I injured my lower back really badly back in March and still am sorting out some of the muscle issues that developed as my body tried to compensate.
Approaching Paris, TX from the SE, I hung a right by the airport and skirted up the east side of town to the small hamlet of Reno, TX. I found the police station/city hall and Danny Dossman, already there and all business. We exchanged a nod and both took off - we've got rallyin' to do!
| | |
| --- | --- |
| This segment: | 60 miles, 1h10m |
| Total: | 433 miles, 19h38m |
| Time Remaining: | 76h22m |
| Tours complete: | 3 |
| Rest bonus exponent: | 3 |
| Points scored: | 2,812 |
12) M14C - People of Detroit Marker - Detroit, TX - 741 pts
(+219 pts - Michigan Tour Complete)
---
Take a picture of the marker dedicated to the people of Detroit.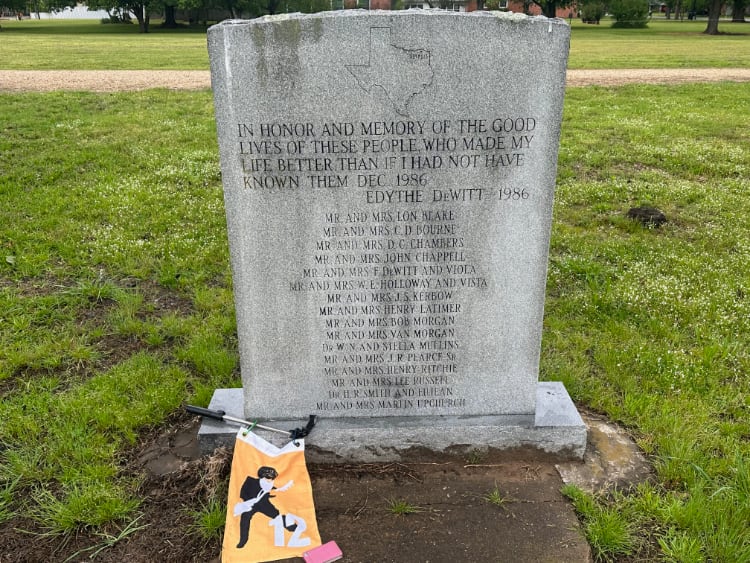 Just a short ride east, I parked the bike and was immediately aware of the strong tailwind blowing out of the west. The marker was across the street in a small park, and I scooted across during a break in early morning traffic. The wind was really blustering, and I ended up using my wallet and a handy rock to weigh down the flag enough to get a single good shot.
Back across the street, I ate a small snack to tide me over until I could get an actual breakfast, and wandered around the small strip of connected store fronts. All were closed, except for one trendy looking coffee shop, all exposed wood and art for sale on the walls. It honestly looked straight out of a neighborhood in Portland or Seattle, and I realized that I've been seeing more and more of these cafes reclaiming empty spaces in small towns the last few years.
Stepping back to the bike and giving it a once-over, I noticed laying on the ground a selfie stick AND a 10mm wrench! It must have been dropped by one of ours. I jokingly texted a photo to Nancy, and later found out that they'd been left behind by Daniel Eckert, who graciously offered to let me keep the wrench as a finders fee..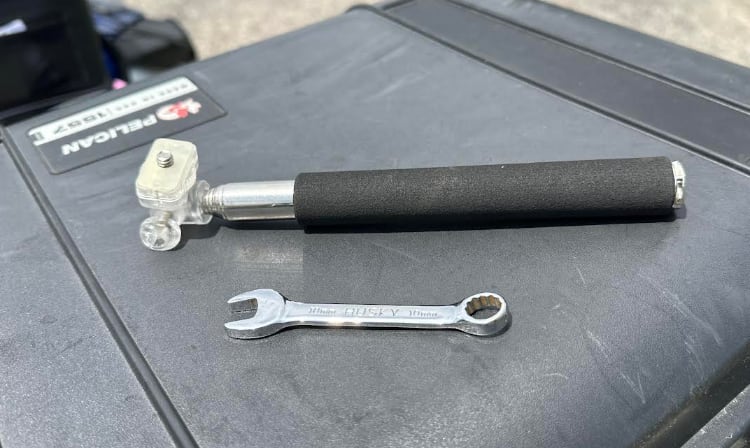 | | |
| --- | --- |
| This segment: | 12 miles, 0h18m |
| Total: | 445 miles, 19h56m |
| Time Remaining: | 76h04m |
| Tours complete: | 4 |
| Rest bonus exponent: | 3 |
| Points scored: | 3,772 |
13) M19C - Manchester Cemetery - Detroit, TX - 232 pts
---
Take a picture of the Manchester Cemetery gate.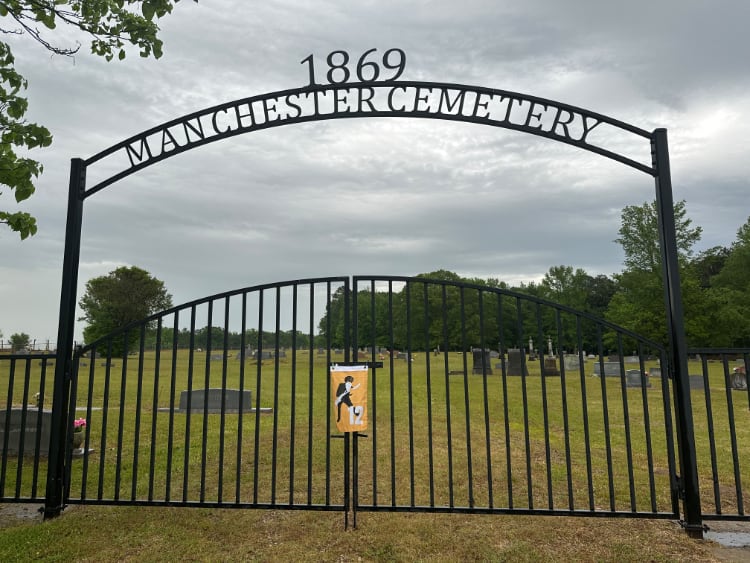 GPS had me turning down a long gravel driveway, seemingly right into the front yard of a small farmstead. It wouldn't have been the strangest right-of-way I'd ever been down; in New England I've passed through a number of "driveways" that were actually county or town roads, but this is Texas and I was a little nervous about someone decided maybe today was a good day to "defend their castle" when I spotted the two-track "road" splitting off and around a small wooded copse to the right. The rains had filled both tracks with some of the greasiest mud I've ridden through since Baja, so I meerkatted like a good ADV rider should, easy on the throttle, no sudden moves, let the rear end flail around a bit.. I was surprised to find someone on a Harley doing paperwork. We complained to each other about the state of the "road" and I watched him grit his teeth and head off; I kept an eye on him just in case he dumped it and needed a hand getting the bike out of the muck, but that Milwaukee iron just chugged right through it. I got my photo, used the convenient (and quite clean) porta potty, and retraced my slippery steps back to glorious pavement.
| | |
| --- | --- |
| This segment: | 18 miles, 0h29m |
| Total: | 463 miles, 20h25m |
| Time Remaining: | 75h35m |
| Tours complete: | 4 |
| Rest bonus exponent: | 3 |
| Points scored: | 4,004 |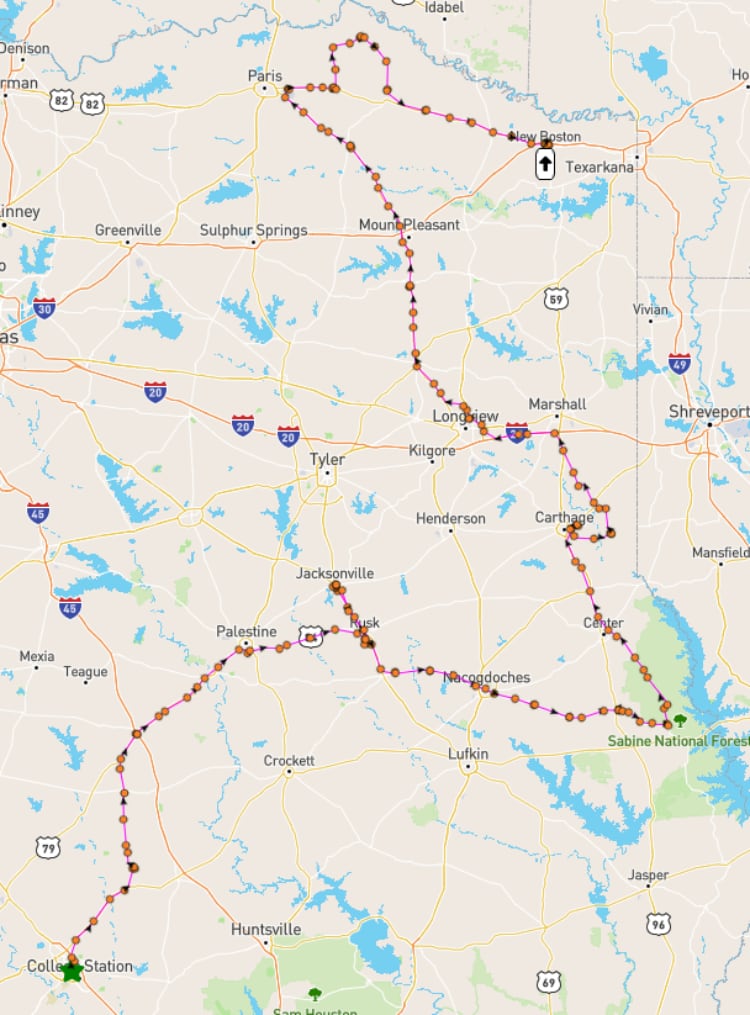 From here, I headed east to New Boston, TX, where a cluster of 3 bonuses were waiting for me. I was surprised and flabbergasted to find myself arriving around 9:35am; Basecamp had given me an arrival time of 11:30am when I was rerouting at the hotel earlier.
Having some time to kill, I parked at a McDonalds and ordered some breakfast while I pulled out the laptop to see what had happened, but for the life of me I couldn't figure out why it was so far off (and still don't!) I'd already blown an extra 90 minutes with the extended rest break this morning, and now sitting on my butt for 2.5 more hours.. giving up 4 hours to the rest of the field felt like a bad sign for my rally, but what could I do? In retrospect, there was one bonus to the southwest that I could have picked up, a 70-mile round trip from New Boston, but in the moment I didn't see it, and I was mentally locked into my plan.
So instead, I took my time. I made some hand-written notes about the next several bonuses, and realized I could add a couple more along my route today.. and also realized that my intended meal break target, Mookie's Mesquite Patch BBQ east of Waco, was only open from 11am to 3pm, NOT the 11am-5pm I had written down. I panicked slightly, since my entire rally strategy hinged on maximizing the meal bonus, but I realized that my backup location, JJ's Roadhouse NW of Waco, was open until 3am, giving me plenty of time to get back west.
Still with plenty of time to kill, I went over to the Walmart next door and wandered around for a while, bought a skirt hanger so I could more easily use the selfie stick method for getting my rally flag into photos, bought some more snacks, and just kind of kicked around slowly. I got gas, chatted with someone at the pumps, and STILL had like 30 minutes to kill, so I rode the 5 miles south to the first of the 3 bonuses I was here in town for, a historical marker across the street from where the original "Old Boston" town green was. I sat in the shade of a pecan tree and closed my eyes until my phone alarm went off at noon - I might have blown a good rally performance by sitting around for 4 hours instead of riding, but you know what? The sun was out, it's a new day, all new bonuses open for scoring, a whole new rally landscape. Let's go get after it!