🎵 A long December and there's reason to believe
Maybe this year will be better than the last... 🎵
There's a long gap in rally and ride reports here at Motozor, and there's some.. well, not good, certainly, but acceptable reasons why. A few weeks after riding in the inaugural LDX, I went down to Ely, NV to ride in the 2022 Cognoscente Blaze of Glory Rally which was a heck of a good time, with shenanigans galore.
I was having a good rally, leaving Ely before dawn and running at a solid BBG pace, rolling through the empty parts of Nevada and southeastern Oregon visiting military-themed locations. Shortly after sunset, I found myself in Twin Falls, ID heading towards the Magic Valley Airport when I had a herky-jerky start from a stoplight. In the moment, I thought it was just me slipping the clutch badly, a sign of being tired or dehydrated from the merciless July sun across the Oregon outback, and I decided to stop and grab a meal and a nap at my next bonus in Pocatello, ID. Of course, I didn't make it that far; just outside American Falls, ID I felt a new vibration, like I was on rough pavement… and it started getting worse! Luckily there was an exit and I pulled off safely, and just in time! As I slowed and downshifted for the approaching stop sign at the top of the off-ramp, the rear tire seized up and I skidded to a stop.
Completely unable to move the bike anywhere, I flipped on the flashers and waited in the dark for a tow truck to save me, but my rally was done. AAA came through and got me and Baloo to a motel in Pocatello, and the next day I took full advantage of the BMW extended warranty I had purchased just a week before covered towing to the nearest BMW dealership – 150 miles away in Sandy, UT!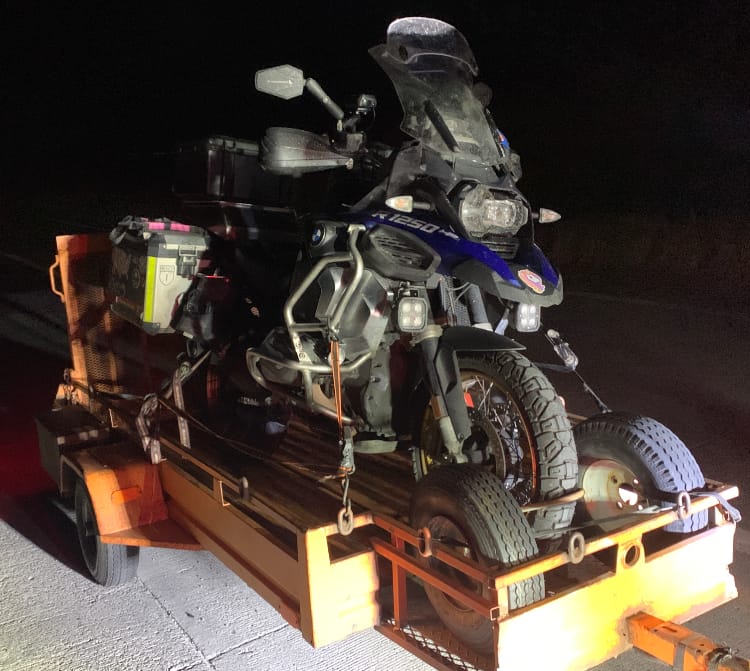 It also covered up to $1,000 of "trip interruption expenses" so I arranged with the staff at the motel that my bike would be ok overnight and rented a car and headed back to Ely (~5 hours drive) for the finish banquet and to fetch the gear I'd left behind. It really bummed me out, being the only DNF, but everyone was pretty chill about it, no teasing about the unreliability of BMWs.
The next day I drove back to Pocatello to strip the bike of loose equipment and officially hand the keys over to the tow driver, who turned out to be the same guy who rescued me from the side of the road! He seemed fine getting paid to drive down to Utah and back, but he'd mentioned something about today being his day off so I made sure to slip him a couple $20s as an extra thank you. I saw Baloo off and got the rental car loaded, then slogged the 11 hours back to Seattle, thinking about my route and what my score would've been… DRAT!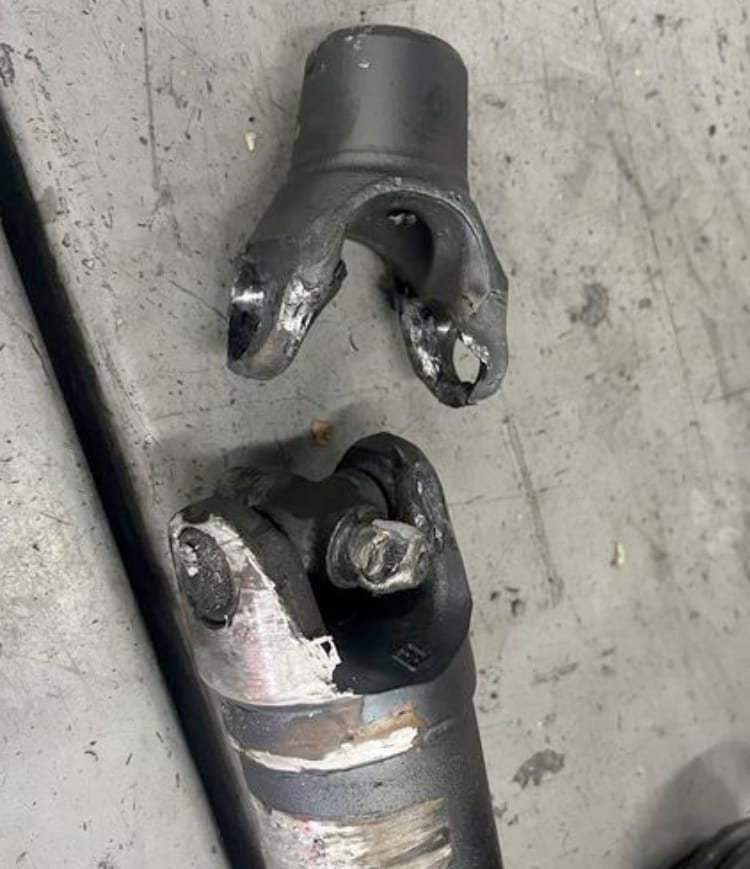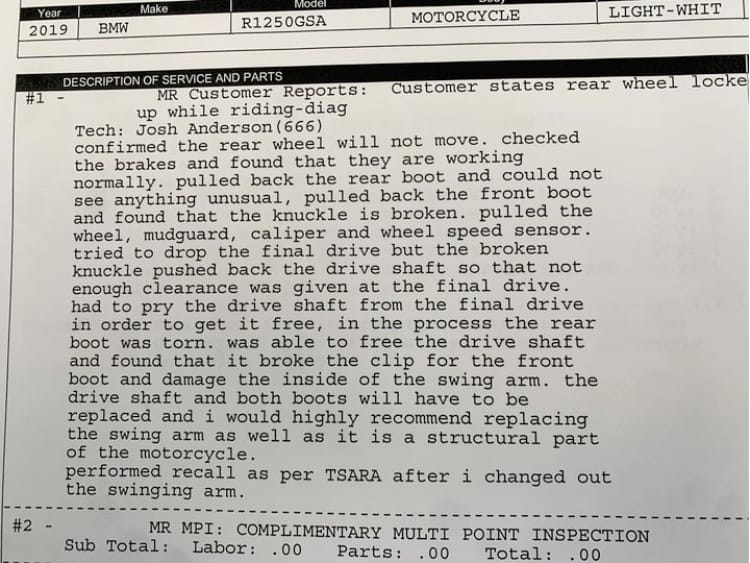 The most entertaining part of this was that this happened on a Saturday night, and on Monday morning BMW issued a global recall on my model bike due to u-joint failures.. which meant I had to get in line with every other GS/A owner waiting on suddenly hard to find replacement parts. The immediate impact was that I wasn't able to ride in North by Northwest in Colorado the following weekend, and when the bike still wasn't fixed in September, I borrowed Ben Ernst's GSA to ride in the JBR.. in fact, it wasn't until mid-October that Baloo was finally fixed, and back down to Utah I drove a rental, turning around and riding a SS1k back home.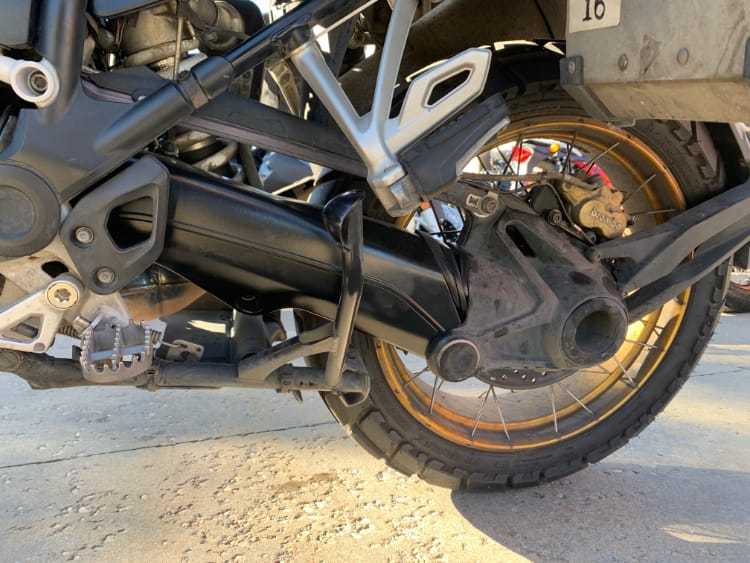 Most of the next several months was spent indoors building Legos, or taking trips down to Disneyland via 🚗 or 🛫. Our weather in the PNW was snowy and cold, with several storms and cold snaps, so riding days were few and far between. I did manage a pair of ~400-ish mile day trips, and one SS1k attempt during a break in the weather in February that I pulled the plug on ~750 miles due to developing some wicked bad blisters on both hands; heated grips, moist air, and several months of not riding combined to leave me without callouses in the right places!
---
Many other little threads of stories and tales of a long, eventful winter away from riding were on my mind when I left on 15 April, heading first for a week at Disneyland, then heading to Texas for the 2023 Heart of Texas rally. Would I be able to shake off the rust of a long winter? Only one way to find out..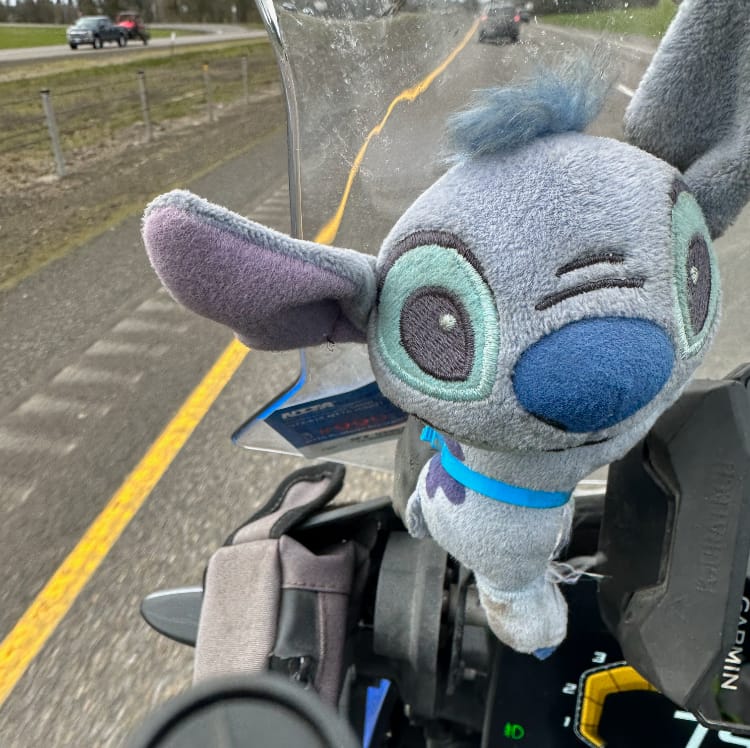 I'd originally meant to leave on Friday, 14 April, but work commitments delayed me to leaving early on Saturday. Packed the night before, I was on the road just before dawn for an uneventful ride down the I-5 corridor. The weather was great, and I detoured off the highway 20 miles or so into the mountains to pick up a bonus location for the PNW Grand Tour which has locations scattered across WA, OR, ID, MT, and even a couple in northern CA.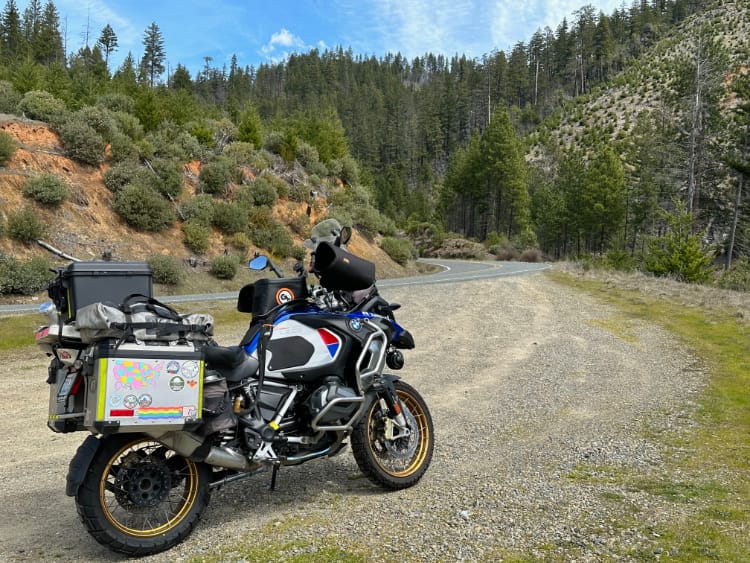 From there it was a short hop to Grants Pass, OR, arriving shortly before 2pm. I stopped for a small fast food lunch, and then US-199 to the California coast and the redwoods. I usually ride this way at least once or twice a year, but somehow skipped it in 2022.. good to see the forests rebounding from the fires of 2021, and I arrived in Crescent City, CA shortly before 4pm. Crescent City is just a hair over 500 miles from home, serving as a turn-around point for a couple of my SS1ks. It was early, and I was feeling unstressed by the ride so far, so after a brief stop at the Redwood National Park office for a new passport book and stamps, I continued another hour and a half south to Eureka, CA, grabbed a hotel, and then went off in search of dinner. Got a surprisingly good burger at Surfside Burger Shack, then wandered around Old Town and the boardwalk, window shopping until the streetlights came on and it was time to "go home."
Next morning I slept in, finally getting up around 7:30am and ran across the street to the food coop for breakfast; their deli is always a good source of meals and travel food when I pass through, and their bakery is usually on point with fresh baked goods. Of course, since it's a Sunday, everything was day-old, but a maple scone and a coffee later, I was ready to hit the road by 8:45am. I took US-101 south 20 miles or so to Fortuna, CA, where I struck east on CA-36; there were a pair of PNW-GT bonuses in this region, and I'd never crossed the mountains of the Shasta-Trinity National Forest before. I mean, my reservation in Disneyland didn't start until Monday, so why not sniff some flowers?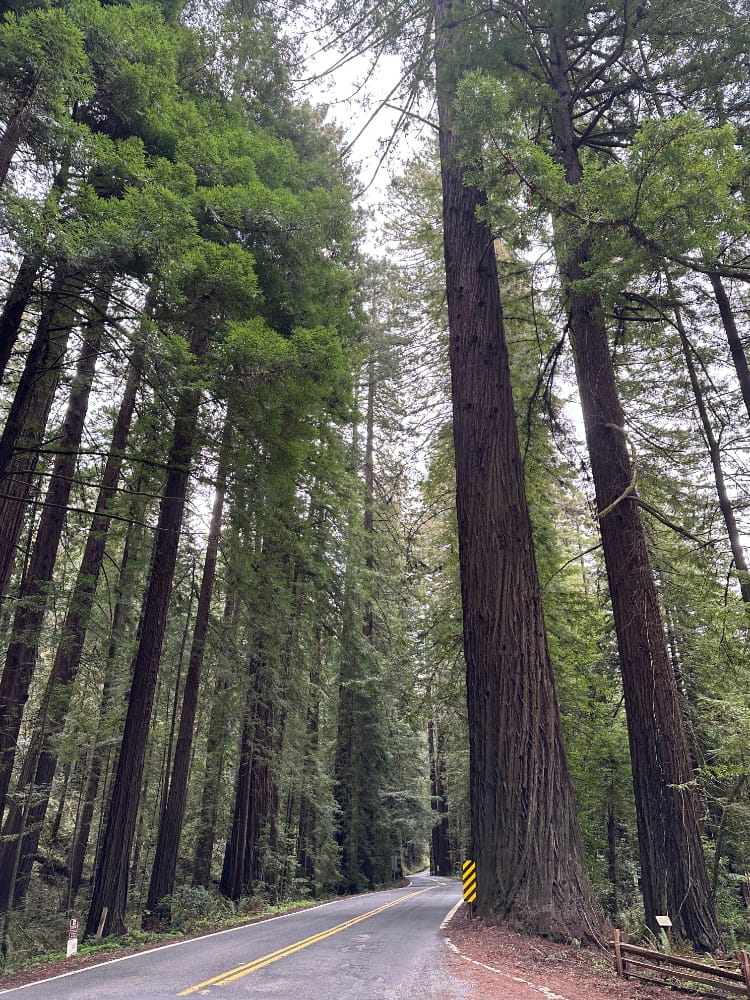 CA-36 was twisty as all get-out, hairpins and blind corners, passing through groves of redwood trees off the beaten path. Lots of state parks protecting the groves here, many of them with attached campgrounds, so I flagged it as a place to come back to for camping sometime. I stopped at the post office in the town of Mad River to collect that bonus, then hopped over to CA-3 to pick up the bonus in Hayfork, CA.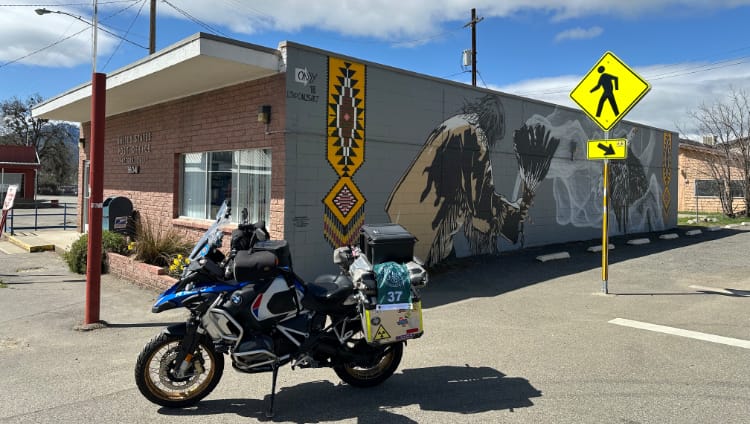 It still wasn't noon yet, so I pushed on, stopping at Whiskeytown Lake for a National Parks stamp, and was back on I-5 around 1pm.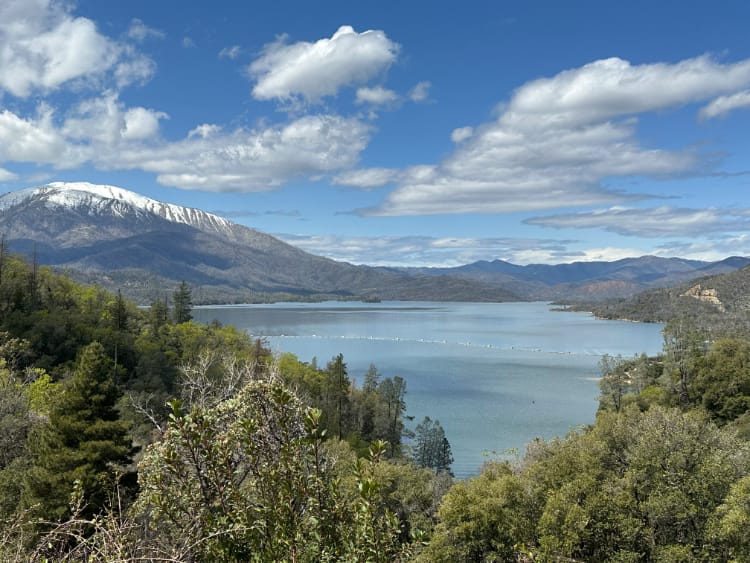 From there it was just a normal slog down I-5. I stopped a few times for gas, a couple times for snacks, and other than a 15-20 minutes backup waiting for an accident to clear in Commerce, CA, the ride was uneventful and I felt fine. At some point in the evening, I booked a last-minute room at the Anaheim Majestic Garden Hotel, which is my go-to off-property hotel. It's a short walk or shuttle ride to Disneyland proper, and often has really good last-minute deals on rooms, and has ample parking for the motorcycle. I arrived just before 11pm, and was checked in, showered, and in bed before midnight.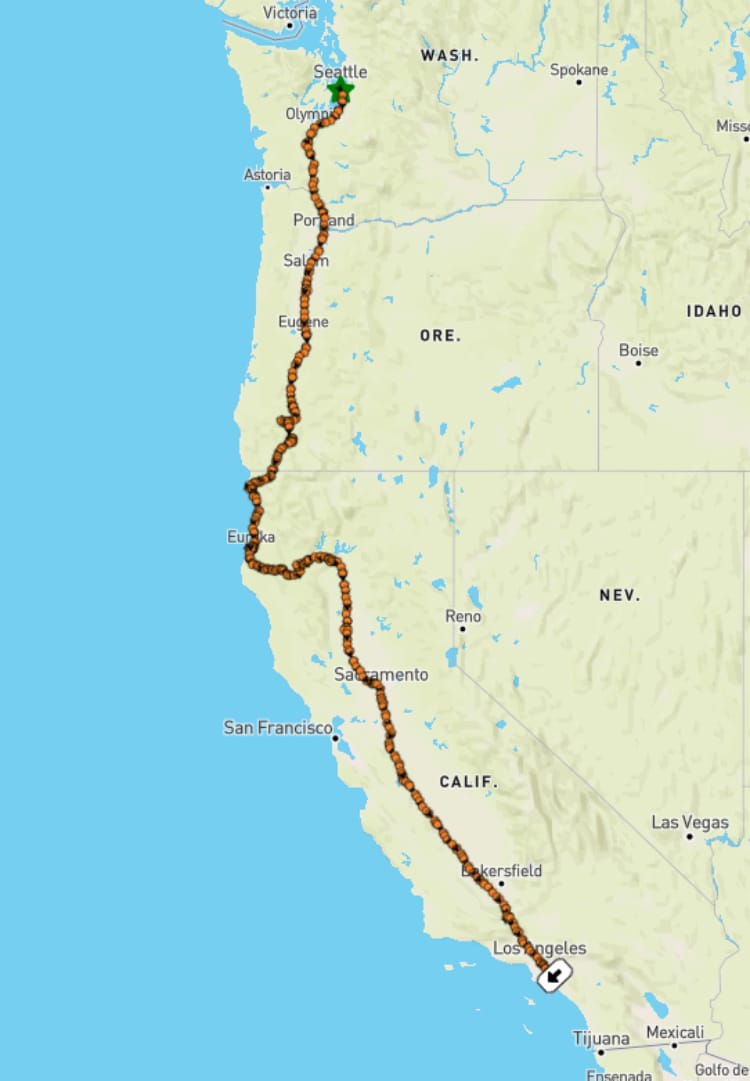 It was a fun week at Disneyland; I was working, but would start each day by running into the park to "rope drop" (be there there the minute it opens.) One perk of staying at a Disney property, I could get into the park 30 minutes before everyone else, so I'd pop in, ride a couple rides, grab a coffee and favorite park snack, and head back to the hotel and work until lunchtime, at which point back into the park, grab a lunch, back to the hotel, then spend the evenings doing rides in the parks until they kicked me out. Extra fun was being joined by my friend Sarah, another Dis-nerd who is part of my usual roster of people I go to Disneyland with. Always fun to have someone else along who is enthusiastic about the parks, as good company makes everything that much better!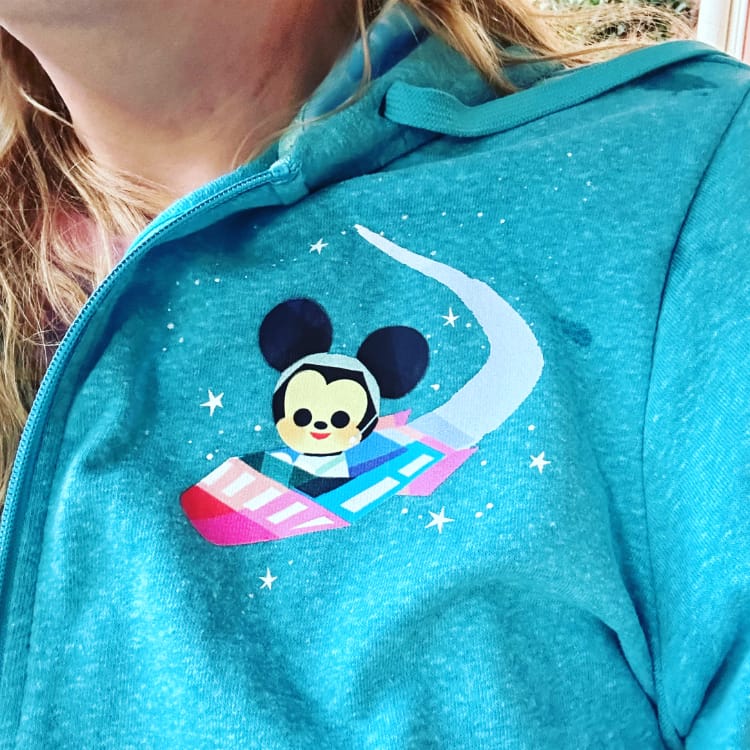 All good things, though, so on Friday morning we ducked into the park at 7:30am and did Star Tours one last time, then for breakfast chimichangas and the "chimney sweep cold brew" (caramel cold brew with a sprinkle of smoked salt.) One the way back to the hotel, I did some final shopping 🛍️ and wandered back to pack and get the bike together. Sarah was kind enough to mail some purchases home for me, so finally a few minutes after 11am I found myself heading east.. along with everyone else heading to Coachella in their rental cars stuffed full of attractive 20-somethings, rave costumes, and festival gear. Typical of LA, traffic was heavy and hectic, but was at least moving, but I averaged just under 50mph. Given how many rental and out-of-state plates, I didn't dare lane split. CHP had several enforcement patrols out, and there were more than a dozen minor accidents and breakdowns slowing everything down.
🎵 I've been through the desert on a horse with no name
It felt good to be out of the rain
In the desert you can't remember your name
'Cause there ain't no one for to give you no pain
La la la la la la... 🎵
Around 2:30pm it all melted away after the exit for Indio, CA on the furthest eastern edge of the LA metro area, and within 5 minutes I had all of I-10 for myself, speeding past the southern edge of Joshua Tree National Park. The ride across the desert was uneventful, with temps in the mid to high 90s, my first exposure to the desert in 6 months. Wasn't hardly a thing.. it's funny how the exact same weather conditions can one day be just fine, and another being your Achilles Heel..
I stopped in Buckeye, AZ, on the western edge of Phoenix, to plan my evening. I didn't really have a destination in mind, since I didn't really need to be in College Station, TX (the start) until Monday, so rather than push I opted for a hotel on the far side of Tucson. All in all, exactly the kind of ride I was hoping for - boring.

I slept really well, the hotel quiet for a Friday night, and was on the bike and ready to go by 6:30am. I stopped at the gas station next door and got back onto I-10 East by 6:40am. Almost no traffic, but I kept the speed chill, and I'm glad I did, as the motorcycle that moved over to let me merge onto the highway and then dropped in right behind me tight was an Arizona State Trooper. I rode casually, but I also wasn't in a hurry, and just set my cruise control and.. well, cruised. He passed me and gave a friendly wave, then punched it and took off. As friendly as the wave was, I wasn't quite sure I could convince a traffic court judge that it would qualify as "entrapment" so I let him disappear off ahead; I hope he had a quiet rest of his day.
After about half an hour, I was feeling a bit peckish for breakfast, and stopped in Benson, AZ for an Egg McMuffin and a coffee and to do some routing. I had given some thought to popping south to see family in Bisbee, but also realized my route was just a hair over 1,000 miles… why not shoot for a Saddle Sore 1k? I-10 is empty and fast, the weather looked promising, and god knows I could use the practice to rebuild some endurance. I was still adjusting to being back on the bike, and dealing with how weak I've gotten (turns out losing 35 pounds is making a difference, in that I just don't have as much extra mass as I was used to having to counterbalance or throw around!) I checked the receipt I'd pulled back in Tucson, and it looked good, and Google was telling me the mileage was good, so… let's do it!
The morning flew by, as did the desert. After a brief stop at the Arizona Welcome Center/last rest area just before the state line, I crossed into New Mexico around 8:40am, and proceeded to unlock a new achievement - cross New Mexico on I-10 without stopping. Next time I touched earth was just across the state line and into Texas at Exit 0, where an efficient stop for a bathroom break and to top off my tanks before tackling El Paso dragged out a bit, as I got into a conversation about the need for an auxiliary tank.. there's always someone who wants to wander over and chit-chat with the girl with the pink helmet on the big bike from out of state.
One thing I didn't need at all was my heated gear. Even in Oregon and in the mountains in California, spring was turning to summer, and while I'd worn it a time or two as a base layer, I never felt the need to plug in the heated jacket. In my bike prep a couple weeks before leaving, I'd joked about not bringing my gear at all to Texas, because.. c'mon, it's Texas. It's hot! I even went so far as to post a photo on Facebook of all the various heated gear leads I'd taken off the bike while cleaning up the electrical system.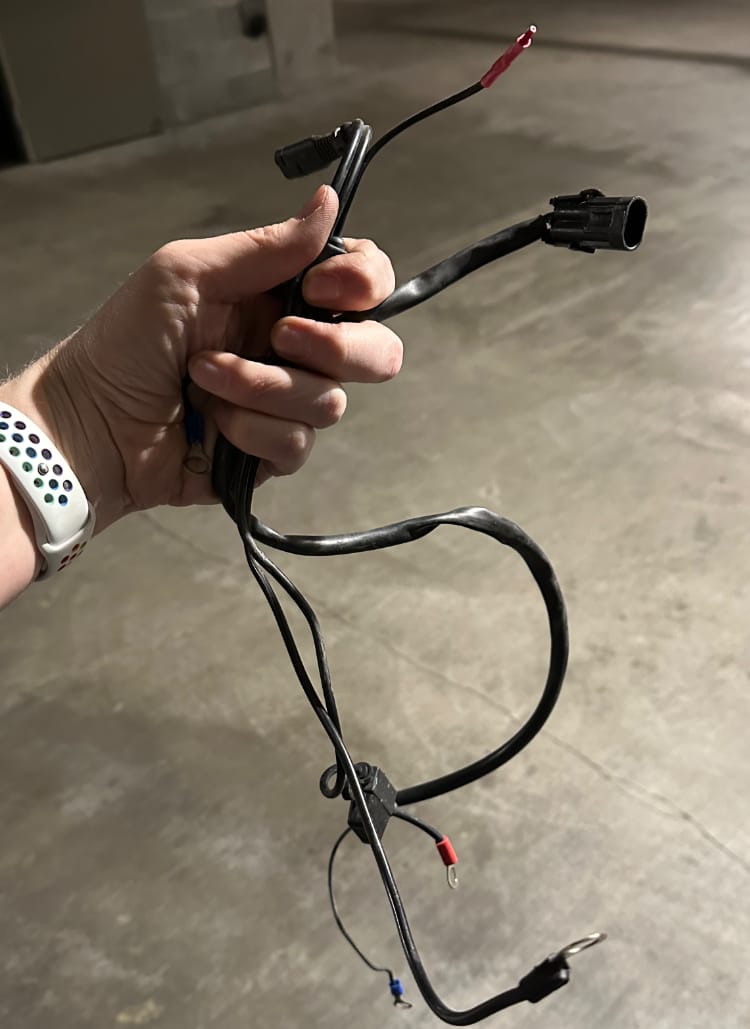 I ended up, of course, packing my heated jacket, only removing the lead to the heated seat; I seldom used it, and since it was wired directly to the battery, I'd accidentally left it on overnight a couple times, leading to flat batteries.. why risk that this summer? Better to disable it and remove the wires, and resolve to sort it out in the fall.
El Paso was surprisingly relaxed for once, and I found myself considering my lunch options passing through Van Horn, TX, but I wasn't quite ready for food. I lolly-gagged across west Texas, past Fort Stockton, Iraan, Sonora, Ozona…. just a long, long day riding across the Precambrian basin of West Texas. The biggest excitement was passing up a gas stop at Fort Stockton and pushing on another 30 or 40 miles, by which time I was starting to get range anxiety, so I stopped for gas at one of THOSE gas stations, with the rutted lot and the building was boarded up and the pumps were old, but they WERE functioning, and actually spit out a useable receipt. This dilapidated, run-down gas stop in the middle of nowhere had no one around, but there were 4 pickup trucks and SUVs all parked in the shade of the building – not suspicious at all! I got gas (and a call from my bank's fraud prevention service about the transaction) and scooted.
Realizing I still hadn't eaten lunch, around 7:20pm I stopped in Junction, TX for what I hoped was a quick fast food stop. I punched in my McD's order from the parking lot, made a bee line for the bathroom, and then came out to fetch my meal. Usually it's ready for me by then, but this kitchen was in the weeds with a mad pile of girl's softball teams that had rolled in. Apparently they'd all discovered the wonder of mobile ordering as well, so a "quick stop" turned into half an hour of waiting for a food order that ended up being wrong… but it was still edible, so I got some calories in and rolled on.
20 miles or so later, I-10 starts diving south towards San Antonio, so around 8pm, with storm clouds threatening, I switched over to US-290, which makes a beeline due east to Fredericksburg and Austin through Hill Country, past exotic game farms and small town BBQs. I hadn't been on this stretch of road since my first motorcycle trip to Austin years ago, and all I remember was a pre-dawn start in Austin, the sun rising, keeping my eyes peeled for the deer that everyone warned me about.
No animal sightings on this ride, but plenty of lightning, as a large storm to the north was slowly drifting ESE. It looked like it might intercept me in Fredericksburg, so I rode crisply as I could through deer country. Of course, once I got there, I could see I was starting to gain ground ahead of the storm, so despite the flashing skies, I decided I had enough safety cushion to push on to the next small town.. and then the next, and then the next.. ride 10 miles, pull over in the next town square, check the weather radar - wash, rinse, repeat all the way to Dripping Springs, on the western outskirts of Austin, around 10pm local. I'd gotten clear of the storm, but lightning does stress me out a bit, so I got some snacks from the 7-11 and had a small sit-down on the sidewalk to relax and make sure I had enough energy to finish the last 2.5 hours to College Springs.
The weather was still in my favor, and I know most of the main roads here, but I did get turned around a bit in Bastrop due to construction and some "Oh I know where to go" stubbornness on my part. The third wrong turn and I realized I was actually kind of tired, so around 11:30pm I pulled over at an under construction gas station and laid down next to the bike for 20 minutes.. I couldn't sleep, of course, but it was enough to just close my eyes and relax. I decided then to keep going, booked a hotel in College Station, and continued on, and an uneventful hour later I was checking in to a hotel on the south edge of College Station.
Showered, changed into PJs, snuggled in bed with the lights out, I double checked my paperwork… DOH! 996 miles - 4 short of the 1,000! Goddammit, I was NOT getting up and putting clothes back on so I could roll around the block a few times, so I set an early alarm, 6am, and fell asleep almost immediately. As soon as I heard the Duck Tails theme song playing, I hopped up, threw on my gear, and tacked on an extra 40 miles, then hung around the hotel doing a little bit of work on the laptop before moving over to the rally hotel.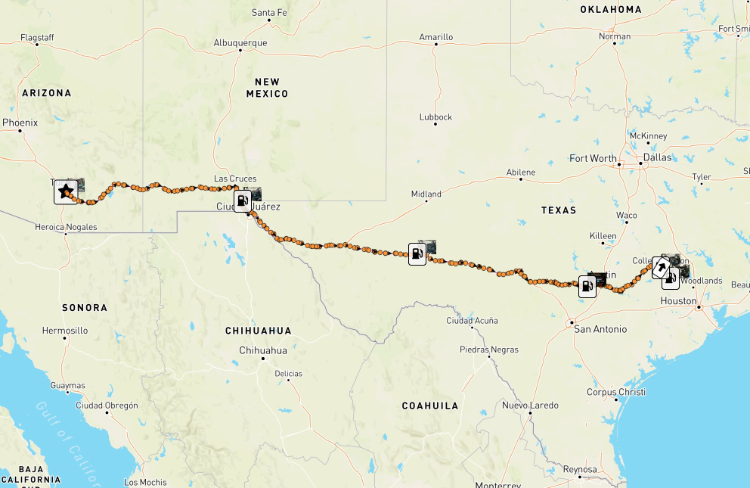 Arriving a day early was pretty nice, since it let me relax, wander around, check out the local restaurants, stock up on supplies I'd need during the rally, etc. A handful of bikes rolled in, but I didn't really see anyone else until Monday, the first official day. I took an hour and a half to mess around with fixing an issue with my aux lights, namely that I needed to change the amperage of the circuit I had my new overly-large D7 lights on. To do so, I needed to plug the module I use to interface with the BMW computer to control the lights into a computer via a USB cable.. the problem was that I couldn't actually reach the control module due to the cargo plate-mounted aux fuel tank. The aux tank was designed to be easily removable, but I found it to be a tiny bit more fiddly than I expected, due to some small design choices (since corrected in new editions!) Only a minor annoyance, in the end!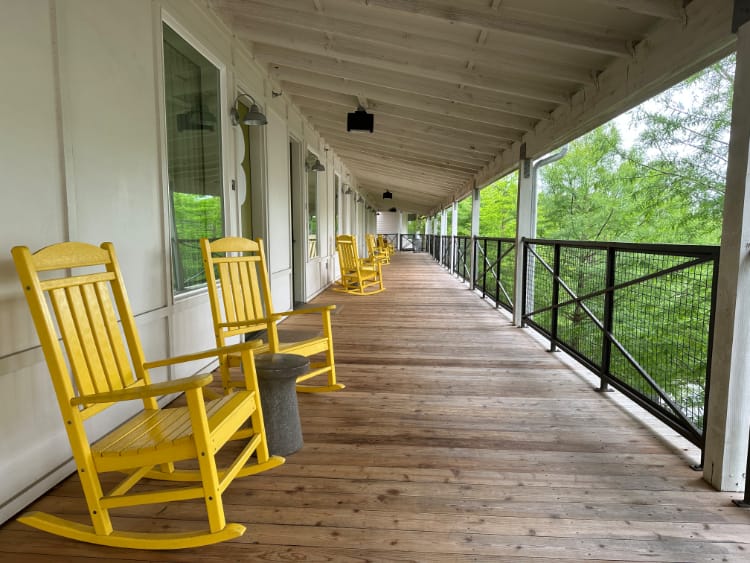 Odo course was a breeze, no paperwork problems, just schmoozing and lounging around the hotel saying hi to folks. No one had to repeat the odo course, and we were all wrapped up by 4pm. At 5pm, there was an optional group tutorial for using the rally app. At this point, I've used every version of this app, but I still attended because You Never Know, and maybe I could help someone at my table get sorted. No surprises or features, but some minor changes to how the app (and the rally) handles timing meal and rest bonuses, and some general performance improvements.. I look forward to when all rallies use more electronic support, and trust technology a bit more (with suitable backup options, of course!)
All in all, a really chill sort of rally start. I did some socializing, I took some long naps, I ate some long-expired snacks from the hotel minibar and got slightly ill, but not enough to skip the group dinner at the Irish pub next to the hotel, where we yelled at each other for an hour and I tried to avoid caffeine, sugar, and alcohol.. which turns out to be surprisingly difficult. Our rallymaster imposed a strict 8pm curfew on us, encouraging us to get as much rest as we could before our mandatory 4:15am rider meeting… and we'd need every bit of sleep we could bank!