At the end of the day, rallies are excuses to ride your motorcycle to unusual places, and Team Strange knows their "unusual". Their Butt Lite series is pitched as a "less-filing, same great taste" version of the Iron Butt Rally, and Butt Lite X (their tenth) was to be the last. Of course, 2020 happened, and the event was cancelled. They decided to salvage the work that went into the rally, and give those of us who had missed our last chance to experience a Butt Lite a little taste of what it was, by creating a Grand Tour style event.
Similar to a timed rally, a grand tour has bonus locations you're required to visit, however the time frame is on the order of weeks and months instead of hours. Running from April 15 to November 15, we had to visit at least 20 locations from a massive list assembled from the bonus locations of both Butt Lite IX as well as those of the canceled Butt Lite X, resulting in hundreds of locations for us to devour.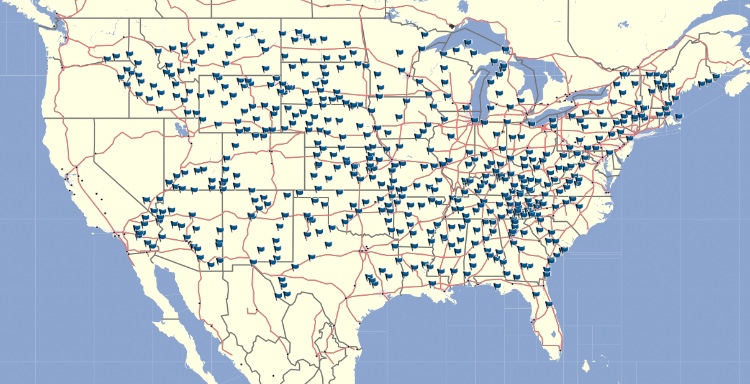 No points or ranking, just a simple "Finished" for riding around, exploring stops along the way. So, where did I go? Ride along with me!
1) GGT - Tucson, AZ - 19 April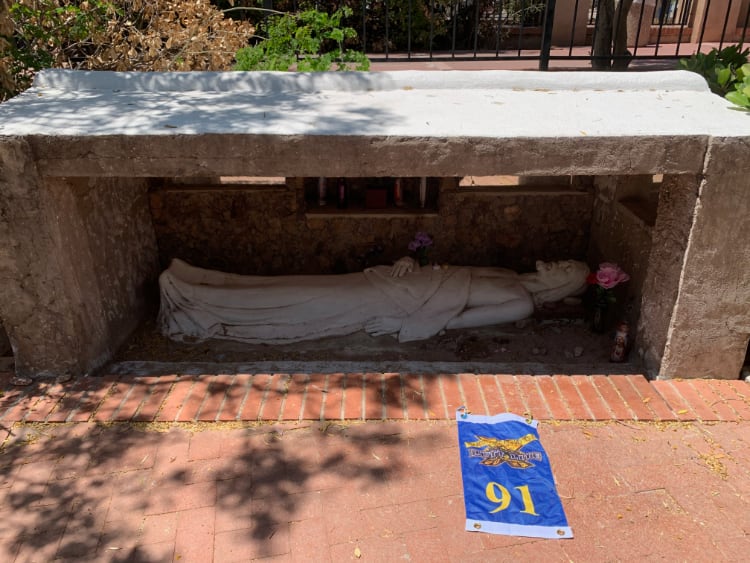 Felix Lucero was critically injured in World War I. Felix vowed to God that if he survived, he would dedicate the rest of his life to sculpting religious statues. The statues in the Garden of Gethsemane were started in 1945 and have survived time, floods and vandalism.


Take of photo of Jesus in the crypt. If the gates are locked during daylight hours a photo of the bust of Felix Lucero will be accepted.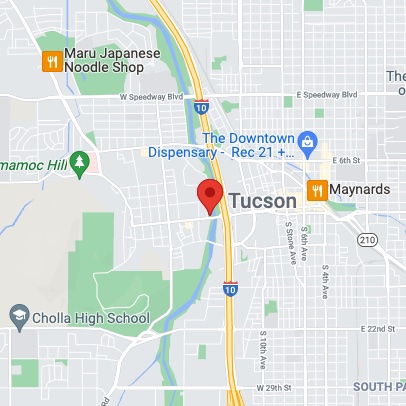 I had just finished up a Bun Burner (Seattle -> Tucson) the day before, and first thing the next morning blearily found my way to this quiet, picturesque shrine. Had to circle the neighborhood a couple times before I spotted it, getting some stares from kids playing on the quiet side streets, and some early morning walkers strolling along the "river" walk. I tried to grab a photo as respectfully as I could, as you never really know what people think of you tromping around their sacred spaces, graveyards, churches, shrines, etc.. especially a disreputable looking LADY on a MOTORBIKE! GASP!
2) RTM - Tombstone, AZ - 19 April

The Rose Tree Museum is home to the World's Largest Rose Tree. The bush was planted in the spring of 1885 from rooted shoots from Scotland. It now spreads over 8,000 square feet and is growing larger every year. Some of you may have last been in Tombstone in 2006, when it was the first checkpoint on Butt Lite IV. Wasn't that fun?


Take a photo of the Rose Tree from the top using the "viewing platform" near the back of the garden. There is a $5.00 fee to enter the museum and back patio where the rose bush is.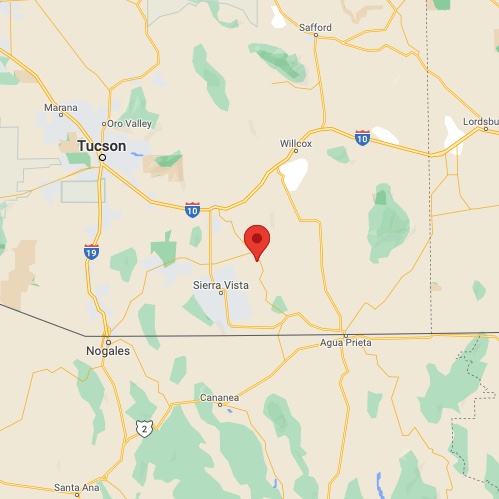 I left Tucson and had to pass through Tombstone on my way to visit family in Bisbee, AZ, so why not stop and why are there gunfighters in the middle of the street ohhhhhh….. Cute little rustic looking town, frozen in tourist amber. Hard to tell who were the paid actors and the cosplaying tourists, but it was quiet and still early, so I slipped into the Rose Tree Museum and got my photo.

The rose bush itself is massive, propped up on an overhead trellis that bows under the weight. The curator told me they prune it back at least once a year, hauling off pickup truck loads of cuttings from it. It's offspring grow in yards and gardens all over the area, and even wild on the hillsides.. a prolific little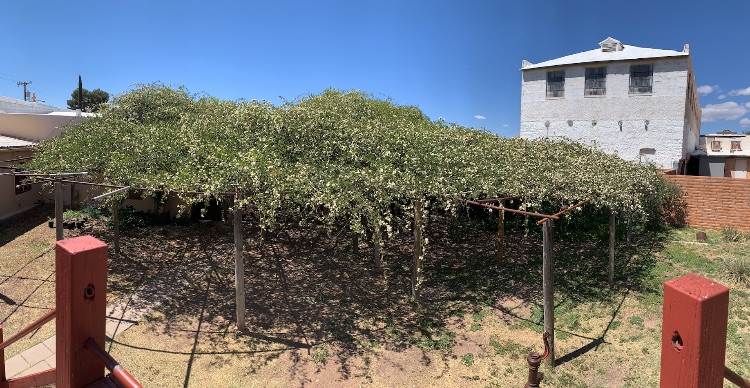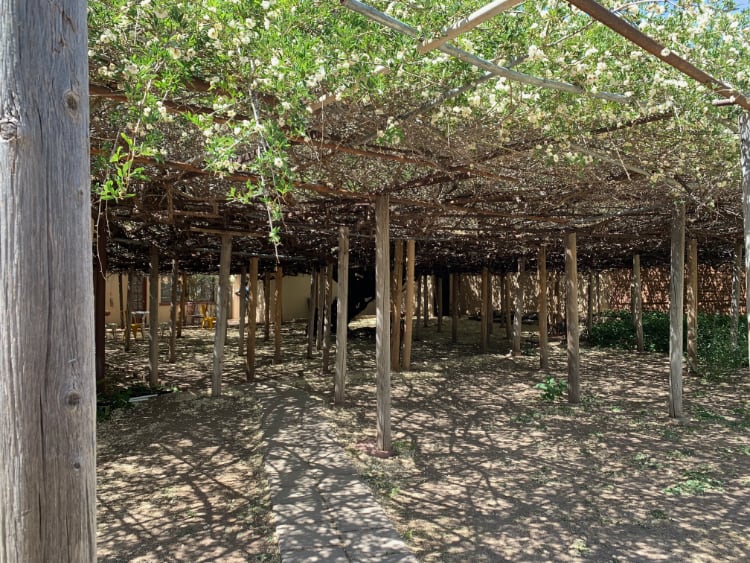 3) MAS - Wilcox, AZ - 21 April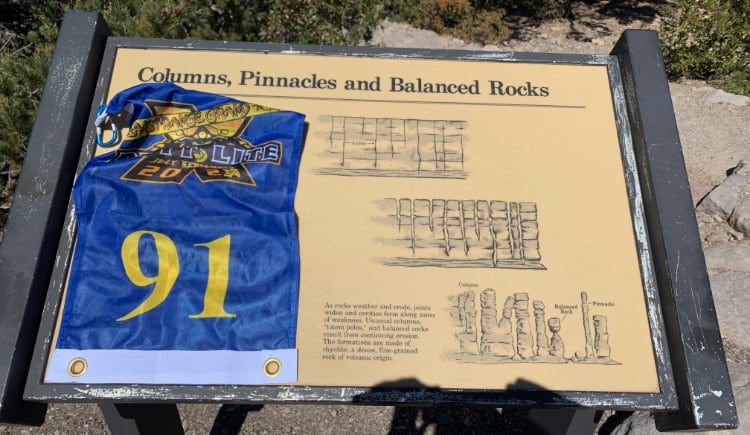 Chiricahua National Monument preserves the remains of an immense volcanic eruption that shook the region about 27 million years ago. The volcanic matter eventually eroded into these natural rock formations. Massai Point sits at 6,870 ft with an excellent view of the monument.


Take a photo of the Columns, Pinnacles and Balanced Rocks interpretive sign.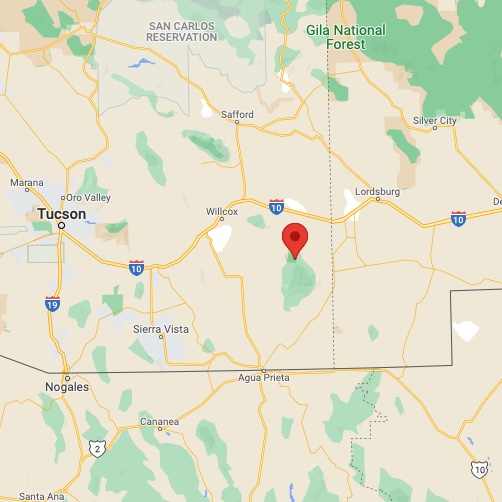 I spent a couple days with my aunt and uncle in Bisbee, AZ. Such a lovely little town.. seriously considering stopping back for a week or so on my way to Heart of Texas next April. Nestled in a slot canyon above a huge abandoned open pit copper mine, the tiny mining shacks and houses stacked on the steep slopes, most without street access or driveways, just series of staircases running up and down the hills between the homes.

Chiricahua National Monument is a short drive from there, and I stopped to get my National Parks Passport for my first of 2 Nation Parks Tours I did in 2021. The ride in to Massai Point was only 7.5 miles, but lovely.. aspen and cactus and juniper after the heat and scrub of the basin below was a welcome change. I had a bite of lunch at the top in a small picnic shelter out of the wind, and grabbed a couple photos.
4) MCD - Fort Davis, TX - 22 April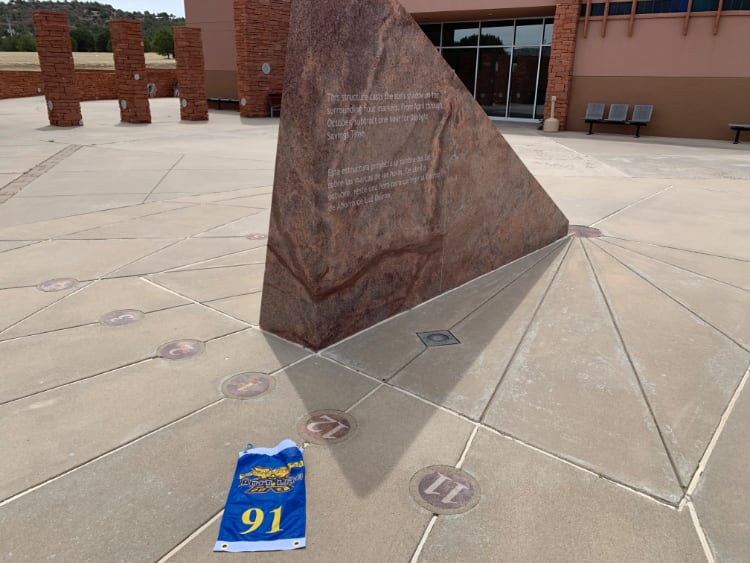 McDonald Observatory is one of the world's leading centers for astronomical research. These facilities in the Davis Mountains of West Texas, offer some of the darkest night skies in the continental United States. But you have to visit in daylight to successfully complete this bonus.


In front of the visitor center is a large sundial. Take a photo that shows what time it is. We will cut you some slack for cloudy conditions and daylight savings time. Sundials don't compute DST.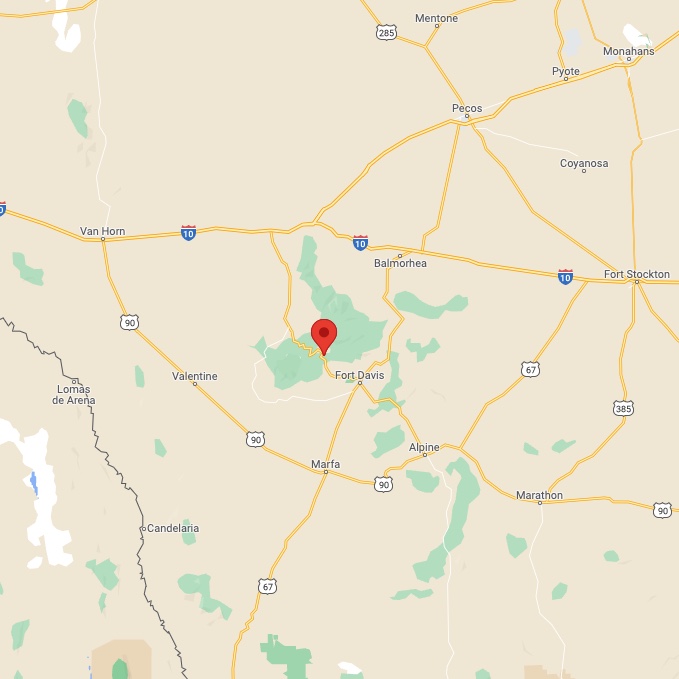 Spent the night before in Van Horn, TX, at the Hotel El Capitan. Give me a small boutique hotel any day, especially one that serves a pecan-crusted chicken-fried steak with jalapeño gravy… mmmmm!


The ride up to the observatory was fabulous, twisties rising up from the plain of East Texas. Dodged a rattlesnake coiled up in the middle of my lane, slowed way down to yield to some javelina, and generally enjoyed the surprise of mountains and trees. I snapped some photos and had some lunch, chatting with a couple guys from Houston who pulled up on Ténérés. I then headed down into Fort Davis proper, to get NP stamps at the fort itself, then back north to I-10 to head east towards Houston.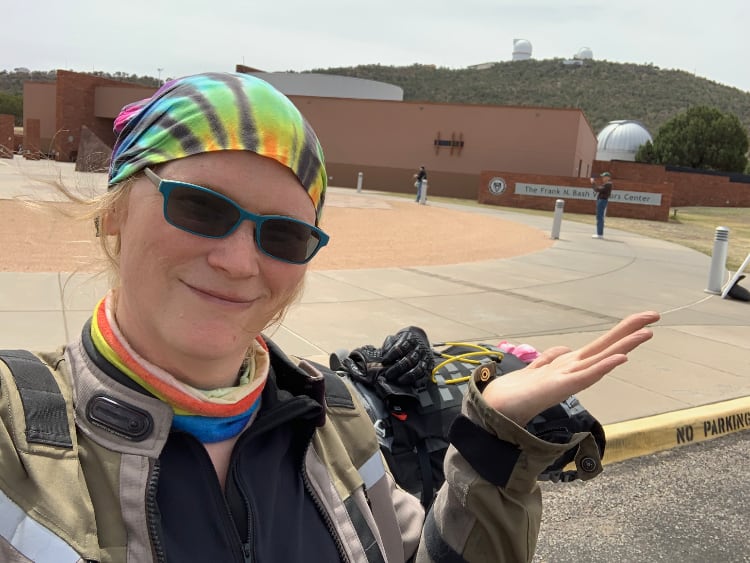 5) GRV - Hearne, TX - 29 April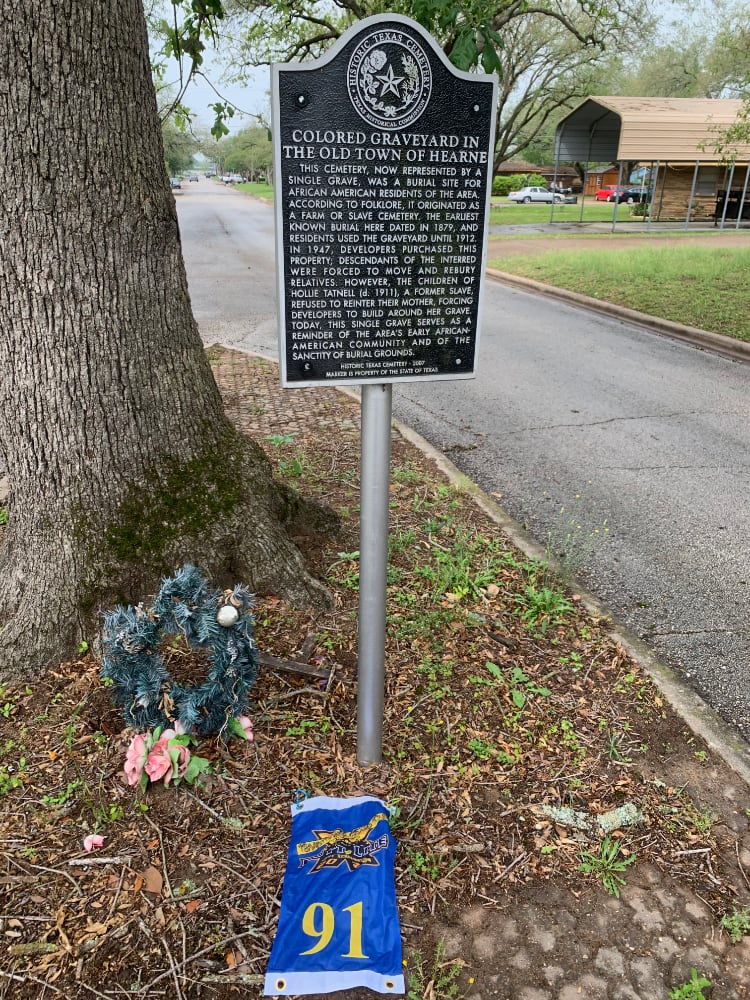 Hollie Tatnell was born a slave in Texas. Upon her death in 1911, she was buried in Hearne's colored cemetery, which had allegedly originated as a slave burying ground. When developers purchased the land in 1947, they pushed out the residents and the cemetery. One family refused to budge and the developers had to construct a median around Hollie's grave. Her children added a second marker and in 2007, the Texas Historical Commission placed a marker here naming it a Historic Texas Cemetery with the remains of only one person.


**Take a photo of the "Colored Graveyard in the Old Town of Hearne" historical marker at the grave of Hollie Tatnell.* **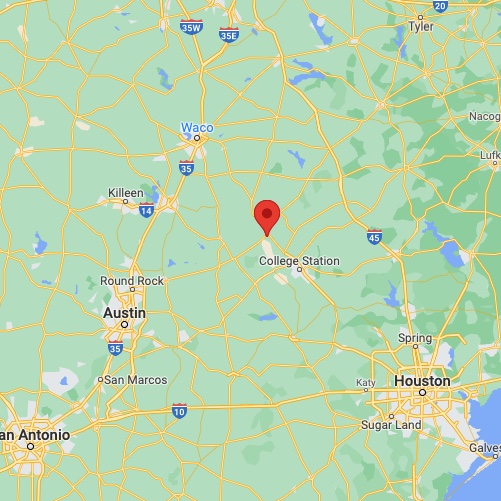 I claimed this one as a small side trip when heading from Austin to College Station for Heart of Texas. It was a few blocks off the main drag, and it was such an odd, poignant little spot. Someone had left a wreath by the grave, and I couldn't help but wonder who visits.. I'd love to talk to them.


This is the kind of bonus location that makes rallies and grand tours so amazing - places you'd never find on your own, stories you'd never hear..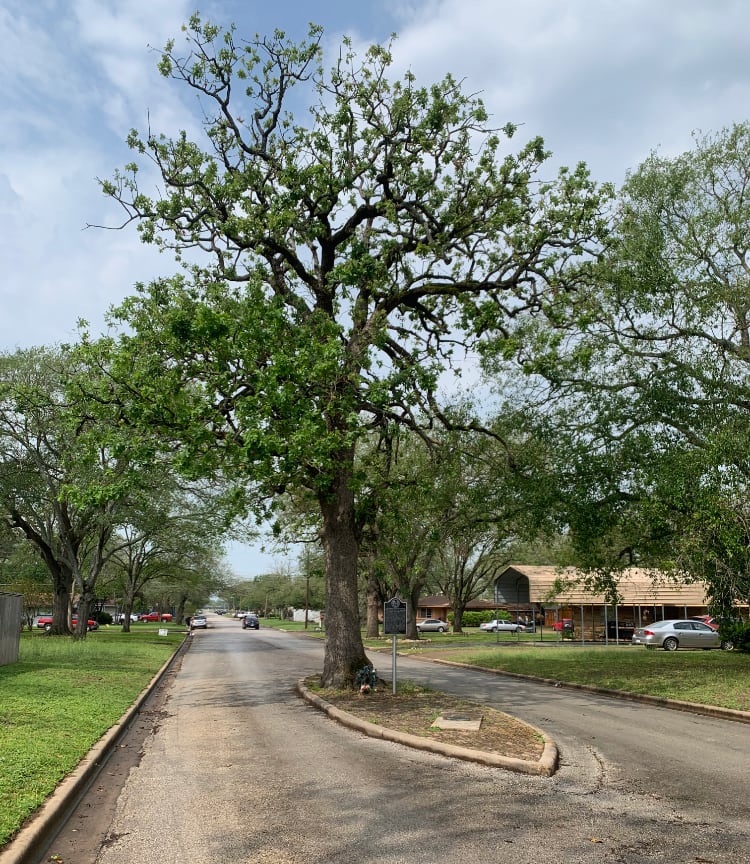 6) BOI - Boise, ID - 19 June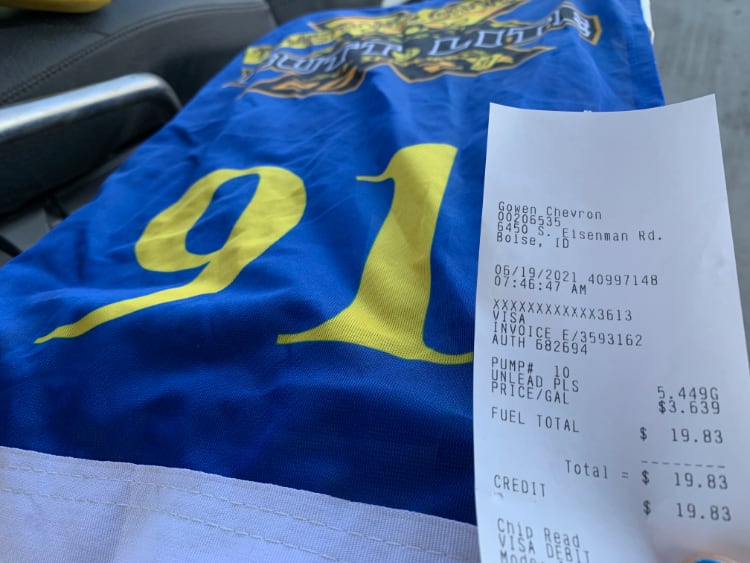 Pick up receipt for any purchase in Boise, Idaho. The location, date and time must be machine- printed on the receipt.


Take a photo of the Boise receipt, with your rally flag.
Pretty simple, this one - I snagged it while on the way to be a spectator at the 2021 Iron Butt Rally, which began and ended in Provo, UT this year.
7) JWP - Green River, WY - 25 June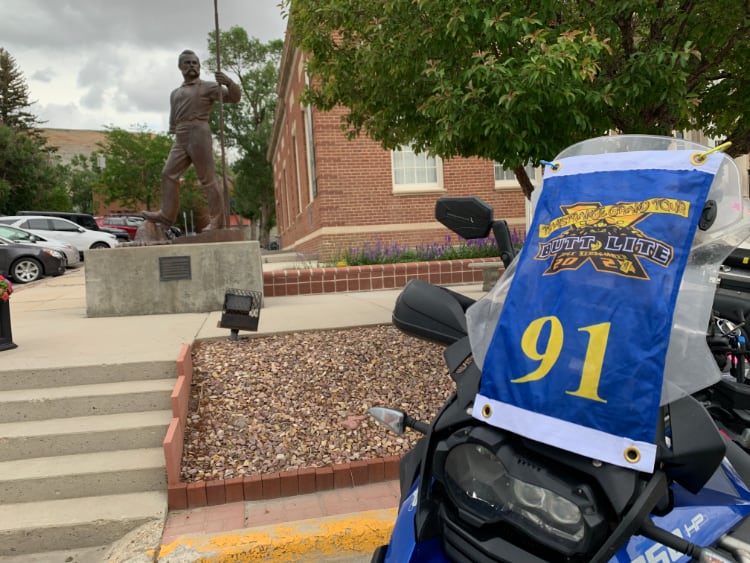 John Wesley Powell was a U.S. soldier, geologist, professor and explorer of the American West, most famous for the 1869 Powell Geographic Expedition, a three-month river trip down the Green and Colorado rivers, including the first official U.S. government-sponsored passage through the Grand Canyon. If he had lived in our time, Powell might well have been a long distance motorcycle rider - even with just one arm.


Take a photo of the statue of John Wesley Powell.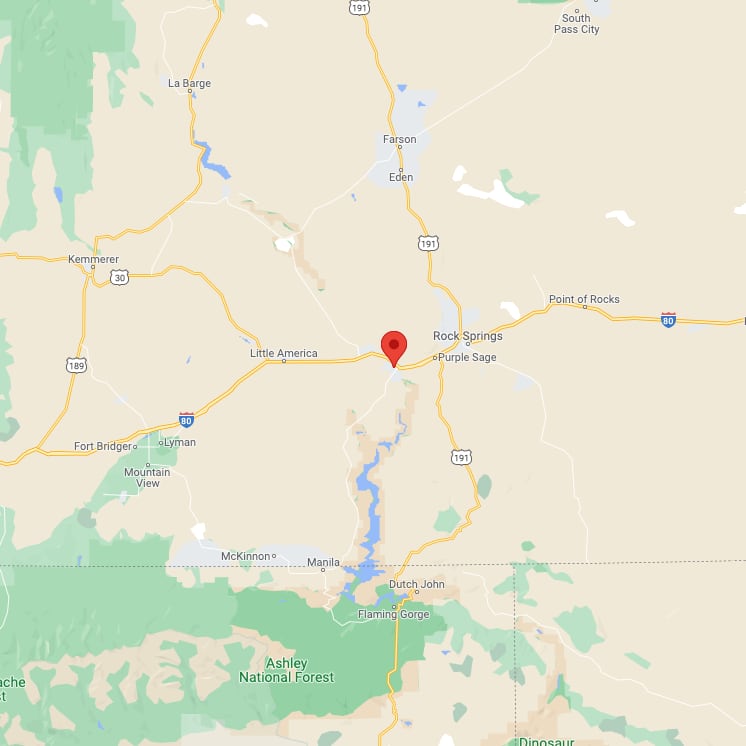 Jo and I spent most of the week between the start and finish of the Iron Butt Rally just touring around Utah, building up ride endurance and collecting National Park stamps. This day we headed east from Provo to visit Dinosaur National Park, then headed north along the west side of Flaming George NRA, and hit rain, lightning, sleet, and maybe even a touch of snow as the road tried to make up its mind about being paved or slushy gravel. By the time we got to Green River, we were both cranky and tired after a grueling day in the saddle, so Jo caught a nap while I messed around with my camera.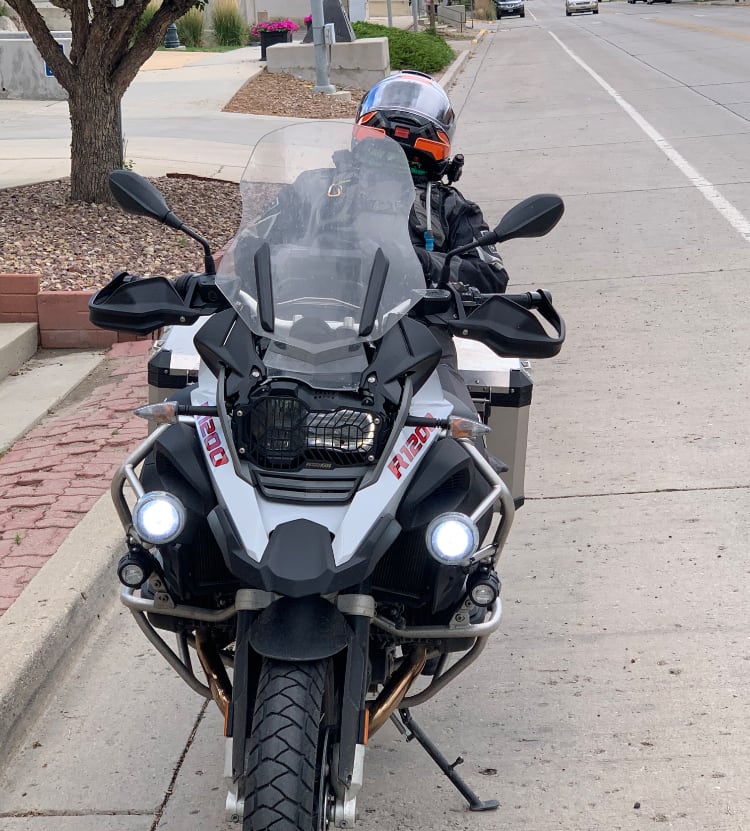 8) FAR - Huntington, OR - 3 July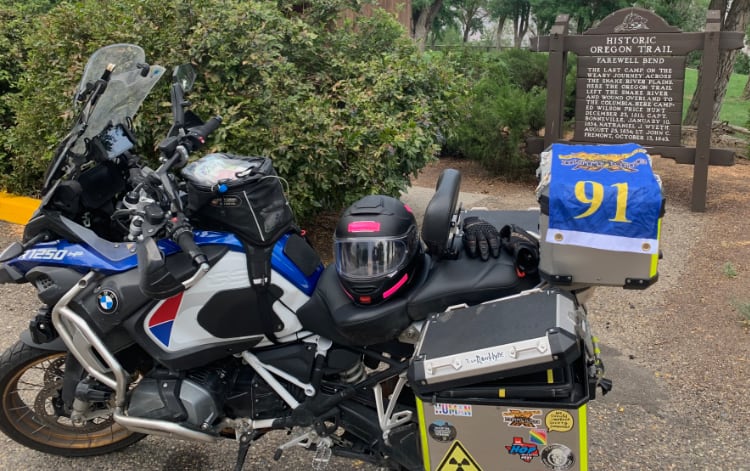 Farewell Bend was very important as the place on the Oregon Trail where the Snake River was left behind. From here emigrants would head out across difficult desert terrain and then, after crossing the Blue Mountains, meet up with the Columbia River.


Take a photo of the Farewell Bend historical marker. Hwy 30, in Farewell Bend State Park.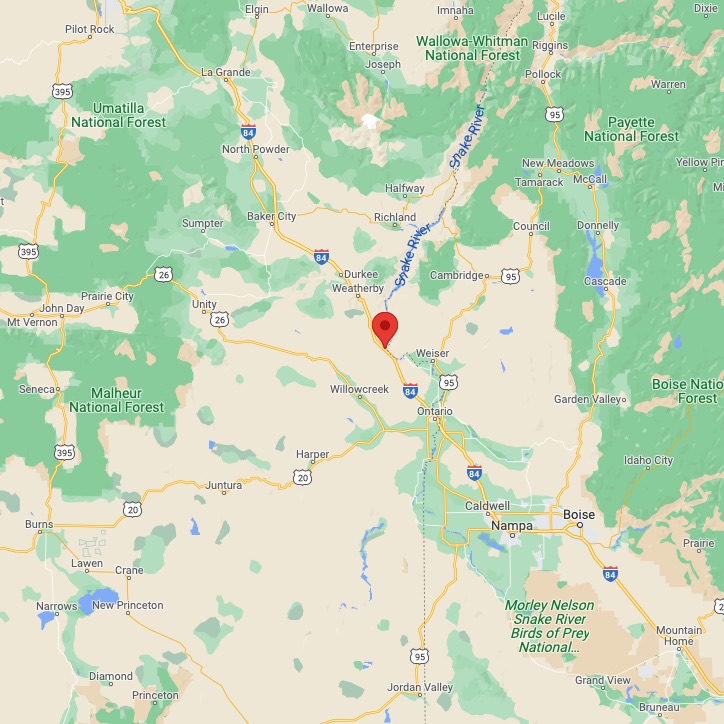 After our bikes were run over in a parking lot in Glenns Ferry, ID, we pretty much knew our 48/10 ride was going to be delayed at the very least; we simply had to get the bikes to a dealer for the insurance paperwork to get done. Still, we had hotel reservations in Walla Walla, WA, so why not just head there anyways?


I've ridden past this park a dozen times heading between Seattle and Boise, and always wanted to stop. The day was desperately hot and we needed a break, so we went and stood in the lawn sprinklers in the play field, getting completely drenched before saddling up to continue on our way.
9) OTM - Baker City, OR - 3 July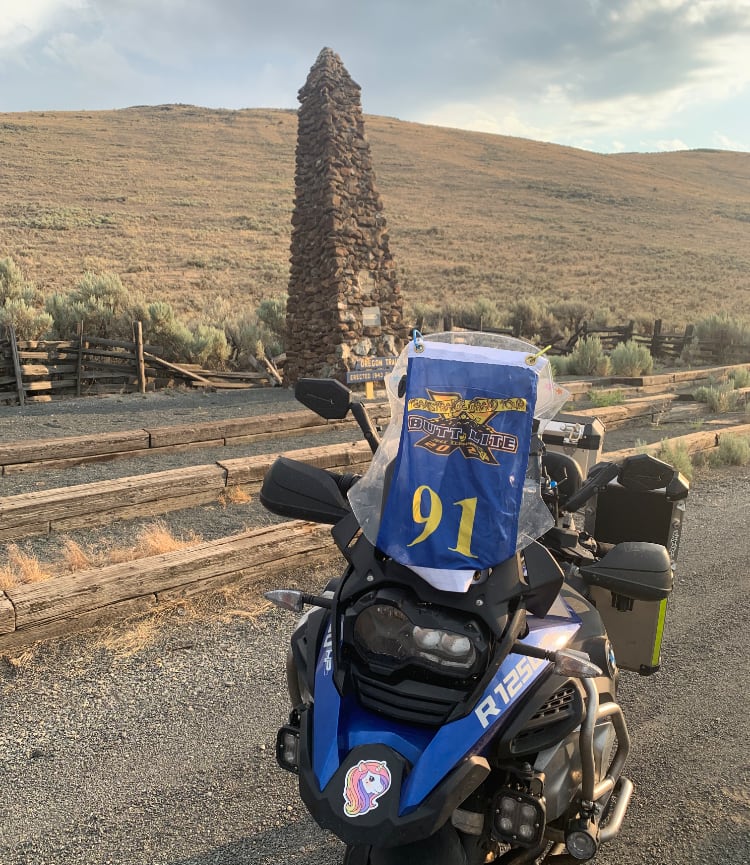 The Oregon Trail passed northward just east of this monument and the clearly cut ruts created by many thousands of emigrant wagons are still very evident. The local Kiwanis Club erected this tall pyramid-shaped rock cairn in 1943 to mark the 100th anniversary of the Trail.


Take a photo of the Oregon Trail Memorial. Hwy 86, 3.7 miles east of Baker City.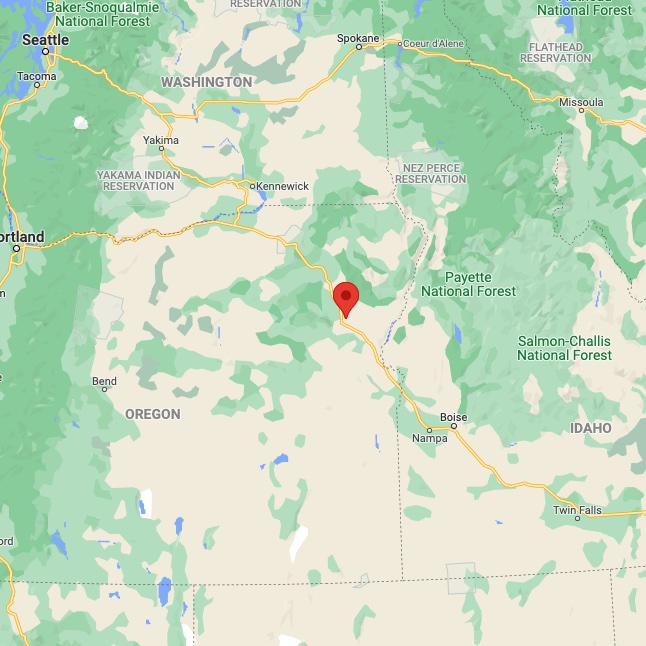 As a child of the 80s, I grew up playing Oregon Trail, so it was kind of oddly humorous to look out over the Oregon desert and think "oh, this is where you die of dysentery.."
10) FWW - Wallula, WA - 4 July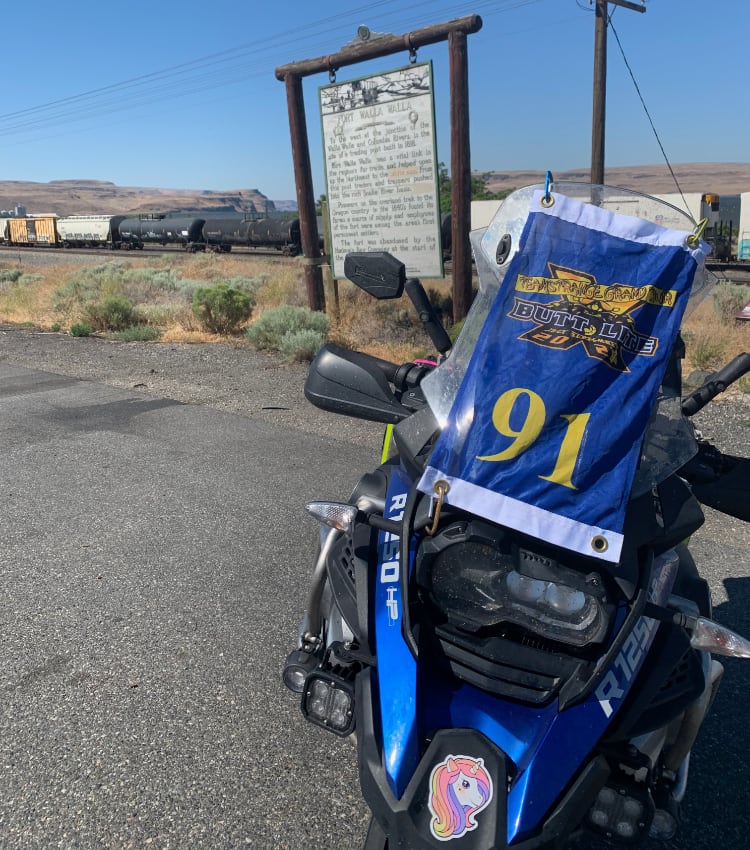 Fort Walla Walla was a vital link in this region's fur trade and helped open up the Northwest to the white man. From this post, traders and trappers pushed into the rich Snake River basin. The fort was abandoned by the Hudson's Bay Company at the start of the Indian War in 1855.


Take a photo of the Fort Walla Walla marker hanging from the wooden posts. US 12, on the bank of the Columbia River.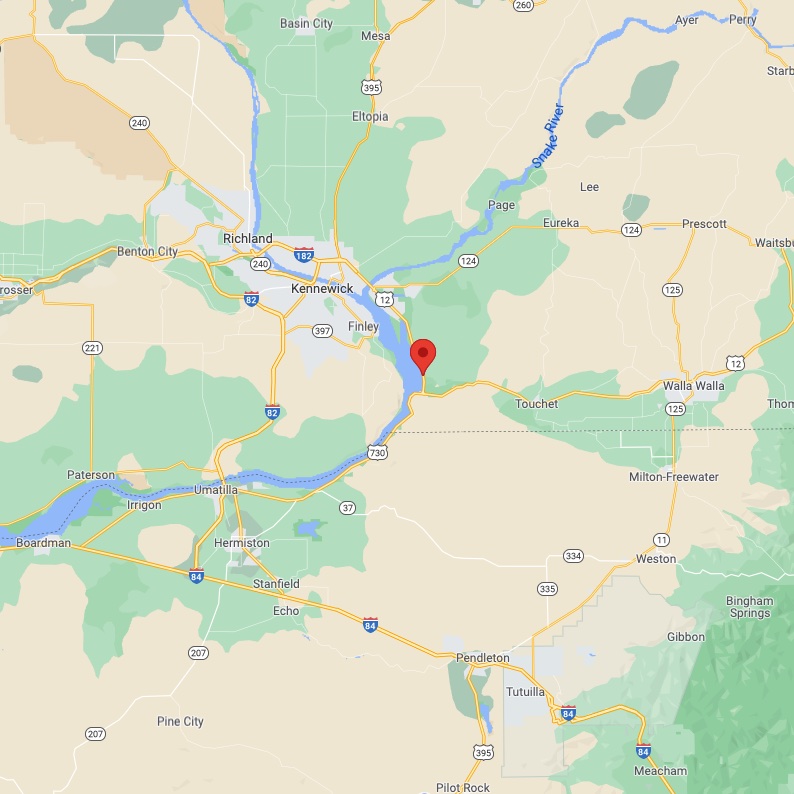 I think we were both a little upset about having to postpone the 48/10 ride, the wind was up, and I was feeling crabby. Get the photo, and get home to Seattle.
---