I got about 2.5 hours of sleep, DuckTales waking me up around 6:00am. I lay in bed, looking at the pale dawn through the gauzy hotel curtain, and it took a couple minutes before realizing that the sunlight, pale as it was, meant the storm was past, and it was time to get rolling. I'd basically laid down on the bed still in my LD Comforts, so a splash of water on the face, brush my teeth, and I was on the bike and moving down the road by 6:30am.
The rain had really come down overnight, and despite having thrown the cover over it AND parking under the hotel's portico, substantial water had pooled in the slack of the cover, which dumped out in a torrent of it's own. The parking lot was awash with deep standing puddles, small ponds really, and a steady drizzle of fat raindrops ignored the slightly chill breeze that was blowing in the wake of the storm front. All of that cleared by the time I reached Kansas City, and a little while later I stopped at a Love's for coffee and a breakfast taco, but the line at the pumps was a disaster. I've never understood not moving your vehicle after filling up… After waiting for nearly 10 minutes without any cars moving, my frustration level peeked at the "screw this" level and I rode on, getting gas 15 miles and a couple exits down the road. From there I had smooth sailing to my next bonus in Des Moines, IA.
4) API16 - Pioneers - Des Moines, IA - 823 pts (+75)
---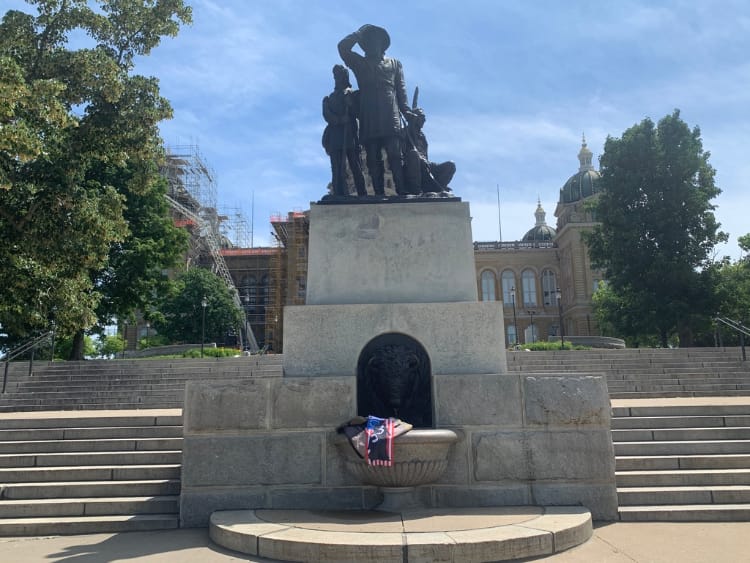 I had to pee something fierce by the time I rolled in. Luckily there were some porta-potties set up for the construction that seemed to be a refurbishment of the capitol grounds, but it being Sunday, no one was really about. Whew! The grounds themselves had a few picnickers, and while I was trying to get a good photo, a family of tourists rolled up in their minivan, 7 of them piling out. English wasn't their first language, but they saw my photographing the statue and it was communicated that they wanted me to take their picture, too - hey, no problem! Happy to! Just then, 3 more vehicles rolled in and a bunch of kids in soccer uniforms piled out and started running around; whether they were there to absorb the culture and majesty of the government seat of Iowa or just the huge green space was an attractive place to kick a ball around, I don't know, I had to scoot.
One thing I didn't see were any protesters. Given that the Dobbs ruling had come down on Friday and was such a hot topic politically and socially, and many of the statues and locations we were visiting were near capitols, courthouses, and the like, we were all alert for any protests or clashes, but I didn't see anyone.. in fact, Des Moines seemed like a bit of a ghost town, devoid of really anyone. Strange.
| | |
| --- | --- |
| This segment: | 328 miles, 4h46m |
| Total: | 328 miles, 4h46m |
| Time Remaining: | 60h41m |
| Points scored: | 4,731 |
My next bonus was all the way up in St Cloud, MN, so I had a bit of a ways to go. One weird thing about this rally was how BIG it felt; other rallies I'd have visited 20+ bonuses by now, off and on the bike all day.. here, with 4 or 5 hours (or more) between stops, it really felt more like an endurance ride than what I was used to, where my time at each stop was meaningful.. with only a hand full of bonuses, I had time at each stop to really breathe, make sure I got the bonus scored, etc.. I still wasn't lolly-gagging, but I didn't have quite the same pressure, since the cumulative impact of an extra minute or two at, say, 3 stops was almost meaningless compared to 1-2 extra minutes times 25 or 30!
Spotting a rest area/welcome center off the highway, I stopped in Dows, IA. Across the road was a BP with an Arby's, so I ducked in and grabbed a sandwich and restocked on snacks, pulling a receipt to start my meal bonus for the day (XEAT2) and then crossed to the rest area to relax and eat. It's amazing what being given points to actually chew my food did for my morale!
I skirted around the southeastern edge of the Twin Cities on I-35W, picking up I-94W on the northeast, and wow, it was slow going.. construction and narrow lanes, I got stuck behind a pair of fully-laden hay trucks, bits of straw blowing off in a continual storm of allergens. Even with my visor down and vents closed up, I could feel my nose running and my eyes getting itchy. It seemed like forever going 35mph in a 60mph construction zone, but eventually I managed to sneak past them and break out of traffic.
5) APR51 - George Washington - St Cloud, MN - 987 pts
---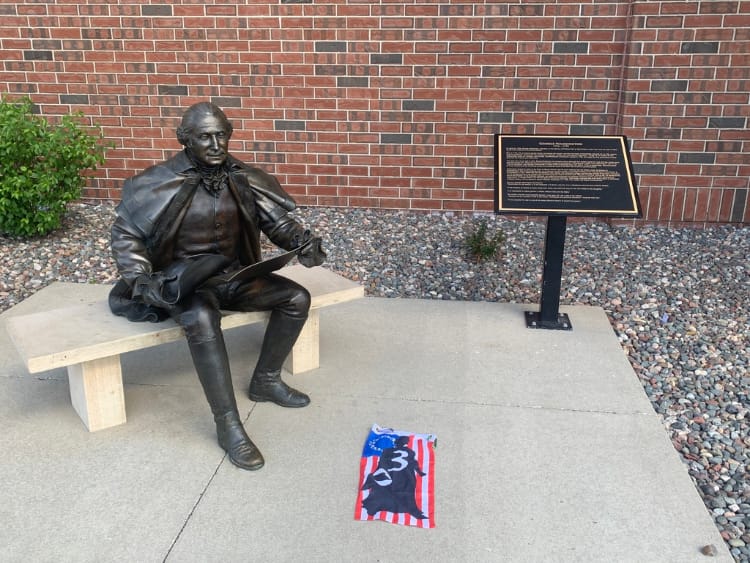 I pulled into the busy mall parking lot and wandered over to the cluster of statues outside of Scheels, a chain of employee-owned outdoors/sporting goods stores across the northern tier. Apparently they all have a dozen or so statues outside each store depicting presidents and founding fathers.. this would not be the only Scheels I'd visit on this rally.
Given the crowd of camouflaged "hunters" going in and out of the store, I felt perfectly in place as I walked over in my full gear with my helmet still on; it was about 5:30pm, and was hoping to save every precious minute of daylight.. and truth be told, as much as I love my Big Ear in-ear monitors, they're kind of a pain in the butt taking out and then putting back in every time I take off my helmet, so I try to avoid it.. it isn't that it takes a lot of time, maybe 15-20 seconds, but it's fiddly.. and then zipping up the jacket again and not getting the cord caught in the zipper OR in the neck flap, making sure I've got enough slack so I can turn my head and not yank them out of my ears or the plug out of the Sena base unit.. I'd rather just leave the helmet on when I can.
I grabbed the photo, and while walking back to the bike, compared it to the sample photo and.. man, I dunno! Was it close enough? I dithered a bit and finally went back and took a second, better photo that I thought more perfectly matched. Probably being paranoid, but losing points really sucked, so maybe spending another 3 minutes here dinking around trying to make it PERFECT was a waste, but who knows? I wasn't going to get dinged a second time.
650 miles, 11 hours on the bike, and I've only bagged 2 bonuses so far.. am I doing this right?!
| | |
| --- | --- |
| This segment: | 312 miles, 5h59m |
| Total: | 656 miles, 10h47m |
| Time Remaining: | 54h42m |
| Points scored: | 5,718 |
6) ASP05 - Hank Aaron - Eau Claire, WI - 128 pts (+150)
---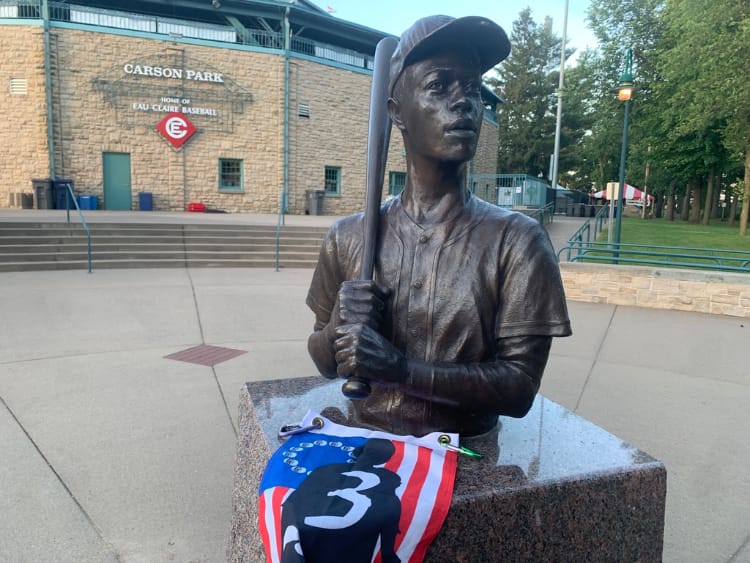 I got back through Minneapolis without incident, crossing over into Wisconsin and immediately seeing hills, farms, and trees again.. cozy! Eau Claire was also a quiet town on a Sunday night, and here on the western edge of the city there wasn't much going on. The city park where the stadium was located is surrounded by an ox bow of the Chippewa River, leafy and green, and a deer scattered into the underbrush as I came around a corner. The stadium itself had a good sized parking lot, and a group of car enthusiasts were showing off their tuned and spoilered rides when I rolled in. Another rider was just leaving the bonus as I trotted up the long access ramp from the parking lot, exchanging a "hello there!" but no time for small talk; it was 8:17pm, I only had another hour or so of daylight, and I had miles to go before I sleep.
Only 128 points for this one, but an extra 150 from the 2 George Washington statues I've claimed so far. It's also part of the Sports Figures combo, so it'll pay off to claim this one.
| | |
| --- | --- |
| This segment: | 162 miles, 2h48m |
| Total: | 818 miles, 13h35m |
| Time Remaining: | 51h54m |
| Points scored: | 5,996 |
Leaving Eau Claire behind, the GPS and Waze started fighting, so I ignored the GPS and followed the robot, taking I-94 south and hopping off onto US-10, one of those roads that a quarter mile from the highway feels VERY remote and far away from everything. Farms and campgrounds and lots of trees for an hour or so, until the town of Neillsville right as the sun was setting. I stopped to gas up and switch gasses, then plunged into the darkness onto WI-73.. and really nothing but farms and trees and the occasional deer quietly munching at the side of the road to break up the dark monotony. "Ok Waze, I'm trusting you" as it directed me onto a series of smaller and smaller farm roads, finally landing me at a small town sports field, which had a single ball field, a closed snack bar/storage barn, a sizable memorial to racing legend Richard "Dick" Trickle, one of the winningest car racers ever.
7) ASP04 - Dick Trickle - Rudolph, WI - 114 pts (+12,150)
---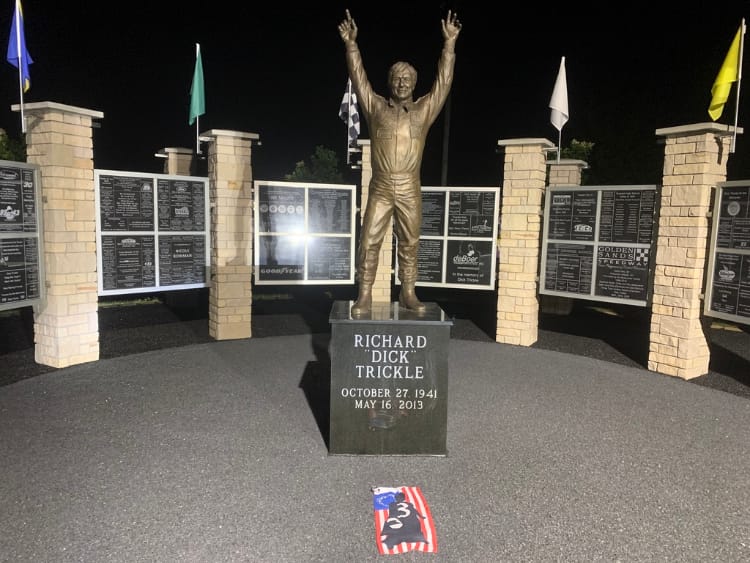 I hate to say it, but I don't know a thing about auto racing, so I took a respectful photo and had a bite to eat while planning my next move. I had a vague plan to crash at a friend's in Milwaukee tonight, claiming my full 8-hour rest bonus, but I don't think I'll quite make it that far, so I decided to wait and see how I felt it my next stop in Appleton, WI. I mean.. I gotta sleep sometime, and I think getting rest before you desperately need it leads to more efficient rest.. and if I am stretching, I'd rather do it at the end of a leg rather than the middle.
This bonus completed the Sports Figure combo, netting me an additional 12,000 points.. plus the George Washington bonus of 150pts.. nice!
| | |
| --- | --- |
| This segment: | 107 miles, 1h59m |
| Total: | 925 miles, 14h34m |
| Time Remaining: | 49h55m |
| Points scored: | 18,260 |
I saw another rider pulling into the Dick Trickle memorial as I was heading down the street away from it; what other motorcycle would be rolling in with 50-jillion aux lights blazing at 10:30pm on a Sunday?
8) APR54 - George Washington - Appleton, WI - 2,145 pts
---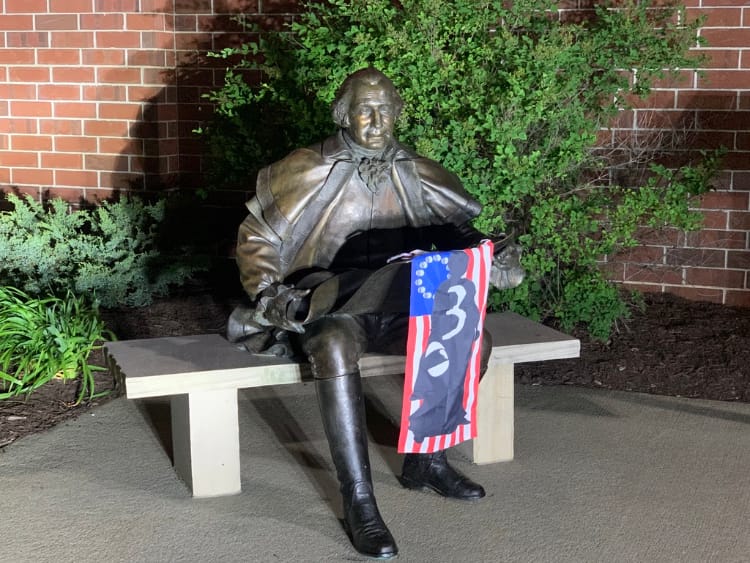 I rolled into the deserted mall parking lot in Appleton, WI around 11:45pm to another Sheels and parked with the engine running and lights ablaze, pointing at the statue. As I was doing paperwork after taking my photo, a security guard in a tiny 2-door hatchback swooped in like a trap had been sprung. He leapt out and ran over to the very well-lit statue and began ineffectively playing his bludgeon of a flashlight over it, before turning to me with a scowl. "WHAT ARE YOU DOING HERE?" he growled, and I calmly explained the usual about a scavenger hunt, founding fathers, etc and he cut me off angrily about how the "kids" were vandalizing these statues and he wouldn't stand for it and I just blinked in disbelief – did he really think a pudgy, middle-aged white lady on a big expensive motorcycle with all the lights in the world going was here to tag George Washington? 🤣 I tried to very calmly point out that I was only taking a photo of it, showed him the rally book, but he was uninterested in any reason I might have for being there, just that I was there at all.
So anyways, that's how I got trespassed from the parking lot of the Fox River Mall in Appleton, WI.
I mean.. what was I gonna do, argue? Let him have his little fiefdom, whatever. I moved across the road to the also empty parking lot of a different shopping center to do some routing, deciding I should get a room. and get my full rest bonus. Luckily there was a hotel a couple blocks away, so I booked a room, pulled a gas receipt, and went to check in.
| | |
| --- | --- |
| This segment: | 90 miles, 1h30m |
| Total: | 1,015 miles, 16h04m |
| Time Remaining: | 48h25m |
| Points scored: | 20,405 |
Of course, that wouldn't be smooth, either. The night clerk was angry at me that I had used online booking, and "couldn't find" the reservation, saying it hadn't come through and just stared at me. "Well… ok. I don't know what to tell you. Do you have a vacancy?" He said of course they did, but he wouldn't let me have it if I already had a reservation, that he didn't know what kind of scam I was pulling but he wasn't falling for it.
I wish I was clever enough to know what the scam could possibly be, but I didn't say boo, I just shrugged and said "Ok.. I'll wait." He muttered and griped about the computers, helped a guy who was clearly a frequent guest, and after about 15 minutes I said "Hey, can we check again?" Still no reservation… so I said ok, that's fine and pulled up the customer service number and started calling.
Funny how as soon as he saw me on the phone my reservation magically appeared on his screen.
What the hell, Wisconsin?