I have a weakness for saying "yes" when people ask me to do ridiculous things.. and I'm glad I have friends like me!
So when my friend Amanda Zito asked if I was interested in helping her do her first Saddle Sore 1000 (SS1k) ride last spring, of course I said yes, and suggested she join me for the ride out to the start of LDX. It would be a nice warm-up for the rally, and give me a chance to get a real shake down of the new aux fuel tank that I had made by Lincoln Searls (more on that later) as well as the Trailmax Mission tires everyone was raving about.
Although I haven't quite hit Ben Ernst levels of hoarding, my living room has turned into a miniature tire shop this year. Supply chain delays and general scarcity being what they are these days, I decided to stock up. I set "email me when available" reminders at all the major retailers, and soon enough my condo smelled of rubber.
Right before leaving Seattle to meet Amanda down outside Portland, OR to start our SS1k, I arranged with Sky at Au Fait Moto to swap on a set of the Trailmax Missions on. I'd waffled a bit on whether to roll with the Anakee Adventures, a tire I know pretty well, or take a chance on unproven (to me) tires. While I wouldn't recommend changing anything right before a rally or a big ride, this time it worked out pretty well for me! It took me the rest of the afternoon riding down to Portland to get used to the squirminess of "blocky" tread, and at first I really noticed a tiny bit of effort required to turn in.. and how it settles into a few distinct "grooves" or angles. However, after that first 200 miles, that either worked itself out or I got used to it and didn't notice it any more..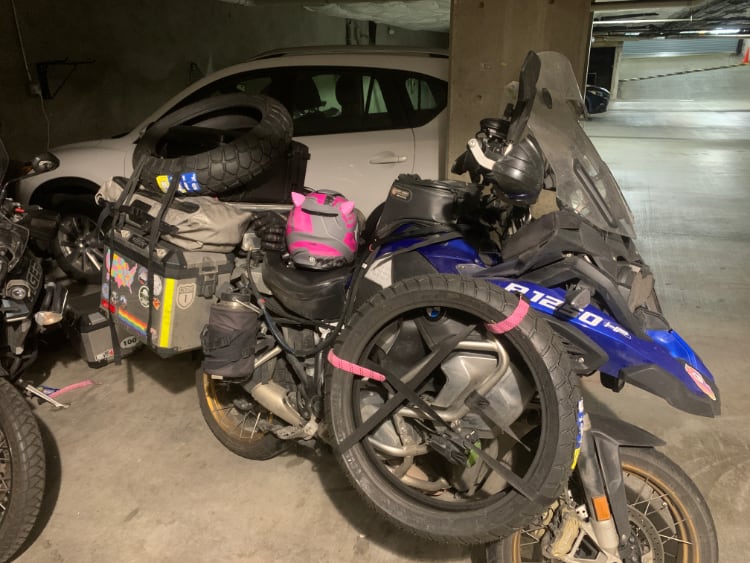 Since I'm All The Earplugs All The Time, I can't really say how loud they are, but they do hum and vibrate a bit more; not an alarming amount, but noticeable when I think about it. As for rain, I didn't notice any issues from wet pavement, but did lose a bit of traction for a split second on a wet patch of road paint turning into a parking lot somewhere in the first 100 miles, and they're as allergic to tar snakes as any other tire I've run.
At the end of the day, I always feel like anything anyone says about tires (or windscreens or oil or whatever) is all anecdotal and super subjective - the tire didn't lose traction in any situation in which I put it in, didn't burst into flames or make the bike handle in a way that was a safety concern..and aesthetics like noise and vibration are super subjective. I guess it didn't explode on me, so that's good!
The other new addition to the bike for this rally was the aux tank from Lincoln Seals and Seals Custom Fabrication. A couple weeks before leaving for LDX I rode over to Kalispell and we added a sweet 3.4 gallon auxiliary fuel tank. The ride home was a giggle fest of only having to get gas once in ~550 miles, and the amount of flexibility having an extended range would bring is hard to explain to folks that frown and tut about aux tanks. I love it… and so does everyone who looks at the tank! It's a gorgeous piece of craftsmanship, and everyone asks about it in the parking lot when we're sitting around kicking tires..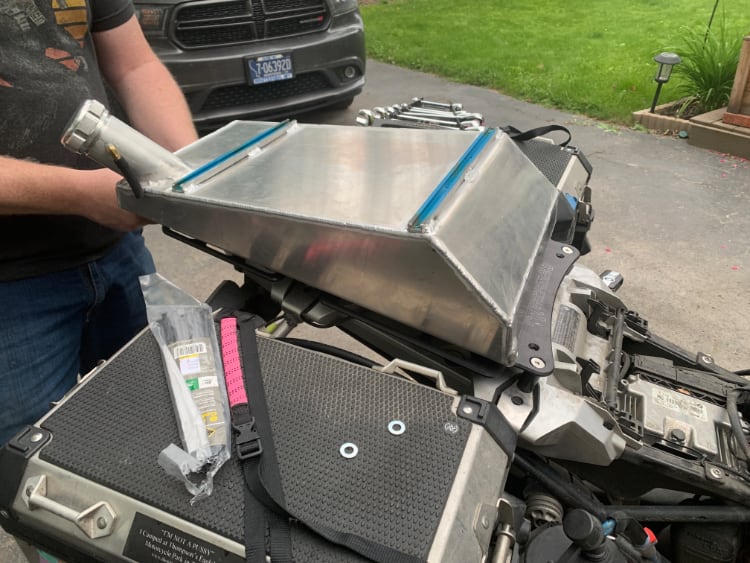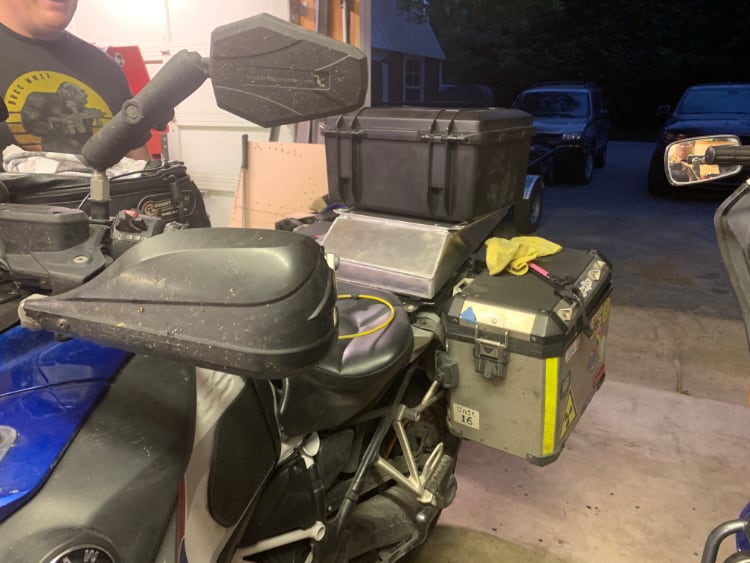 Amanda and I met up at a gas station on the outskirts of Portland, OR shortly before 6am, and got underway at 6:04am. We'd done an Almost SS1k a couple years ago, slogging back to the PNW from Babes Ride Out down in Atascadero, CA. It was one of those "let's ride together, we'll stop whenever either of us gets tired" and she did a solid 850 miles back to Portland, but since this was really her first "official" SS1k, and she had a smaller fuel capacity on her Africa Twin than my GSA with the (new) aux tank, I let her take the lead, setting the pace and the stops as we went.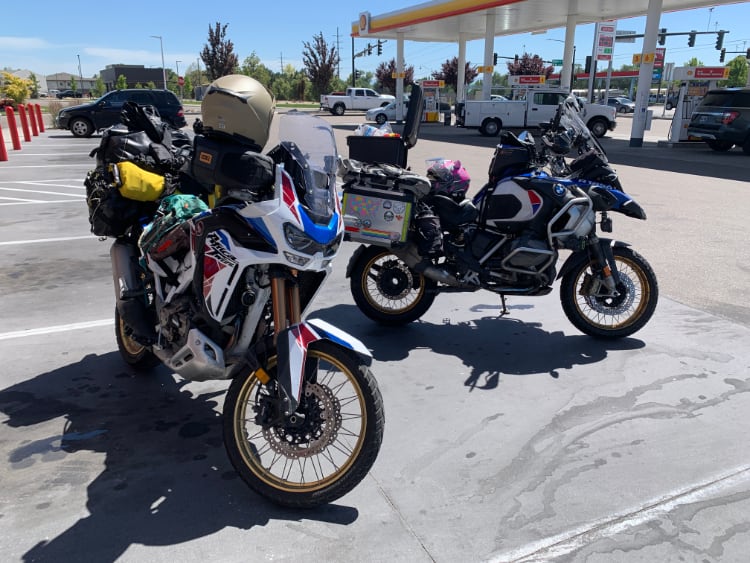 We had almost perfect weather the entire route, and we pulled into Rawlins, WY 23 hours, 29 minutes later for a stop receipt to document the ride. It wasn't the fastest SS1k I've ever done, but I can honestly say it was the funnest ride I'd done since my 48/10 the previous summer with Jo. We had a few extended breaks for snacks and meals, and being 2 women on big bikes who clearly both are seasoned travelers got us into a number of fun conversations with locals and other travelers, so despite the running clock, it felt a lot like a flower-sniffing ride. 5 stars, would recommend!
Here's Amanda's side of things…
We crashed at a hotel for a couple hours, then had a leisurely breakfast at a local diner. I gave in and got the biscuits and gravy, a meal that I order almost every time I see it on a menu. It's so seldom amazing, but when it is, it is mind-blowingly good, so I always roll the dice… After breakfast, I stopped at the local tourism center in Rawlins and got a WY stamp for my National Parks Tour, striking up a longish conversation with the woman running the desk about Wyoming and the state of tourism, plus the usual "you're a woman traveling by herself by motorcycle? Aren't you scared?" conversation..
Conversations I Keep Having To Have
"You're traveling by yourself? Aren't you scared?"
"I had a motorcycle when I was in my 20s, but obviously had to give that up when I had kids.."
"Where you headed?" or "Where are you coming from?" followed by "REALLY?! That's so far!"
I should name these so I can just say like "I had Conversation Bravo at this gas stop" so I could save time when writing these things up..
Regardless.. conversation over, I collected a napping Amanda and we headed down to Cheyenne at a more leisurely pace, with a brief stop at what I think of as "The Lincoln Rest Area" along I-80 just outside Laramie.. they're supposed to have a penny press machine there, but alas it's stored inside the visitors center there which is still closed to the public (and looks to be semi-permanently closed at this point..) While there, a retired lesbian couple started asking me all sorts of question about being a single female rider, but I managed to pivot the conversation to grill them about their RV lifestyle, which was a nice change of pace, conversation-wise.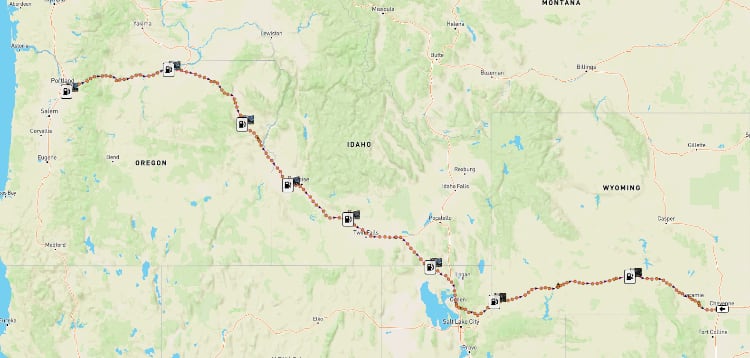 Check-in at the rally hotel went fairly smoothly, although like everyone else I had to wait a bit as there was some kind of snafu with the system (or the staff..) but I've learned to be patient the last year or so.. lots of things that used to be simple and easy are just a bit harder lately, with so many staffing and supply problems, so no worries. Nancy Oswald had reached out to ask when I was getting in, and if I'd be willing to help with a project, and she and Tobie Stevens (rally photographer extraordinaire) surprised me while I was still getting my bearings in the portico, wanting to take photos of my bike for the daily report as a sort of "anatomy of a rally bike" for family and friends who were reading along at home, trying to understand what their loved one was up to.. of course I was fine with that – what a compliment to think I know anything about anything, let alone this weird little sport we do.
Amanda was still looking a little tuckered out, and needed a new tire before she headed out on her BDR ride, so I convinced her to crash with me until she got it sorted; I always get a double room for just such occurrences, never know when someone will need a bed for a night. That sorted, I got down to the serious business of taking a shower and schmoozing with friends, although I ended up staying at the rally hotel instead of venturing into Cheyenne. Honestly, I was just way too tired after a nearly 24-hour ride, and I started to fear that starting with a cert ride right before a 7-day rally was going to come back to bite me… more on that later, I'm sure.
---
Rally Day -1
Breakfast provided by the hotel was solid, and we all sort of grazed and chatted lazily, belying a simmering tension in many folks.. registration should be fairly straight forward, as communication from the rally staff was excellent, outlining all the paperwork and whatnot that we needed to do ahead of time already taken care of. I don't think anyone was a rally virgin, so we all knew what to expect, but still there was a sort of nervous shifting. Everyone gets sort of itchy and ready to GO GO GO, but with so many IBR rookies present, lots of us had an extra sense of testing ourselves in this event.
I signed up for the earliest possible odometer check, a fixed-length course we'd ride to calibrate our odometers (notoriously inaccurate in most motorcycles..) Lisa Stevens and Jeff Konicek (my scorer) confirmed my trip meter was zero'd out, and I headed out onto I-80.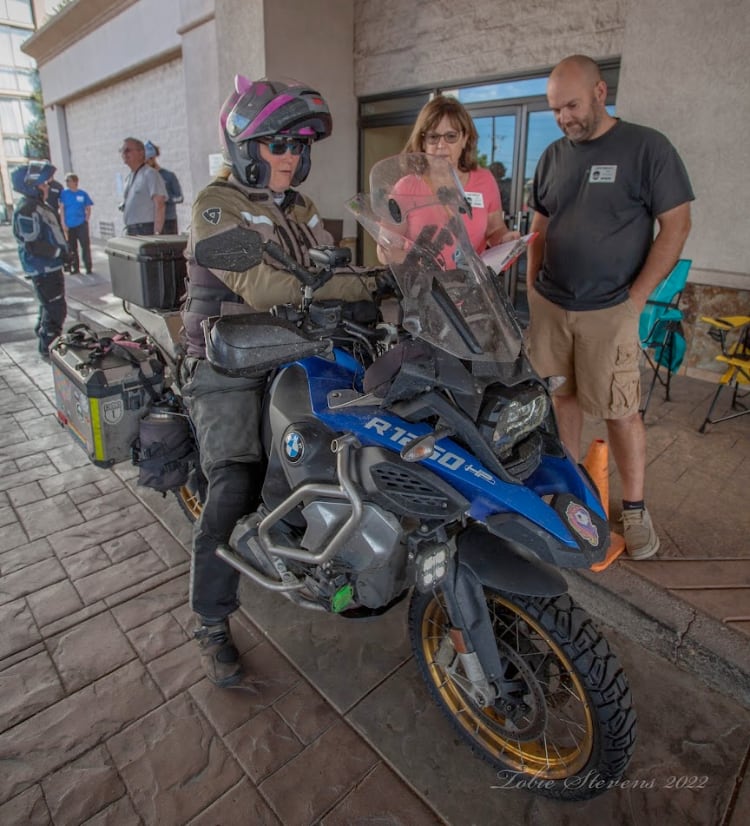 The directions were pretty simple - starting with your front wheel on a specific mark, get onto I-80W and ride out to a specific exit, turn around and come back the same exact way, stopping with your front tire on the mark… easy! Now I just have to make sure I don't miss my exit and earn the distinction of having to ride the odo route more than once! It was a nice 45-mile or so ride, just long enough to burn off any nerves, which I know other folks had. Despite being staggered fairly well, I got passed by a couple riders who were in much more of a hurry than I was!
Odo measured, I wandered back inside to take care of final bits of paperwork, including getting escorted over to sign with a quill pen what looked like the bottom of a large poster colored to look like parchment.. except, of course, the top 80% of it was covered so we couldn't see what we're signing!
With nothing else to do today, I hung around and shot the breeze with folks, until the riders meeting, which was mostly an opportunity to ask any general questions. We found out that we'd be getting our rally pack at 4:30am, but that we wouldn't start until 12 noon - a welcome bit of news, as we wouldn't be planning on the clock. Paul also led an overview and walkthrough of how the rally app worked. A veteran of 2 Paul Tong rallies which also used the app, I was pretty comfortable with how it worked, including a few little quirks that it has. It's really a slick little tool, despite a few performance glitches, and I hope more rallies move towards electronic submission tools like this.
Technical support session over, it was time for dinner. Burger and hot dog buffet, there was no official business, leaving us to speculate on what the theme of the rally was going to be. I had a pretty good guess - Cheyenne and State College both being on I-80, which is more or less old US-50 (the Lincoln Highway) and having to sign with that quill pen… "Founding Fathers"? Something like that? 🤔 Not that guessing would gain you any benefit, but what else are we gonna talk about?
I wrapped up dinner early, and decided to bank a little bit of extra sleep. Amanda had at some point taken off for Fort Collins, CO, having sourced a tire, so I had the room back to myself. I packed up, did a little last minute laundry, set up my computer and Garmin for routing, and went to bed at an entirely reasonable 9pm…