The downside of getting the bonus locations 3 weeks early is you have 3 weeks to obsess about your route.
(Bear with me - this is a huge report with lots of stops!!)
After the IBA part in Jacksonville, I'd left the bike with a friend outside of Austin back in March; I knew I'd be back in 5-6 weeks, and had my MSF Rider-Coach training in St Paul a week or two before this event, so logistically riding back to Seattle, then back to St Paul (in early April..) and then back to Texas.. it just made sense to park it. Luckily Baloo had a good home at Nancy's along with her other bikes.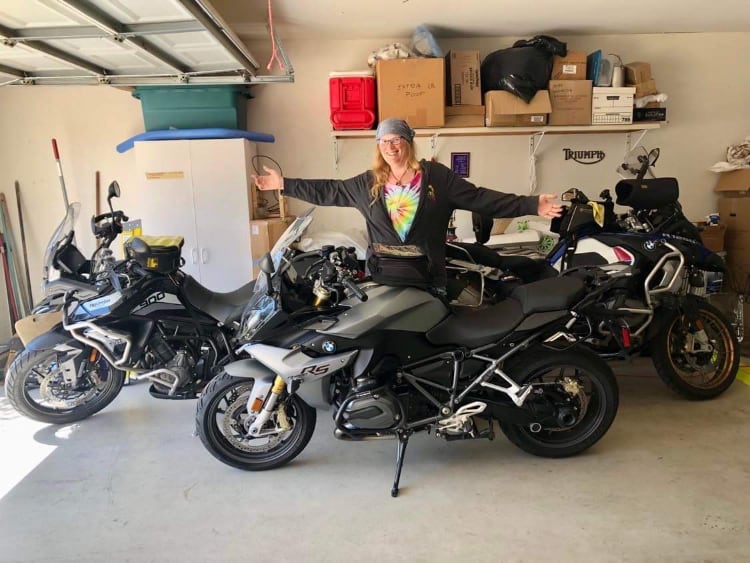 So yeah, a week in St Paul getting certified as a Rider Coach, then on to Milwaukee for a week hanging with Gabby, then I flew down to Texas to acclimate to the weather, visit with Nancy, and pick up some lighthouses, stamps, and pennies for my various challenges.. all the while obsessing about my route. See, it was a "start anywhere" rally… we were free to chose whatever start location seemed best to us, beginning our ride no earlier than 5:30am on Friday – we just had to be back at the finish hotel by 5:30pm on Saturday.
The theme this year was "Days Of Thunder" so our bonuses had to do with racing - raceways, speedways, drag strips, kart tracks, mx parks, etc. No scoring combos this year, but the twist was that like many forms of racing, we had to make "pitstops" which were all 1920's and 30's era gas stations.. here, let's let the rallybook explain:
As with any motor vehicle competition, a great start location is important but if you start with an empty fuel tank, you could have the pole position and you still are not going anywhere. Throughout these events, even in the best NASCAR or Formula 1 races, the vehicles must be refueled. Without fuel, you won't advance.
You will gain points from the RACETRACK bonuses, the non-location bonuses, and MEAL/REST bonuses. The PITSTOP bonuses will not gain you points but you cannot gain RACETRACK points without them.
Each PITSTOP bonus is worth its listed amount in fuel credits. You cannot gain RACETRACK points unless you have fuel…
Once you claim a PITSTOP bonus, you will have that many fuel credits and then can start seeking out RACETRACK bonuses. You can only get as many RACETRACK points as you have fuel credits. If you claim a bonus which is worth more points than the amount of fuel credits you have, you'll only get the number of points left in your fuel credit bank.
This made for a curious challenge, having to score enough "fuel credits" in between race tracks in order to earn the maximum score from them. I came up with 12 or 13 somewhat promising routes, as you can see.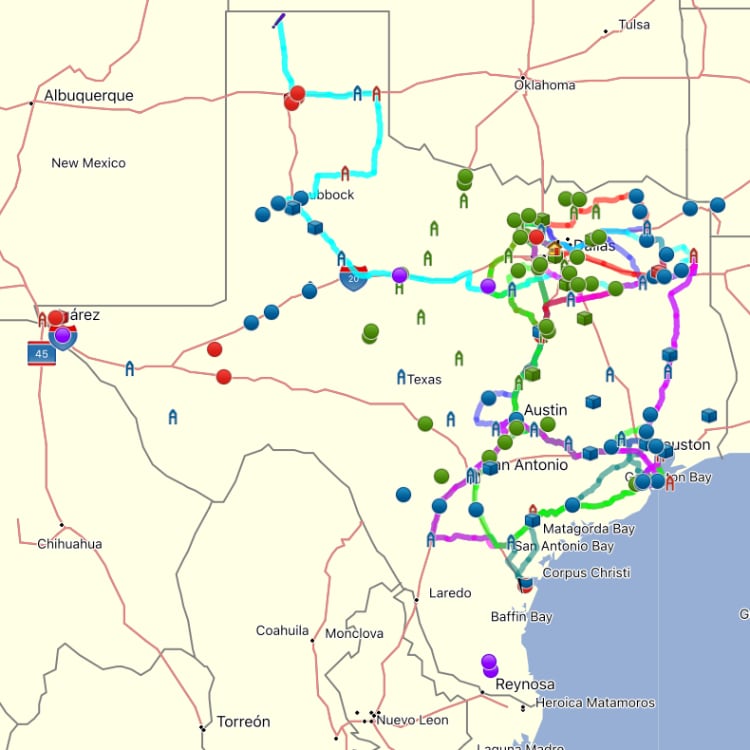 Although I was attracted to the Texas panhandle at first, I found a handful of much higher-scoring routes in the south. Based on what I know my own average speed would likely be, I couldn't dig out anything higher.. although that's a story for the wrap up.
So after spending a couple days on the coast, visiting lighthouses, I ended up in Bastrop, TX for my starting location, which was the town I took my rest bonus in last year. Coincidences, coincidences..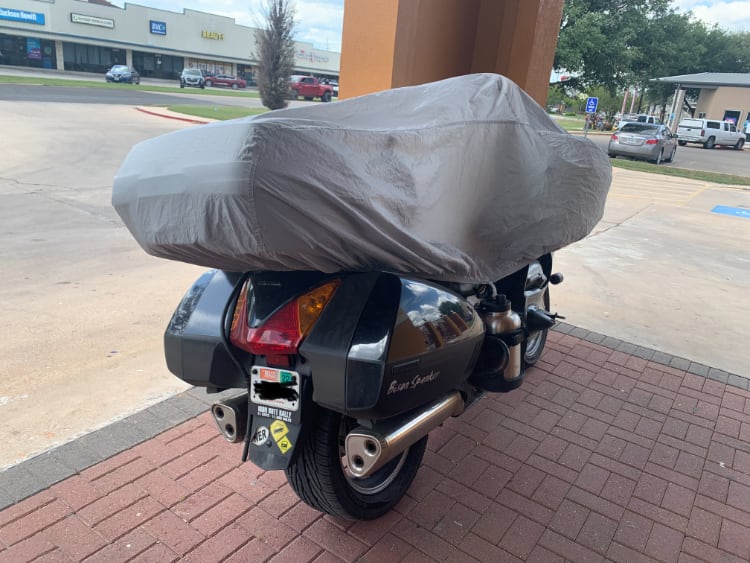 Steve Gallant was staying at the same hotel, and we had a couple messages back and forth after I arrived, but I had some errands to run and to do some final prep and packing.. no time for socializing, unfortunately.
1) PITB3 - Humble Gas Cash Station - Bastrop, TX - 878 pts (fuel)
---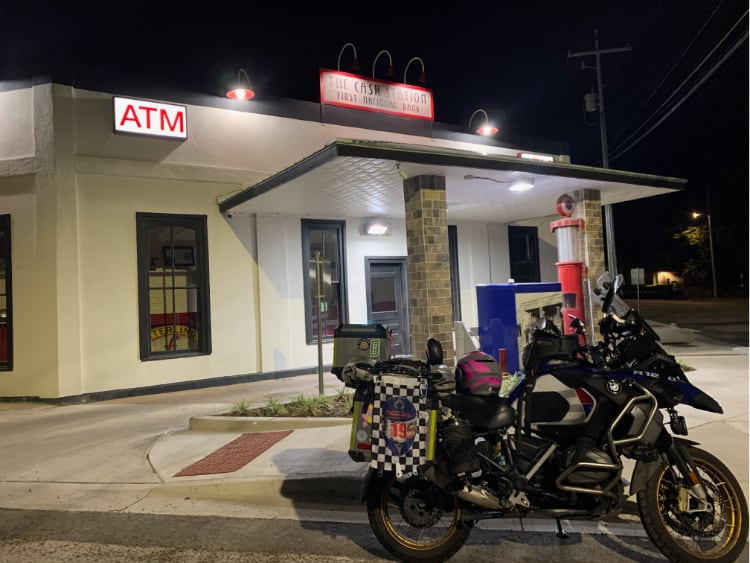 Steve Gallant, who has done his own write-up of this event that is also worth reading, was there, as was another rider (apologies, I forgot who it was!), and we all dutifully queued up, waiting until the clock ticked 5:30:01 AM to check our bank balances and generate a receipt.
| | |
| --- | --- |
| Fuel credits available: | 878 |
| Points scored: | 0 |

| | |
| --- | --- |
| This segment: | 0 miles, 0h00m |
| Total: | 0 miles, 0h00m |
| Time Remaining: | 36h00m |
2) STICK - Fred Lobster Store - 971 pts
---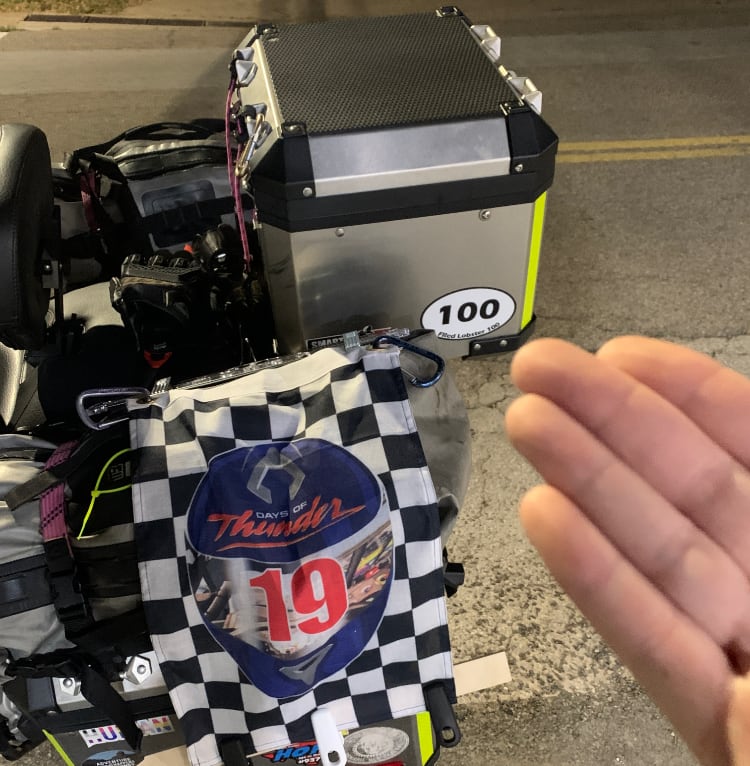 At some point in the rally, after you start (but not the first bonus after you start) but before you finish, submit a photograph of one(1) of the 3 stickers shown attached to your motorcycle (not all 3). You don't have to permanently attach it, but if you do claim this bonus, the sticker has to be still on your motorcycle AT THE FINISH in whatever manner you attach it. Yes, your flag must be in the photo. This bonus is independent of fuel credits or racetrack points.


This one was easy; I ordered a few of the stickers before I even left for Texas, so this was an easy 971 points.
| | |
| --- | --- |
| Fuel credits available: | 878 |
| Points scored: | 971 |

| | |
| --- | --- |
| This segment: | 0 miles, 0h04m |
| Total: | 0 miles, 0h04m |
| Time Remaining: | 35h56m |
3) PITF1 - Gulf Station - Fayetteville, TX - 865 pts (fuel)
---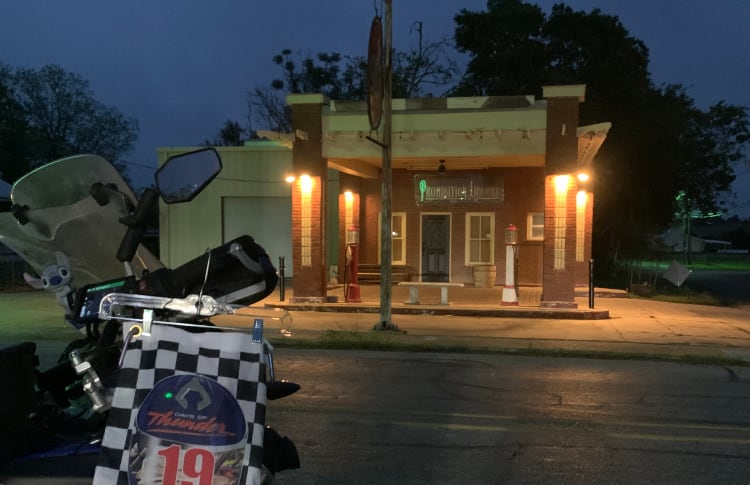 I took a wrong turn out of Bastrop and had to do a u-turn, narrowly missing a possum in the process.. then a fast ride through the pre-dawn, dreaming of egg mcmuffins and coffee. I got held up just outside of town by a train, a solid 5 minutes just twiddling my thumbs. Finally got to the bonus location, and almost dropped the bike… damn! I must've been having rally jitters! A couple other folks showed up here, and I'm pretty sure I passed Ben Ernst going in the opposite direction (I'd recognize that weird aux light configuration anywhere!)
| | |
| --- | --- |
| Fuel credits available: | 1743 |
| Points scored: | 971 |

| | |
| --- | --- |
| This segment: | 48 miles, 0h52m |
| Total: | 48 miles, 0h52m |
| Time Remaining: | 35h08m |
4) MSS10 - Hennessey Racing - Lonestar Motorsports - Sealy, TX - 426 pts
---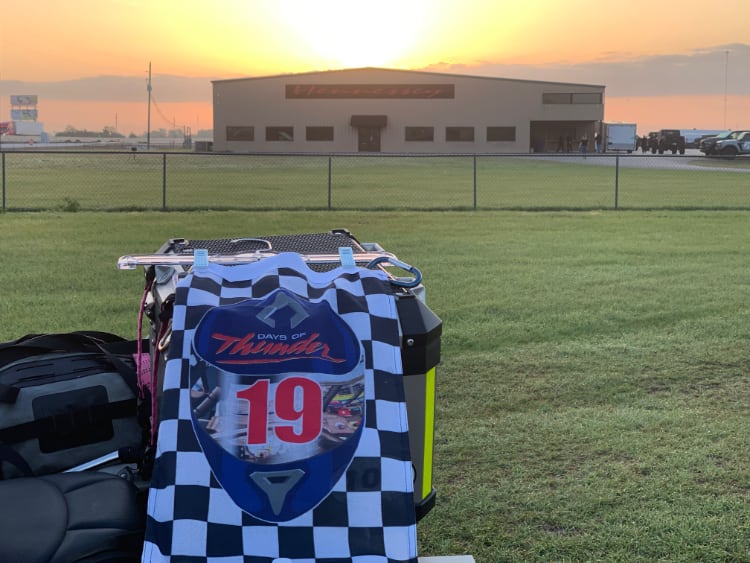 Finally, I get to score some RACING POINTS! Vroooom!
This was the first of many times where Waze disagreed with my Garmin, and it would also start the trend of Waze being the correct choice. Garmin wanted me to get off the highway using an exit that had been demolished, while Waze knew to detour me off the highway onto the frontage road a few miles beforehand. Had I followed Garmin, I would've lost 5-6 minutes (and some of my stress reserves) trying to figure out the construction area..
| | |
| --- | --- |
| Fuel credits available: | 1317 |
| Points scored: | 1397 |

| | |
| --- | --- |
| This segment: | 38 miles, 0h35m |
| Total: | 86 miles, 1h27m |
| Time Remaining: | 34h33m |
5) KWK01 - Gulf Coast Kartway - Katy, TX - 441 pts
---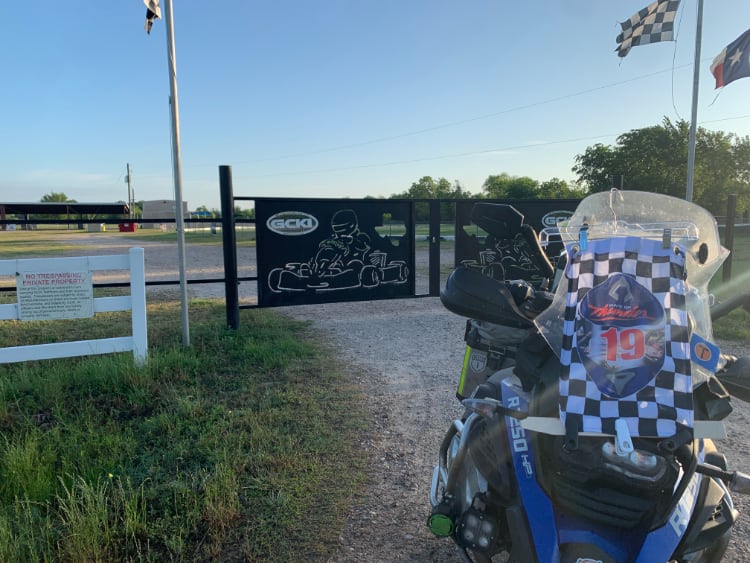 The last couple miles was on TX-2855, which had a ton of signs about being closed, and Waze wanted to send me on a long detour.. but a construction company pickup waved at me so I fell in behind them, along some fresh pavement and obvious road construction, before turning onto the access road to get the bonus photo. As soon as I got back onto TX-2855, I realized that I had probably just snuck across the road before they closed it to traffic. Good thing; the detour would've been 30+ minutes!
| | |
| --- | --- |
| Fuel credits available: | 876 |
| Points scored: | 1838 |

| | |
| --- | --- |
| This segment: | 30 miles, 0h36m |
| Total: | 116 miles, 2h03m |
| Time Remaining: | 33h57m |
6) PITC5 - Humble Station - Cypress, TX - 748 pts (fuel)
---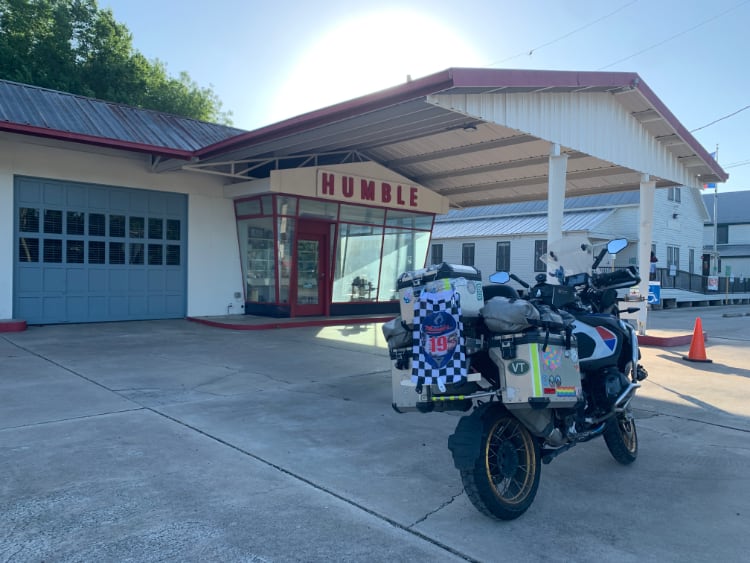 Traffic was picking up now as we crossed 8am, and I struggled behind some very slow moving vehicles through a long stretch without passing lanes, losing time, but not my patience. Once onto the freeway,I was followed for a while by a sheriff's deputy, who promptly pulled over someone who executed a 4-lane swerve exit.. so sometimes I guess things do catch up with people.
The gas station here was roped off a bit, as it was next to a polling location; it was primary day in Texas! Signs warned of severe criminal penalties for trespassing or loitering, so I found an area for my photo outside of such prohibitions, then went over and chatted with a poll worker who was watching me with some interest. "Oh! That's what the other motorcycle riders were here for?" 😄
| | |
| --- | --- |
| Fuel credits available: | 1624 |
| Points scored: | 1838 |

| | |
| --- | --- |
| This segment: | 23 miles, 0h30m |
| Total: | 139 miles, 2h33m |
| Time Remaining: | 33h27m |
7) MSH08 - Houston Motorsports - Houston, TX - 485 pts
---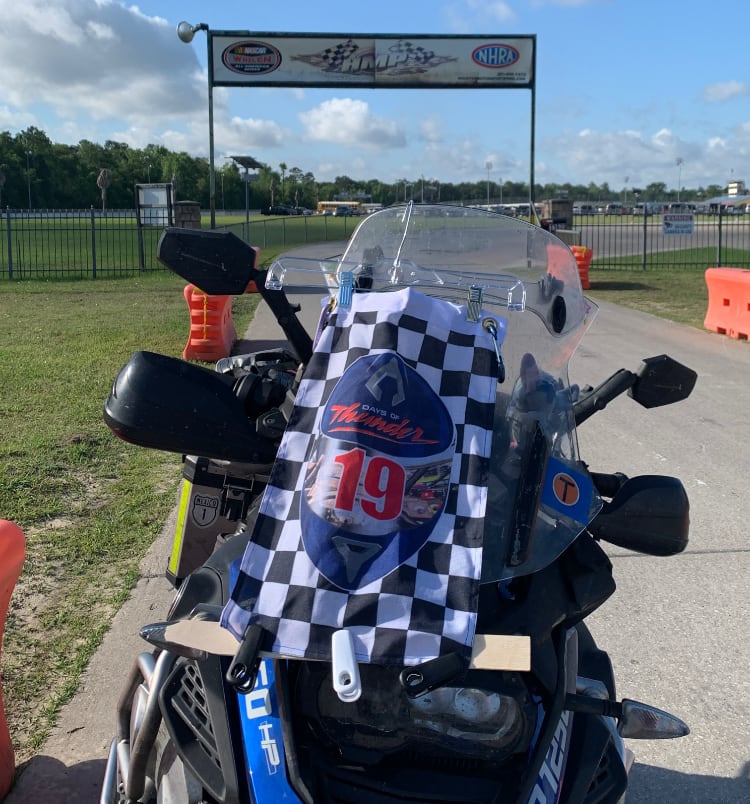 Traffic was really starting to pick up now, and I made the critical mistake of trusting Garmin instead of Waze, so instead of the quick run across TX-8, I instead went all the way into downtown Houston, made a series of wrong turns, before finally heading back out to the 'burbs to this bonus. This kind of poor routing from Garmin would plague me continually on this rally, and cement my use of Waze as my point-to-point routing, and Garmin as my overview and planning device.
| | |
| --- | --- |
| Fuel credits available: | 1139 |
| Points scored: | 2323 |

| | |
| --- | --- |
| This segment: | 40 miles, 0h57m |
| Total: | 179 miles, 3h30m |
| Time Remaining: | 32h30m |
8) SWH18 - Battleground Speedway - Highlands, TX - 503 pts
---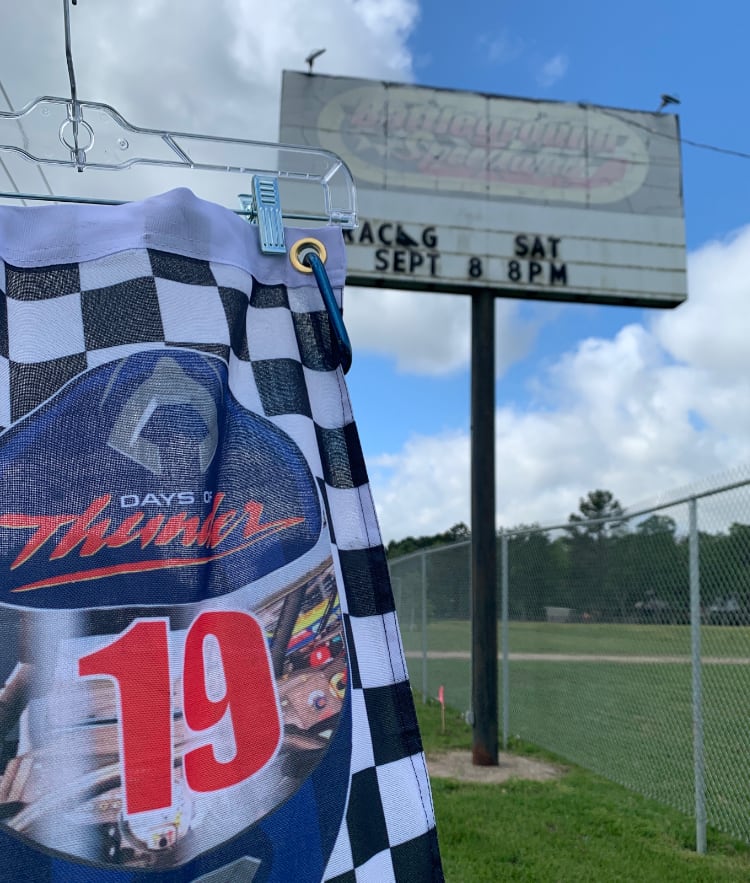 What a pain in the ass this one turned into.. traffic was heavy, I rolled through some kind of small-town parade getting set up, and construction everywhere. The race track itself is in sad repair, and had no where to really park along a VERY busy road, so I pulled onto a steep turn-off with loose gravel from the construction, and walked back to get the photo.. then had some adventure trying to get safely back onto the road… I really worked for these points.
| | |
| --- | --- |
| Fuel credits available: | 636 |
| Points scored: | 2826 |

| | |
| --- | --- |
| This segment: | 16 miles, 0h25m |
| Total: | 195 miles, 3h55m |
| Time Remaining: | 32h05m |
9) RWH12 - Houston Raceway Park - Baytown, TX - 524 pts
---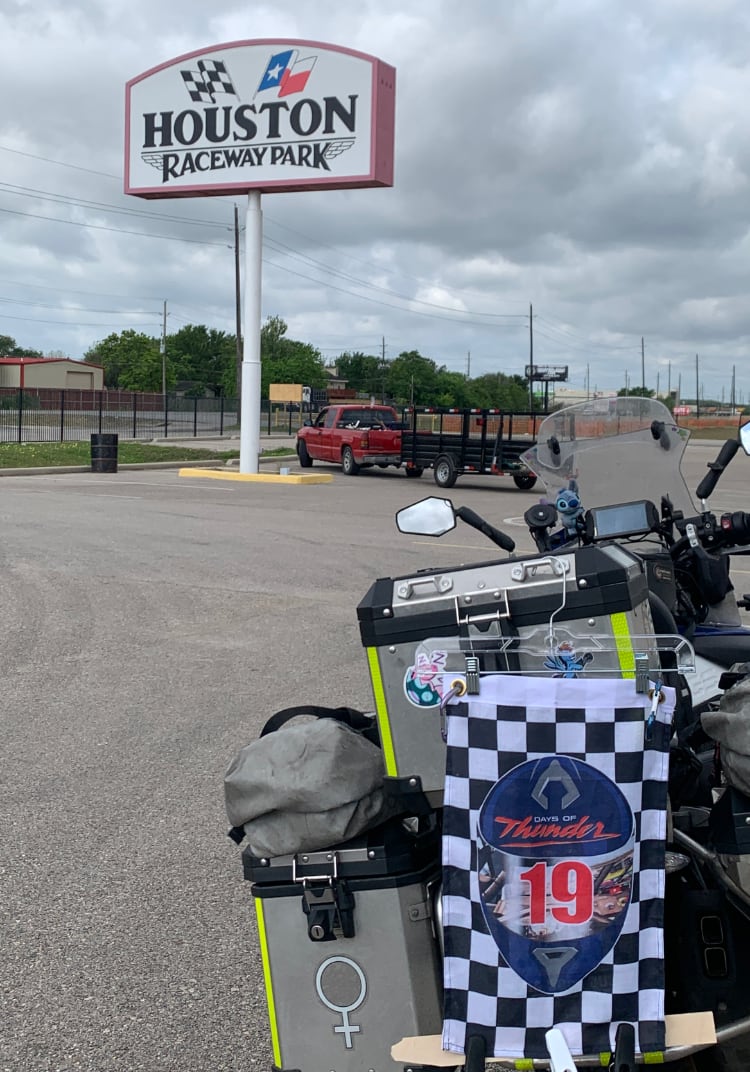 Had a little confusion about whether or not I needed to get on TX-99 and pay the toll, when the frontage road was right there and empty.. and I was very distracted by needing to pee, so I was pretty happy to get to the track and see that there were several port-a-potties set up in the parking lot. I ignored the race teams setting up in the lot and made a beeline for the plastic sanctuaries.. cost me a few minutes, but WORTH IT!
| | |
| --- | --- |
| Fuel credits available: | 112 |
| Points scored: | 3350 |

| | |
| --- | --- |
| This segment: | 18 miles, 0h29m |
| Total: | 213 miles, 4h24m |
| Time Remaining: | 31h36m |
10) PITB4 - Gulf Station - Baytown, TX - 1451 pts (fuel)
---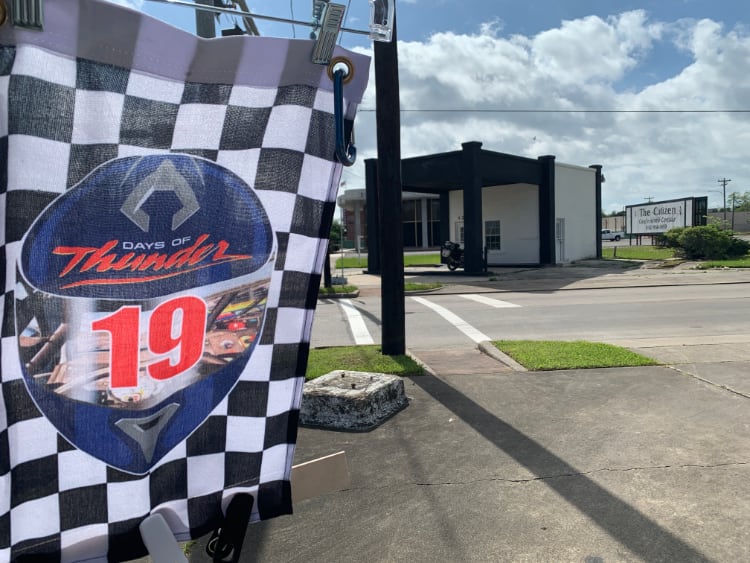 Quick little jump for some big fuel points (which I needed, being almost depleted..) I parked here in the shade for a couple minutes, trying to find the best angle to photograph this stop. I still was trying to be "photogenic" instead of A) efficient or B) replicating the sample photo, 2 lessons I need to ingrain before riding in the IBR next year..
| | |
| --- | --- |
| Fuel credits available: | 1563 |
| Points scored: | 3350 |

| | |
| --- | --- |
| This segment: | 10 miles, 0h23m |
| Total: | 223 miles, 4h47m |
| Time Remaining: | 31h13m |
11) PITG1 - Bambu Mexican Grill - Galveston, TX - 1428 pts (fuel)
---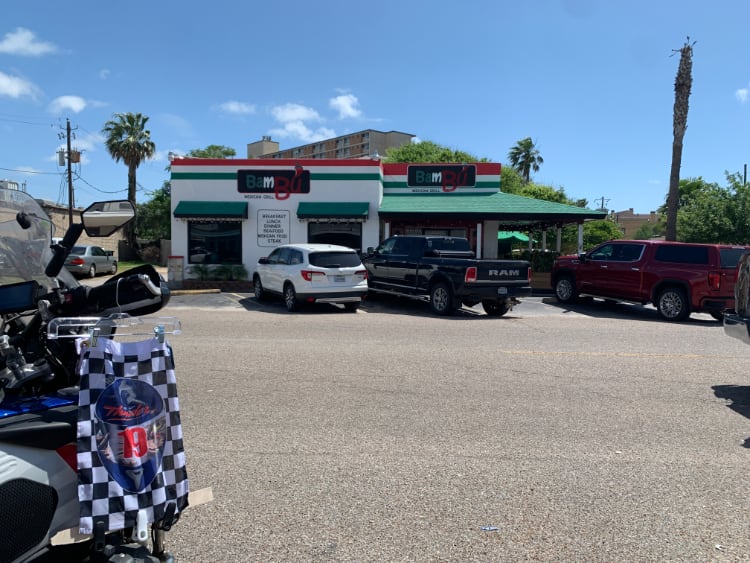 This should not have taken as long as it did, but TX-147 had a 3 or 4 mile stretch of serious road construction, and I mistakenly believed "it won't be that bad"… but it was. stop-and-go for 20 minutes in the hot coastal sun did not make for a Happy Kerri.. by the time I got to Galveston, I was feeling a bit wobbly, so I stopped for a few minutes to hydrate, eat a banana, and dream about finding a shaved ice stand somewhere in my travels…
Fully stocked up on calories, electrolytes, and fuel points, I slowly made my way back out of the mess of Galveston, only narrowly avoiding being clipped by tourists twice. I'd lost even more time, but hoped that the crush of Houston-area traffic and time sucks were behind me.
| | |
| --- | --- |
| Fuel credits available: | 2991 |
| Points scored: | 3350 |

| | |
| --- | --- |
| This segment: | 42 miles, 1h09m |
| Total: | 265 miles, 5h56m |
| Time Remaining: | 30h04m |
12) RWH11 - Grandsport Speedway - Hitchcock, TX - 354 pts
---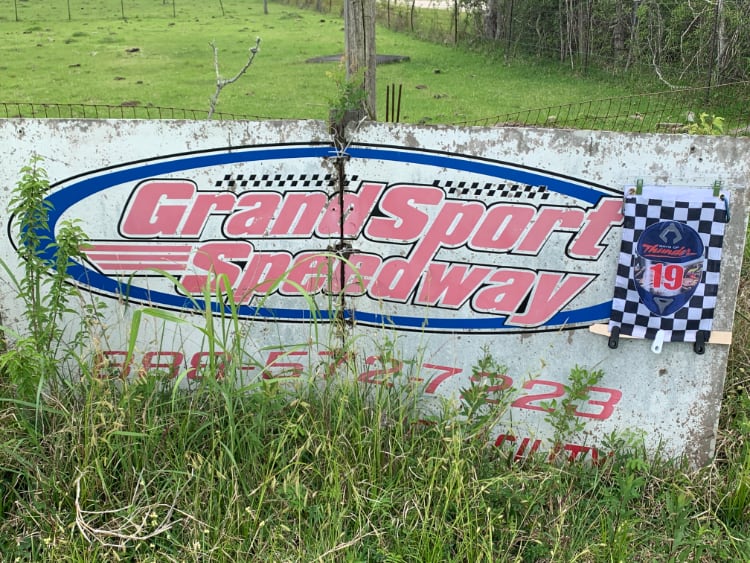 Now things get interesting.. the address and GPS coordinates sent me down a side road with a series of increasingly more emphatic (and threatening) "NO TRESPASSING" signs.. so I put on my flashers and rode very slowly with my modular helmet open, looking for a human to ask for directions. Eventually I spotted a guy in a pickup truck, so I flagged him down.. he seemed confused as to whether or not a racetrack existed down his little side street, but once he figured out what I was looking for, tried to direct me back around to the eastern side of the track.. but also said it was ok if I proceeded across his company's property.
Well, ok then.. I get to the address/GPS location, and there's a locked gate, with no indication of the racetrack sign, and I'm actually quite far away from any of the track facilities, so I backtrack to the main road and retrace my steps to try to get at the track from the east, following the directions Mr Pickup Truck gave me. Soon I found myself wandering through a small residential area, then some hobby ranches, the road turned to gravel and petered out into 2-track heading across someone's yard… time to turn around. Good thing I stopped, because as I was turning around, I noticed that another 30 feet down the "road" was a log… WITH LEGS! A gator! They creep me out, so I was happy to shuffle my way through a 17-point turn in the slippery coral gravel and make my escape.
Well crap… where the hell is this sign?!? I see there's an access road on the west side of the property, so I head back there, and yep, there's the sign, propped up against a fence, buried in some grass. I clear it off a bit and get my photo, frustrated at wasting so much time, but also a little pleased that my stubbornness paid off.
| | |
| --- | --- |
| Fuel credits available: | 2637 |
| Points scored: | 3704 |

| | |
| --- | --- |
| This segment: | 23 miles, 0h48m |
| Total: | 288 miles, 6h44m |
| Time Remaining: | 29h16m |
13) SWL21 - Texas Thunder Speedway - Liverpool, TX - 536 pts
---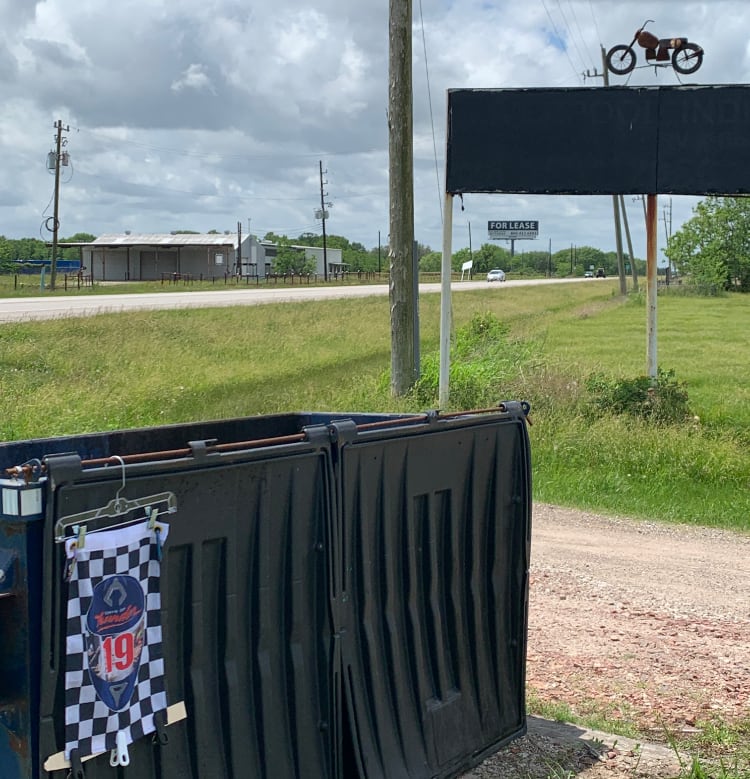 After that last bonus fiasco, I could use a couple quick wins… 2 bonuses right next to each other? Don't mind if I do!
| | |
| --- | --- |
| Fuel credits available: | 2101 |
| Points scored: | 4240 |

| | |
| --- | --- |
| This segment: | 20 miles, 0h29m |
| Total: | 308 miles, 7h13m |
| Time Remaining: | 28h47m |
14) SWA02 - Gulf Coast Speedway - Liverpool, TX - 536 pts
---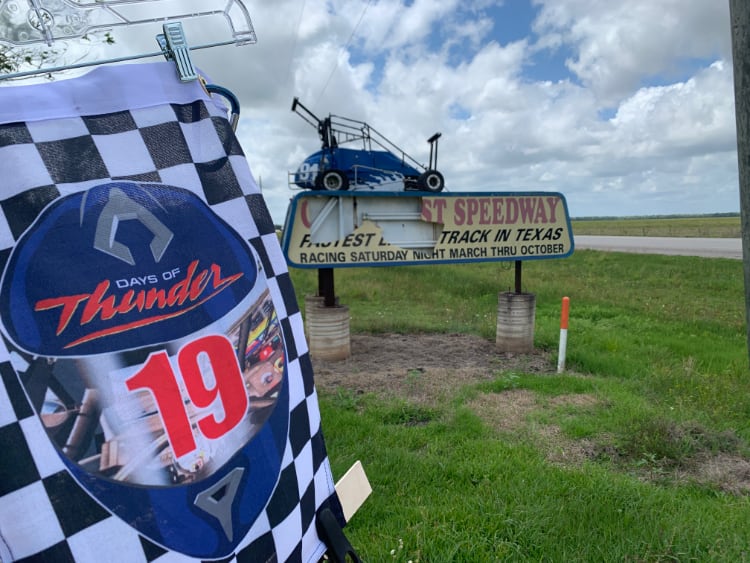 I budgeted 5 minutes per stop, and I was realizing that I could be much faster than that, saving myself literal hours of time over the course of the rally. I would do that in LDX to good effect, but here I was still sort of luxuriating in getting off the bike, wandering around, having a snack, taking the photo, doing paperwork, uploading with the app, setting up for the next bonus, gearing back up, etc etc… wasting time.
| | |
| --- | --- |
| Fuel credits available: | 1565 |
| Points scored: | 4776 |

| | |
| --- | --- |
| This segment: | 2 miles, 0h07m |
| Total: | 310 miles, 7h20m |
| Time Remaining: | 28h40m |
15) SWA01 - MSR Houston Racing - Angleton, TX - 330 pts
---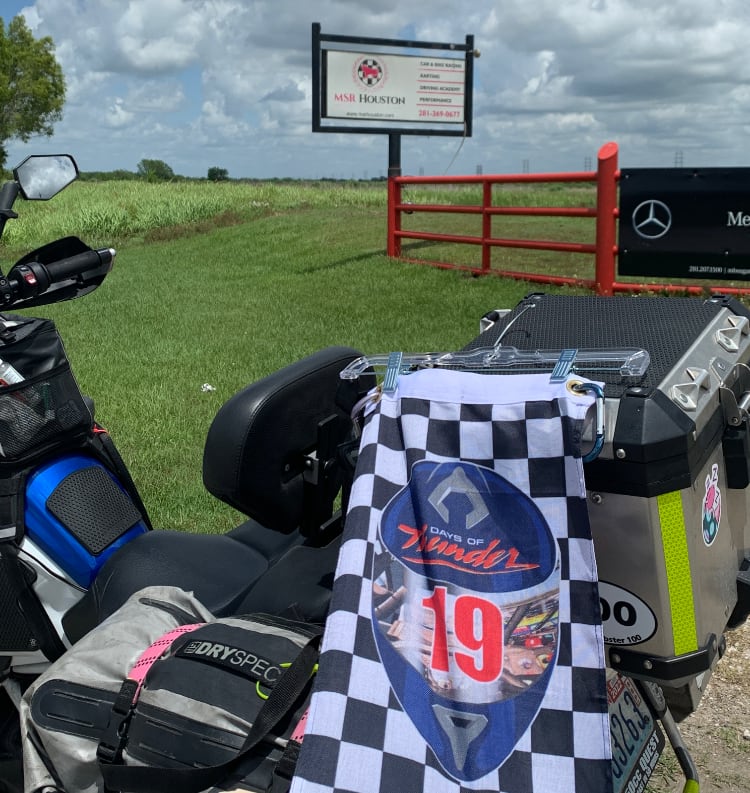 Garmin had no idea about the backroads here, but Waze was perfectly happy to shuttle me around past the county prison and a couple small schools (weird they're so close together, but hey, it's Texas..) Lots of fancy race cars and trucks trailering track bikes coming and going from this track, and I got the sense that this was where the rich people liked to take their toys..
| | |
| --- | --- |
| Fuel credits available: | 1235 |
| Points scored: | 5106 |

| | |
| --- | --- |
| This segment: | 12 miles, 0h16m |
| Total: | 322 miles, 7h36m |
| Time Remaining: | 28h24m |