4:45am is a lovely time of day. 15 minutes to pack the bike, cross to the truck stop, grab a small coffee, and get those wheels turning again!
Junction, TX to Luling, TX
---
I really did wake up wonderfully refreshed and ready to go in the pre-dawn darkness of hill country. Last night's encounter with deer left me a bit cautious, but I didn't spot any forest critters as I rolled on to San Antonio, which is the first real city I'd encountered since El Paso several hundred miles back. It being early on a Saturday morning, traffic was nonexistent. I had a couple moments of confusion when my Garmin and Waze both routed me onto I-35 briefly, but I realized that it's because I-10 detours around the southern edge of the downtown area, so I probably saved like 100ft or so..
San Antonio suburbs soon faded, and traffic picked up a little bit, and I could use some coffee and a snack, so I stopped at a Buc-ee's for gas, bathroom, a breakfast taco, and a few minutes to get oriented. Buc-ee's are madhouses of the worst gas station behavior, so I pulled into a spot on the farthest end of the lot.. and still almost got hit by 2 different trucks. I try to always keep in mind that most people in cars don't actually drive all that often, let alone drive well, and I try not to be too upset at these amateurs.. but I'm not always the saint I wish to be, and I did have a few choice words to mutter above them.
Luling, TX to Beaumont, TX
---
One thing every 50CC rider has to contend with is Houston. Infamously a disaster traffic-wise, most folks try to time it for hours where most sane folks are home or asleep. My secret is just get in the express lane, eat the fee, and sail on through.. I hit a little slowdown in central Houston, but otherwise pre-brunch-time on a Saturday seemed to be a solution that worked for me.
I stopped in Beaumont, TX not only for gas, but to document my Bun Burner Silver (1500m/30h). I kicked myself a little bit for taking the 6-hour rest in Junction, but that was balanced against knowing that I had a plan and it was working, AND that I was certainly able to maintain a Bun Burner Gold pace when I wasn't resting (efficient gas stops, good speed and route selection, good luck, etc) so when I get around to making a BBG attempt, I'm fairly confident it'll be within reach for me.
Only around 800 more miles to go, and 20.5 hours to do it.. easy!
Beaumont, TX to Hammond, LA
---
Ah yes, the long slog across Louisiana.. it's always far longer than I remember. Had a little slowdown approaching and then crossing the bridge in Lake Charles, LA; the giant trucks, big petro plants, casino traffic, and what must be to some a frankly terrifying bridge gums everything up. I've never gone through here during daylight and not experienced some kind of blockage.
The Atchafalaya Causeway is always a stunner.. mile after mile, a straight-shot through the Atchafalaya NWR, 50 feet about the waters of the bayou.. a great section, despite the lower speed limit (50mph) that everyone takes seriously. I've been told there are permanently installed radar emitters to slow down folks with detectors…
I stopped at the visitors center/rest area for a quick snack, potty break, and to collect a National Parks stamp, as I always do when crossing I-10. There's always a certain amount of charm to the volunteers who work here, and they want to have a slow, Southern conversation with the fast-talking middle-aged white lady with the worn gear and the much-thumbed parks passport. It's easy to give them 10 minutes of my day, as this is a special place and Cajun heritage is disappearing..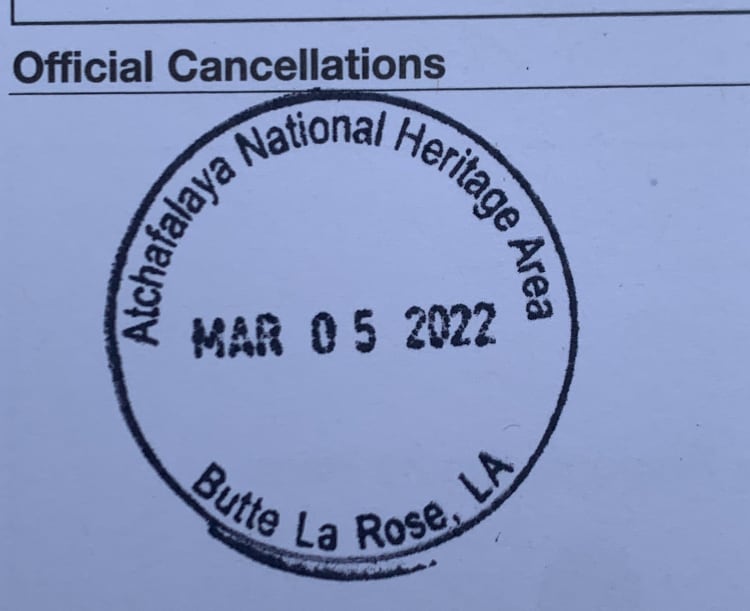 Baton Rouge, there's a ton of stop-and-go as I navigate the I-10/I-12 split, as I-10 dips down into New Orleans, and I-12 is a short, 50-ish mile connector to where I-10 comes back north. I suppose I-12 isn't I-210 because it isn't properly a ring road, but it also isn't really an /interstate/ per se.. but the national interstate system has a number of weirdnesses and inconsistencies, so who knows? All that's important is that unless you're doing an I-10 end-to-end, skip New Orleans.
Traffic in Lake Charles and Baton Rouge, construction along I-10, and the conversation-based delay at the Welcome Center, I lost some time on this section, but I still have plenty left.
Hammond, LA to Milton, FL
---
Mississippi slides by, as does Alabama. I stopped for a bit at the Mississippi Welcome Center to pick up a National Parks stamp, which turned into another long conversation. I also popped over to the INFINITY Science Center next door, which is finally open again after being closed for most of the last 2 years. Of course, it was just after their closing, so I couldn't collect their National Parks stamp (or pressed penny..) but it was worth the time to scoot over and check it out; I'd pick it up on my return journey.
I got to Mobile right as the sun was setting, and other than a little slowdown in the tunnel and the causeway across Mobile Bay, no real issues here. I crossed quickly into Florida, and rode through the Florida Welcome Center to use the bathroom, but my Spidey Sense was tingling.. something was off here, so I pushed on through Pensacola and a gas stop on the far side.
Milton, FL to Tallahassee, FL
---
My stops are getting longer now; I know I have plenty of time to spare, and looking back at the day, I realized I was lolly-gagging at stops now. No more 4 minute in-and-out stops, no, I'm parking… going in and peeing.. wandering the store for a couple minutes looking for weird food.. going back out to the bike and snacking… I'm leaking time, but I've a ton to spare, so am not taking a strong level of discipline here.
I had picked up a mild energy drink earlier in the day, knowing I'll be fading soon and need to push through with a little bit of sugar. I spotted a rest area ahead, and starting to feel a bit of post-sunset sleepiness, I stopped to rest, cat nap, and/or have that energy drink to get through. I parked, found a place to sit, and cracked that sucker open. While scrolling through Facebook and checking in on personal email, I heard "Hey! Kerri?"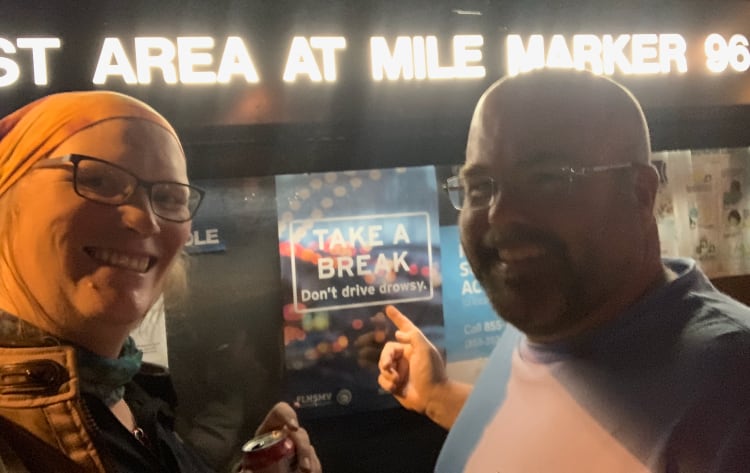 Rob Griffith was working just a couple miles up the road, and when he saw I was stopped for a bit at the rest area nearby, ran over to say hi! Man, what a great surprise to see another friendly face right when my energy levels were drooping a bit.. we chit-chatted for a while and took a couple fun selfies, but I could hear the waves at Jacksonville Beach calling, and I had to get the wheels turning again.
Tallahassee, FL to Jacksonville Beach, FL
---
The Circle K in Tallahassee was hopping, right next to a Waffle House, and the kids with the fancy cars were all bouncing the latest hits as they rolled up with their dates. I felt positively old as I sipped a gatorade and snacked on some beef jerky, watching young men and women having drama in the parking lot… ah, memories!
Crossing the northern tier of Florida.. my goodness, how many deer ARE there in this state?! An endless string of eye shine from the sides of the road, I dial it back a few MPH and keep my eyes scanning for forest rats. I consider the pros of FLIR quite a bit during this stretch, and resolve to investigate further.
Why do I always feel like I'm riding downhill at night? Is it some kind of weird vertigo effect?
At some point, 3 HDs rip onto the highway from an onramp. I'd spotted them coming on, and had moved into the left lane.. which they promptly pulled into in front of me, set up in that bullshit side-by-side formation, and drop their speed. Ok… I follow at a respectful distance for a while, then say "fuck this" and go to pass them. As I do, one of them peels off and swerves right at me! I slow way down, and he gets back in formation. What the hell… I wait a mile or so, and try to pass on the right a second time. Again, dude peels off and swerves RIGHT AT ME. ….the hell?!
These guys aren't patched up… so what the heck is going on? We're going under the speed limit now, and my patience for this HD cosplay buffoonery is done, so I get about 40 feet back from them, matching their speed… then drop a gear, and crank it up to about 95mph and zip right past them. The "enforcer" tries to swerve again, but I'm long past. They all suddenly decide that going faster than 5 under is a good idea, so I keep it at about 95 for a mile or so, letting them fall way, way back behind me, then drop it back to normal cruising speed. 10 minutes later, I spot a rest area and weigh station, and I pull off, knowing that on the off-chance they want to pull some additional bullshit, there's likely to be a state trooper there.. and there is, so I park 50-75 feet away and give him a wave, turning off the bike and hanging out for 15 minutes to make sure I haven't drawn the ire of some part-time pirates. I don't see them pass on the highway, so I fire up and get back on the road, more annoyed than anything. Silly boys with your ridiculous little club. So fierce! So outlaw!
sigh
Anyways.. I hit the edge of Jacksonville, and know that I still have an hour or so to go.. but at least I'll have less deer to worry about! I-10 ends, and I navigate late-night Jacksonville traffic onto I-95 and FL-202 out to the beach, where I find an gas station to get my finish receipt.. then off to the beach proper to get my sand and a more iconic finishing photo than a DBR by the odometer..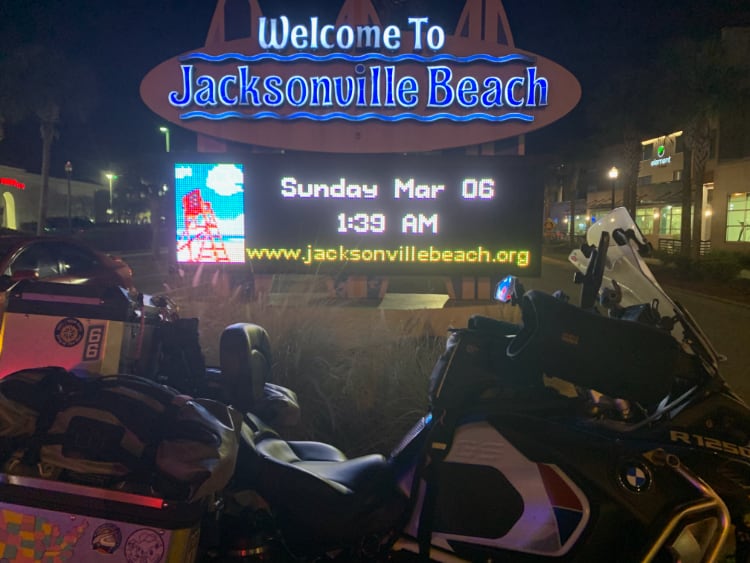 Epilogue
---
Final Spotwalla track (with receipts)
I got some weird looks from young beach partiers, but I was finished! I headed to my hotel, and checked in. As I was unpacking, I ran into a couple other IBA riders who were heading out on a 100cc (JAX -> SD -> JAX in under 100 hours).. and I thought for a brief moment about flipping around and riding along behind them. I had several days before the start of the IBA party, but after few hours of sleep realized I'd prefer to scout the east coast for stamps, lighthouses, and pennies..
In the end, the 50CC wasn't all that difficult. It certainly took some doing, but with more than 7 hours of spare time, I couldn't lolly-gagged QUITE a bit more than I did and still made the trip comfortably. I'm glad I did it, and like the 48/10 last summer, it gave me a ton of confidence heading into some bigger multi-day events that I can plan and execute day-after-day-after-day.. what a great trip it was!