I always seem to wake up a few minutes before my alarm.. which is often a good thing, since after a disastrous night of sleep at Liard Hot Springs on my first ride up to Alaska, I sleep with ear plugs and eye masks. Perhaps the flip side of being able to nap anywhere is having a highly accurate internal clock? Hmmmm..
Put in a McDonalds order while packing the bike, since it was right across the street, and the receipt would serve as my Rest Bonus Stop. The hours on the door said they were drive-thru only until 6am, but when I walked up to the drive-thru the goth kid working graveyard looked at me like an idiot and with a roll of his eyes said to come on in, so… ok? I stood by the bike drinking a little coffee and eating an egg breakfast sandwich, chatting with one of the cooks who came out for a smoke break. The entire overnight crew had "senioritis" in that they only had 1 more day at this location. Collectively they'd quit and jumped ship for a McDonalds in their home town.. seems they were all carpooling 40-minutes each way, and were sick of it. Yikes! I remember long commutes for almost no pay.. that kind of situation drains you, fast.
I double-checked the receipt, and in classic Kerri fashion, saw that it documented a rest stop of 8 hours, 1 minute exactly. It was a brisk 50F as headed out into the pre-dawn inky blackness towards Craters of the Moon National Monument.
Long, straight, chilly darkness on US-20. I passed by the Idaho National Laboratory, where much of the nuclear power reactor research and development happens. It was getting a little bit chilly, dropping down to around 42F, so I stopped at a rest area by the site of Experimental Breeder Reactor-1, the world's first nuclear power plant. I'd love to come back and do the tour sometime, but I'm cold; my textile jacket just lets too much air flow through, so I pulled on my Frogg Toggs and my Aerostich lobster gloves to hopefully block more wind. Like an idiot, I left my heated gear at home for some silly reason. This layering kept me warm through Arco, ID, first city to be powered by nuclear energy. Lots of neon, and what I think was a 50s/60s style little town, but in the cold darkness I didn't really think much about stopping. There was a bonus location here in this years IBR, so I'm sure lots of people got to see it in all its glory..
My mind was wandering a little bit, and I missed the roadside pullout for the Craters of the Moon sign. Noticed it almost immediately, and spooked some jackrabbits with my antics turning around.
3CRMOON: Craters of the Moon NM - Arco, ID - 293pts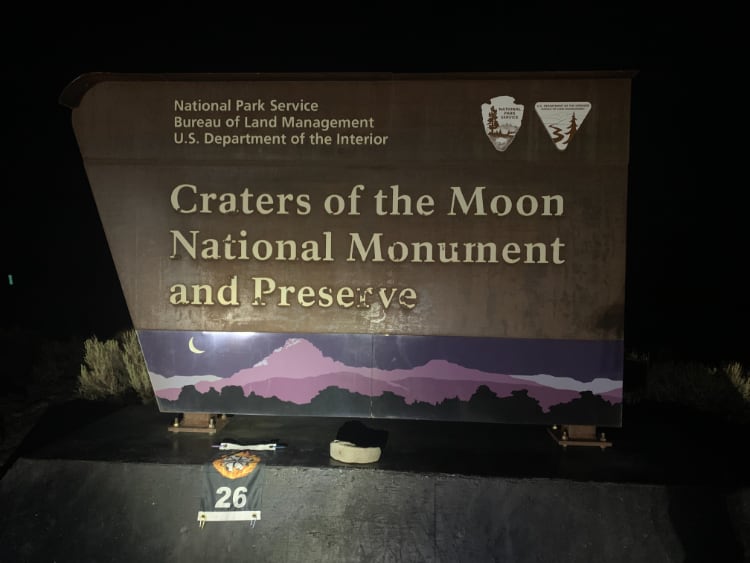 Take a photo of the Craters of the Moon Monument and Preserve sign at these coordinates.


The sign itself was a little distance from the road, and up a small hill, so I angled the bike so the headlights shone on it as best I could and filled in with light from my handheld LED flashlight. Came out ok, I think.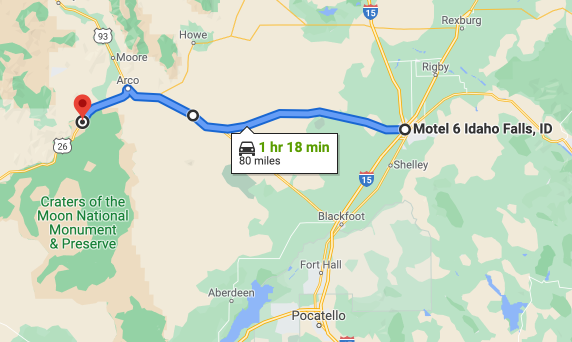 The sky was starting to lighten as I pulled away, but not enough to get a good look at the scenery - I'll have to come back in person next summer for that. Heading west, I eagerly awaited the sun to come up, while watching the temperature drop slowly downwards. 40F was soon a distant memory as I passed through small farming communities, herds of cattle grazing in the weak sunshine. Elk were grazing in the same fields, in peaceful coexistence with the domesticated beef - I counted 50 and gave up, my attention caught by seeing for the first time the BMW's "WARNING SUPER COLD OUT THERE!" idiot light pop up on the TFT screen, a giant blue asterisk of a snowflake. I imagine that same asterisk being on the eventual accident report, with the footnote "we tried to tell her it was f'ing cold, but she didn't listen!" I longed to go back in time and remind me of 48 hours ago, when I was young, stupid, and warm, that this time of year, weather in the NW – especially at night – is dicey at best, and that I should pack heated gear and Hippo Hands pretty much all the time after September 1st.
Ah well, lessons learned. I shivered and tried to keep myself entertained by laughing about what a great story all this suffering would eventually make, sadistically cackling as the temperature hit new lows. 28… 27… 26… 23.. oh wait… 29! Oh… 26… then oh gosh, a balmy 33! The sun is coming up, glaring in my mirrors, starting to ever so slowly warm the landscape. After an hour and a half, the temp has slowly risen to a luxurious 40F again, and the road got "interesting", climbing over and around a series of north-south ridges. Of course, this meant that their western faces were lying in shadow, untouched by the sun. Wiggling and climbing up a ridge, I'd go from 40-42F and plunge down into 26F as the road snaked through the barren landscape of southern Idaho.
Finally, the road straightened out and began to drop me back towards I-84 and the Snake River Plain, the town of Mountain Home in the distance. I pulled into a truck stop and got a coffee, basking in the unbelievable warmth of 52F! As I sipped my coffee, a guy pulled in on a very clean and farkled-up Jeep, and chatted with me all about his 1200GS that he sold last year, asking me all kinds of questions about the 1250GSA.. he said at one point "that's a big bike for a…" and I could see the wheels turning as he realized he shouldn't finish that sentence with "girl" because A) it isn't and B) I obviously COULD handle it, and he finally stumbled into "..a, well, a lot of women, but you probably hear jackasses say that a lot, huh?" Good save, dude. Gold star! 😄
I dragged my feet a bit at this stop, knowing that I had 3 extra hours, but feeling that there wasn't much I could do to add points. I finally, reluctantly finished my coffee and began the slog on I-84 - southern Idaho is one of my least favorite rides, but it passed somewhat quickly today. Boise, as always, appears as a surprise, I-84 dropping from the plateau of the plain down through a creek-carved ravine, suddenly appearing before you. It welcomes you with miles of industrial buildings and farm equipment depots.. you barely see any residential areas at all, the freeway being constrained to a concrete and steel canyon of sheet-metal warehouses, shopping centers, and sound-barrier walls for 30 miles, through Boise, Nampa, Caldwell, before giving way to irrigation projects and more cattle farms.
Hey, I did say I dislike southern Idaho, didn't I?
Finally I crossed over the Snake River and back into Oregon, taking the first exit and taking OR-201 south until it meets US-26 in Cairo, OR, then following that into Vale, OR, where I pick up my next bonus.
NORMAN: Bates Motel - Vale, OR - 309pts

Take a photo of the Bates Motel sign at these coordinates.


Pulled in just as Ray Villeneuve was leaving. There were some folks doing some kind of landscaping or dirt-moving project, and they seemed to ignore us weirdos stopping to take pictures of their motel sign. The motel itself has seen FAR better days - I'm sure it's fine, but I'm not sure even I would stay here unless I absolutely needed to.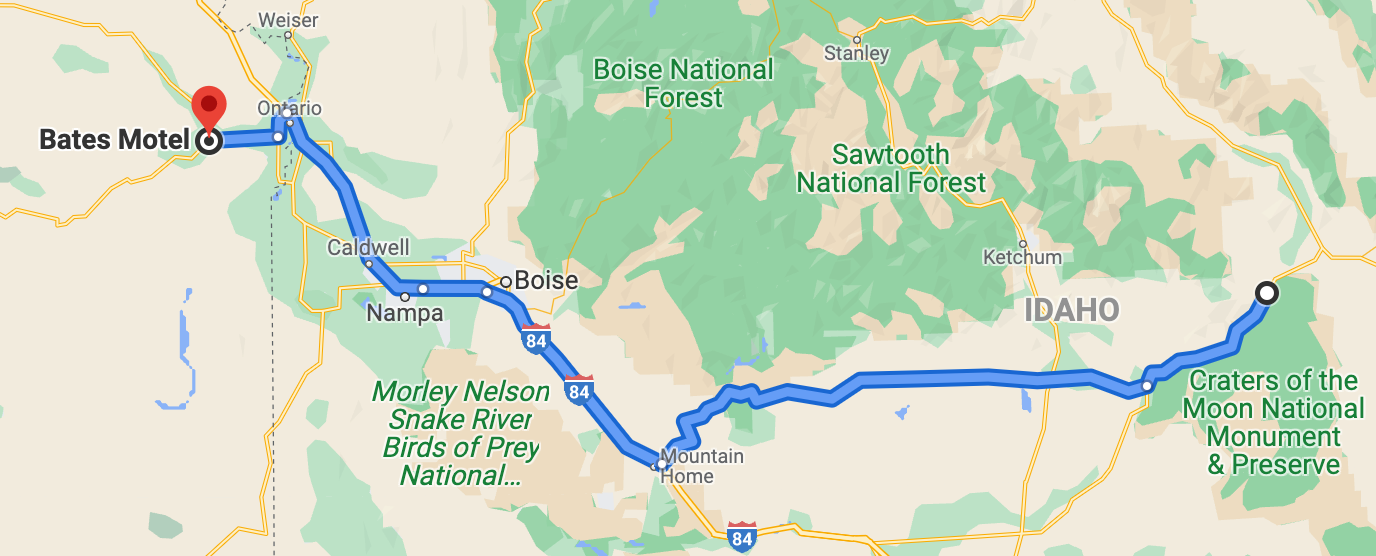 I've passed through Vale a few times, but always sticking to US-26, Unfortunately, it heads off to the north, and I'm heading west towards Burns, OR so I continue that way along US-20. The front shock had finally given up any semblance of working, giving me a "skittering" feel around corners in addition to the "click" and "clunk" on every road seam. I dialed my speed WAY back and didn't force any turns, slowly picking my way along a road that I think I'll be adding to my Top Roads in Oregon list. Following the Malheur River and an old Oregon Trail route, the history of central Oregon dogs your path; small farm villages, abandoned rail beds and irrigation canals, run-down farmsteads, a few that seem to be hanging on despite it all.. surprisingly lush greenery in the few fields tucked into bends and flats along the river, but more than a few feet from a water sources and the dun and tan of Oregon's high desert takes over. I can't wait to come back next year, possibly do some camping, and definitely hit some of the hot springs that are scattered along the river's course.
Another lonely road, but at least the day is warming up to a comfortable mid-to-upper 60s. I have lots of time to think about the rally, and, I played with the GPS a bit, realizing I had enough time to pick up at least one additional bonus at Fort Rock - a location I've wanted to visit someday, so why not make it today? I reroute as I passed through the tiny town of Juntura, OR, a surprising splash of green before back to crossing the high desert. Traffic picked up as I got close to Burns, and eventually I came to the first gas station in hours, marking the very edge of "civilization." I had targeted a gas stop on the far side of Burns, but I saw Ray at the pump; he later told me he'd rolled in on fumes after crossing the high desert.
Note to self - get 3 feet of tubing in case I need to siphon off a gallon to help a stranded rider sometime.
I stopped at the truck stop on the west end of town and grabbed a quick little bonus while at the pump.
GOCOLTS: Boo Seachickens - Anywhere (1000-1300 Sun) - 12pts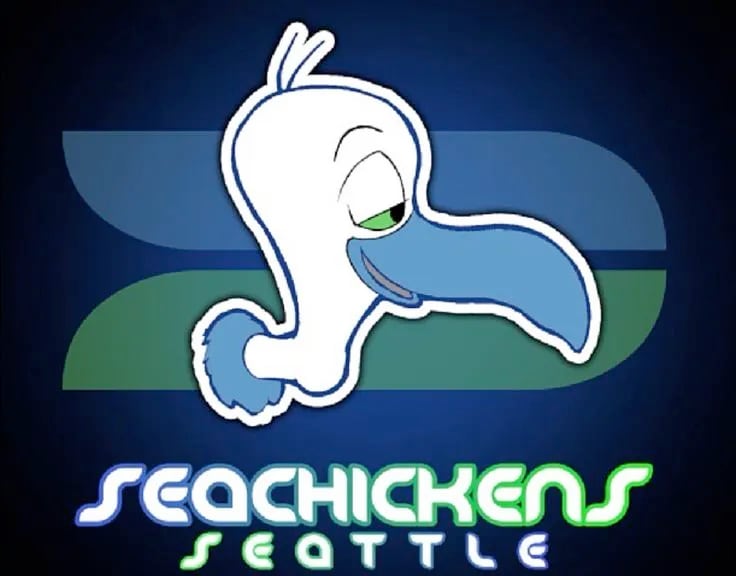 To claim this bonus, email the Code to scoring (example: 20 GOCOLTS) from 10:00 am to 1:00 pm Pacific on Sunday.


Didn't someone take 2nd place in this years IBR by a mere 12 points? 🤔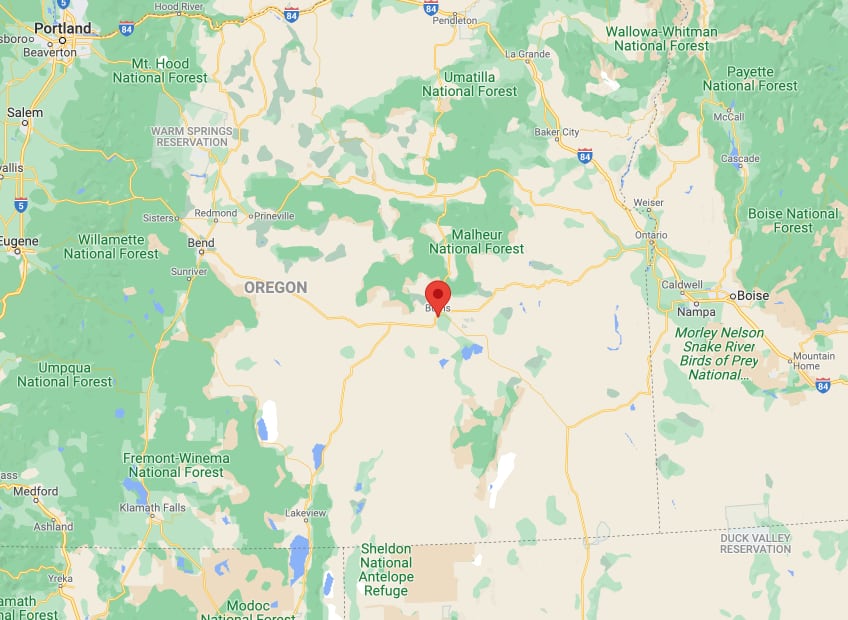 Gassed up, I grab a couple things from the store and check tracking to make sure it's still running. I called Johanna to chat for a minute, just to let someone know I was "calling an audible" on the plan.. and, if I'm being honest, to talk myself into doing so. The bonus wasn't worth much at all, but a plan is a plan for a reason, and we're not always able to see the bigger picture when we're in the weeds.
I'd just been out this way last month during West Coast 66, and I swore I wasn't going to do any desert this time.. so much for good intentions. I turned south onto US-395, the "desert highway" in my mental map of the northwest deserts. There's not a soul on this road, and I turn the speed back up, the long, straight nothingness broken up only by the occasional whoops and from time to time a trailer or off-grid shack set back far, far from the road. Who lives out here? I spotted a coyote wandering around the scrub and sage right about the time I got to the turn onto Christmas Valley-Wagontire Road, jogging west across a great barren plain that begins to green up as I get closer to Christmas Valley, a small farm and RV village that must have access to water, given all the spraying and alfalfa they're growing, big circle irrigators splashing water all over the roads.
VFTROCK: Fort Rock - Fort Rock, OR - 75pts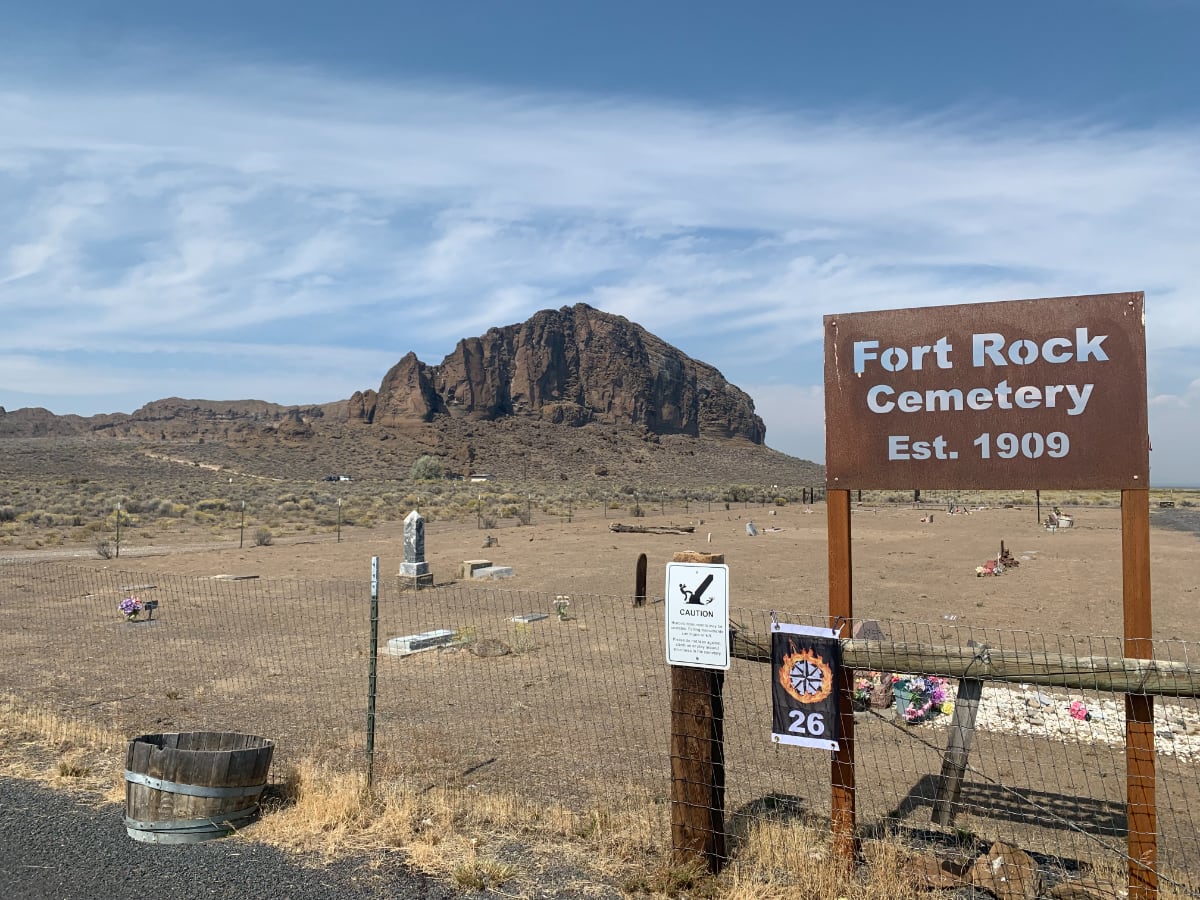 Take a photo of the steel "Fort Rock Cemetery Est. 1909" sign at these coordinates, making sure Fort Rock itself is in the background.


Finally wiggled through the fields to Fort Rock, a massive tuff ring with 200-foot walls, nearly a mile in circumference. When I arrived, and elderly couple was slowly making their way through the headstones back to their jeep.. which was parked right where I wanted to be for the best photo, but I'm not the kind of jerk to hassle about that, so I parked, drank some water, snacked a little, then said hello and chatted with them when they made it back to their vehicle. Locals, they had a lot of family in that burial ground, and I wanted to be respectful and not just some asshole tourist.

From here I turned back north towards Bend, OR, and one more bonus stop to make. I had played with ducking south real quick to grab a couple low-value bonuses, but in the moment, they just didn't seem to offer enough reward for the effort.
Within a few miles, the high desert disappears and is replaced by the dry scrub pine of the eastern slopes, lumps of volcanic debris scattered amongst the trees like Legos in a child's bedroom, waiting to be stepped on. They make the forest look dangerous, full of hard edges. I think about the logistics of having a tiny home out here, the effort required to clear out all these boulders… I bet someone with a bulldozer could make a living just learning to deal with these sharp, craggy lumps..
I chatted with Jo some more, shifting into what my day job calls a "retrospective".. looking back already, while I still have rally ahead of me (even if it is just an hour or so..) is a mistake. I was definitely feeling a bit of "short timer syndrome" with the finish just ahead, and lost some focus here, but I was finishing with plenty of physical and mental energy, an improvement from where I started at least!
BLOCK: Blockbuster Video - Bend, OR - 50pts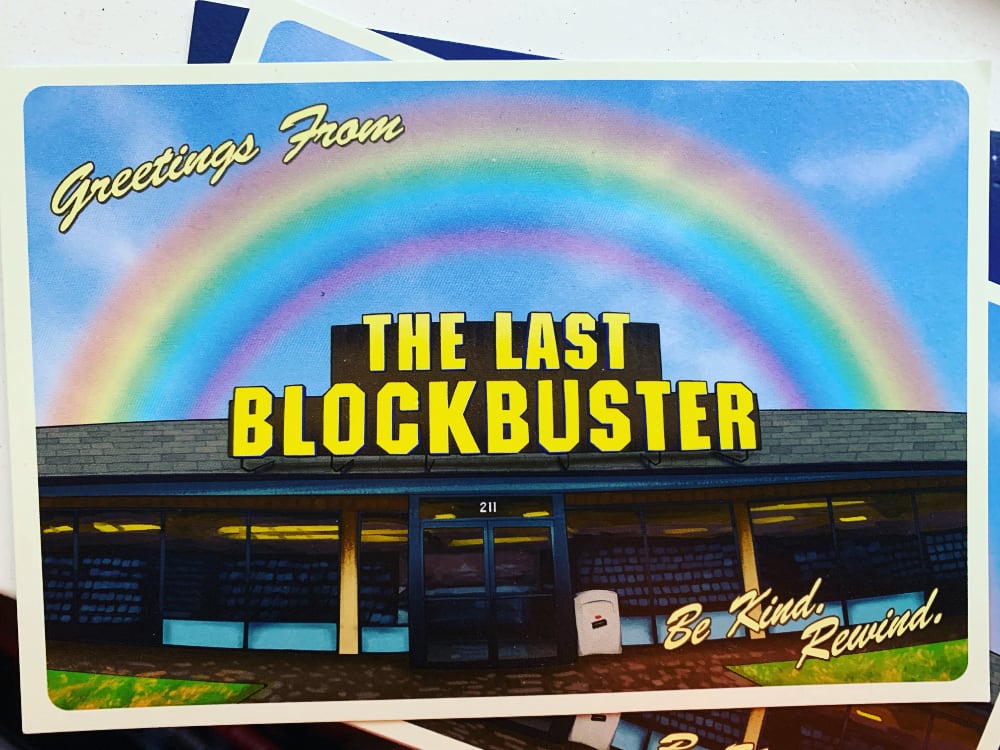 To claim this bonus, buy something and bring your receipt to scoring.


First things first - the place smells like a Blockbuster. There's something about the popcorn machine and the plastic cases off-gassing that really contributes to the authenticity. I suspect that this store does more business selling branded tchotchkes and souvenirs than it does renting DVDs.. but there were plenty of those available, too. I grabbed a few postcards, and skedaddled back to the finish hotel, a mere 2 blocks away.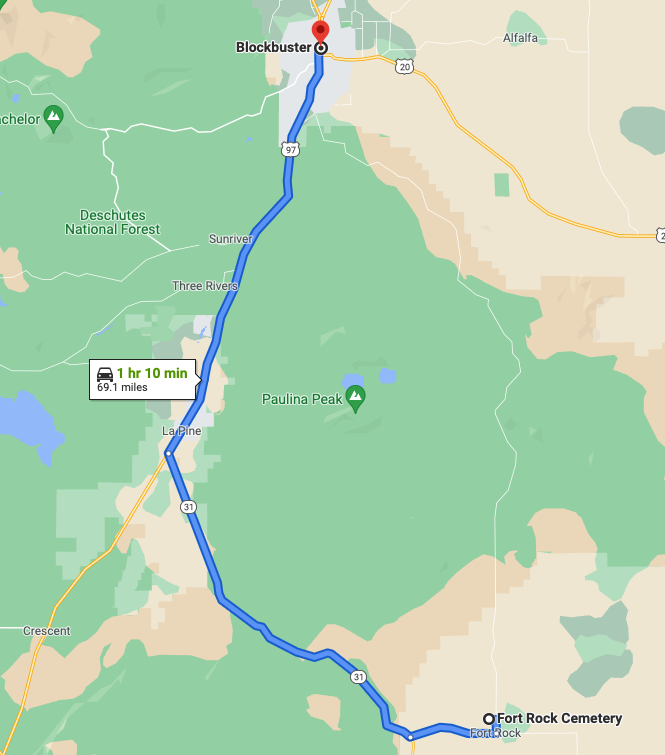 With that, I was done. I popped back to the finish, 70 minutes before the start of penalty time. I got checked in and through scoring without dropping any points, and headed off to find a beer before the finish banquet - another great spread!
So how did I do? Final results and some retrospective thoughts in the recap post.