3:00am is a hoppin' time in downtown Tonopah, NV.
I mean.. I'm pretty familiar with casinos and how there's a timeless quality to them that brings out the graveyard shift of workers and gamblers, but at 3:00am in Tonopah? Sure, OK.
ZZ106: End Rest Bonus 1: 6h minimum - Tonopah, NV - 110,000pts

Obtain a dated business receipt showing the date, time, city, and state at a minimum to document the start and end of your rest bonus. Take a picture of your receipt and your odometer.


Up at 2:40am, as my 6-hour minimum rest break ends at 2:43am, so every minute past that is "wasted." Loaded up and crossed the street to the gas station, where I "won" the gas pump lottery, picking one that was out of paper and had to go inside for a receipt.. and then wait for the twitchy lady arguing about lottery tickets and then telling a story about almost hitting a deer 4 years ago or.. something. She was hard to follow. Finally got a receipt and headed off towards Death Valley.


(..and no, those points aren't a typo. WC66 made the rest bonuses basically mandatory.. and I really can't say enough good things about this choice.)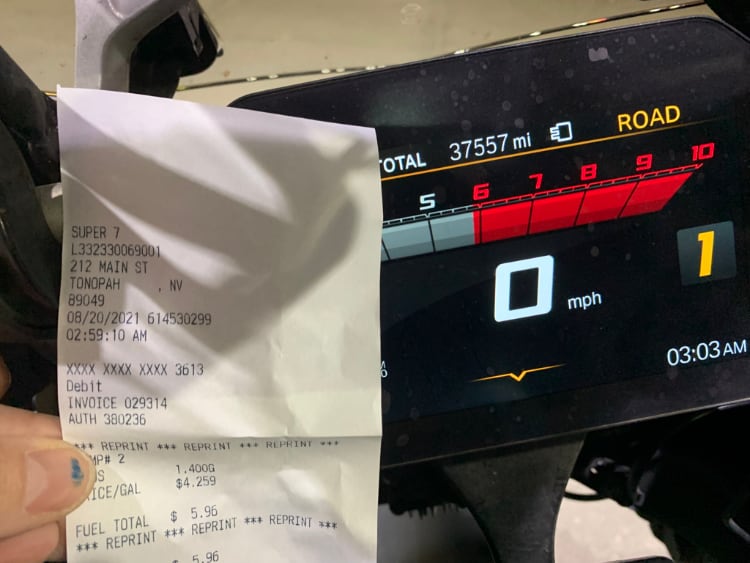 AM110: Furnace Creek Visitor Center - 3,539pts

Take a picture of the digital thermometer showing 110 degrees or less.


I've never come into Death Valley from the north via Daylight Pass before. I stopped in Beatty, NV to top off the gas tank and have a little sugary snack around 4:30am, then took the twisting, narrow road full of whoops and suicidal jackrabbits down down down down.. the temp in Beatty was a brisk 56F.. as I dropped down into the valley, I saw 90F on my dashboard - yikes! Took the photo around 5:20am, after rolling the bike up onto the sidewalk.. gotta get that good photo!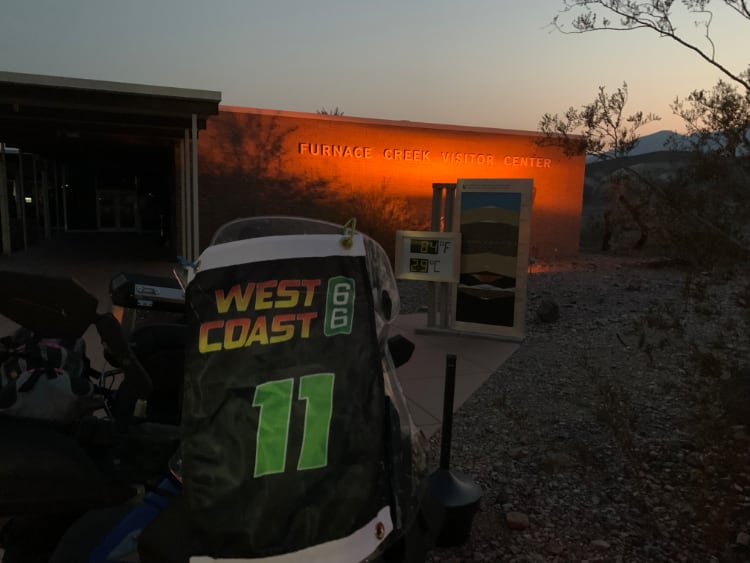 As soon as I got out of the valley, the sun came up and the temps plunged back down. By the time I got into Pahrump via a series of backroads, the temp had dropped back down to a lovely 58F.. and then the morning traffic into Vegas picked up. I had left Tonopah 37 minutes ahead of my original schedule, but would lose nearly all of that cushion to traffic, arriving at the Margaritaville sign only 1 minute ahead.
AM101: Margaritaville Sign – Las Vegas Strip - 4,256pts

Take a picture of the Margaritaville sign from the coordinates given.


What you don't see is that I'm standing in a planter on the edge of the strip - the Belagio and its fountains are 100 feet behind me. I had to park in the Flamingo self-park, hiding my bike in the Employees Only motorcycle zone, and then hoof it all the way through the hotel, casino, and the shopping plaza. A couple homeless denizens of the strip hollered at me incoherently while I snapped this one, but I managed to avoid attracting the attention of LV's finest while looking scruffy and suspect.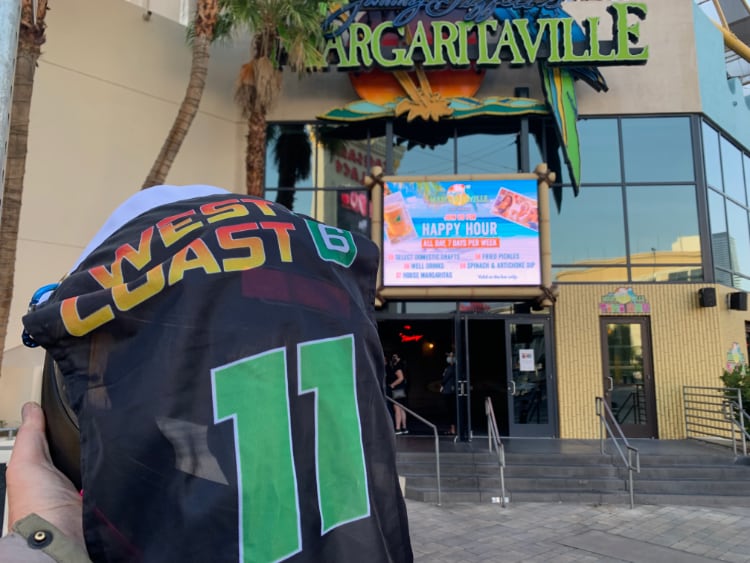 FB006: Las Vegas Raiders - 666pts

Stand at the coordinates given and take a picture of the recruiting facility shown in the sample picture.


Speaking of Las Vegas' finest… I didn't really get the joke about this being a county prison until after the rally. Getting down into the Art District was neat - I usually only take cabs down here, meeting friends who live in Vegas, but at 8:30am it was deserted except for a guy with a turntable and a microphone in front of the courthouse who was yelling something about Obama and a judge and.. who knows. I've learned to not engage, generally speaking.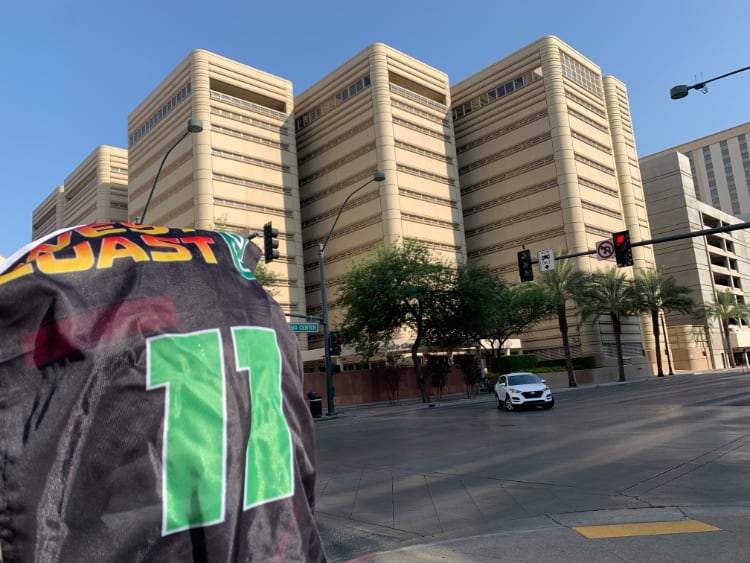 …and now, on to LA! The heat cranked up to 92F by the time I hit Baker, CA for a gas and food stop, where I took the liberty of submitting 2 of my receipts for the ST bonus series while eating a quick rally breakfast of tuna fish on a tortilla, a banana from the hotel, and a handful of cheese crisps.. washed down with a BRCC mocha and half a bottle of Gatorade.
ST004: Nevada Receipt - 700pts

Take a picture of a receipt from Nevada. Rally flag not required.


I used my receipt from Beatty earlier in the morning.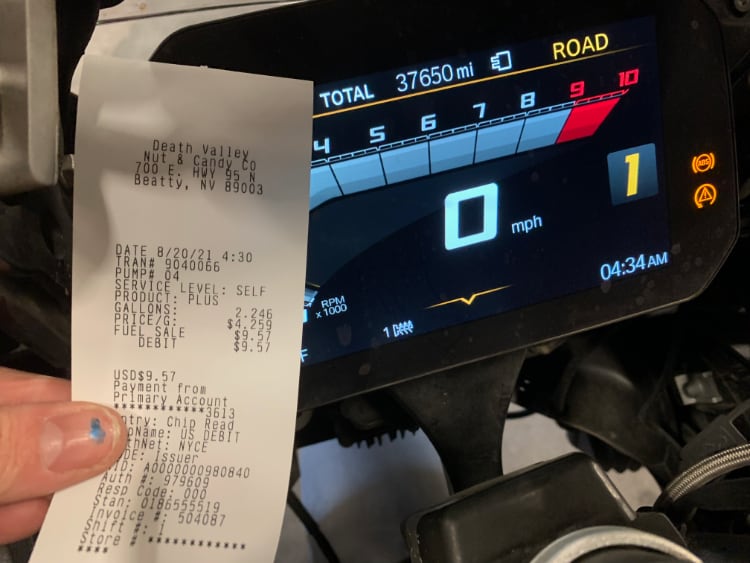 ST003: California Receipt - 500pts

Take a picture of a receipt from California. Rally flag not required.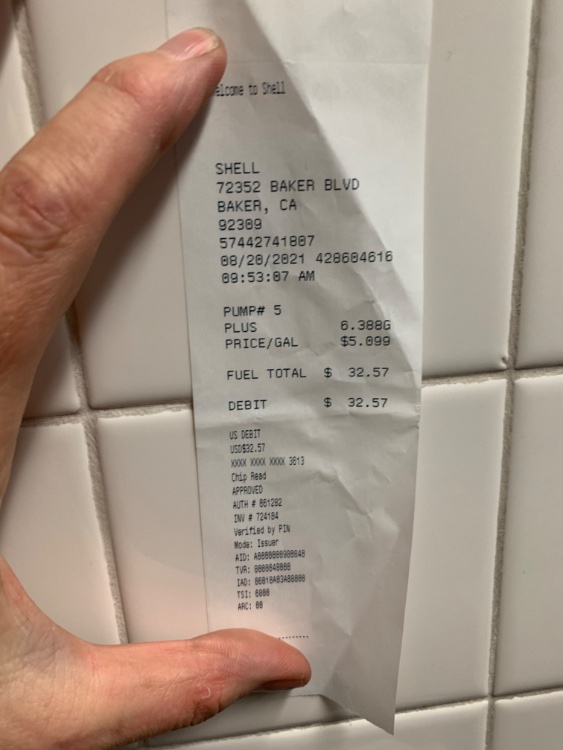 Dropping down into LA, I got a call from Johanna, and we chatted for almost an hour about the rally and checking in on where I was and how other folks were doing. I knew my plan was HEAVILY weighted towards earning a ton of points in the last few hours, but it was still disconcerting to feel so far behind. It was great to get a call from a friend, though, and I was really disappointed when my Sena died somewhere between scoring the 2nd checkpoint and merging onto I-5 for the slog north.
CP200: Route 66 Roadhouse and Tavern - 0pts

Take a picture of the Route 66 Roadhouse sign.


By this point I had just over 500 miles so far today, and my brain was already starting to feel overwhelmed by every place I'd been in the last 30 hours. It seemed impossible that just yesterday morning I was in Olympia..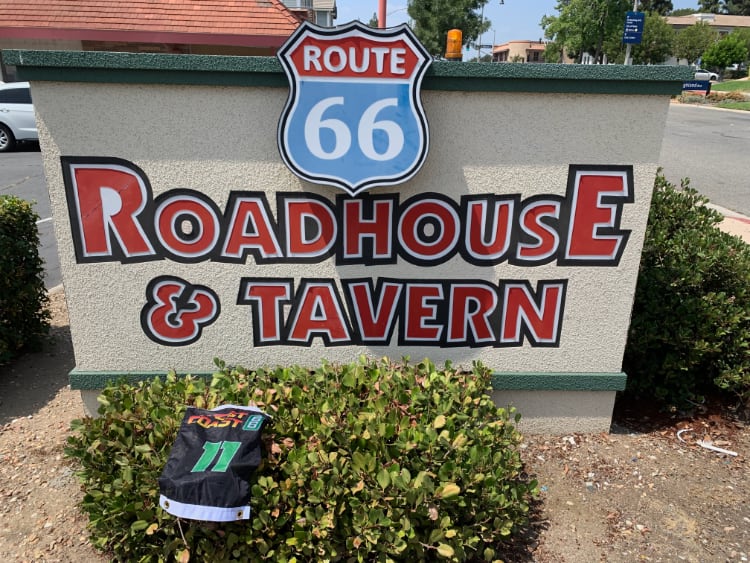 I-5 was even more horrible than usual. Until now, I hadn't encounter hardly any smoke from wildfires, but as usual, the valley acts like a giant trap for pollution and ash on the air. Visibility dropped to about 2 miles or less, and the heat stayed steady around 90F. Add in the aggravating habit of California drivers to park in the left lane going exactly the speed limit, and then get pissy at you when you pass on right and attempt to race you to the next tractor trailer trundling along at 55.. man, I hate I-5. I survived, although I really worked to keep a steady pace and gain back time on the clock.
OW172: Post Office - Bakersfield, CA - 652pts

Take a picture of the Post Office at the center of scenic Bakersfield.


Bakersfield is a city that's seen better days - the streets are potholed and cracked, the grid system a maze of 1-ways, transit-only, pedestrians just wandering aimlessly down the middle of a lane.. wild. No idea why this is Mike Best's 2nd favorite place to ride… it certainly didn't help that my GPS took me in through a really weird circuitous backway.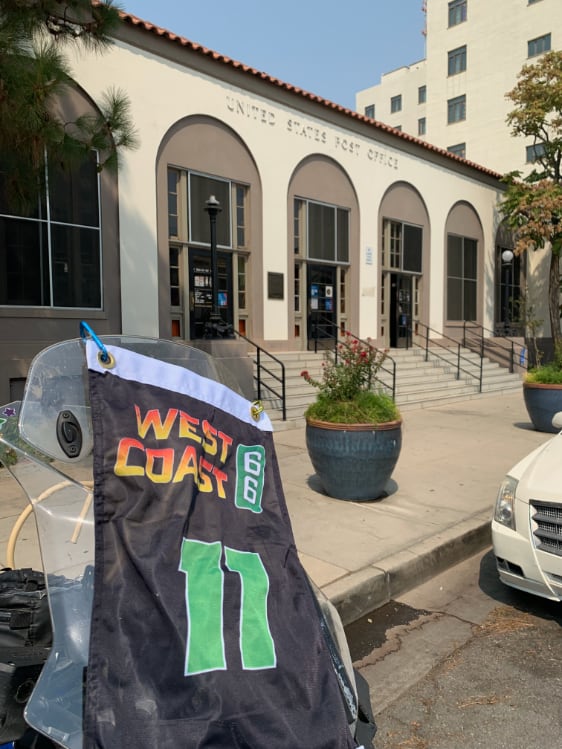 Eventually I got to leave I-5 behind and take another familiar, but far more pleasant road - CA-152. The temperature dropped a refreshing 20 degrees and a stiff breeze picked up as I crossed over the hills. Was slightly worried about COVID-19 when I came through Gilroy and couldn't smell the garlic fields, but eventually I caught a whiff and was reassured.. connected up with US-101 and headed into San Jose and Silicon Valley for a series of low-value bonuses associated with tech companies that individually weren't worth a lot, but combined into a huge combo.
Take a picture of this sign before it catches on fire.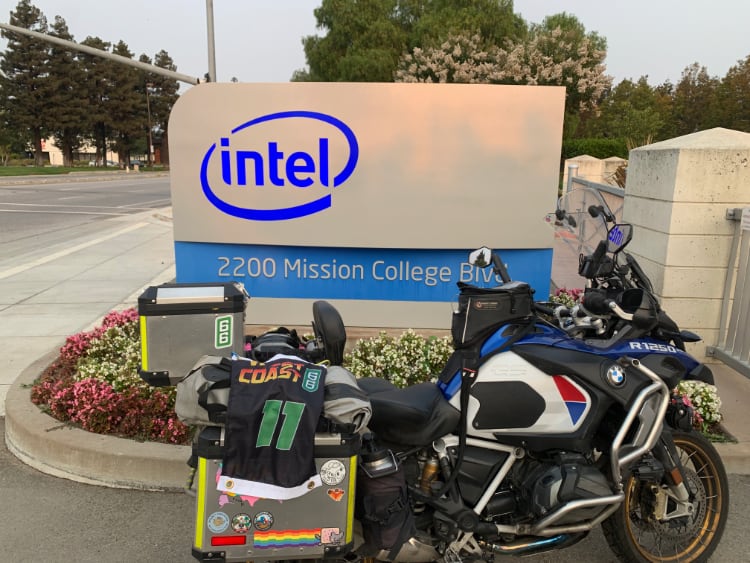 Take a picture of the Yahoo sign. If it's still there.


What's hilarious is that Justin and Tim (the rally masters) made a joke about the sign still being here.. but in fact, it wasn't! Sometime in the week before the rally, the sign was removed..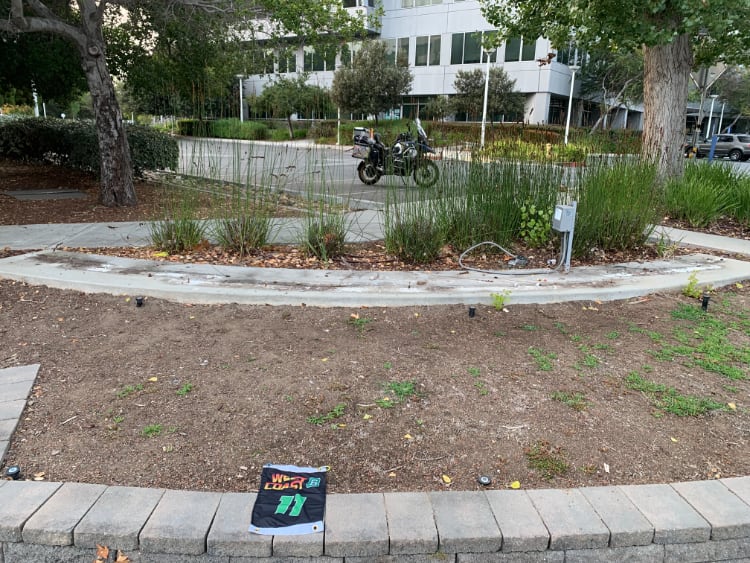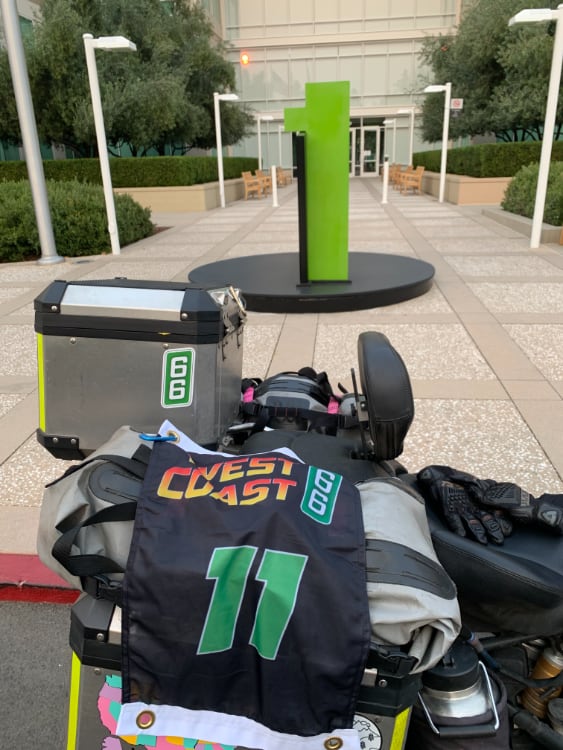 Take a picture of the Tesla sign.


The sun was starting to set, but that orange sky is more from the smoke in the air than anything else. I made sure to park in an EV Charging Only spot while snapping this photo. Some kid in a Stanford hoodie glared at me.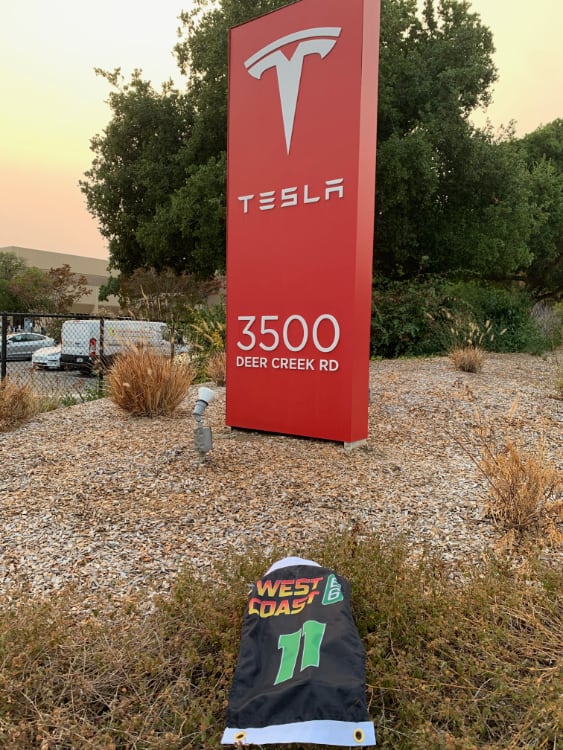 Take a picture of the HP sign. Then get of their damn lawn.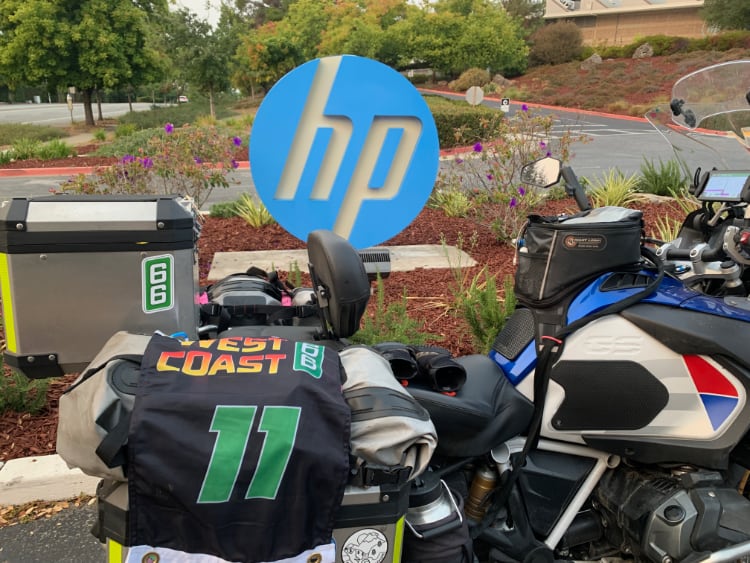 Take a picture of this sky bridge at the Googleplex.


When submitting the previous bonus, I made a joke about the time my car got broken into and they stole everything but my HP laptop.. between being so pleased with my wit and then having to do a hard reboot of my Garmin, I forgot to stow my rally flag and arrived at Google right as the light was fading to find… DAMMIT! I had sworn I was NEVER going to be That Rider! I assumed though that it had flown right off the bike, since I didn't clip it down, so I retraced my route 10 minutes to HP, and not finding it in their parking lot, slowly started heading back towards Google… ah! There it is! I spotted it a mere 50 yards down the main road from HP. One of the carabiners was missing and the grommet on that corner of the flag was a little mushed, so I assume a car of some sort nailed it. Whew! -1,000 point penalty avoided!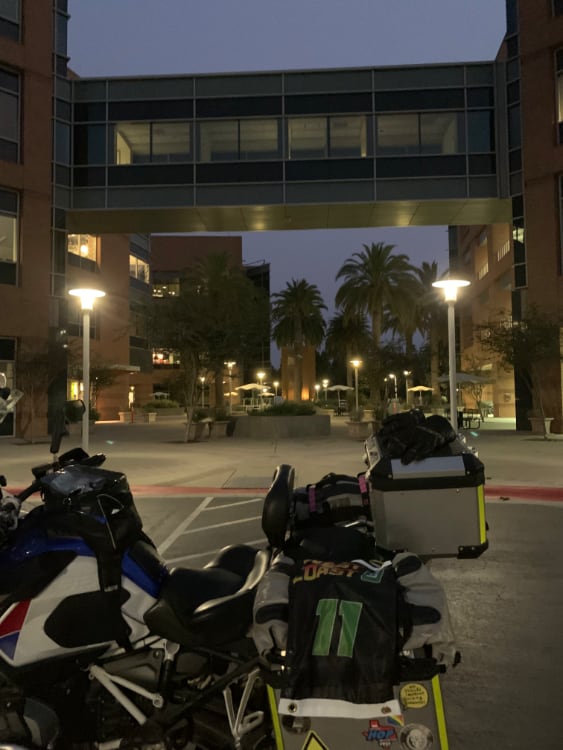 TC006: Stupid Facebook - 1pts

Take a picture of this stupid company's stupid building with the stupid 10 on it.


Stupid Facebook.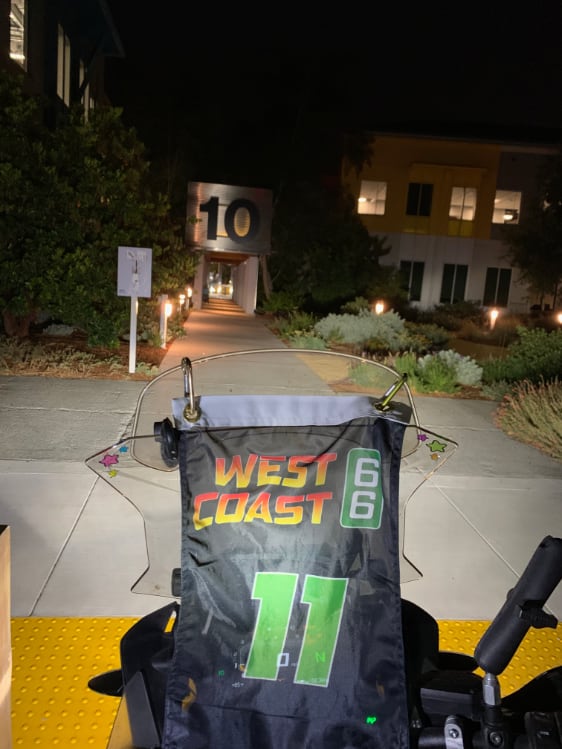 Take a picture of USA-17, the winner of the 2010 America's Cup.


The sun was down, and when I rolled up I was getting REALLY worried about my ability to get a good photo here, since they weren't lighting the boat at all, and I had to rely on ambient light. Luckily the Live Photo mode on the iPhone does a really good job with shutter speed and managed to get a decent enough photo.. thank goodness, because my next plan was to ride my motorcycle on the side walk between the buildings to the dock in order to light up the boat. I mean.. what are they going to do? Tell me to "GET THAT THING OUT OF HERE!" which I would promptly do.. right?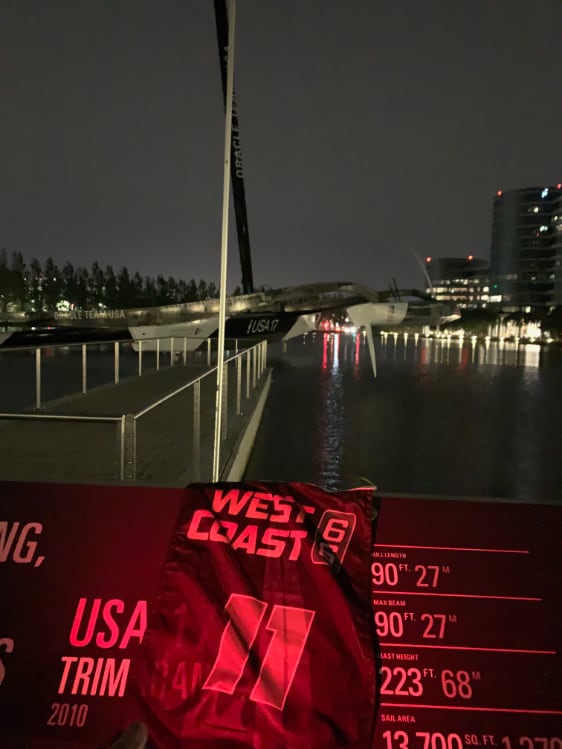 TC901: Silicon Valley - 8,546pts

Take a picture of your motorcycle after successfully claiming TC002, TC004, TC005, TC006, TC007, TC009, TC010, and TC012.


A huge bonus, but one I think almost everyone was going to claim.. which meant I had to claim it, too.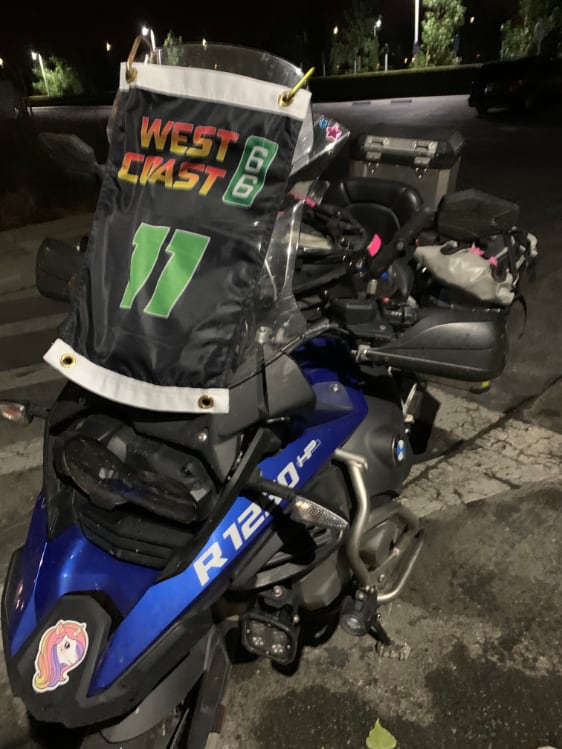 I was about 5 minutes ahead of schedule at this point; I had made up 25 minutes in the valley, but ate up most of that with the lost flag fiasco. I booked a hotel north of the Bay and was surprised that the GPS was sending me on 101 to I-80 through downtown, instead of over CA-92 into Oakland, but whatever - it was after 9 on a Friday night, traffic wasn't a problem. Johanna called, and we chatted about the plan for tomorrow, talking me all the way into my seedy motel in Dunnigan, CA. I started another 6-hours rest period a few minutes after 11pm, and slept like a rock until my alarm went off at 4:40am.
ZZ200: Start Rest Bonus 1 - 0pts

Obtain a dated business receipt showing the date, time, city, and state at a minimum to document the start and end of your rest bonus. Take a picture of your receipt and your odometer.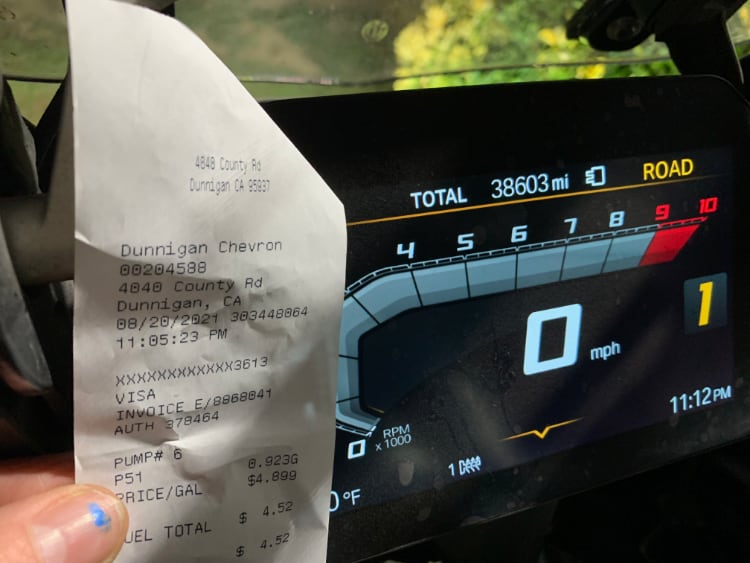 This was a big mileage day with a ton of stops for bonuses. Tomorrow I'm spending almost the entire day just slogging back up to Seattle to score some big combos and one giant bonus location. Unfortunately there's no bonuses along the way (even though there's a few stops I might have suggested…)