One of my superpowers is napping anywhere… another is being able to go from asleep to awake in about 5 minutes.
I've got my overnight kit down to a single bag, so I'm about 10 minutes from alarm going off to dressed in my gear and packed, ready to go. Staying at the hotel next to the starting checkpoint, the alarm pops off at 5:30am, and I'm at the checkpoint, ready to go by 5:45am. Robert Bowman, riding in his first rally, is already there, and we chit chat for a bit. Brian O'Conner, the last of us to be starting from Lacey, WA, rolled up with a couple minutes to spare, and soon enough it was 5:59am, time for us to stop jawing and start rallying!
SF101: Start Code #1 - Lacey, WA - 0pts

Take a picture of the motorcycle statue.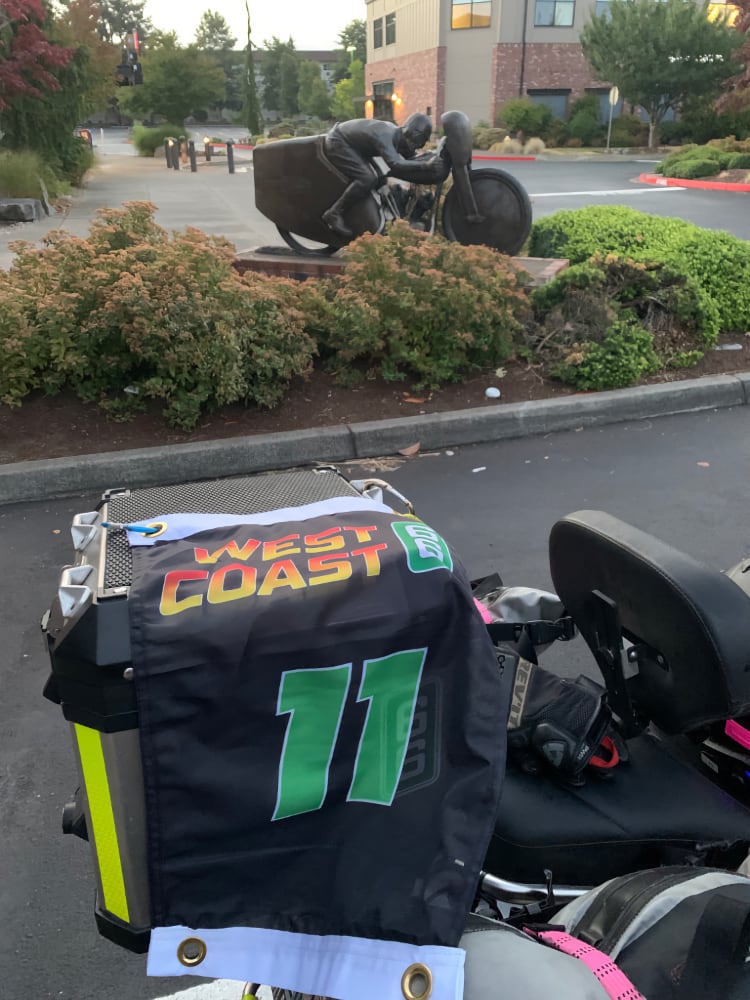 SF102: Start Code #2 - Lacey, WA - 0pts

Take a picture of your odometer and code word. Rally flag not required.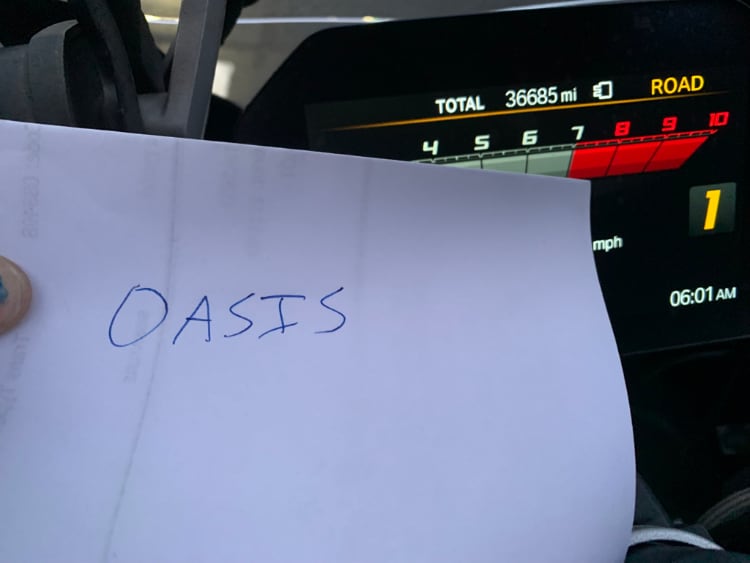 Hitting the road south, I'm on autopilot for the next 2.5 hours, as I've traveled the length of I-5 hundreds of times. It's also going to feel very strange to travel so far without scoring bonuses, but such is the nature of things.
OW124: Government Camp, OR - 653pts

Take a picture of the Summit Ski Area building.


Cool weather, cloudy, damp.. enough to put on my heated gear climbing up and over the pass here in the shadow of Mt Hood. I stopped and chatted for 2 minutes with a young hippie on a bike; he loved the LD setup, and he was impressed I carry a hammock with me (hey, never know when you might want a nap!)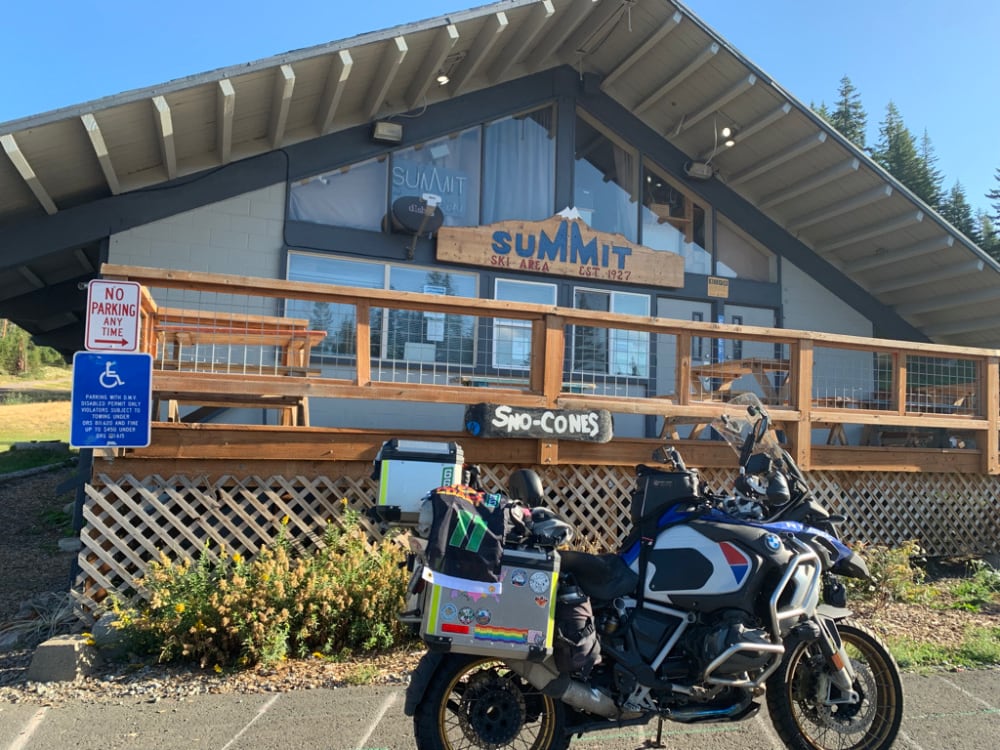 OW140: Frenchglen, OR - 1,685pts

Take a picture of the historic Frenchglen Hotel.


Rolled in shortly after lunch time, after passing around Burns, OR and through the Malheur Wildlife Refuge, scene of the Bundy occupation. Frenchglen is a tiny little town, but felt like it had some local tourism happening. My dad called while I was climbing up the twisty road out of town; he was in Hannibal, MO, heading home from riding the Lewis & Clark Trail with my uncle. We talked for a few minutes before I lost signal, and then I was back to endless grasslands and sage brush all by myself.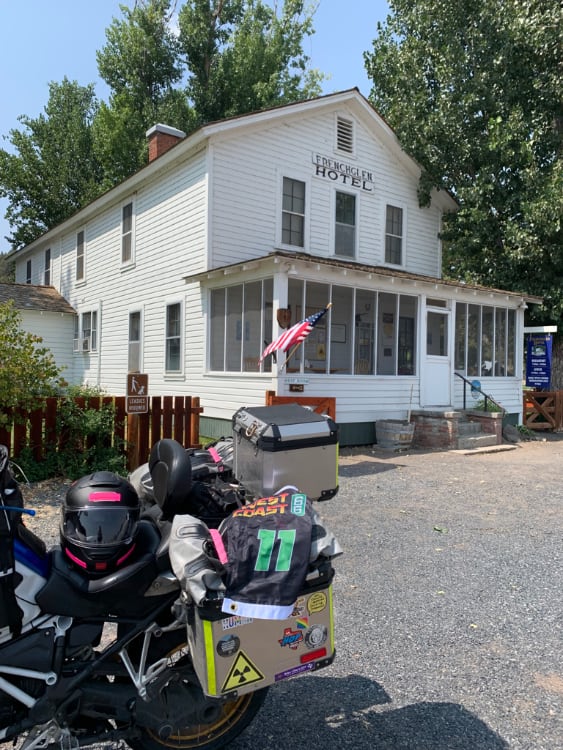 OW154: Denio, NV - 1,525pts

Take a picture of the Denio Junction Cafe.


Crossing finally into Nevada, Denio is a sleepy little crossroads. The 1 gas pump at Denio Junction didn't take cards, you have to go inside to the cafe/bar and pay the bartender. He was busy talking to locals, and by the time I got his attention and $20 in his hand, a queue of 4 cars were waiting behind my bike - being the only gas for 75 miles is money in the bank! Chatted with a couple guys from Wisconsin on Indians, out riding their last hurrah - one of them had just finished recovering from surgery to remove a brain tumor, and they wanted one last big trip while he had a window of good health. I'd pass them later on down the road, and spot them again in Winnemucca - hope they made it back safely! 🧀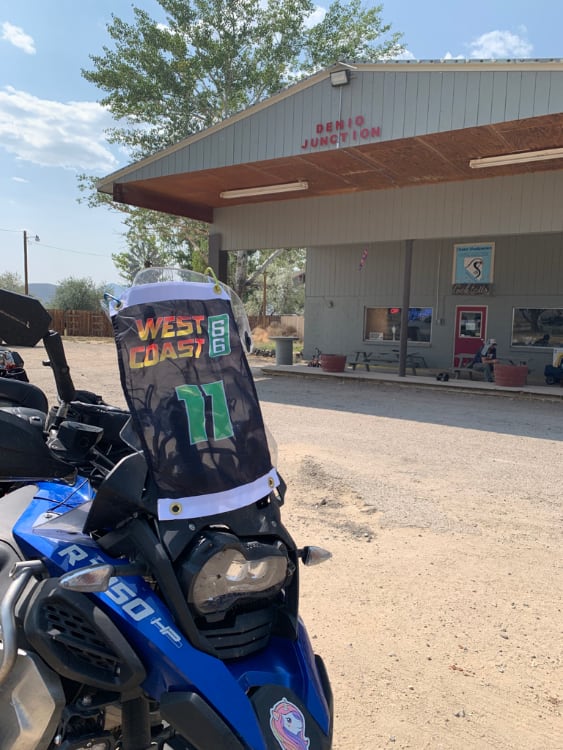 OW161: Austin, NV - 465pts

Take a picture of Stoke's Castle in the booming metro area of Austin.


I stopped briefly at a park in Winnemucca for a snack and to catch my breath. Winnemucca is a town I've heard about, but there's not much there; I was tempted to snap a photo of the welcome sign, which was a NxNW bonus in 2020, and submit that to them for scoring, just for laughs.. but I blinked and suddenly was on I-80. 50-odd miles, then turning south off the freeway onto another beautiful-but-desolate 2 hour run across miles and miles of nothing.. until Austin, NV. The "castle" is up a short dirt road, an old folly built by a prosperous mining family. Austin itself was surprisingly hopping, lots of little shops and cafes, RV parks, nice little library.. then I'm climbing up and across an arm of the Toiyabe National Forest on US-50, switchbacks and blind curves. Came around one and was glad I was taking it slow - a small herd of deer just standing around in the middle of the road, 3 does and 2 fawns still with their dappled coats. They milled around, doing deer stuff for a minute, then finally got out of my way.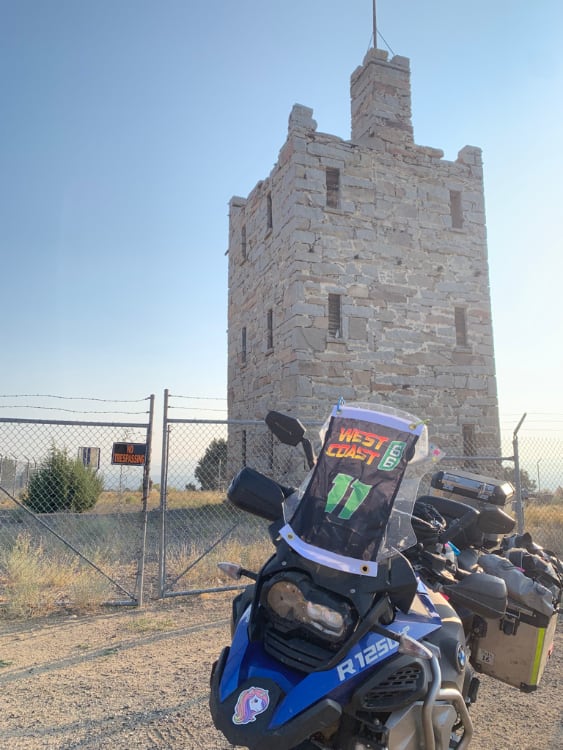 OW164: Tonopah, NV - 528pts

Take a picture of the Clown Hotel.


Into Tonopah, a common crossroads for a lot of travelers in the west. I rolled in a little after sunset, ready for bed. I had made a reservation here at the Clown Hotel last night once I got my route set up.. but made it for FRIDAY, not today (Thursday). Luckily the owner, Haim, was super happy to find a room for me ("I get paid if you stay tonight or you stay tomorrow!") but it did take a good 35-40 minutes to get it done.. and then I had to run back down the street to get a receipt, so I didn't really get into bed until after 9:30pm.. and I'm up at 2:30am!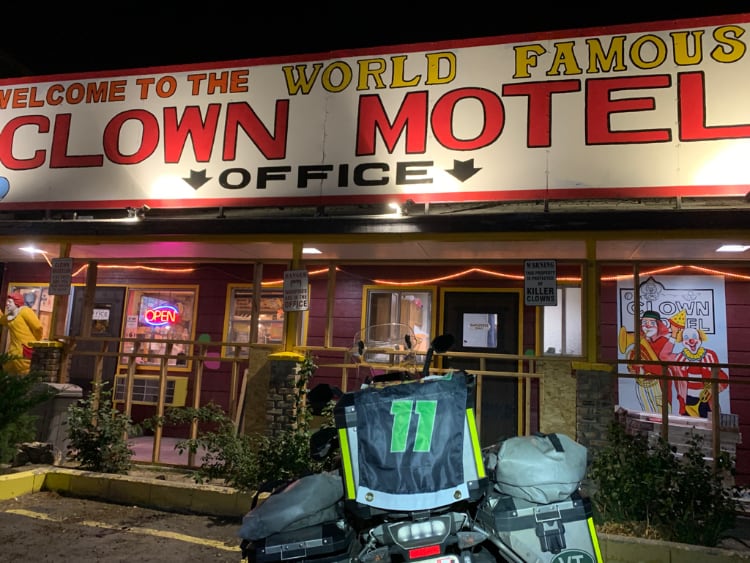 ZZ100: Start Rest Bonus 1

Obtain a dated business receipt showing the date, time, city, and state at a minimum to document the start and end of your rest bonus. Take a picture of your receipt and your odometer.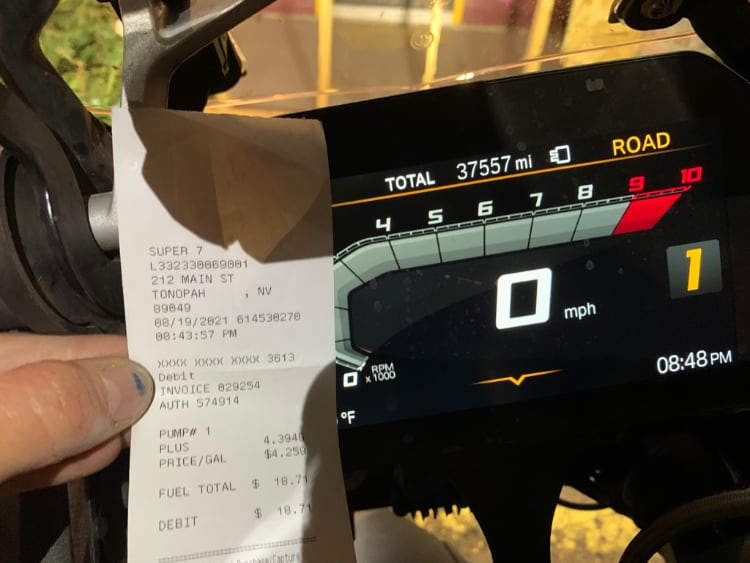 This wasn't a huge scoring day for me, but it set me up for a big day 2 and day 3 by getting a lot of "empty miles" out of the way while still scoring SOME points (certainly more than any other Duarte->Lacey route of similar length!)