Day 2, have to be back in College Station by 5pm, but at least the sun is out and there's almost no wind.. and my drenched gear is sort of dry?
A10: First United Methodist Church - Bastrop, TX - $68

I got a late start in the morning, but the breakfast place didn't open until 8 and I had PLENTY of time, so I snagged a series of "easy" bonuses in Bastrop that I had skipped on my way through. This is where I noticed I was missing an "A" so this stop was a happy accident (not that it mattered, since I didn't have the right letters for the ACTS combo anyway..)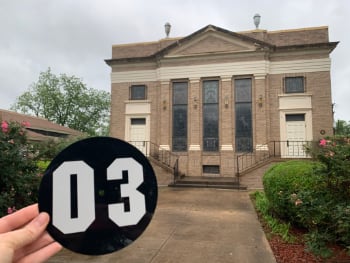 N05: Bastrop Christian Church - Bastrop, TX - $68

All these churches in Bastrop this morning then were "oh hey, churches not on my plan" – I only had 4 scheduled locations in the plan, everything else this morning was on-the-fly additions.


I stopped in at Maxine's on Main and had a small plate of biscuits and gravy (my personal weakness.) Saw a couple other rally riders doing paperwork over their breakfast; stopped to say hello briefly, but still didn't really know anyone to make more than the briefest of small talk, so I let them be.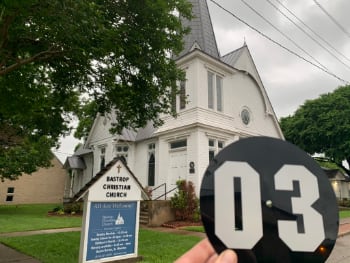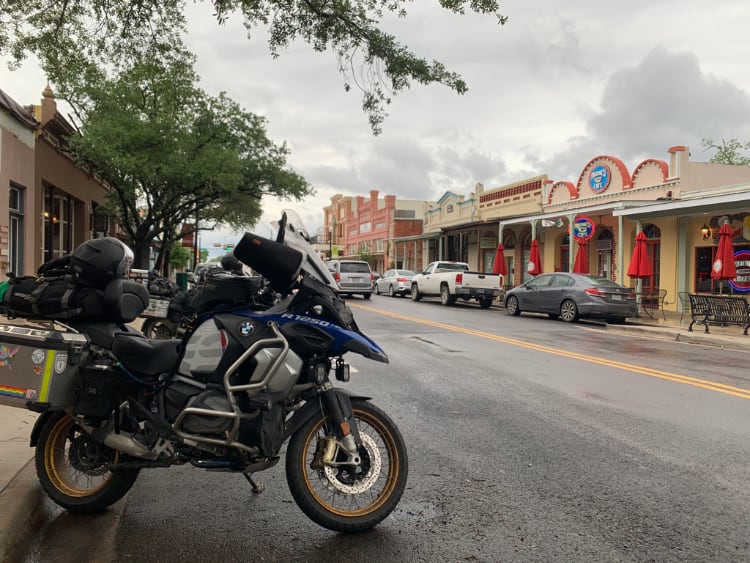 S11: Ascension Catholic Church - Bastrop, TX - $68

So many churches in Bastrop…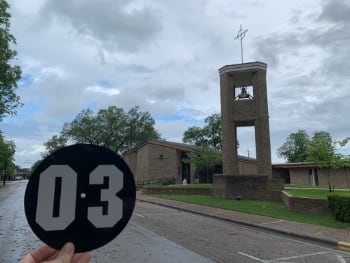 N10: Paul Quinn African Methodist Episcopal Church
Bastrop, TX - $68

..not worth a lot of points individually, but all together scored me $272.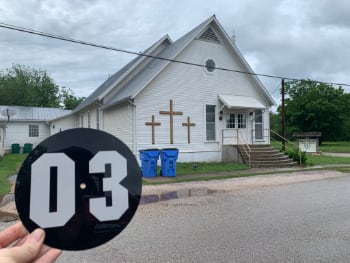 O05: St. John the Baptist Church - Ammannsville, TX - $264

Now I'm just racking up points. :)


Supposedly this one is pink inside, but I already toured one church on this trip…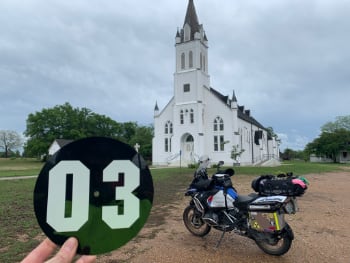 T04: St. Cyril and Methodius Church - Dubina, TX - $138

Only 10 minutes away, I really liked the trim and paint on this one. You can also see I threw on my rain gear; it sprinkled a tiny bit, but I really didn't need it today. Later on the sun would come out, and all the Texas wildflowers and butterflies would emerge and be just a delight..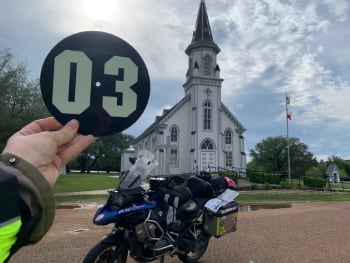 S10: St. Michael's Church - Weimar, TX - $69

After a while, the churches all start to look the same.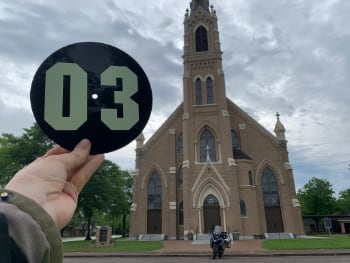 K01: Guardian Angel Catholic Church - Wallis, TX - $142

This was one of the only 4 stops I had planned for this section of the ride (part of the JAKE combo) and it was a bit out of the way, having to scoot down towards Houston a bit, but the ride in was nice. Someone once told me that the problem with Houston is that it doesn't drain, and standing water was everywhere after the rain overnight. I dodged puddles, and pulled up to this church after riding through what I can only describe as its "campus" - several out buildings, residences, etc all associated with the church (but no school…?) I got the sense this was a "big church" compared to some of the other congregations I'd been visiting. As I was leaving, a couple on an F800 and a 1200GS rolled in, and looked like rally riders..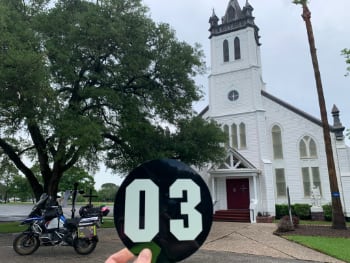 E12: Chappell Hill United Methodist Church
Chappell Hill, TX - $134

There was a popo shooting radar on the short road into town; no radar detector on my bike, but my spidey senses said "this would be a good spot for a cop to set up shop" and lo and behold.. I rolled past at a safe speed and pulled up the the church, where there was a service going on and the only parking space was RIGHT IN FRONT! I did my photo business quickly and quietly and got out of there.. passing an F800 and a 1200GS as I left! I got the feeling I'd be seeing more of them (and so I would - they followed me for the next several bonuses.)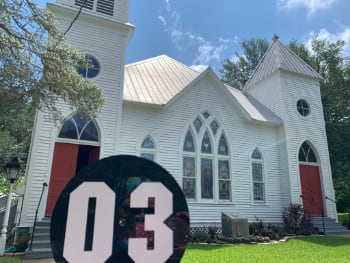 A03: Wesley Brethren Church - Wesley, TX - $80

Not a huge score for this one, but I needed an "A" for JAKE and the ride in was lovely. Had to dodge a couple turtles, and saw a few squished armadillos, too! The church was at a dead end road just across a county line.. some kind of tax dodge?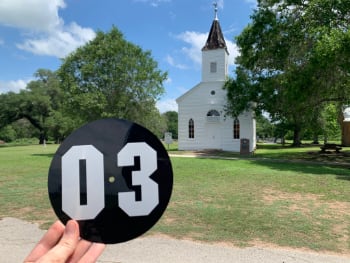 J01: First United Methodist Church - Alpine, TX - $436

Another one of those out of the way churches, far from any town center, where you had to wiggle along farm roads and wooded lanes to get to. The "J" here completed JAKE for me ($7,000) and now I'll just mosey on back to the barn.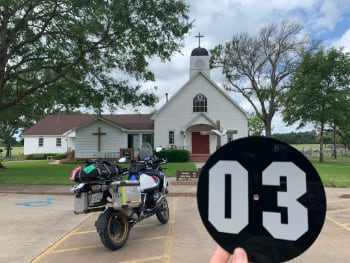 S06: First Prebyterian Church - Navasota, TX - $88

As long as I'm passing through, though, I might as well pick up a few "free" points.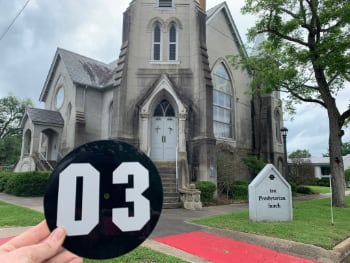 P01: St. Paul's Episcopal Church - Navasota, TX - $22

Almost literally across the street from the last one, I walked over to save miles on the bike.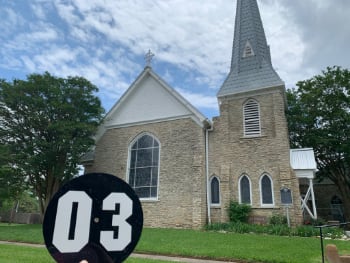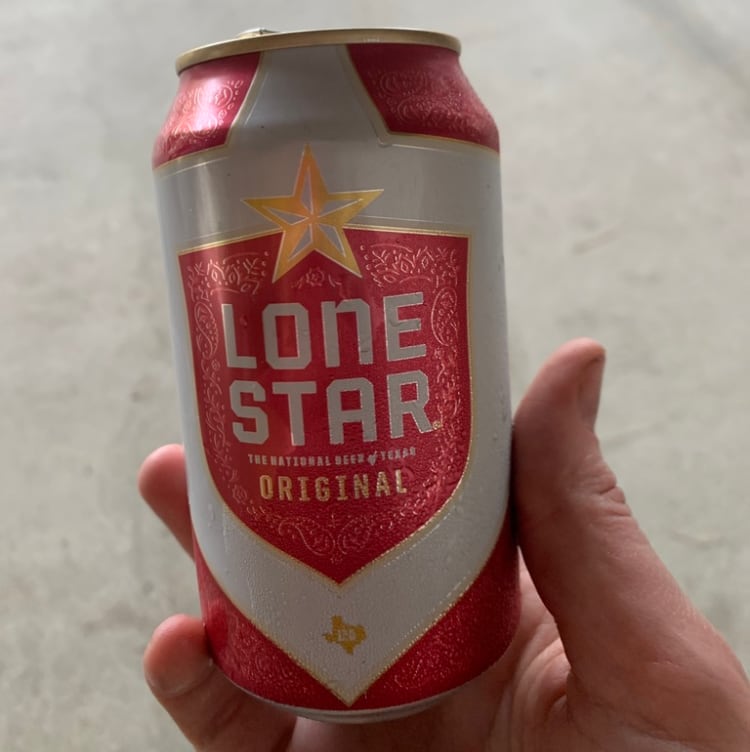 Results in Part 4!