Said goodbye to my new best friend, the grey stray tabby who runs the parking lot of Rice & Beans, and loaded up for Loreto. Nice to have a rest day; I could've stayed in San Ignacio a couple more days (and may in the future) because I've reached a point in my life where sitting by the pool drinking beer is second only to sitting in the shade in the town square drinking beer. All I need is something to bullshit with and I'm set!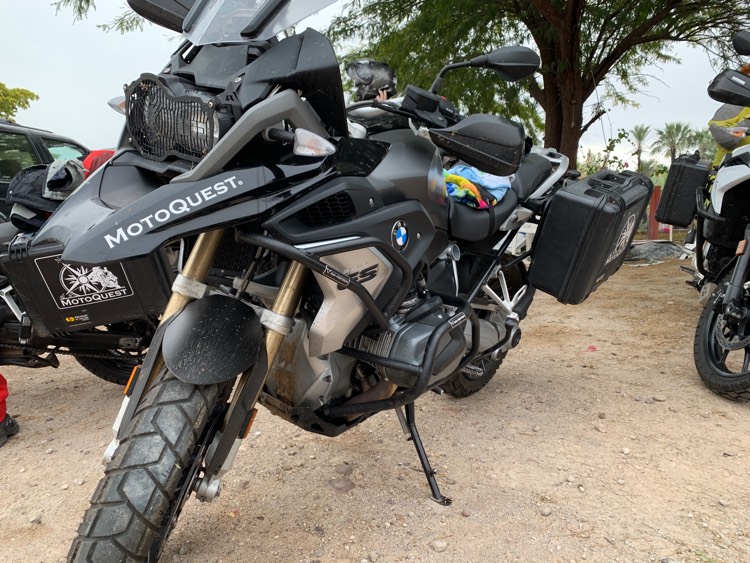 The road to Santa Rosalía seemed like more of the same, passing over dry, seasonal river beds, past two volcanoes, and more cacti and mesquite than I knew existed. Yucca and cirios abound. I spotted road runners along the side of the road, but no coyotes. Passing between a pair of hills, the view opens wide and the Sea of Cortez appears, the road suddenly dropping down and snaking towards the city.
The town itself feels like an industrial port city, which I suppose it is - a bit on the dirty, polluted side, but an honest dirt. Abandoned industrial buildings and fancy ironwork from the early 20th century tell a story, as does our stop here - the Eiffel Church. Designed by Gustav Eiffel and displayed at the same exhibition as his more well-know tower, it is sectional and prefabbed, built in France and shipped to Mexican for reassembly. The walls are pressed tin, the inner lattice holding the structure up is a delicate version of the iron in the tower.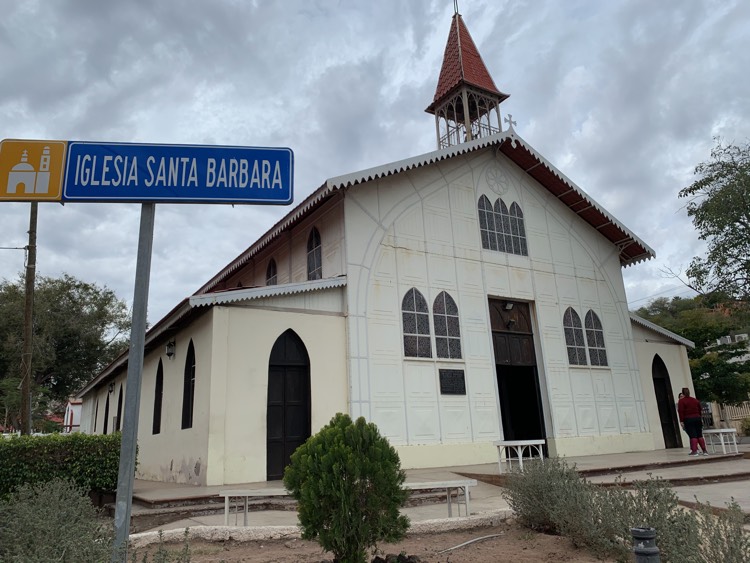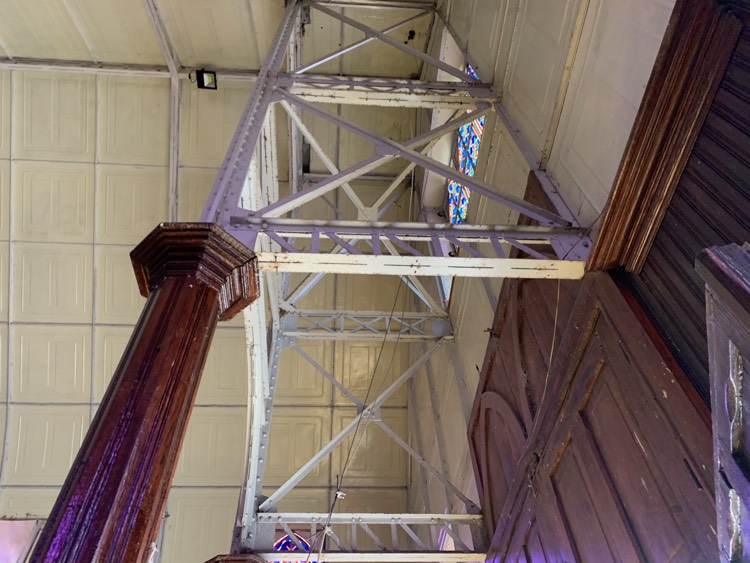 It being a Saturday, there was a service of some sort, so we kept quiet. Outside we bumped into another tour group, a family on BMW motorcycles - father, son, and "younger lady whose relationship remained murky" from Mexico City. We all compared bikes and told stories about stickers for half an hour - part of life in the motorcycle tribe.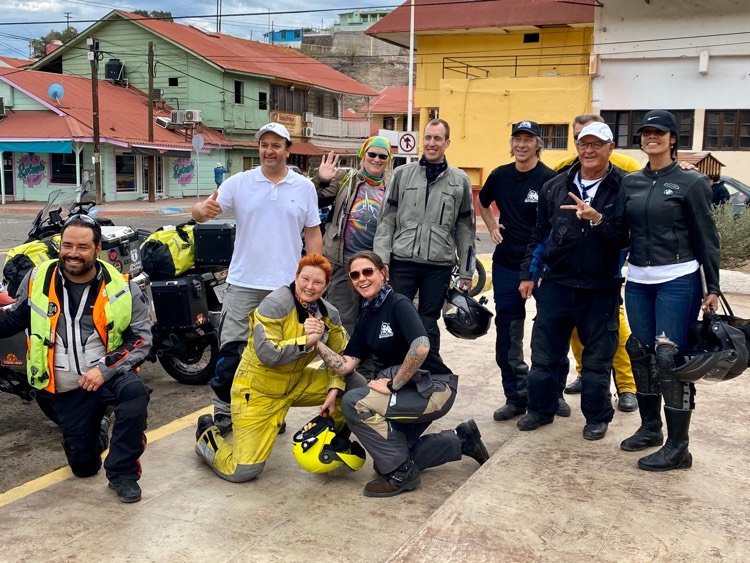 Later on we stopped in Mulegé to visit the old mission that overlooks the town. The 11 of us rolled through the tiny cobbled streets only to find the rustic bridge was being repaired, to back though the village we wound and took the main highway across the river — quite a sight for the sleepy town, I'm sure. The mission itself was built in the mid 1700s, and was being used today for a wedding or communion or maybe a baptism? None of us really knew, and didn't feel right interrupting.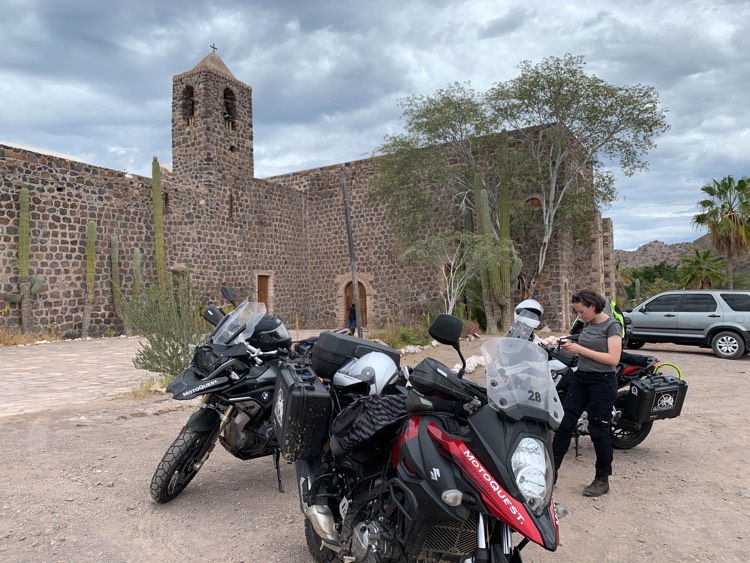 Instead we took photos of the outside and of the view along the river and headed on to lunch at Playa Santispac, a total jewel of a sandy beach with aqua waters and a great bar serving hard-to-beat fish tacos. Several of us went shuffling into the warm waters, hoping to avoid sting rays… I chickened out, scared of the ocean as I am, while the rest of the ding-dongs managed to get pretty far out without getting stung.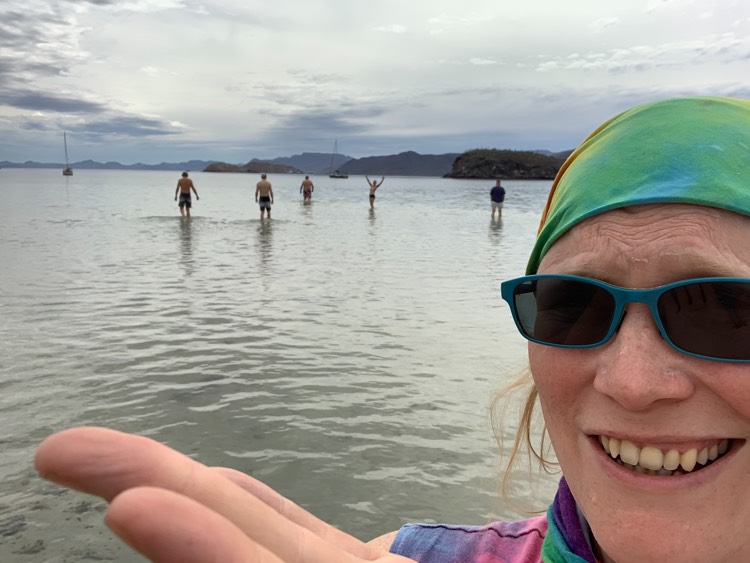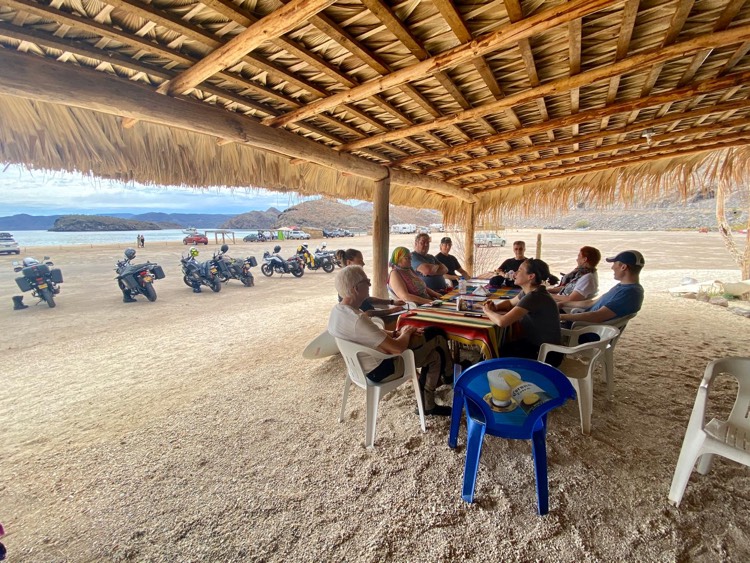 MX-1 winds along the western shore of Bahia Concepcion for several kilometers before rising up from the grottoed waters to cut more or less straight to Loreto, and actual Big Town that seems like a major American tourist spot. Our hotel tonight is a SUPER FANCY resort hotel that makes me uncomfortable with its fanciness, but I drink far too much (as I have been doing quite a bit on this trip) and then we wandered the tourist area looking for dinner, finding a brewery that served pizza and spaghetti (look, someone in our group was kind of homesick and tired of "Mexican food", so we humored him!)