Woke up at 530 and hung out on the patio to the restaurant reading a book until joined by Justin around 615. We chit-chatted until the restaurant - which. Ricardo, the owner, swore opened at 600 - finally opened up around 650am. He's a one-man show, after all, so absent a compelling reason he opens when he opens. The coffee is strong and bottomless and keeps coming, and the cook eventually shows up to lend Ricardo a hand and makes a big plate of huevos con chorizo for me (its so good here!)
Other folks start drifting in around 745am, and I head back to get my kit together for whale watching out on Laguna San Ignacio. The grey whales winter here, and they're feeding now; in another few weeks, the waters will warm enough to drive their food north, and the whales will follow, all the way to Alaska.
The big passenger van from Antonio's Ecotours picks up up at 845 and we cut back through town, and within a couple hundred meters we're off pavement and onto winding, rocky, rutted dirt that I'd be a bit nervous taking the bike on. If I was following GPS, I'd have turned back, questioning the routing algorithm. A few kilometers of this nearly literal goat track, and suddenly the road is perfect blacktop, winding 45 miles or so to the edge of Laguna San Ignacio, where it turns back into washboard sand and rocks across the salt flats and expose caliche Our driver clearly knows this route, expertly dodging pot holes and washouts and water bars with practices ease (although lacking in some grave) and delivers us to the camp. We wait with some really Ugly Americans who are VERY ANGRY that their boat is 20 minutes late and IF THEY ONLY KNEW THEY'D HAVE BROUGHT WINE and I'm like "OK BOOMER" because, jesus, you're in an amazing seaside camp about to go pet whales, catered to by people who make maybe $10/day so maybe shut the hell up already! 😡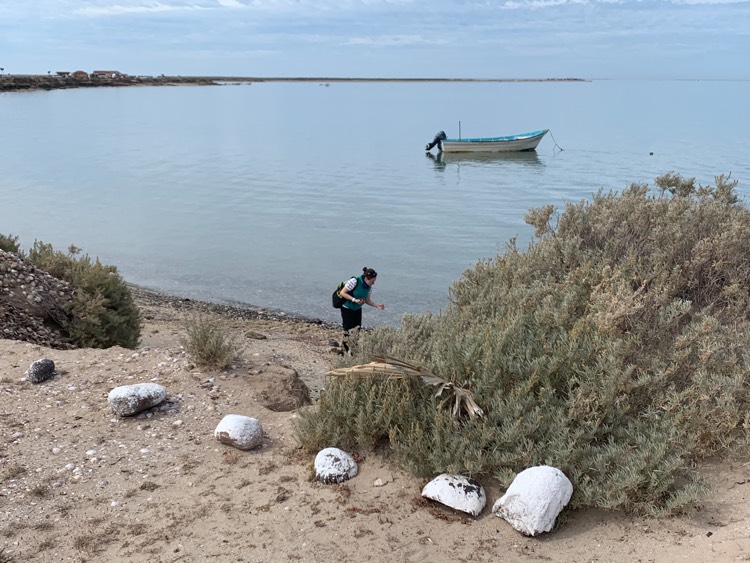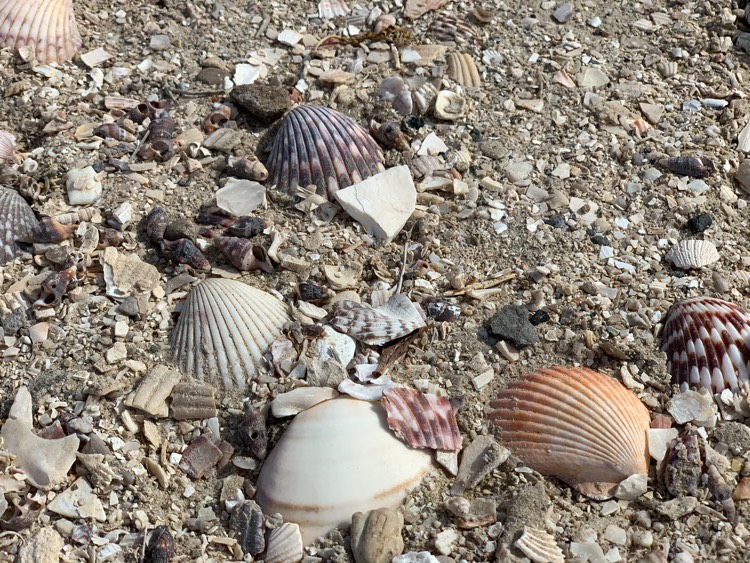 After about an hour kicking around the beach, looking at the exposed sedimentary layers of tens of thousands of years of shellfish, we loaded up on our boats and headed into the laguna. We split the men and the women, just for funsies, but it turned out to be just about perfect because whales are (supposedly) more interested in boats that are making lots of noise and seem like they're having a good time, so while the men were standing awkwardly waiting to all capture the perfect shot (and no doubt optimizing each other's photo settings or something) the ladies on the tour were having a hoot, making up whale-parody songs in an effort to attract whales.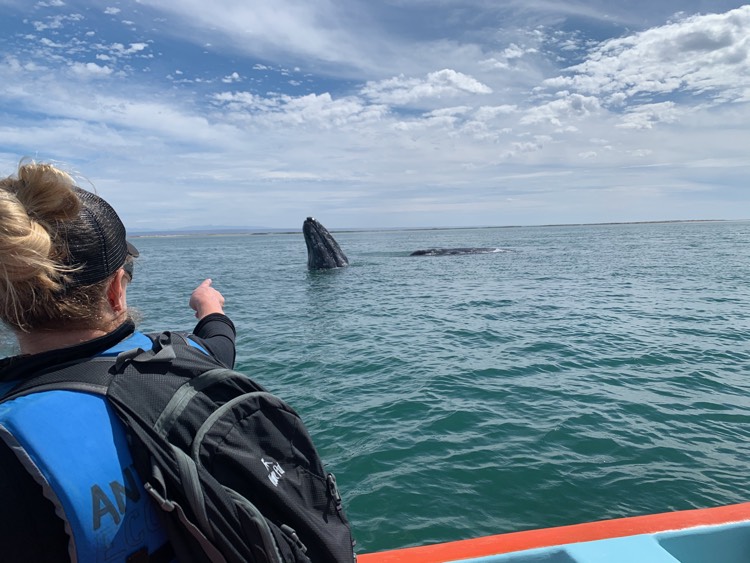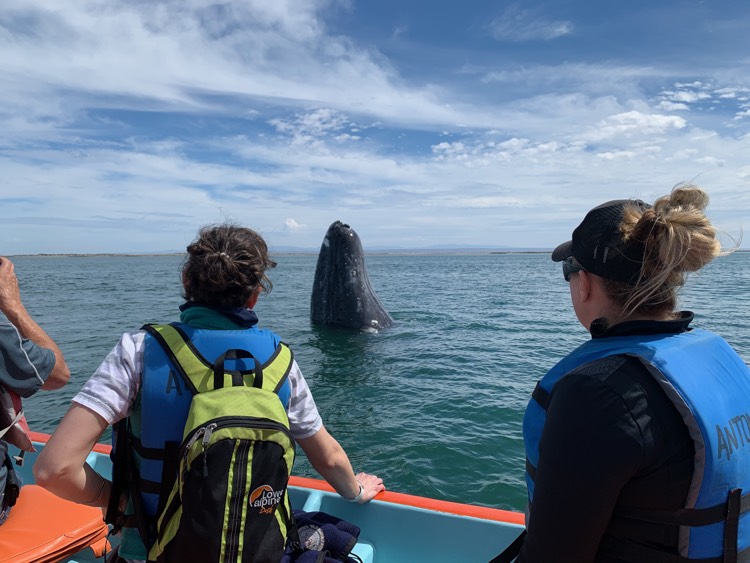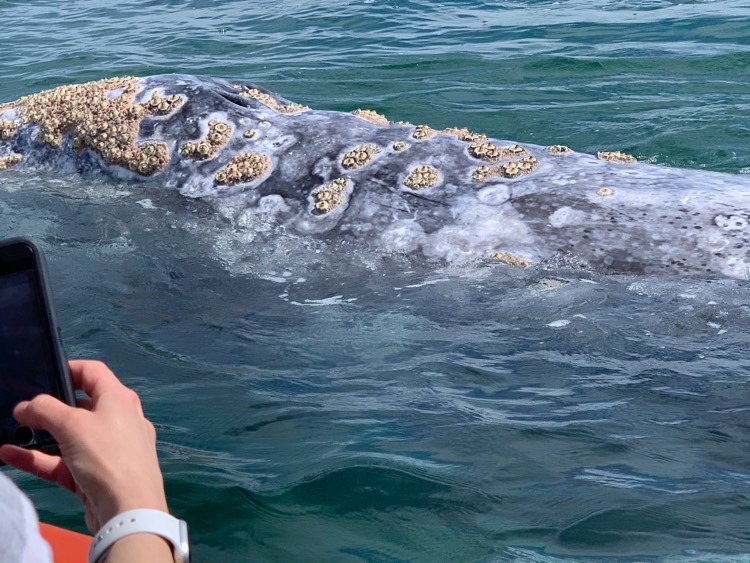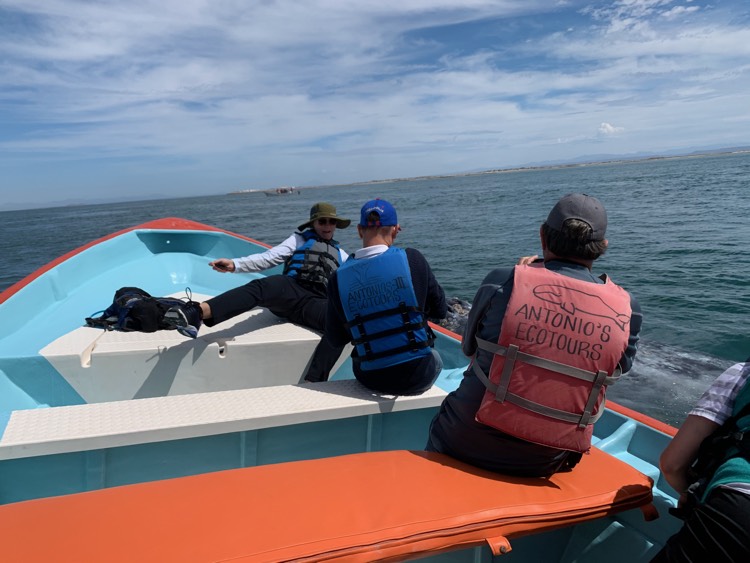 ..and it worked! We got in amongst a pod of 8-10 grey whales, and spent an hour and a half singing to them and straining to reach out and touch them (its surprisingly hard, since they aren't super accurate and neither is the boat!) We had a grand time, even without getting to pet them directly, and had a solid lunch back on shore. I opted for machaca — shredded seasoned beef — and a beer, and then spent the ridiculously bumpy ride back to the hotel wishing I'd waited on the beer.. but more was on ice for us back at Rice & Beans, and so we spent the afternoon in the shade by the small pool shooting the shit and swapping stories as only motorcyclistas and travelers can. I met a couple from Washington state who were part of an RV caravan, and a circus-arts performer with alternator (and romantic) problems, then off to dinner for margaritas literally the size of your head, somewhat bland food, and a junior all-girls mariachi performance that touched us for a donation to the school (I don't care, I was charmed, so I dug deep.)