Woke up to the Fraggle Rock theme music at 515am - hey, if you're going to start the day with a jolt, why not make it a bouncy, happy one? Start off your day grumpy about having to drag your ass out of bed, it sets the ton for the rest of your day, doesn't it?
Got up that early to hopefully see the resident dolphin pod feeding, which would''be been goddamn beautiful, but instead all I got to see was a goddamn beautiful sunrise over the Sea of Cortez.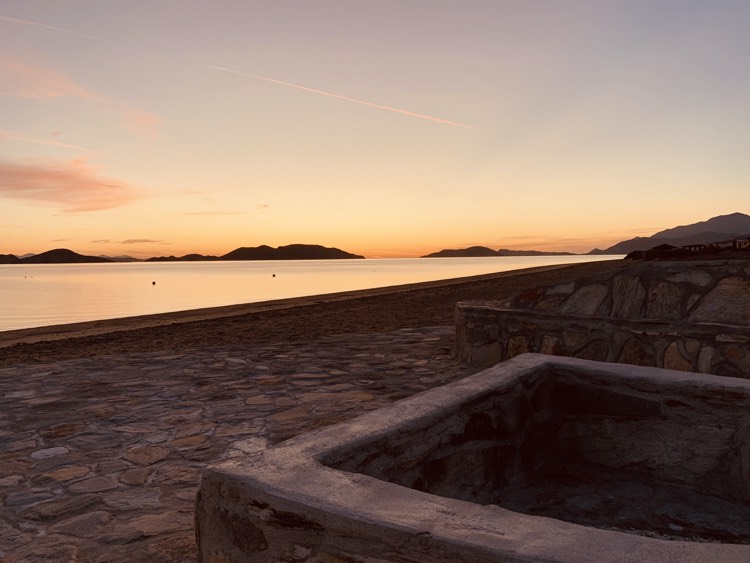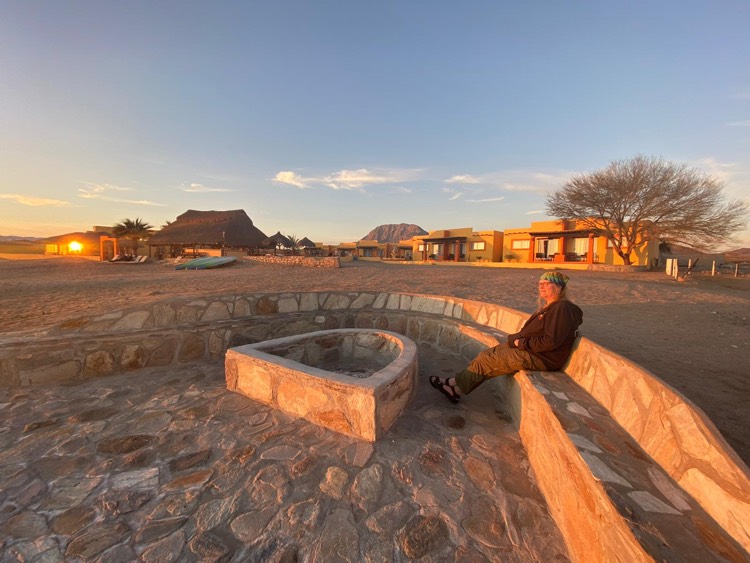 After a hearty breakfast of huevos con chorizo, I grabbed a long, soaking shower and we skedaddled back up the 40-odd miles to the junction with Federal 1, then turned left to head towards our lunch spot in Guerrero Negro [KERRI CHECK SPELLING] There was a bit of wind here as we crossed a series of canyons and scrublands, thickets of Joshua trees and cactus everywhere. Occasionally we'd pop up off the plain and sneak along a ridge line to hum across the cap-rock plateaus, then drop back down to the near-sea level plains. Soon enough we crossed a military checkpoint, where we got waved through — having the lead rider being a grinning American woman who is clearly a little touched gets us a smile of pity and a free pass into Baja California Sur.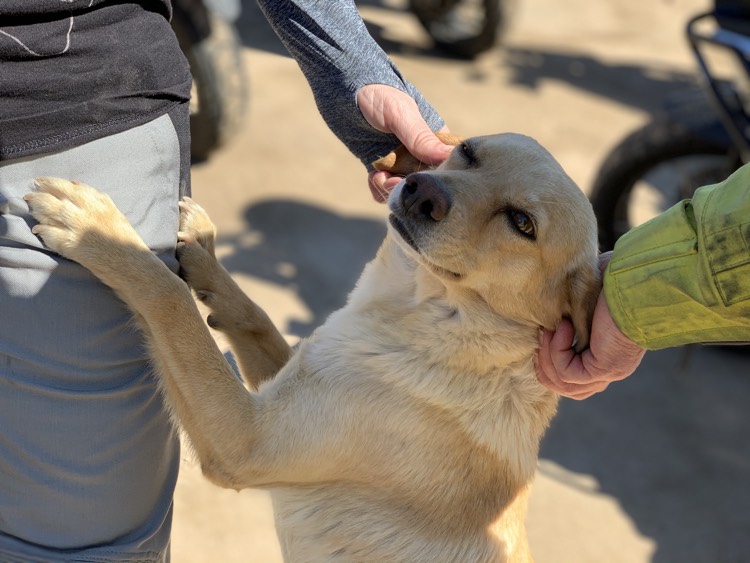 We stopped at Milano's for lunch (fish tacos, mmmm!) and then a gas stop (never pas gas in Mexico!) Since I was second in line, I knew I had a good 15 minutes, so ducked into the convenience store for more Electrolit (the Mexican version of Pedialyte) and struck up a conversation with the 5 Harley riders lounging in the sun. We'd passed them a couple times in the last few days, and it turns out they were Swiss guys on vacation, who'd rented Harleys (and presumably the entire Harley cosplay they had going on) up in San Diego and were riding to Cabo and back. Good luck to them! They did something cool I've seen other international riders do — when they stop, they pop open their rear top case and use it to hang a flag of their home country. It catches the eye in parking lots, and I bet it starts as many (or more) conversations than the stickers on my cases.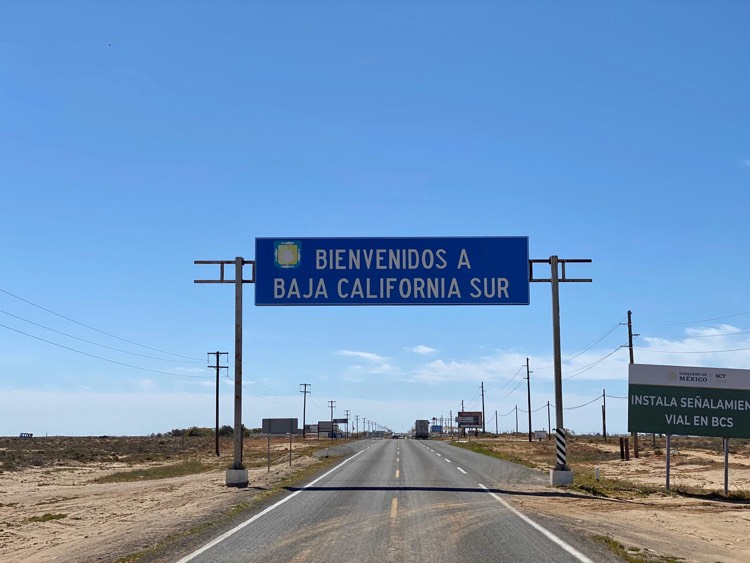 We watched them maneuver their iron hogs around the sparking lot, and we caught up with them just a few miles up the road in a surprisingly tricky 3km construction detour off the road into the sand along the slide of the highway. Luckily the highway crew saw how well we handled the shifting and sliding sand (gulp) and watered down a few sections to break up the monotony of the sand with a bit of sucking ud. We all made it through, and passed the Harleys and rapidly burned our way south. The heat began to pick up as we left [KERRI LOOK UP NAME AGAIN] - it sits on a lagoon and it's chief
The road here was long, straight, narrow, and busy. Lots of truck traffic heading in both directions.. and no shoulders. The roads don't really have breakdown lanes, and no guardrails, dropping a foot or so to the desert dirt, giving the feeling of riding on a bit of a tarmac tightrope at times, The wind died down, but the heat increased, topping out around a dry 86F. Sweat started bringing sun block into my eyes, combining with the dry air to make my eyes both dry AND lubricated at the same time, a fairly unpleasant situation. The road, of course, offers almost no options to stop, so I solider on.
I had dropped to the back of the pack at some point, and 3 of us got separated by a slow car carrier we couldn't pass for 10 minute or so. We stuck together for 35-40 minutes, when the road forked. I knew we were supposed to be following Federal 1, so when the other two pulled off 100m past the fork I assumed it was to check the map.. and besides, the chase vehicle was somewhere behind us. The rule was basically that unless there was a clear problem AND it was safe and easy, do NOT stop — it can cause more problems than it'll solve.
So I keep going, keeping a lookout for a place to pull over for a minute to see if they quickly figure out they're on the right road.. I guess I could also get this stinging sunscreen out of my eyes.. y'know, it really hurts.. like, really bad.. ow.. ow, oh hell, this stings.. fuck, this really, REALLY hurts! I CAN'T SEE OH GOD! I'm barely able to keep my eyes open from the sudden pain of a glob of sunscreen sliding into my right eye. There's literally nowhere to pull off the road, kilometer after kilometer passing. It is a sheer force of will to keep even my good eye open. I slow and throw on the flashers, praying one of the homicidal drivers doesn't choose NOW to begin messing with me. I spot a pull off and slow, but its all babyheads and railroad grade rocks.. shit! I keep going… a kilometer later I spot a wide pull off that looks like a construction staging area and get the hell off the road, coming to a stop in 4th gear in gravel, hopping off the bike, nearly tearing of the helmet, tears streaming down my face as I wipe a glob of sunscreen, sweat, and tears from my eye. What a close call!
As I'm tending to my eyeball, Jodi and Bob pulled up at last, having deduced we were on the right road, and they help with solidarity and eyedrops, and barely notice when I almost dump the bike in loose pea gravel trying to get back on the road. I'm ready to be done riding for today, for sure! Luckily we're only 7 or 8 km from San Ignacio; my eyes are still burning as we arrive just in time to join the refueling line and head to our hotel.- Rice & Beans, another Baja 1000 waypost.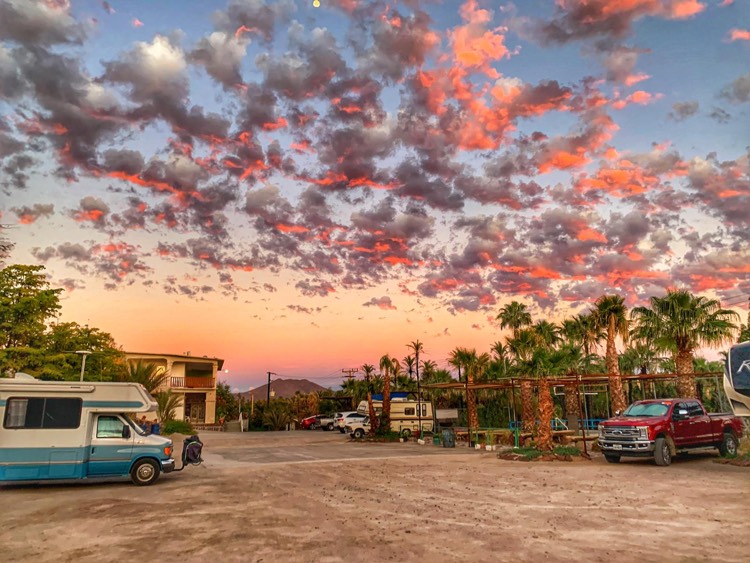 Once in my room, I flush my eyes with cold water and lie in the dark for half an hour before putting on my swimmy suit and joining folks by the pool, full of water so chilly that I'm actually cold between its chilling effects and the dry desert air. Somehow RoKo convinces a restaurant in the historic downtown to pick us up in their van, and we wander around the town square and its historic mission church before dinner - yet again, I eat far too much food, this time enchiladas followed by black cherry ice cream. We wander the square some more in the cool night air, then the restaurant drives us back to the hotel.