Today is our long day, and while I'm fairly sure I don't have coronavirus, I'm pretty sure I have an acute case of "tecatevirus".
rim shot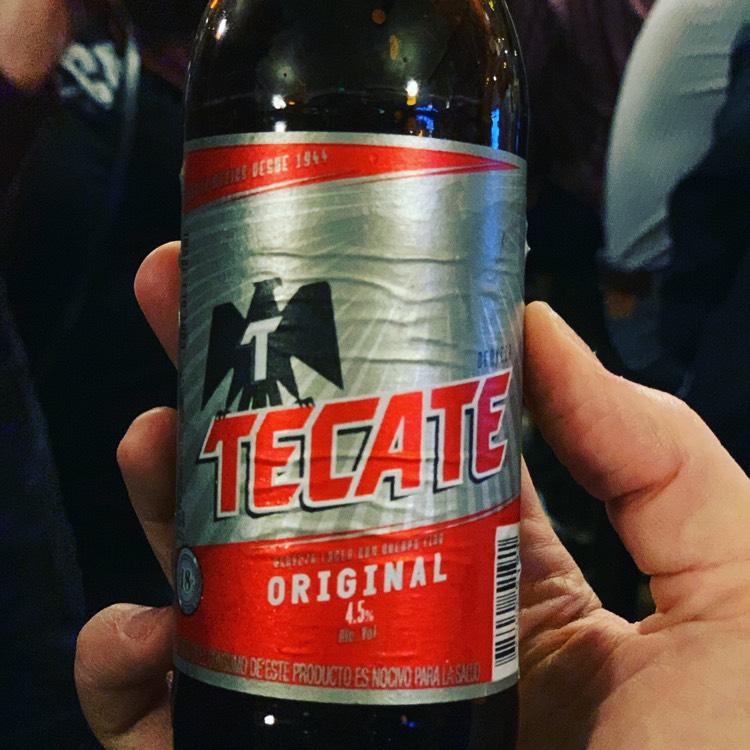 Today is our long day, 345 miles or so. "Kerri, that's like a run to the store for you" is the joke everyone keeps making, but in this heat, without my gear, in a foreign country, it's going to take some time. Add in being in a group and wanting to make sure everyone is riding within their abilities and comfort, as well as inevitable delays due to the casual approach to meal times and gas stops, and it makes sense that we're up and at the bikes by 615 for rider meeting if we want to make Bahia de Los Angeles by nightfall. RoKo breaks out the pies from Julian, and someone else in our group had the foresight to buy everyone sugary-milky coffee drinks. It's caffeine, I'm an addict, I make do.
We roll out by 645 into Ensenada rush hour traffic, and we very quickly get split up by traffic lights and the creative approach that Baja drivers take towards traffic laws. I mean, for the most part, laws are obeyed, but there's an aggressiveness to eke out small advantages that can surprise you if you're not ready for it. Lots of potholes, the occasional random dirt section, and folks that are trying to get to work in a hurry makes for a slow, taxing hour to get out of the city, but soon we break out and stop at a diner famous with Baja 1000 fans and riders for breakfast. Nothing terribly fancy, but solid, delicious, real, and I'm happy. The tortillas are fresh, and when my dining companions ignore them in favor of insisting on toast, I shrug and think "more for me!"
The entire place is festooned with artifacts from decades of off-road racing in Baja; signed posters and photos everywhere, memorabilia, plaques, motorcycle tires hang from the weathered wooden rafters. The coffee is strong and served in a motley assortment of mugs; mine was from a mid 00's biotechnology conference of all things. The bikes are parked under lemon trees just about to drop fruit; after asking the proprietor, I pocket a couple for later, their rinds releasing their fragrant oils at the slightest provocation.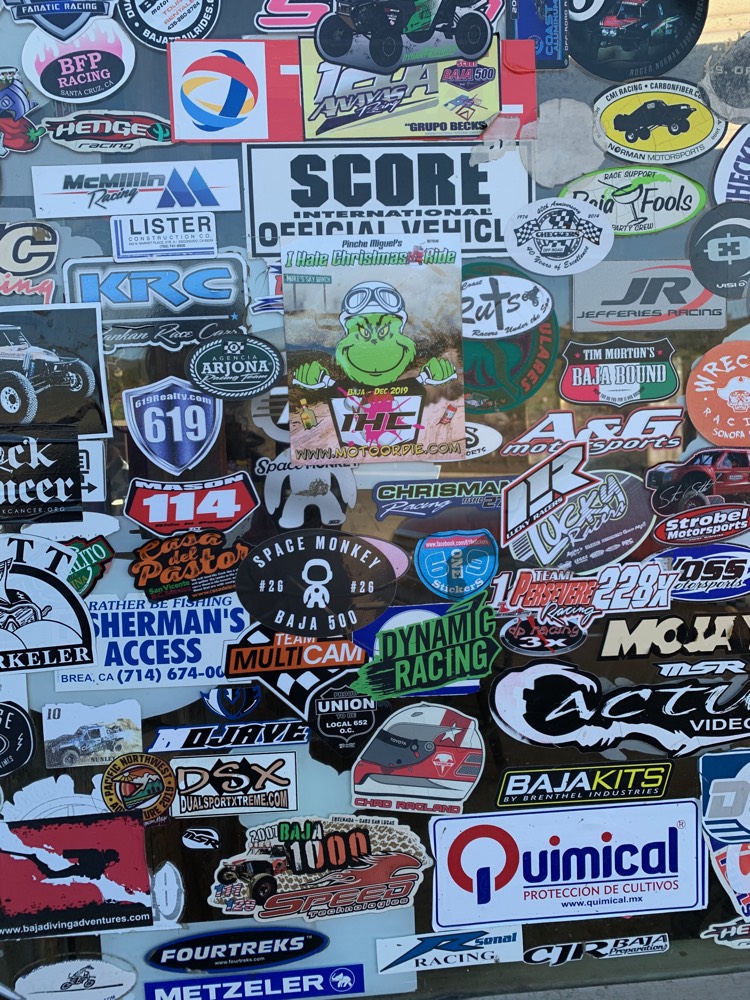 Lyle Lovett's "Road to Ensenada" shuffles on right when we leave - great timing, Spotify. We're at the southern edge of wine country here, vineyards and greenhouses growing their bounty for Trader Joe's to the north being replaced by ranches of all sizes. The small towns and countryside remind me of the small villages along US-395 on the eastern side of the Cascades and California — a few houses, a market of some kind, a roadhouse for the locals and the truckers passing through, maybe an old service station.
We dodge stray dogs and goat herds, navigate slick, rocky construction detours, and end up at Mama Espinosa's for lunch, another famous Baja 1000 spot in El Rosario. If you're not plugged into off-road racing, you may not know how big an event it is, or how much money it brings in to the local economy. Based on the places we're stopping, the stickers on the walls and the posters by the doors, you'd think that the Baja 1000 is single-handedly responsible for most of these places saying open… and maybe that's more true than not.
Mama Espenosa's is first and forgot a taco joint, and as we sit down they start bringing plats of tacos - as Ada, pollo, and fish tacos keep coming, along with chips and salsa and refills of beverages until we're stuffed (another theme of this trip seems to be the massive portion sizes..)
As we pulled out of the lot, I noticed an issue with my helmet strap (the issue being that I forgot to latch it!) so I pulled over and fiddled with it, falling behind the pack.. and then got stuck behind a couple slow vehicles the next 4-5 miles. I passed another rider from my group that was having trouble with his bike, and I slowed to see him wave me on and the chase vehicle already signaling to pull over, so soon I had no one in sight behind me or in front of me, and the afternoon turned from "long group ride" to being alone in the Baja desert.
…and what a time for this to happen. I rode through the Valle de los Cirios a national park/reserve that occupies much of the central peninsula. Mile after mile of agave, Joshua trees, yucca, screw pines, elephant cactus, and of course, cirios (boojum trees). The recent winter rains have ended, and the desert is just past full bloom, green grasses sprouting, cacti blossoms wilting, and desert wildflowers splashing purple, red, and yellow across the weathered rocks, bulbous grey boulders pilled like heaps of crumbs from the table of some giant. I stopped several times to take it all in, to smell the desert and be as present in this moment as I can be — I'm in Mexico! In Baja! In the desert!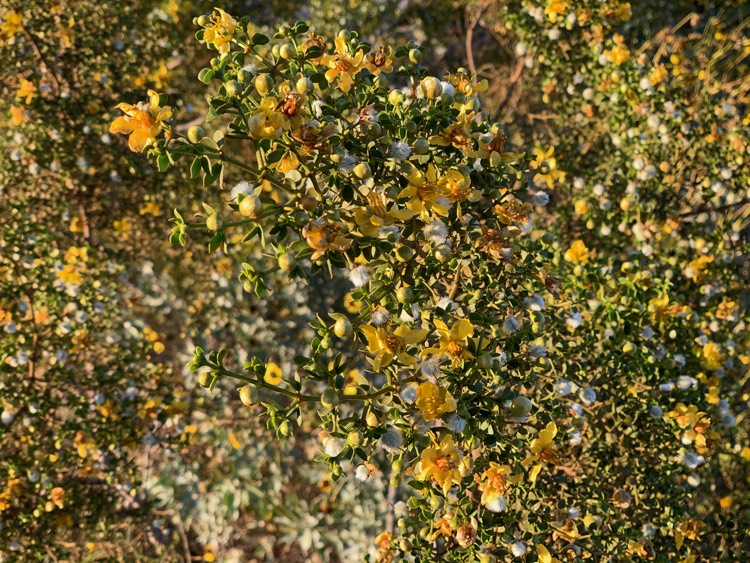 Eventually - 50 or 60 miles on — the chase vehicle and our other stray rider caught up to me, and together we made the next rendezvous and we continued down Federal 1 until the turn for Bahia de Los Angeles, a spur road that cuts 40-odd miles east to the sleepy beach town on the Sea of Cortez. We spread our and opened up, some of us testing the upper limits of our machines on this straight, flat, well-maintained and poorly patrolled road. We passed through more massive forests of elephant cactus, their massive trunks and limbs stretching towards the mountains in the distance, succulent soldiers standing at attention.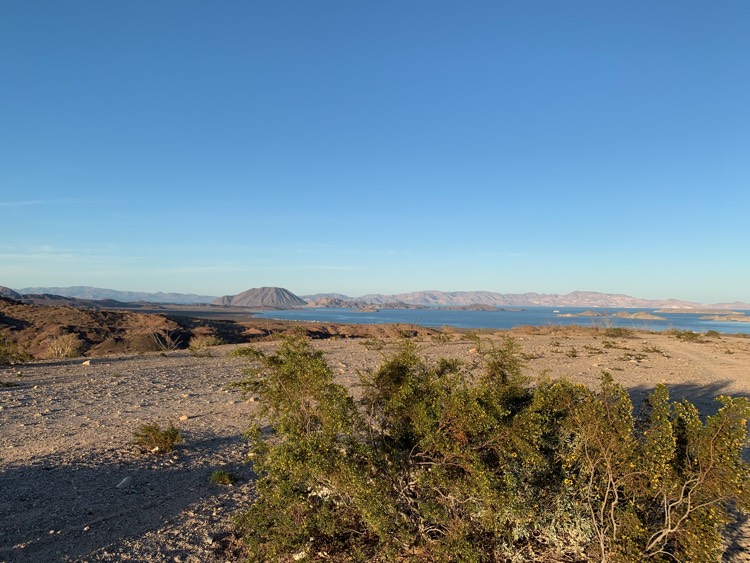 Dropping down sea level, we gassed up and went to our hotel, past beach, fishing, surfing, and diving resorts and tour operators, Despite the myriad options of entertainment, everything seemed quiet and empty, large empty spaces stretching around this warm, salty bay. Our accommodations this evening are wonderful, and we drink beer as the sun sets over the sea, stuff ourselves with still more tacos, and stumble off to bed by 10pm.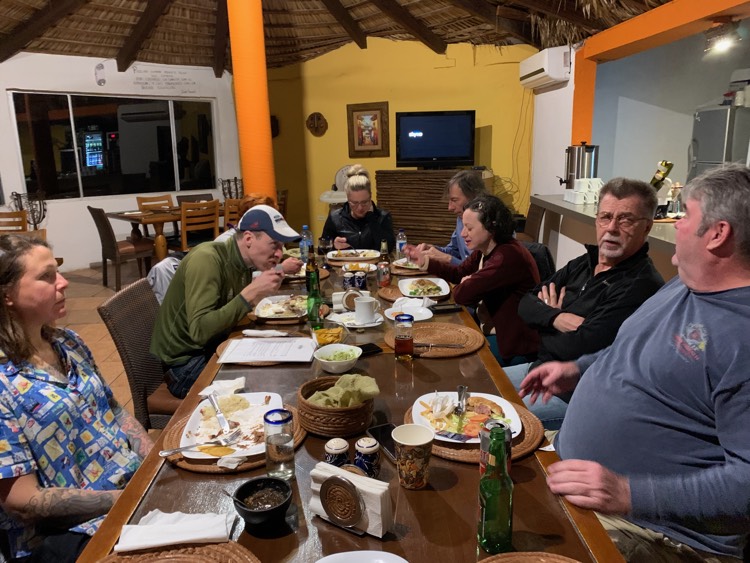 Tomorrow we're riding for San Ingnacio. We'll be crossing into Baja California Sur, and it should be a short (but hot!) day.