Getting home was a whirlwind.
Saturday
Waking up at 7am, a solid 6 hours of snooze in the bank, I packed up the last bits and bobs, then went back to the New Age cafe for a lazy breakfast with Robyn, Johanna, Jared, and Karen. I'd gotten some news from home that meant I might have had to head back east, and I considered going with these fine folks back to Anchorage and staying there, but it was easier just to burn for Seattle. Despite wanting to make miles over the next couple days, I was strongly uninterested in hitting the road, and I lingered until almost 10am over coffee and sunshine.
Finally I had to just get going, so gassing up and getting out of town happened, the road plowing through the wide swath of dredge tailings, tall, snaking mounds 10-15 feet high of river cobble, washed clean of dirt, dust, and gold by miners of old. After a few miles, the last of the gold fields past us, YT-2 got very quiet, very rural, and very empty. The occasional pickup truck or RV heading north, a hunting or fishing lodge every so often, but little else to break up the wilderness.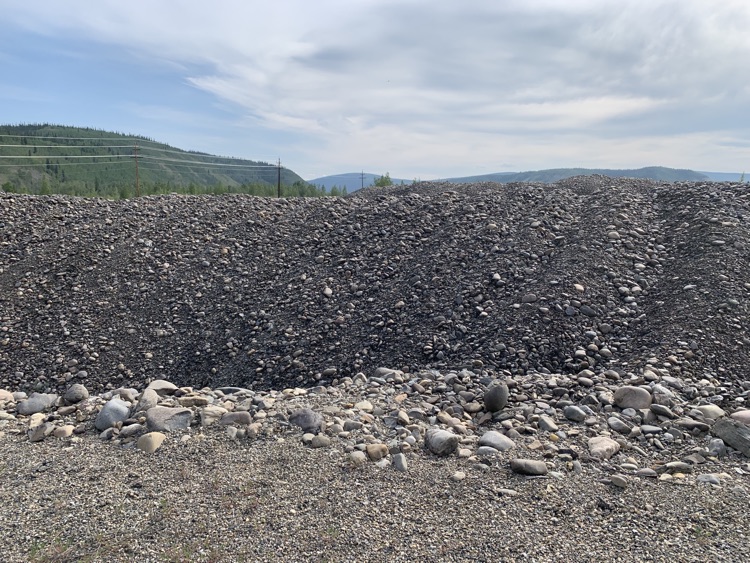 I stopped for gas and a banana at Stewart Crossing, nodding hello the the pack of ADV bikes heading north. Their small visitors center was closed, so I pushed on. My next big stop felt like Carmacks, YT, another town famous in the history of Yukon gold mining, but I elected to pass it by rather than stop for gas, as I had enough to make it to Whitehorse, where I knew I'd be stopping for a meal.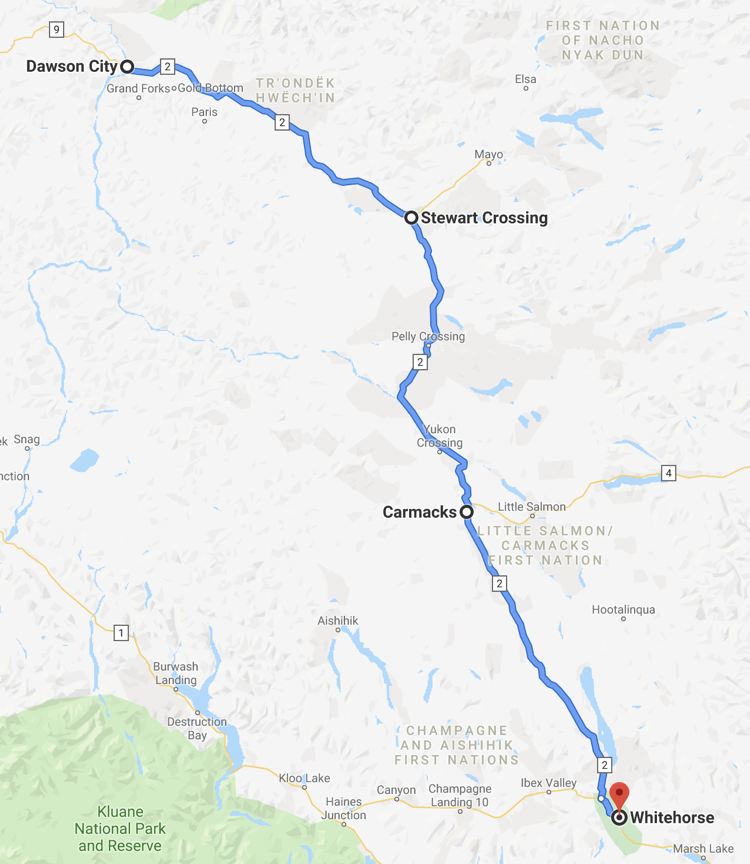 As I passed through Carmacks, the grey skies finally started to rain, so I pulled over to don my rain gear. An older Tiger passed me, and he and I would play tag for the next hour or so, as more camps and and hunting cabins appeared, along with many, many signs warning of elk and moose.
It wasn't elk or moose I had to worry about, though! At one point a pickup truck and trailer loaded with large, translucent round water tanks was approach in the oncoming lane, and something was funny about it, like.. the trailer was maybe extra long, maybe? Nope, it was a large water tank the size of a small hatchback which had fallen off the trailer, rolling along behind the truck at 70. I cut hard to the far edge of my lane as the tank rolled and tumbled, just starting to slow and to drift into my lane, but not before I was already past. Almost immediately the road went over a small rise and around a turn, so I never did see the resolution to that potential disaster…
The other Tiger and I played tag some more, trading lead back and forth. We caught up to a woman riding a shiny BMW GS310, which I remembered seeing in Dawson City. I gave her a wave but she seemed like she was white-knuckling the ride, so I gave her plenty of space.
I was getting low on gas and had to pee, and a hunting lodge promising gas and a restaurant appeared, so I pulled off, but their pumps weren't working and the restaurant looked packed, but I had enough fuel to get to Whitehorse, so I pulled my gloves back on just as the other Tiger, who had been ahead of me, pulled in, apparently flipping a u-turn themselves. I gave a thumbs up "I'm ok" sign and pulled out, stopping at a rest area about 5 minutes later. After quickly peeing, I came out of the pit toilet to see the Tiger pull in; the rider was worries I was having some kind of mechanical issue and wanted to make sure I was ok… we chatted for a bit, both glad for the break I suspect, and then I waved goodbye — I wasn't the only one who had to pee!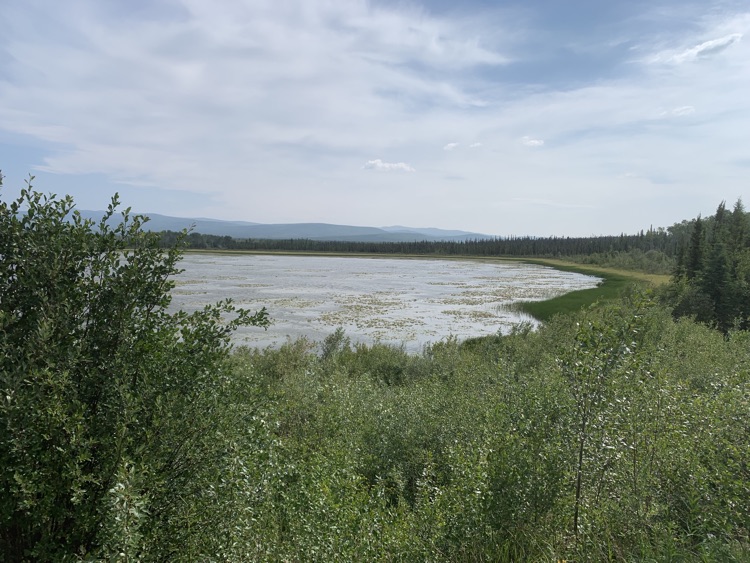 I made it to Whitehorse on fumes around 4pm, and gassed up outside of town, stripping off the rain gear that I no longer needed, then stopped at one of the grocery stores for a hot tea and a sandwich, sitting at the in-store Starbucks bar. Plenty of daylight still, so I decided to push ahead to Watson Lake; a long day, but doable.

Back on the Alcan, the rain was threatening to return, and as soon as I got to Jakes Corner it really started dumping, the temperature dropping noticeably as well, so I stopped and put on the rain gear and the heated jacket , as well as the Aerostich lobster gauntlets; better to stay dry to begin with than try to warm up once your soaked.
Rain let up shortly, so I stripped off the pants in Johnsons Crossing.. of course, it then dumped on me on the final approach to Teslin, and the parking lot of my now-usual gas station was a mess of muddy gravel, but I got gas and went in to pay, dripping wet, fingers dyed black from the wet leather of my gloves. I pulled out a $20CAD to pay for the gas, and water dripped off the plastic Canadian bill onto the counter. The cashier let out a "oh you poor thing!" when she saw this, and I can only imagine what a drowned, dirty rat appearance I must have had. The rain had stopped again, but I left the gear on, changed my socks, and got back on the road.
The section between Teslin and Watson Lake had lots of sketchy construction on the way north, but either they had advanced it sufficiently in the last week, or I was just feeling more confident after all the dirt riding in Dawson City, but I barely noticed, maintaining a good speed all the way to Watson Lake. I pulled in to Nugget City around 10pm, and while I'd considered camping, the intermittent rain convinced me to grab one of their sleeping rooms, out back past all the other outbuildings and sheds, a tiny room in an ATCO trailer, the modular shipping container-esque lodging used in work camps here in the north country. Several other bikes, all shiny and new with the latest Touratech gear parked in front of the other rooms… I assume they're heading north. I bedded down in the simple but mostly-clean room, not much bigger than my room at home, and slept well.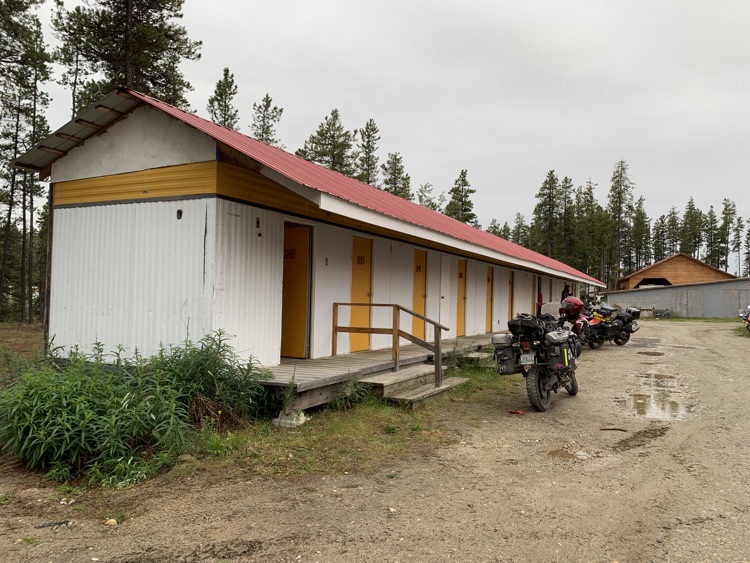 Sunday
Next day up early, before housekeeping and the cooks certainly, who lived in the ATCO next to mine. I gassed up and got going early, stopping at the "Welcome to The Yukon" sign for pics and a breakfast snack, a banana and a samosa I had picked up in Whitehorse. Beautiful weather today, perfect for making miles; my goal was to make Smithers, BC, a town with plenty of lodging options.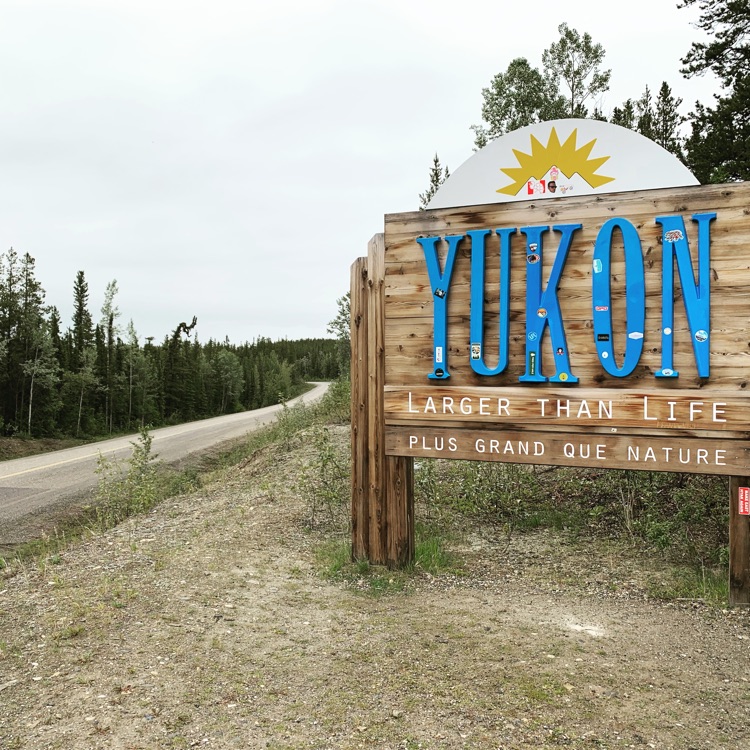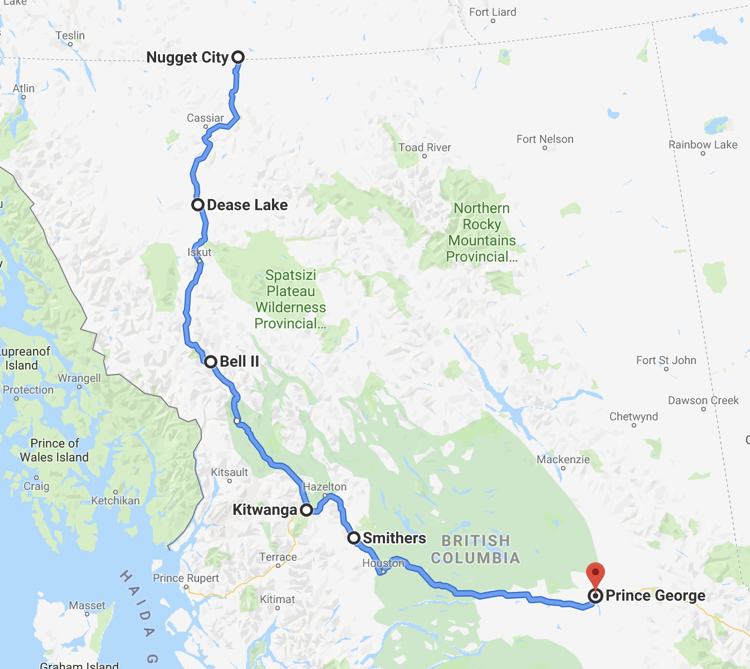 I hauled ass down the Cassiar today; my third run on it, I had good conditions and I had a feel for the road, so I maintained a really steady 60mph the entire morning. Stopped at Dease Lake around 9:30 for gas, which was the usual shit-show; they don't have pay-at-the-pump, and are SUPER busy as the one of the only gas stops on the north half of the Cassiar, and it seems to perplex most of the tourists. I chatted briefly with a couple guys on Super Teneres, who were really upset that their tires were wearing out so quickly. "They're supposed to get 7,000 miles!" they fumed, while they asked me to evaluate their tread; I had this same conversation on the Cassiar last year, it seems! I didn't know what to tell them — every bike is different, and tire life depends on the rider, the load of the bike, road and weather conditions.. its a crap shoot. 🤷‍♀️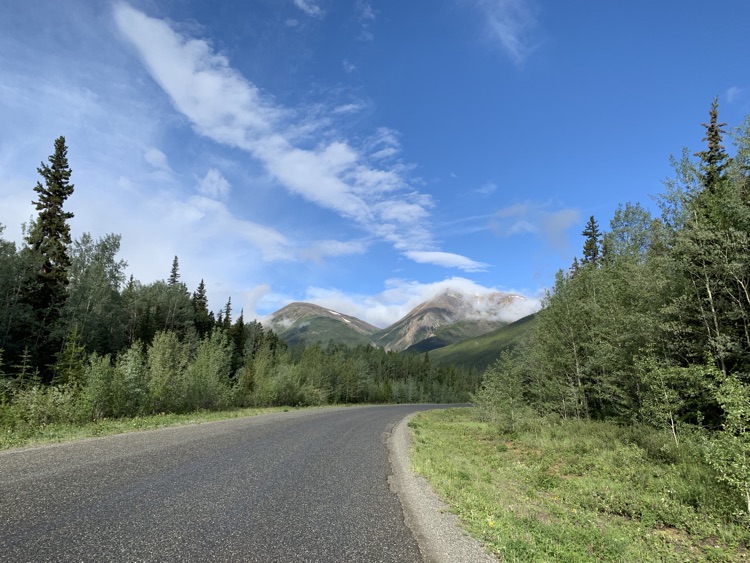 I got a coffee and a banana and checked on road conditions while sipping slowly in the parking lot, then got back moving again, setting a steady pace to Bell II Lodge, where I stopped for gas and lunch. They're staffed by an eclectic array of European 20-somethings, and I chatted with a Croat and an Italian guy while eating a salad and sandwich from the grill. The weather was perfect, but bugs were also out, so after 45 minutes I sighed and got back on the bike.
Spotted 13 black bear on the ride today, and a couple moose in the morning; otherwise the Cassiar was quiet and mostly deserted. I got into Kitwanga around 3pm, which is another disaster of a gas station; it's one of the only options, so its super crowded, but its also a tourist crossroad and no one understands the pay-at-the-pump system or basic politeness like "pull your vehicle to the parking lot when you're done pumping gas"
Got into Smithers around 4:15pm, and stopped at a Tim Horton's for a coffee and donut break. Still plenty of daylight left, and my energy was good before the snack, so I booked a cheap motel in Prince George and got back on my way, back in the rural farms and hobby ranches of central BC.
I hit big road construction an hour outside Prince George, which held me up until after 9pm, when something weird happened — the sun set! I'd come far enough south in 36 hours, almost 1400 miles, to have left the Midnight Sun behind. I checked in to my cheap motel and fell asleep almost immediately.
Monday
I got a 50% off coupon for the Greek diner next door, so after loading up the bike I headed over for a "quick breakfast" but anytime you sit down, it's going to take at least 45 minutes to eat. This was no exception, but the food was good and would fuel me all day.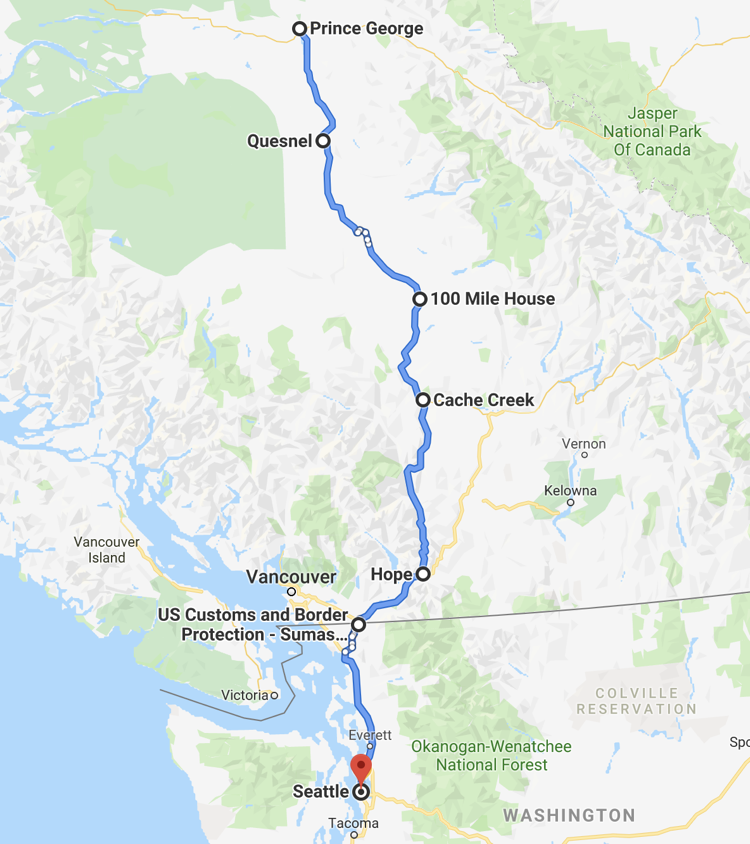 Officially got under way around 9am, the sun strong and warm, but not so hot to make things unpleasant. South on BC-97, farmland and small resort towns - a gas station, a cafe, a small grocery, and 2 or 3 artist shops, supplying clusters of cabins and campgrounds and cottages.. I want a lakeside cottage in British Columbia!
Heavy black rain clouds to the East as I raced south, hoping I wouldn't need to suit up again, but I managed to outrun them. Stopped in Quesnel and bought more water and bananas, a potent combination for staying hydrated and fed. Quesnel is a cute little town, just about the Right Size town, like the one I grew up in, so I again felt that sense of comfort just walking around for 30 or 40 minutes. I wandered around until I found the Canadian Post counter and mailed out postcards I'd been holding for a week.. I really like sending post cards out to friends and supporters, and had meant to send them from Chicken, AK or Dawson City, YT, but logistics happened… still, better late than never?
Today was always going to be the "slow" day, given that I only have 550 miles to go to get home. South of Quesnel, things get a bit less populated or touristy, feeling almost remote until Williams Lake, where I stopped for gas, then on to 100 Mile House around 1pm or so, a perfect spot for lunch and wifi at Tim Hortons. The place was busy busy, so I didn't sit for too long. Getting back on the bike, I noticed that the black rain clouds had returned, and that I wasn't likely to outrun them this time, so I suited up - thank goodness! The heavens opened up and I rode through a proper rainstorm to Cache Creek, where the forested high country gives way to the scrubby sage land and BC-97 to CA-1. The landscape is dry, rocky Okanogan country, cheat grass and hardy cattle, tumbled-down shacks of greying, bleached timber, and the occasional vineyard. The sun comes out, and starts taking its job seriously, baking me and the countryside, cooking moisture out of us both.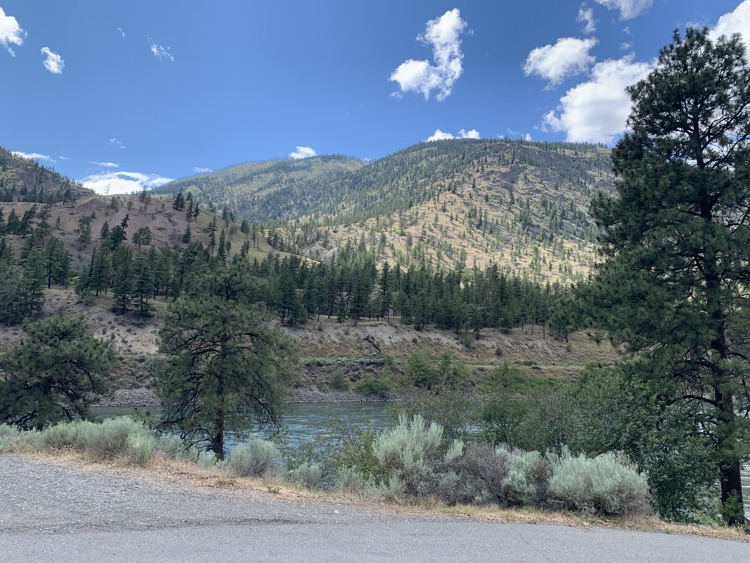 Crossing the Thompson River, the road rises into twists, turns, and tunnels; I know we rode this on the way north, but I barely recognize it. Wind in the valley pushes and shoves, the heat zaps me, and I have to stop at a pull off after a couple hours to just sit and guzzle water, weak and dehydrated. This is the hardest challenge for me, staying hydrated and fueled. Nothing scarier than realizing you're day dreaming and cloudy-headed while zipping around tight corners in a tunnel in the wind-wash of a racing truck.. just frightening to not be sharp in those moments..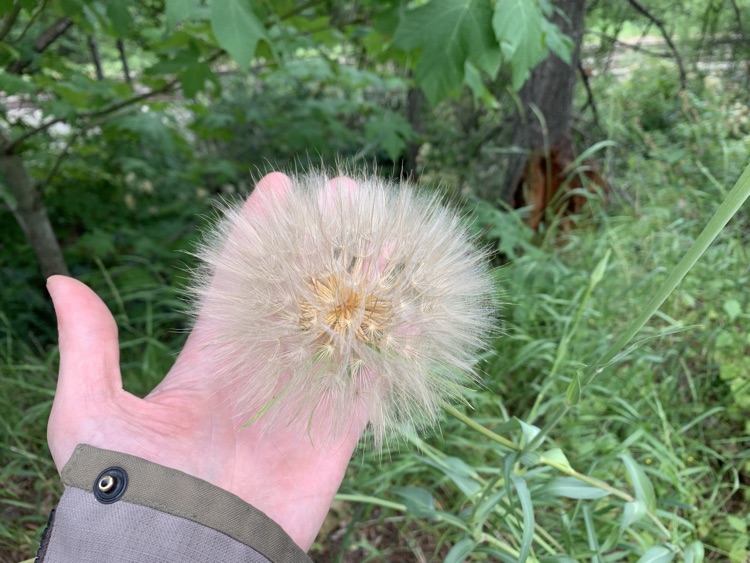 Refreshed, I made it to Hope, BC around 4pm and looked for a place to eat that wasn't fast-food, but was faint and hungry and everything sounded like WORK, which is a good sign that I need calories ASAP, so McDonalds it was. Sat for half an hour and wolfed down a couple breakfast sandwiches and a coffee until I felt up for more.
Hope is the extreme eastern edge of the well-travelled Frasier Valley, so traffic immediately picked up, and soon it was just metro traffic on the outskirts of Vancouver. I turned south again at Abbotsford and crossed back into the US at Sumas, where I had the usual shitty interaction with US CBP agents; I've seldom had a good interaction trying to get back into the states. From Sumas, its a short 2 hours back to home, and I was unpacked and had my boots off by 9pm.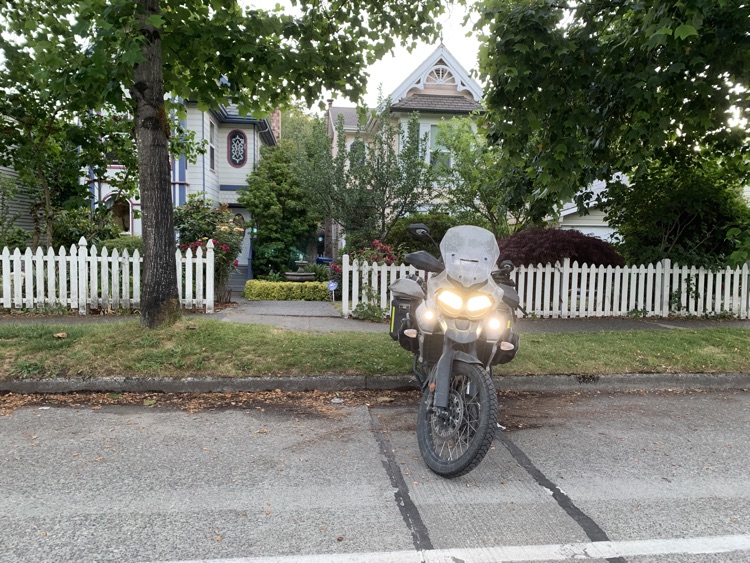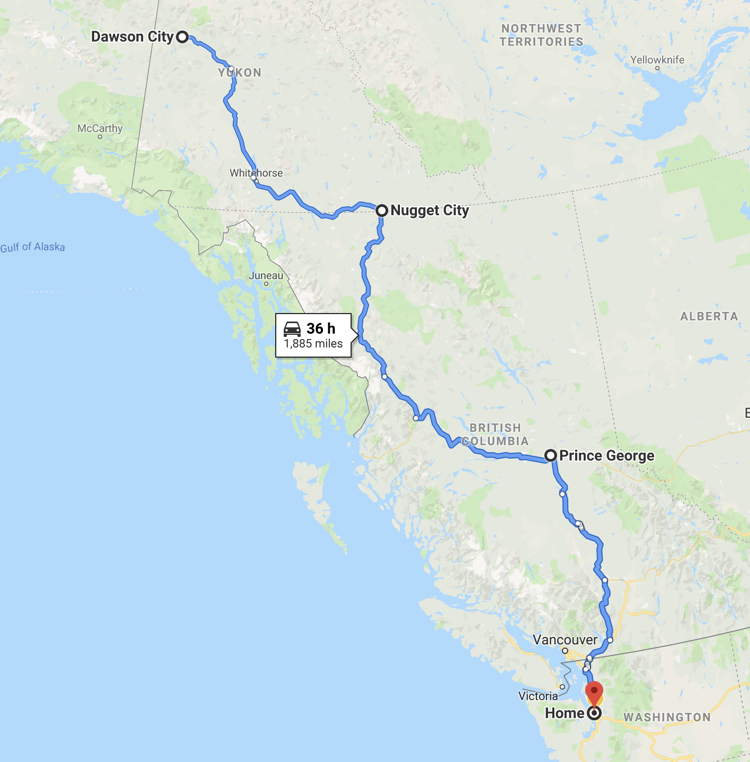 Aftermath
This was a great trip to Alaska and the Yukon, and felt not only routine and easy, but almost boring! I had a great time with my traveling companions, the weather cooperated, and could see myself making this ride every year… The bike performed flawlessly, and I'm super pleased with the Tiger as a do-anything touring ADV platform. My only real complaint was with the Givi hard panniers; they rattled themselves loose on the unpaved dirt I was riding, and I'm going to be replacing them shortly…