Up early and puttered, then headed to what I can only describe as a slice of Vermont — a trendy, cozy, "New Age" cafe with a heavy emphasis on community, local organic ingredients, seasonal cuisine, and a love and dedication towards the art of running a cafe. That sounds strange, but it reminded me of every cooperative or worker owned business, with its modern-rustic decoration, art from around the world, blended together with a whimsical seamlessness that truly said "everyone in our community is welcome here." Located in a renovated 2-story home with the upstairs as a rental suite for visitors, it took over 100 different craftspeople, artisans, and volunteers over 4 years to build it out, and the quality of the craft was exceptional and amazing. I ordered the yogurt and granola (all made in-house or in the Yukon!) and a "Busy Bee Latte" which was golden milk (turmeric-infused almond milk) and honey, topped with a dusting of cinnamon and turmeric. The food itself was beautiful, and the fresh Yukon air at 8am, as we sat on the front porch surveying the dirt thoroughfares of downtown Dawson City… truly a memorable moment.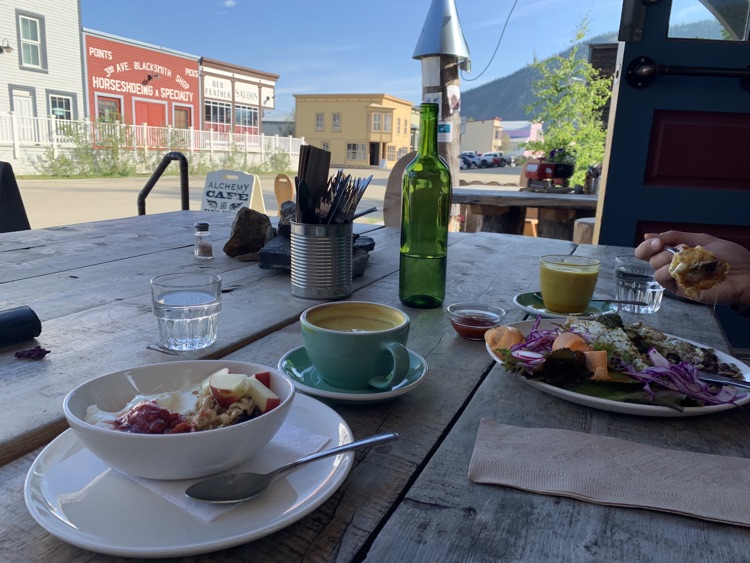 Around 10am we stirred to go register for the Poker Run. If you're unfamiliar with them, the idea is that there's a route you ride, making periodic stops at different crossroads, landmarks, or scenic places, and an organizer or volunteer will have you draw from a deck of cards, and so as you navigate stop after stop, you end up with enough cards to make a poker hand. The best 3 or 4 hands at the end of the day get different prizes, and the registration fees are pooled and given to a charity of some sort. This year's charity was the local women's shelter, so it was easy to cough up the $10 or $20 for essentially a raffle ticket, as well as a map to a scenic route through the mining fields and hills around Dawson City.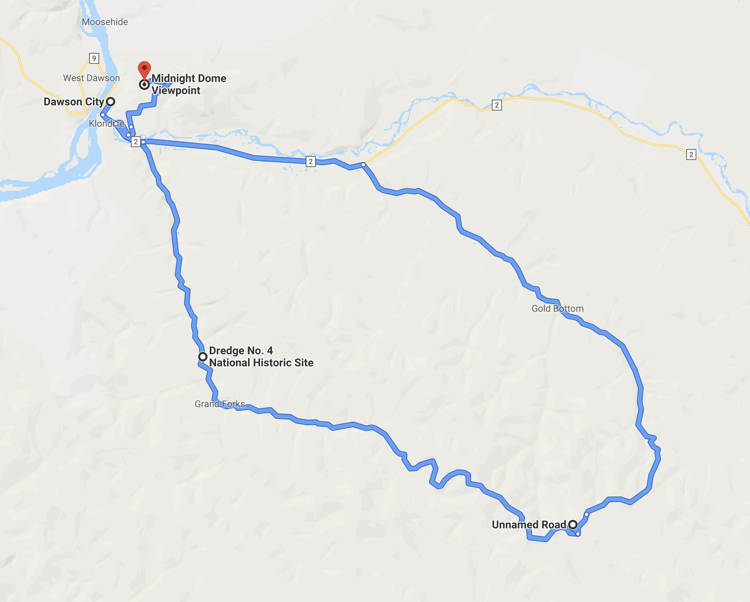 Heading out of Dawson City, we cross over the Klondike River on a narrow iron bridge, wild rose and fireweed blossoming everywhere. The day was starting to warm considerably as the sun had plenty of time to soak us all with its rays. The only thing not soaked was the earth itself, and as we turned off the main road towards our first stop, clouds of yellow dust billow up behind each of our machines as we thread through old dredge piles. Active gold claims and tourist traps punctuate the willow-choked refine cut by Bonanza Creek, the site of the initial gold discoveries in the area. Our first stop is the Dredge No. 4 Nat'l Historic Site, a massive dredge that is now a museum for teaching the history of gold mining in the area.
With 250-300 attendees, and most of them on the poker run, the gravel parking lot must of had 60 or 70 bikes already, and was a bit of a cluster, but we drew our cards and headed out rather than explore the museum. The road got rougher and rougher, chewed up by big pickup trucks, heavy construction equipment like dozers, backhoes, and rock trucks, as well as a steady stream of tourist RVs making their way to the tourist-focused gold panning operations. We took the left-hand fork in the road at Grand Forks, a ghost town that once rivaled Dawson City for preeminence, and the road immediately improved, as the number of active claims dropped as we climbed up away from the creek bed towards the ridge lines above the valley.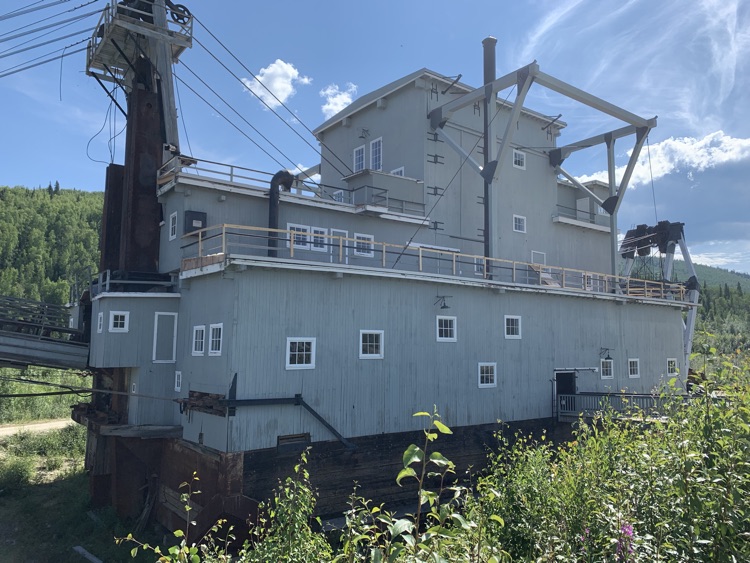 Our next stop was the base of a radio tower, reached by taking an unmaintained spur road a kilometer or so up to the top of a knob. Giving plenty of space to the bike in front of you, and keeping out a sharp eye for maniacs coming down the rutted, washed out road, I just kept telling myself that not only was the bike capable and that I had the skills for this short little challenge, but not one of the previous 50 riders appears to have crashed, and the road can't be THAT bad, since someone has to haul the diesel up to the generators that run the cell tower… The views from the top were worth it, but again we didn't tarry long, as more and more bikes tried to crowd into the tiny area on top of the knob. We left 20 or so bikes on top, feeling crowded, and met another 15 or so on the way down — surely it was a good idea to leave!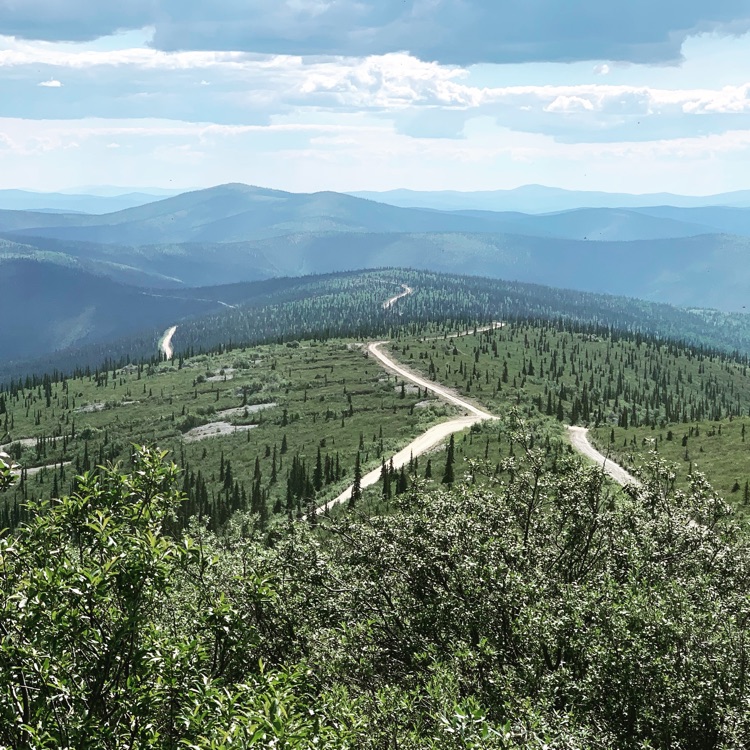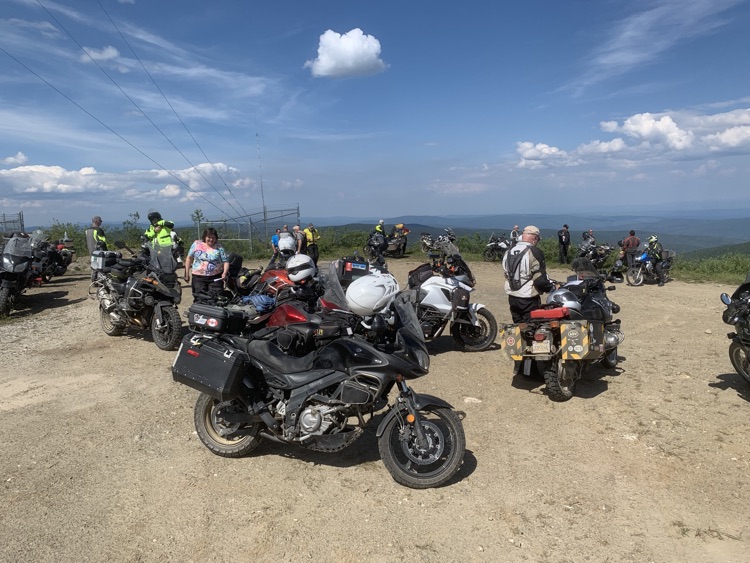 The road descended back towards town, 20 miles or so, a fast section with deceptively soft patches that gave me a few pucker moments; there were a few sections being actively graded this morning, and we sloshed and wallowed our way through the unsettled sand and gravel. Eventually we got back to pavement, and hit our next 2 stops, one by the Welcome To Dawson City sign, and the other atop Midnight Dome, the prominence overlooking the town itself.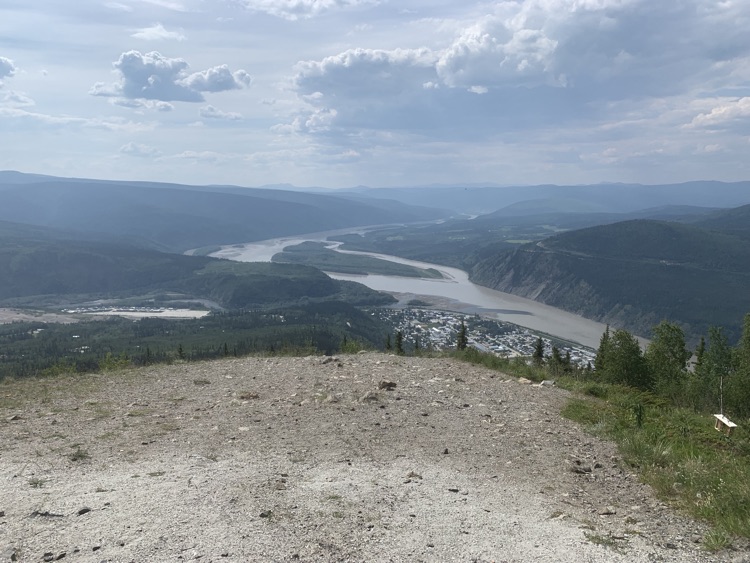 The last stop was in town itself, a tiny obstacle course challenge. I failed miserably, but it was fun watching other people do ridiculous things on both on light enduros and dual sports, as well as the larger ADV touring bikes like mine.
The rest of the day was uneventful, ice cream, naps, lots of water… and a long chat with Richard Machida about his gorgeous Ural sidecar setup. If they weren't so damn expensive, I'd consider picking one up…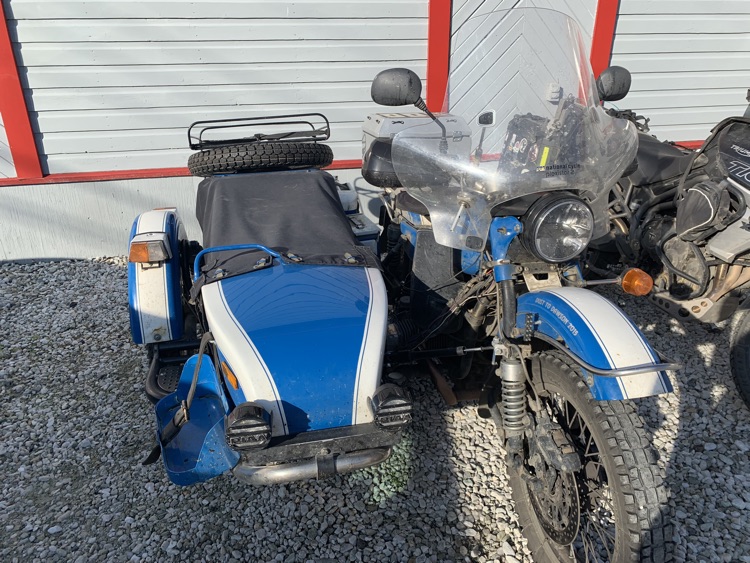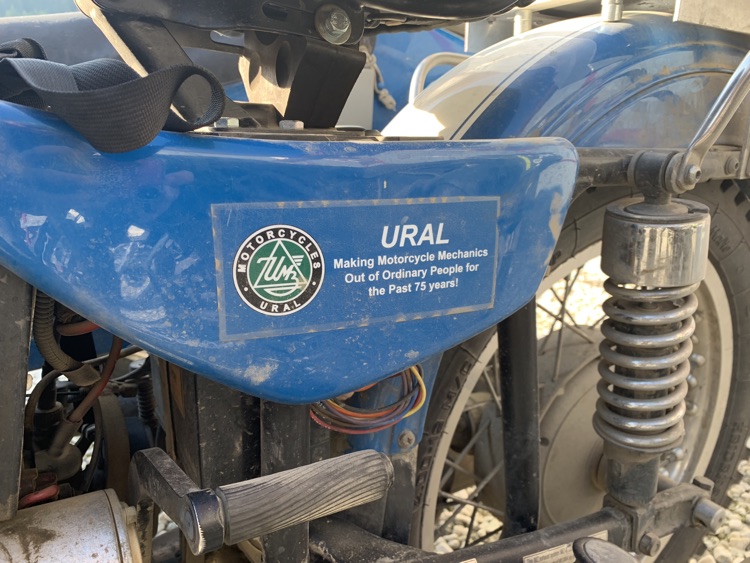 Dinner was a steak buffet put on by the local fire department, long tables set up in the ice-free hockey arena. The organizers had long spiels promoting the different charities, remembrances of fallen riders, prizes for the poker run, a silent auction, door prizes… my goodness, the announcements went on for almost 90 minutes while we were all eating and jawing with ourselves, but I'm happy to say that we collectively raised several thousand dollars (around 10k if I recall correctly) for the various causes!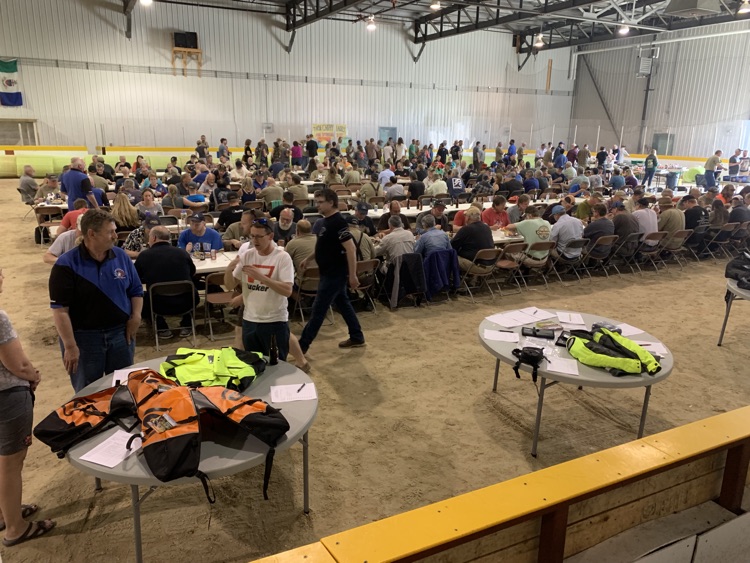 After dinner we wandered a bit, getting ice cream and checking out the river front, rather than play any of the "motorcycle games". Again, amazed at how many people are out and about so late in the evening, how many shops and cafes are open, but it makes sense with the sun being up so late.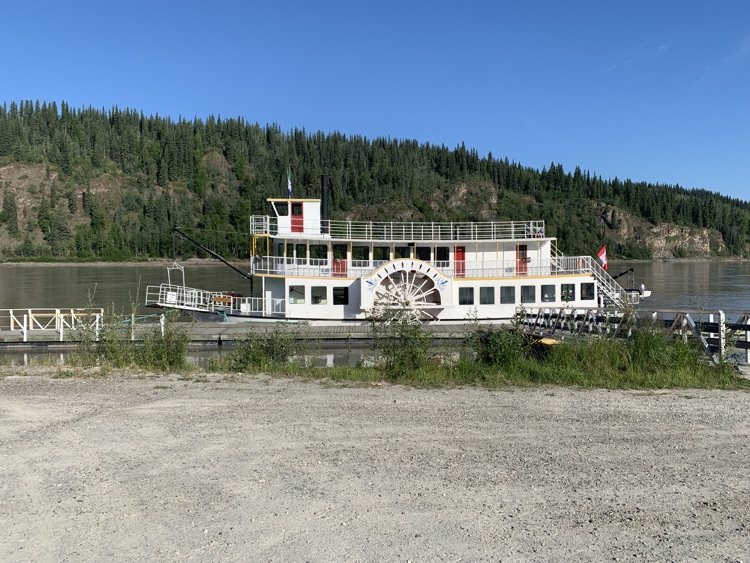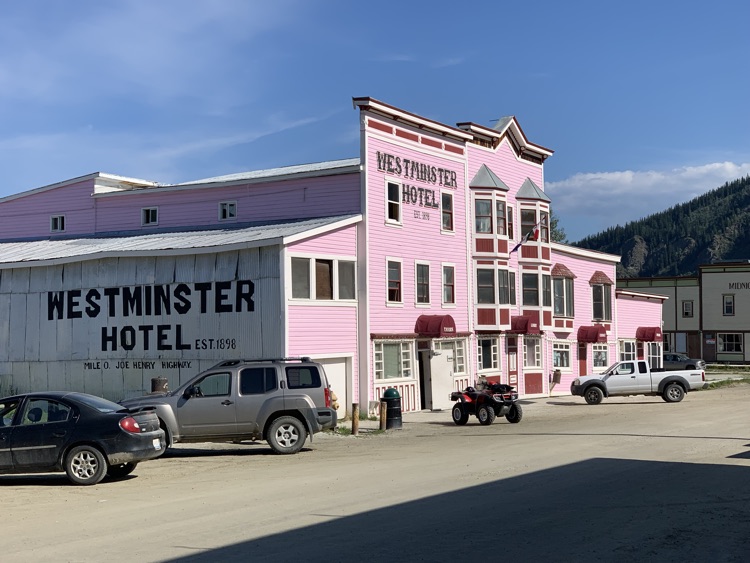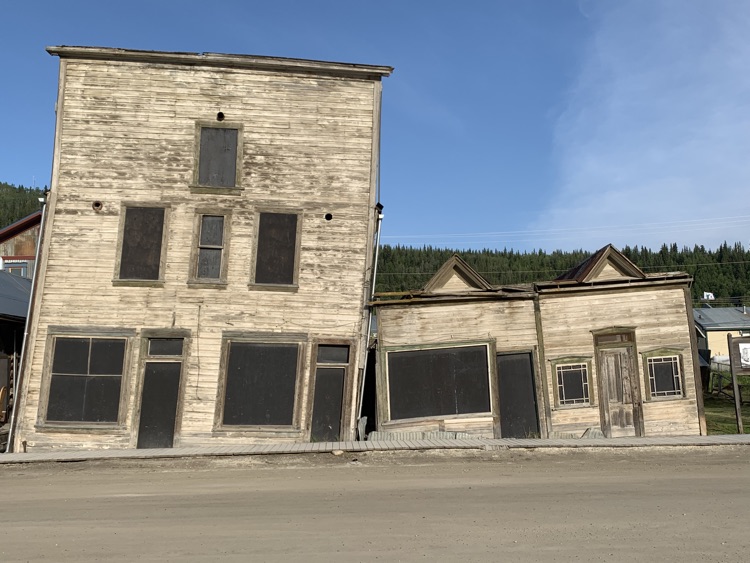 Wandering by the Downtown Hotel, I realized I hadn't yet had my Sourtoe Cocktail, which is one of the grossest things imaginable. Its a shot of whisky with… well.. an actual mummified human toe dropped in it. Ewww! Still, 5 minutes of gross, a lifetime of stories, eh?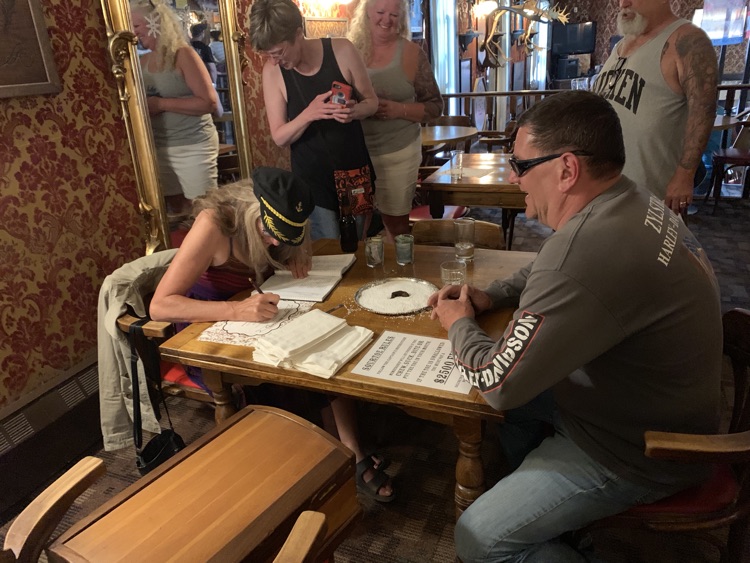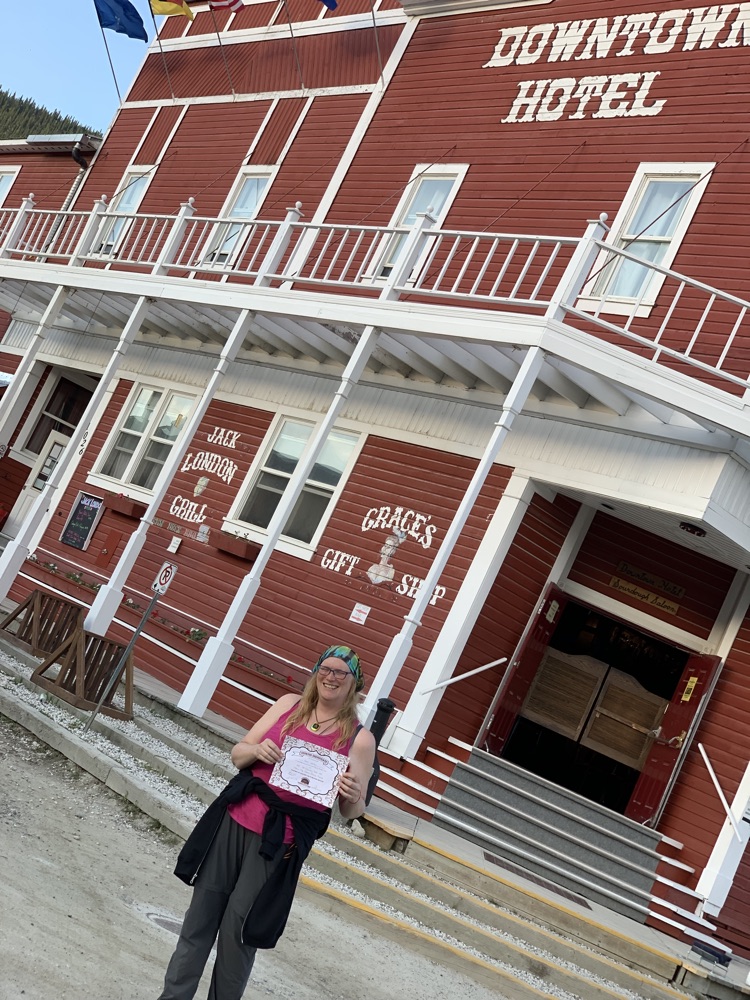 Exhaustion and sobriety connected with mummified toe anxiety to have the single shot of Yukon Jack knock me on my ass, so Johanna and Jared had to move my bike into the parking lot for the event photo; there was no way Tipsy McGee was going to maneuver her 600 pound bike into a tight space amidst 300 other drunk bikers, but Johanna got us PRIME spots at the front of the picture!
The photo taken, the clock was reading past midnight with the sun still high in the sky. Volunteers passed out the 2019 event sticker, which I need to find a place for still.
I'm leaving first thing in the morning, so I got as much stuff packed as I could and hit the hay. Whitehorse is my minimum tomorrow (~330 miles or so) and I have some ideas for "stretch goals" so I gotta go go go!