Spent a few days in Whitehorse, getting some work done for the day job, and waiting for Johanna and Jared to catch up.. I also used the time to get some 'sploring done!
Note: I didn't have time or access to Internet, so some of the next few entries are reconstructed a bit from a few notes I took and whatever I can remember.
The first day, I backtracked to Jakes Corner and took YT-8 down through Tagish, YT, to the Carcross Desert, then back north on YT-2 to Whitehorse. A short, 2.5 hour loop, it killed some time while I was waiting for my AirBnB to be open.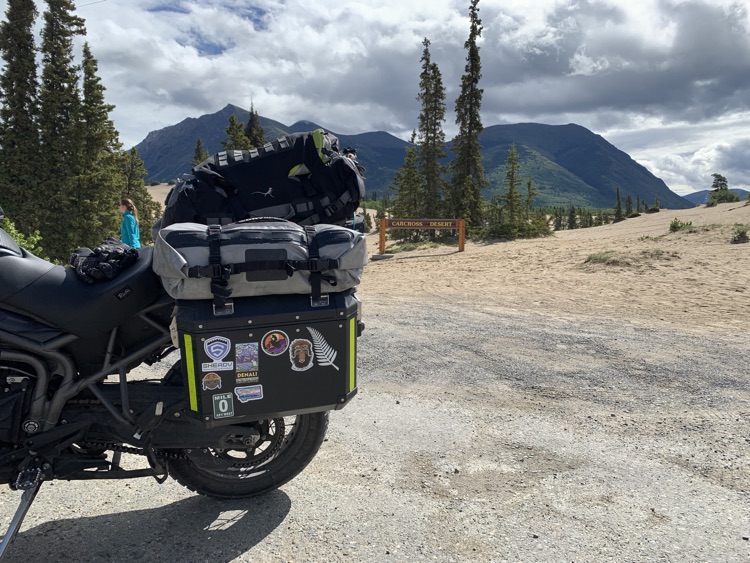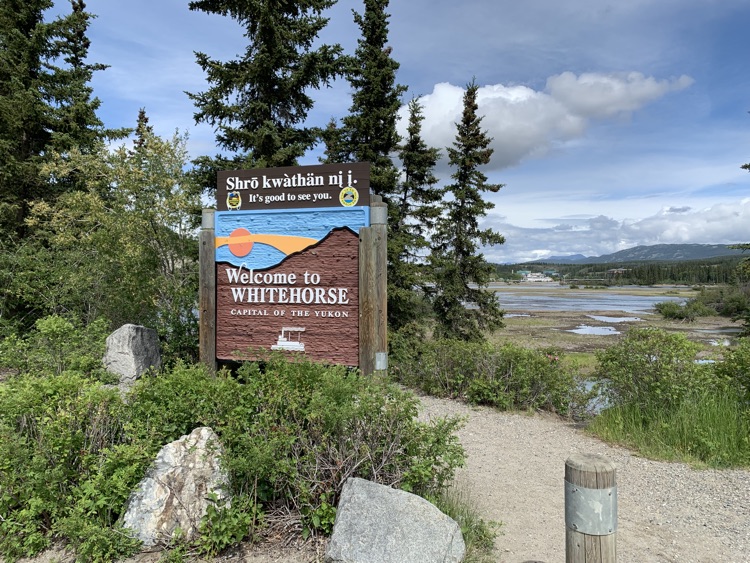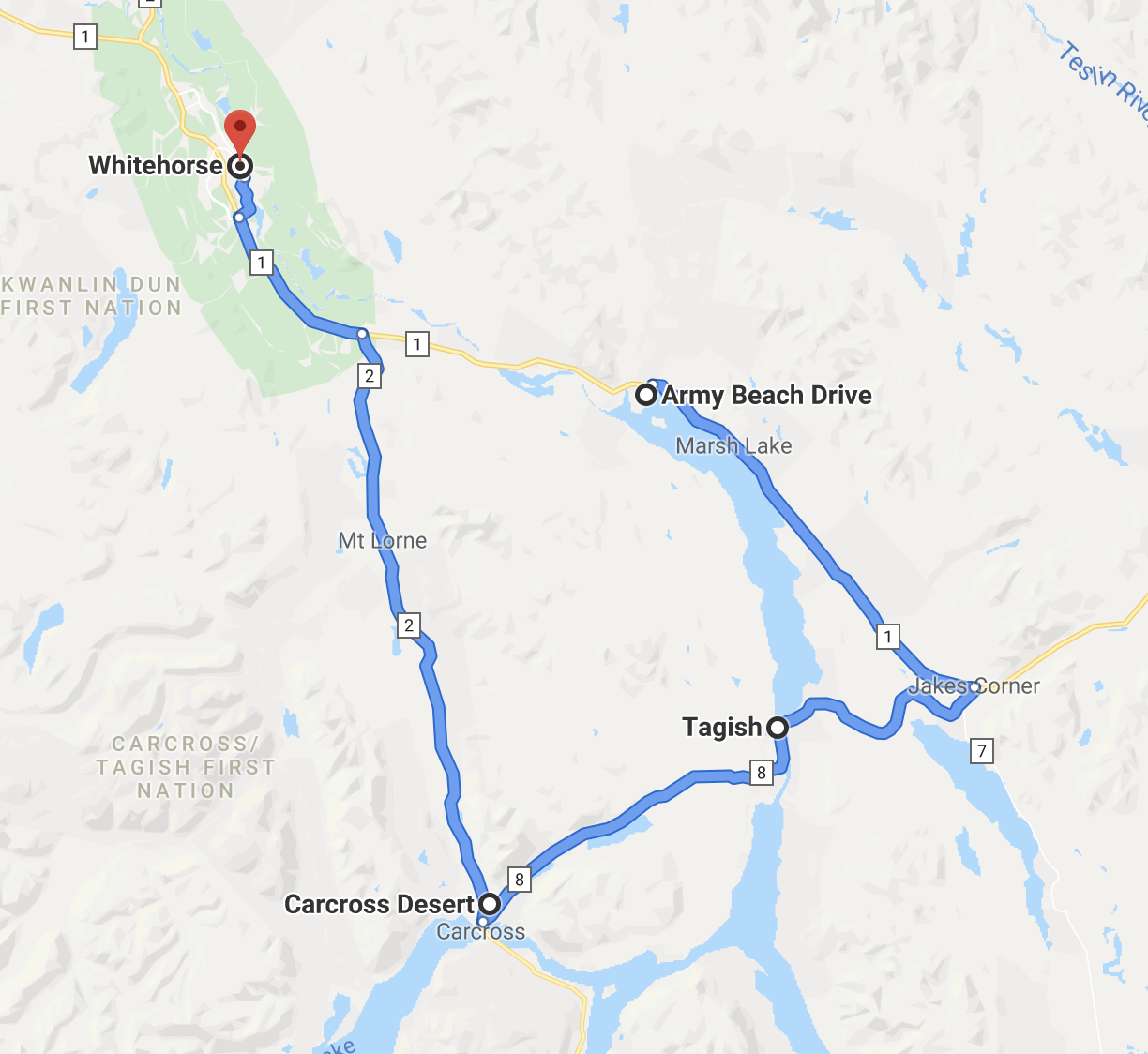 The next day I had thought about heading to Skagway, but the weather was particularly nasty on the coast, so instead I met Johanna, Jared, and Carla, the woman they were crashing with, at Yukon Yamaha for WRWR photos. While waiting for them I hung out watching a bunch of ADV guys trying to change the front tire of a Gold Wing, which resulted in some amount of hilarity and good natured cursing on everyone's part. Carla then took us on a local's tour of Miles Canyon, and then she headed home while we kicked around, riding out to Chadden Lake, where I broke out the drone for a bit, then up Grey Mountain to try to find some views.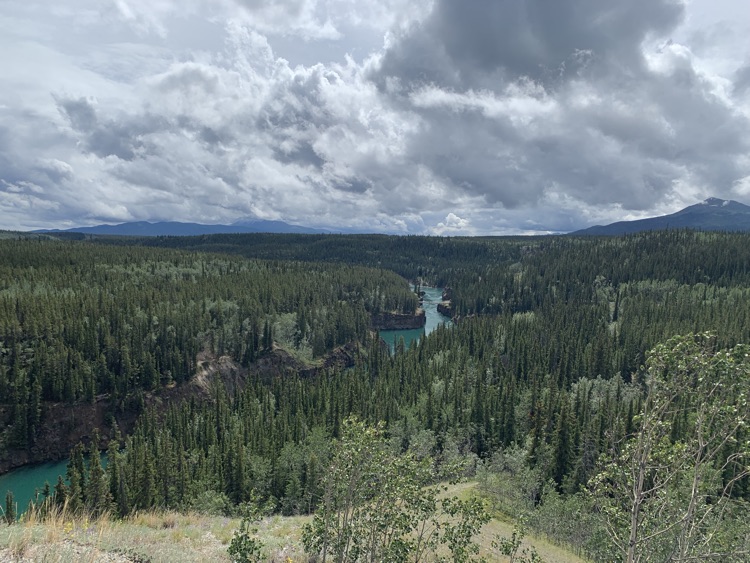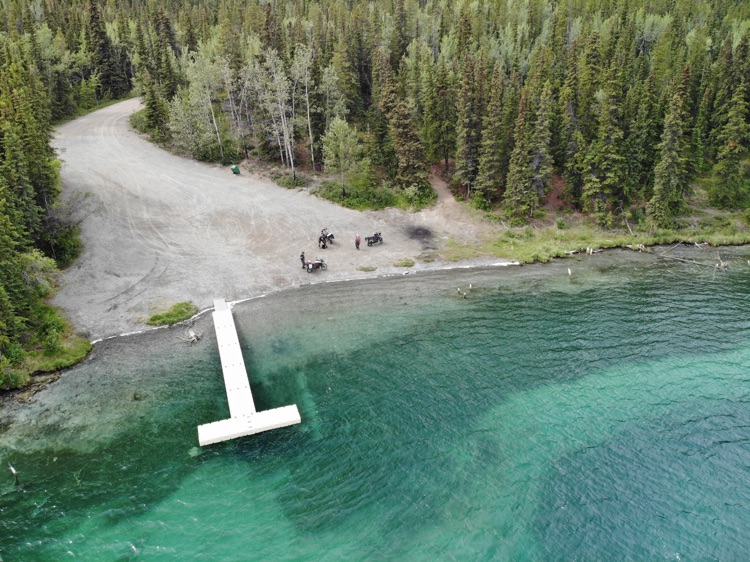 Back in town, we went for dinner at a BBQ joint, and bumped into a pair of guys from New Brunswick while waiting for our table. For some reason, a 6-top opened up, so they joined us, and what a hoot! These guys had a ton of stories , and I wish I'd had a tape recorder going! We jawed for almost 3 hours, and I swear they talked almost the entire time!
The next day, we headed down to Skagway, AK. The day was cold and wet, and we stopped several times to rest and dig through our gear to find warmer options and complain; Johanna and Jared are on comms with each other, so when we stop they've got all their complaints and jokes already workshopped and ready to go! Emerald Lake, Carcross Desert, and then White Pass, beautiful but freezing cold, touching 39F at one point! No wildlife along the way, but did see on tour bus and a few cars stopped by a violently shaking bit of shrubbery alongside the road, so… bear? Whatever, don't stop.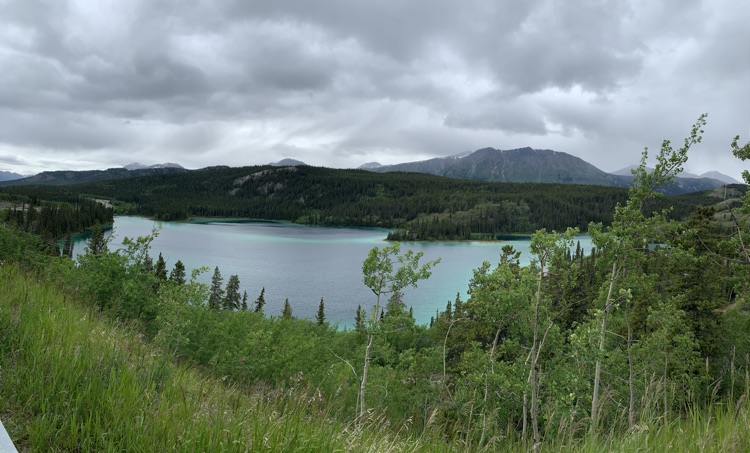 Border guards were their usual self; maybe it's that CPB pulls from people who are ex-military or wanna-be cops? I dunno, they're always kind of jerky. Dropping down into Skagway we warmed up fairly quickly. Town was crowded today, as 4 ships were docked, so we parked and wandered a bit, walking out of one place due to some shockingly bad service — most of the retail shops hire young seasonal workers from the lower 48, and they're not always the best at their jobs yet. Still… we went to the Red Onion Saloon, and our "hey we're locals" attitude and grin at the tourists got us a table with no waiting, in the nearly empty backroom upstairs. A tour of the former brothel was just starting, so we also got the champaign over-pours from the group… mmmm!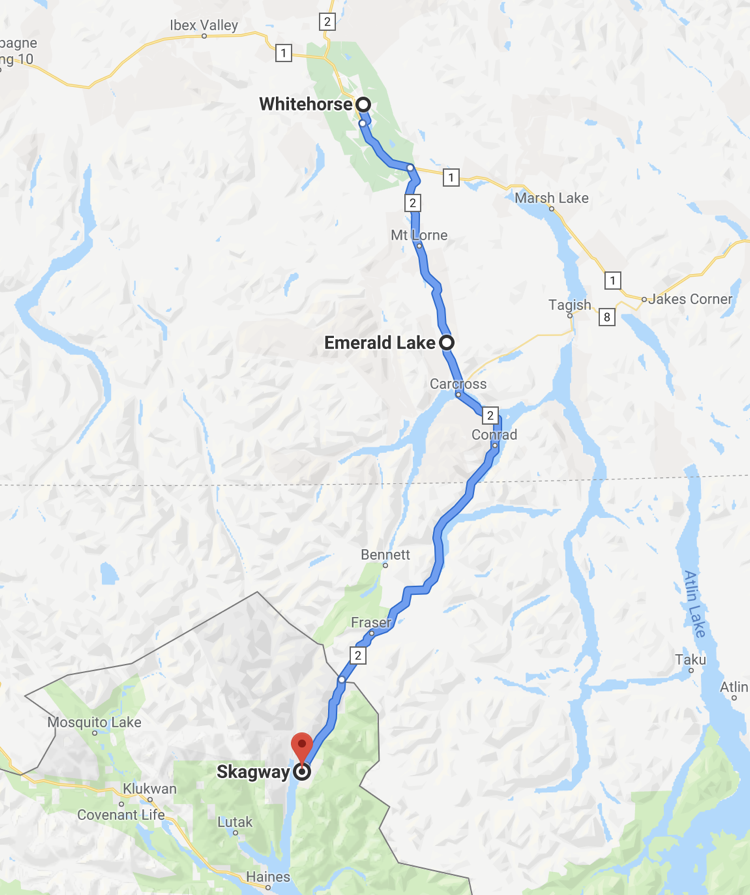 Finally it's wednesday, so we got loaded up, gas topped off, and on the road, and rolled uneventfully towards Haines Junction, our first stop of this leg. The Alcan through here was more of the wide, empty, flat, boring highway, but as you approach the village of Haines Junction, the Kluane range starts peeking over the horizon, the first real "mountains" I've seen on this trip. We'll turn north here, skirting along their foothills, all the way up to Alaska… but first, a stop in at The Village Bakery.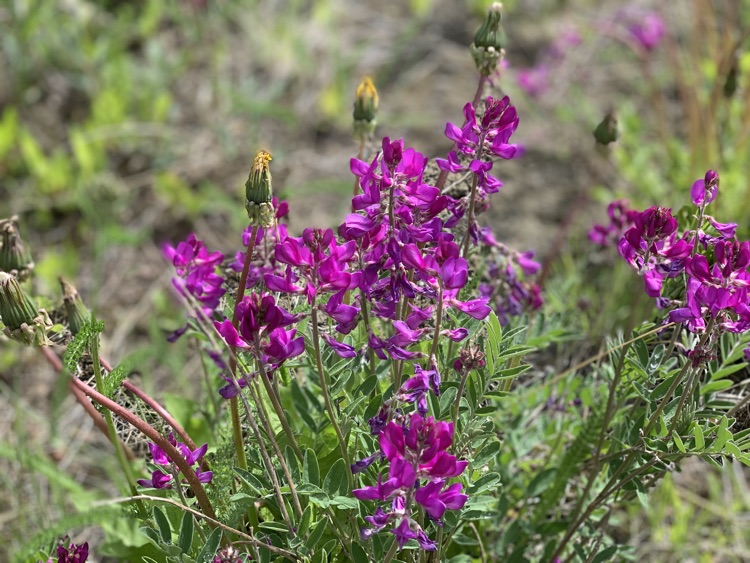 …if we can find it! We somehow managed to get slightly lost in the village of 6 streets, and sure enough, Jo was leading us and the road turned to utter garbage, as we detoured through a muddy construction zone, but no bikes were dropped and soon enough we all had hot beverages, sandwiches, and baked goods, sitting in the overflow/family room. Good timing for a stop, too, as the skies opened up and started dumping rain for a solid 25 minutes. Eventually my Seattle life skills told me the rain was about to slacken enough to leave, so on with the rain gear, we gassed up, and I somehow took the lead.
This is my favorite section of the Alcan, Haines Junction to Beaver Creek. It's the most remote and wild feeling section, and where I've seen the most grizzlies. Sure enough, no more than a mile from town, the rain making a mockery of my "no-fog" pinlock visor, I saw the first grizzly of the day, off to the right of the road, not 20 feet from pavement, standing on his hind legs with a derpy look on his face. He dropped to all fours and dashed for the tree line like a shot! I'd later see 2 more, while rounding Kluane Lake, but Johanna and Jared didn't see any of them, so my Otter Spotter title is intact!
We stopped at the rest area just past Destruction Bay and had snacks and eyed the storm clouds sliding to the east behind us — the worst of the weather was over. Back on the road, I noticed that were had 190km to go to Beaver Creek, and no services in between; I still had 240km or so of range, plenty to get there but keep an eye on it. Unfortunately, Jo was now leading, and we made good time on the empty roads as the sun (and the grizzlies!) came out. I spotted another 6 bears along this stretch - quite a busy day!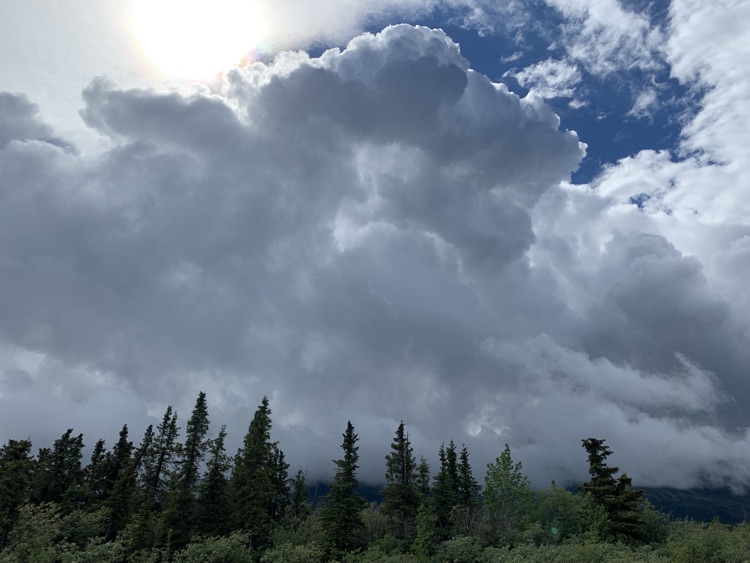 We coasted in to Beaver Creek on fumes around 4pm, I still had 28km left, but Jared's range display simply read "- - -" so it was time to stop pretty much no matter what. A brief stop for photos at the border, then customs, and then a little more than an hour to Tok, AK, the first town you get to.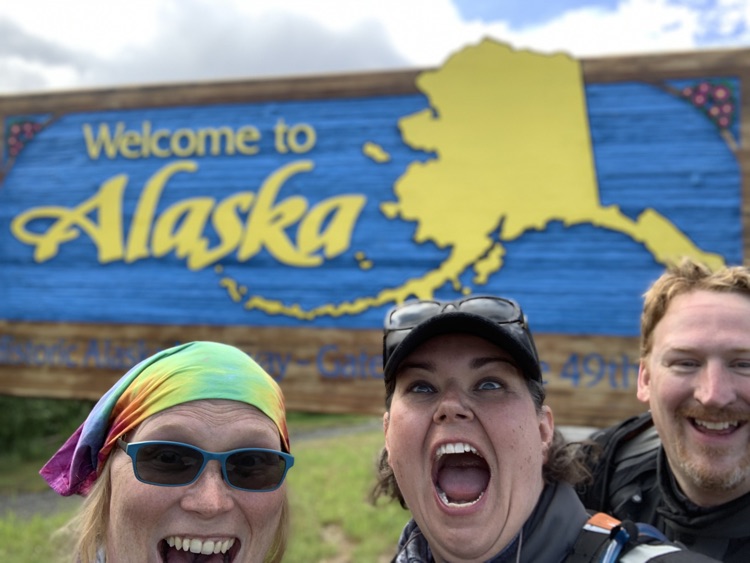 Cruised in to Thompson's Eagle Claw, where the ever amazing Roko offered half a cabin to me that kicked off this goofy trip. Dinner at Fast Eddy's — people say "you have to eat there!" like its a great place to eat, and yeah, the food is pretty good, but you literally have to eat there; its the only place in town! In bed and snoring by 10:30pm; tomorrow we tackle Top of the World Highway, and I'm nervous — I've heard it can be a lousy road, and its more dirt than I've done before in one stretch (around 100 miles of dirt and gravel..)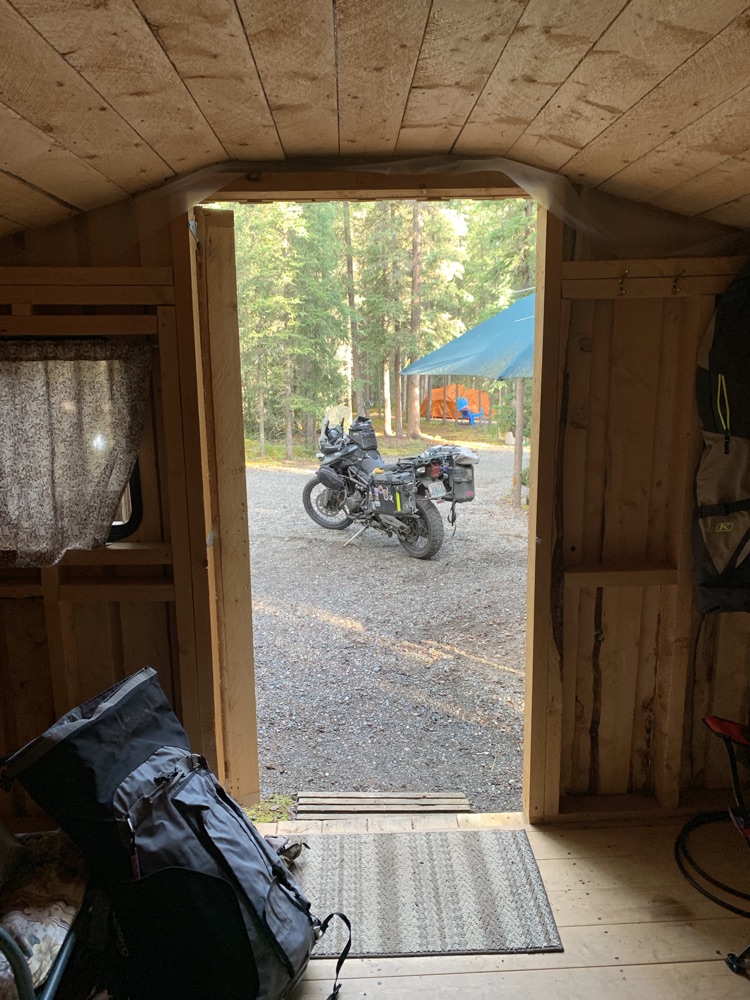 Wildlife:
Bears: 9 grizzly
Fox: 1
Owl: 1