I have to say upfront that Prince George (PG) isn't a beautiful city. I wouldn't even say it's a charming city. I'm not even sure it is a city that grows on you. An industrial town, it's big and unlovely in a way that reminds me of the mill towns of home, and indeed, PG is built on logging, mining, and the businesses that support those industries. Welders, heavy machinery repair, snowmobiles, ATVs, pulp mills, train/truck transportation, etc. The city itself, with 80,000 and the northern campus of the University of British Columbia, seems quiet and empty, but not deserted; it wasn't that people left so much as it seems the streets were built for a population twice its actual size. It is like a puppy of a city, hoping someday to grow into its paws.
Still, there's plenty to see and enjoy, lovely coffee shops and bookstores, a library that offers a large selection of materials in native languages, and a visitors center full of local art and info. Several pubs and eateries stand out as reasons to stop when traveling through, and its position as the northern most city of any size in British Columbia, the place all roads lead to, means you pretty much have to travel through on your way north.
I did get some time to explore the outskirts, including a side trip to Chun T'oh Whudujut Provincial Park, the only inland temperate rainforest in the world, a trip on which I spotted 3 black bears. On another adventurous wander around the backroads on the north side of PG, I discovered their drive in movie theater, out in the woods in the middle of nowhere, which does a double feature on Fri/Sat/Sun - first movie starts at 10:30pm! I so wish I could've rolled on my motorcycle with a cheap folding chair strapped to the back.. I have FM radio on my Sena headset, so I could've just worn my helmet and watched the movie!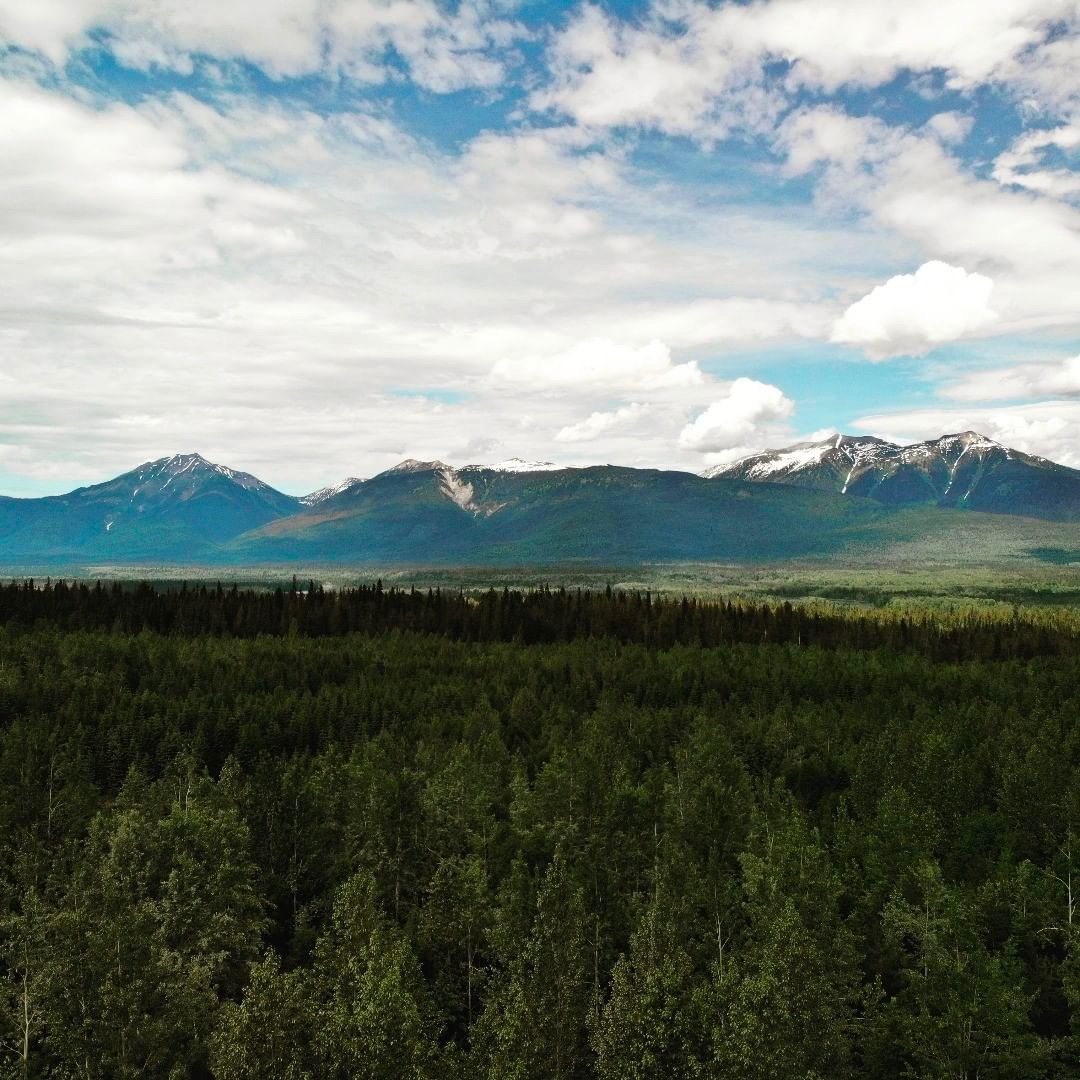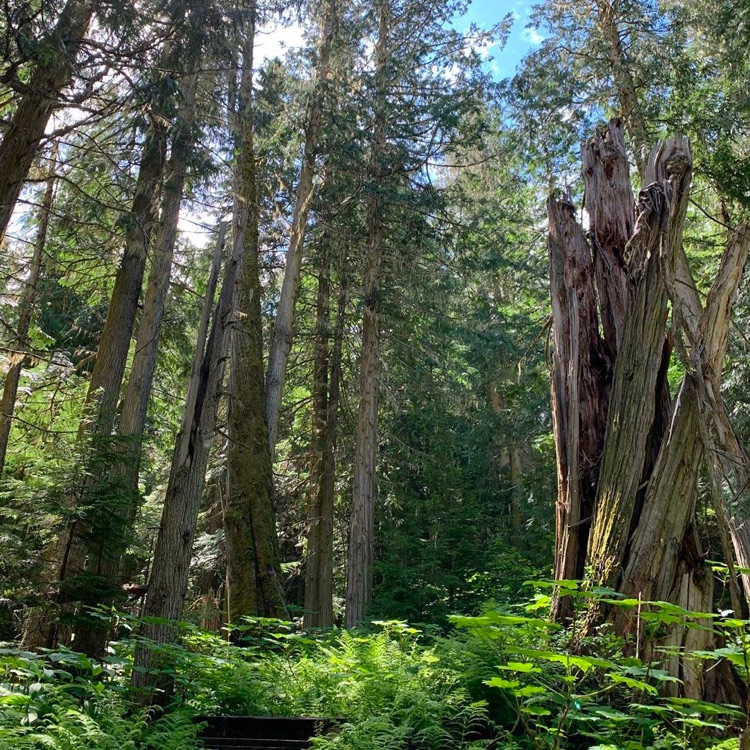 Eventually, I had to leave, and today was that day. I woke up a little after 3am, for some reason insomnia deciding to strike on this of all nights. I've been in Prince George since Sunday, working and exploring the area, but today I get back on the road north. Around 5am I hear stirring from my AirBnB hosts, so I figure it's ok to make some noise — they'd stayed up late celebrating the Raptors victory, so I didn't want to spoil their fun (even though I was sort of pulling for the Warriors..) They're a lovely young couple, and we make the usual goodbye chit chat as I pack up and get on the road a few minutes after 6am.
Of course, I didn't gas up last night.. ok, we're leaving at 6:10am.
I really should get some caffeine and food… ok, we're leaving at 6:40am (hey, the coffee at Tim Hortons is hot and needs to cool first!)
It was a good time to stop, actually, because I was already getting chilled just riding through town. It's always surprising how different 50F and wet feels colder than 50F and sunny. It had rained overnight, and the air was still a bit damp, so out came the heated jacket. I checked the oil and saw it was a bit low, and thought I'd stop at the first Canadian Tire or auto parts store remedy the situation.
There aren't many freeways in Canada, not that an American would recognize, but here in BC there are many major roads that are wide, fast (70mph) 2 lane highways, with big shoulders, frequent climbing or passing lanes, and every 20 miles or so, a rest area with well-tended, tidy, and clean toilets and litter bins. I'm sure it's an infrastructure built for the dispersed population; most Canadians live within a hundred miles of the border with the United States, and folks live in these small towns strung out across the countryside. Between that need for folks to travel large distances to jobs and services, businesses need these well-maintained roads for all the truck traffic extraction industries require. Still, it's odd to seem to be in an endless rural farmland mile after mile after mile, and never coming to more than a tiny village center; even my home town in Vermont seems more densely settled than some of these towns whose population is several times that of where I grew up.
Town after town flowed by, with names I'd seen or had people mention to me as "destinations" - Vanderhoof, Burns Lake, Houston.. surely one of them would have some kind of parts store? Not a one of them had more than a hardware store, although Houston did have the World's Largest Fly Rod and Reel! I stopped but didn't see a good way to take a photo of it, so rolled on.
I eventually stopped in Smithers, 230 miles or so from PG, around 11:30am, which was an "actual" town in that it had a Canadian Tire! I managed to find an oil that Telos won't mind, and then went over to the grocery store to get some supplies, and ate a hobo lunch at a table outside. As I was leaving about 12:30pm, I rode past a BMW 1200GS, forked with all the standard-issue Touratech gear, natch, the first ADV bike I'd seen all day. That would, of course, change.
I'd spotted RCMP all day, which was new. Last year I saw one RCMP trooper in 4 weeks, but today I saw 6, include one who was sitting in a speed trap outside New Hazelton. Canada has really good signage and graduated speed zones; as you approach a new town, you drop from 100kph to 70kph to 50kph over the course a kilometer or so. Well I missed the 70kph zone warning sign, and hit the 70kph zone doing 110, but was in the process of slowing when he fired up his lights. I scrubbed speed even more quickly, said "ah fudge berries!" and got ready to pull over but he flipped them off as quickly as he turned them on. I guess I got let off with a warning this time? How polite!
Gassed up in Kitwanga, at the junction of CA-16 and BC-37, the Stewart-Cassiar Highway ("The Cassiar") The few gas stations along The Cassiar are busy with locals, big trucks, and clueless tourists, and this was no different. I needed to get gas here, as the next one is 140km up the road at Meziadin Junction and I was low, but I didn't stick around. Got some glares from a guy on a Harley trike, who seemed pissed he had to wait for a free pump. I moved to a parking spot as soon as I was done fueling, but apparently I was too slow.. or maybe I finally met a grumpy Canadian?
The first few kilometers of the Cassiar wind through native communities of Kitwanga and Gatanyow, but they're tiny, and once past them… there's nothing, just trees and mountains and road, always the road. I spotted a momma black bear and a cub grubbing around in the ditch off the other side of the road, and a kilometer later a cyclist, so I pulled over and turned off the engine and let him know, so of course we ended up chatting for a while. He's a German fellow living in Toronto who is cycling from Watson Lake to Prince Rupert, and he seemed desperate to talk to someone, ANYONE, so he yakked my ear off for 15 minutes, standing in the middle of the road — not a single car interrupted us during that entire time!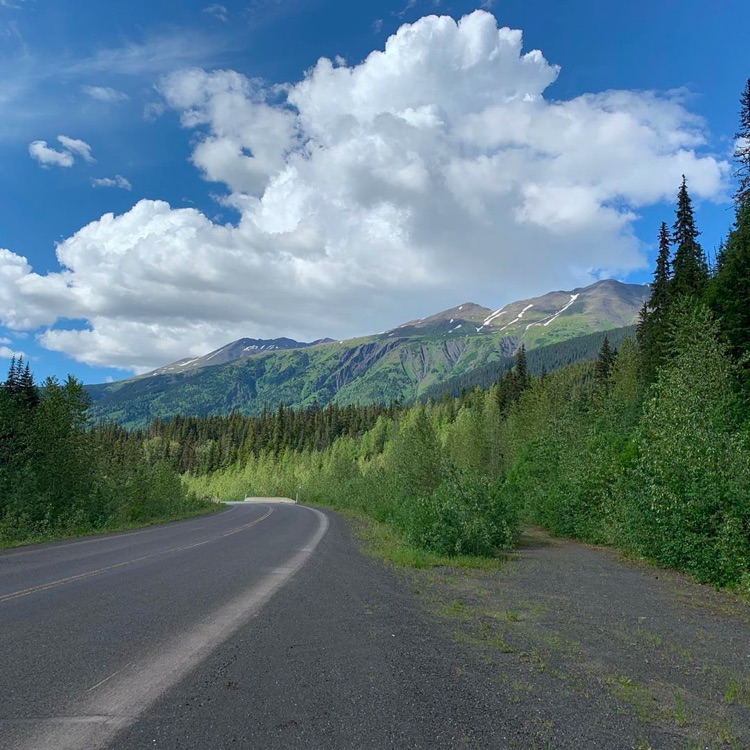 I made my goodbyes and moved on, stopping about 5km later to fiddle with my music, at which point that BMW 1200GS from Smithers pulled up with a wave. I gave him the thumbs up to say "no problems!" and he took off. I soon caught up to him, and we fell in, trading lead back and forth until Meziadin Junction, where he disappeared when I stopped for gas and a potty break. I soon caught up with him again at Bell II Lodge around 3pm. Bell II Lodge is the fancy-schuancy heli-skiing lodge in the middle of nowhere, that sells expensive branded gear, has a restaurant with CLOTH NAPKINS and a menu with very tasteful fonts… its a weird capsule of wealth in the middle of nowhere.
Ah, the BMW rider… Gregg is his name, and we chatted over coffee in the tiny cafe. He lives in Juneau, but got an amazing deal on the BWM from the Tacoma dealership, and was riding up to Skagway to meet his wife and son and catch a ferry to Juneau and… well, whatever, the logistics puzzled me a bit, but he was a nice enough guy.. certainly more friendly than the squad of Harley guys at their table who ignored us! I also met a trio on a VStrom 1k, a newish Africa Twin, and an older KTM 1090 Adventure, which made for an odd collection of ADV bikes but a friendly one. They were gassing up as I was leaving the cafe, and were heading up to Dease Lake for the night. Gerald, the VStrom rider, chatted for 10 minutes with me about the new DL650, and the other guys chimed in from time to time.. a good bunch of guys.
I had originally intended to stay at Bell II, but since it was only 3:45pm, I decided to keep pushing on and shave some time off tomorrow's long haul to Whitehorse. I left Gerald and the gang at the pumps and headed back onto the road,. From Bell II the road went through some lowlands, and like last year there was evidence of recent flooding, with fresh construction and repair evidence all over; it seems this section must be prone to it. I stopped to take some photos and Gerald's Gang passed me by with a wave and a thumbs up. I passed them later at a rest area, and they pulled in to Iskut, a small native community, as I was leaving the lone gas station there.. and who should rip by me 5 minutes later but Gregg!
This might be the most social day of unorganized motorcycling I've ever experienced.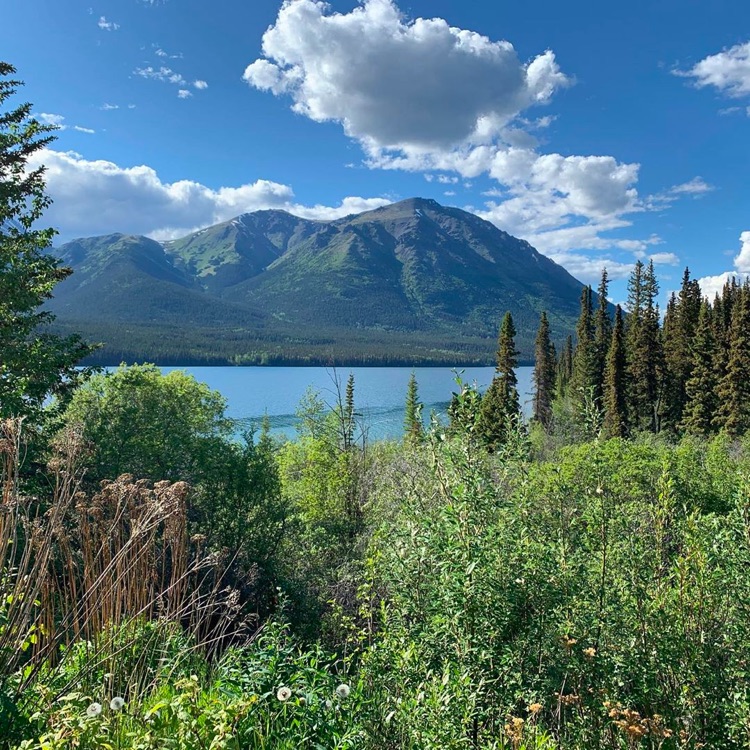 40km or so outside Dease Lake, the trio caught up with me as I slow-poked my way through an unpaved section of hairpins that drop down to the Stikine River, which was also the first grated deck bridge. The 21" from wheel of the Tiger just hummed across with minimal squirm, a big change from my white knuckle crossing of such bridges last year. I kept my speed up, the trio managing to hang with me, as I buzzed along at a steady 120kph into Dease Lake, getting in around 7pm. I pulled into the lone motel parking lot, having decided not to camp, and saw the NO VACANCY sign as the trio pulled in behind me. They had told me they had a reservation, but there were plenty of campgrounds around Dease Lake so I moved on.
I gassed up so I wouldn't have to in the morning, and of course the Dease Lake gas station is mess; at least the busy crossroads stations in Alaska have pay-at-the-pump. There was one retired couple from Louisiana who, despite having made it to their late 60s, apparently had never encountered a "pay inside" gas station before, and the man was fuming about the stupidity of the system. His wife was no better; he made her go inside to pay and to retrieve their credit card, but she couldn't understand that she needed to get into line with the rest of us, and started going on about how the clerk, a young, 16-year old First Nations woman, was being racist.
Luckily the line was mostly local guys finishing up their shift on a road construction project, and 2 or 3 of them spoke up about her shitty attitude, and she huffily got in line and kept her mouth shut.
I got out of there and headed up the road to Waters Edge campground, a small private campground overlooking Dease Lake itself, with a private boat launch, free wifi (while the generator is running), and a $25 CAD campsite that featured a gorgeous view of the lake. While I was chatting with Betty, the elderly lady who runs the place (she winters in Arizona, she's smart!) a young guy rolled in on a Frankenstein of a Harley with Oklahoma plates. He had a reservation for the small cabin, and I'm seriously considering trying to reserve it on my trip back down. The campground itself — clean, tidy, and basic, which is all I need!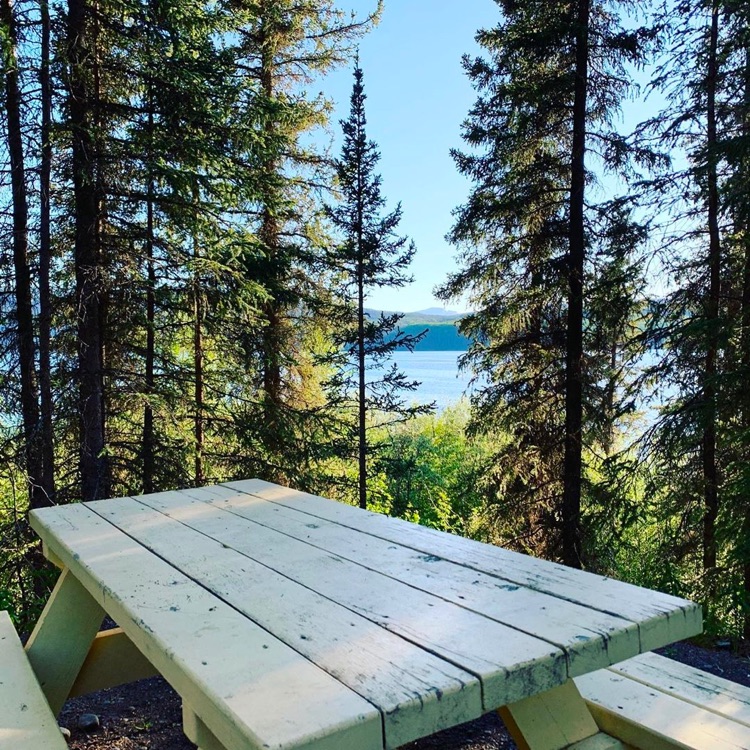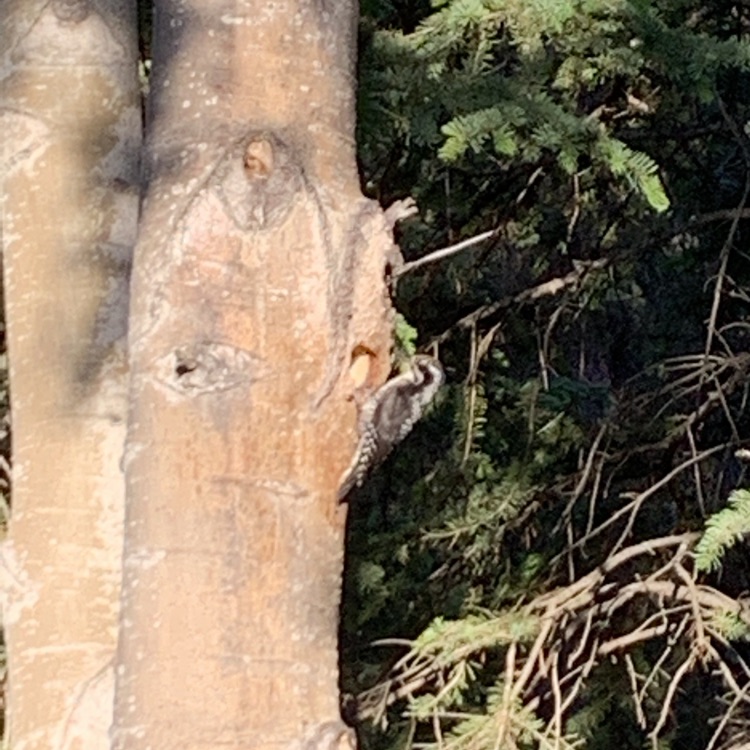 Dinner was leftover sandwich from lunch, a bannana, and a blueberry protein bar… eatin' good in the neighborhood! Tent went up and I was in bed by 8pm, "lights out" (by which I mean ear plugs and sleeping mask) by 9pm.
Wildlife:
Bear: 5
Moose: 1 (butt in a field)
Eagle: 1 (arguing with a crow over a piece of roadkill when I came around a corner)