Approaching the start of this trip, I wondered if maybe I was done. I felt tired, overwhelmed, and honestly, wasn't sure I wanted to go on this trip. "Why did I let RoKo talk me into this?!" I whined inside my head… except, y'know, that's not really how it worked. I'd been thinking about Dust 2 Dawson, and what my Big Summer Trip was going to be, and RoKo just happened to post about having extra crash space in Dawson…
So it was a spur of the moment sort of deal, but I make those all the time. No, I just wondered if maybe I was tired of riding, tired of being dirty, dehydrated, gritty, and yes, tired. Waking up next to a pond, to the sound of angry crows and pissed off Canadian ducks, I wondered - why?
Packing up the tent, Bruce wandered over, an older gentleman who helps his wife run the campground. He brought us coffee on a tray with little cups of cream and sugar, and kibitzed while we shook out the dew and tightened down straps. He was a rider himself — so many people who approach you are — but lapsed, of course. Still, he had some great stories of riding around Canada, and gave us some advice for a good lunch spot on our route.. and hey, he brought us coffee!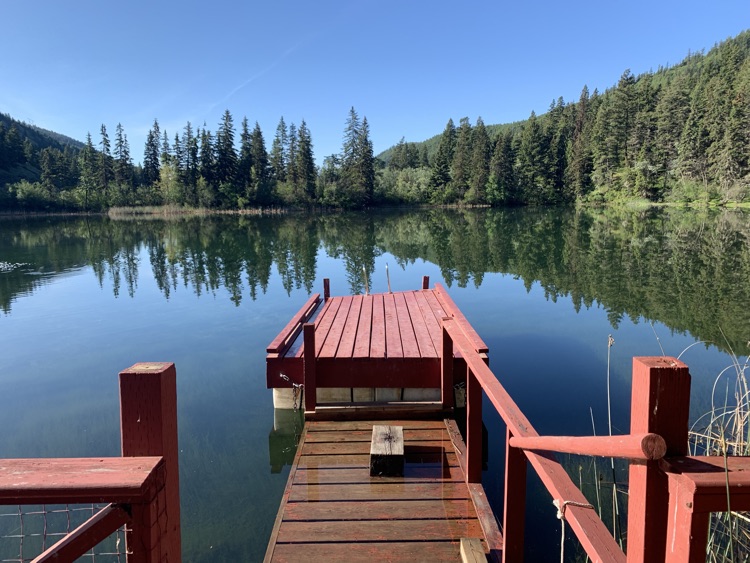 Soon enough we hauled our heavy bikes out of the wet grass and mud and hit the road, Through Clinton and then on northwards on BC-97 towards 100 Mile House, were I stayed last year. Before we got into 100 Mile House proper, we turned east on BC-24 "The Fishing Highway" (or so the signs proclaimed! Horse and hobby farm country, it wiggles through a series of cabin-lined lakes and ponds, an idyllic Canadian summer holiday paradise.
At gas stop in Interlakes, BC, a grizzled gold-miner-turned-gravel-miner struck up a conversation with me, but mostly it was one sided; he wanted to complain about All The New Folks moving in, and to shit-talk Vancouver; seems like a common pastime here in northern BC, talking shit about Vancouver! He turned the conversation to Trump just about when I noticed Johanna making "hurry up lets go!" faces at me from across the parking lot, so "sorry gotta go!" and we skedaddled.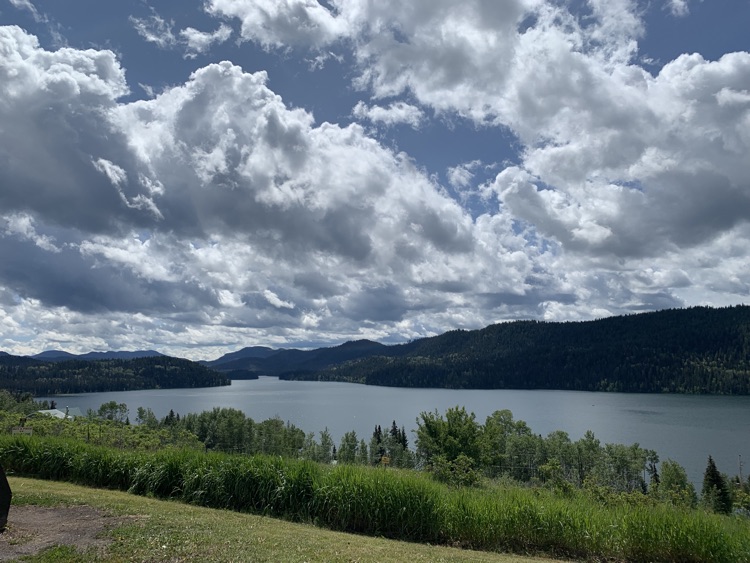 CA-24 is a great highway, although a bit slow between traffic and speed limits, but soon we started dropping down towards the town of Little Fort. Stuck behind a slow minivan on a great and fast section of road, our frustration was lessened a bit when we came around a corner to see a pair of deer in the middle of the road! If we'd been going faster, it would've been a real close thing, but thank goodness for the slowpokes!
At lunch at the High Five Diner; it was so good, I'd consider stopping on the way back! Service was slow, as they were short staffed for the lunch rush, but the constant stream of motorcycles coming and going told us we should hang around, and I'm glad we did! Had the schnitzel, an item I almost never see on menus in the states, but pops up pretty often in northern BC, so why not?
From Little Fort we headed north on BC-5, the Yellowhead Highway, along the banks of the North Thompson River. Empty country, but beautiful. Temps in the mid 60s, with occasional rain squalls chilling us, coming suddenly but never lasting long enough to be worth suiting up for. We stopped for gas in Valemount, and ended up sitting on the sidewalk outside the A&W drinking coffee and puttering around on our phones for almost an hour — it was the first wifi any of us had gotten since leaving Seattle, so we got caught up.
All good things… I left Johanna and Jared still packing up the bikes; they're heading east on CA-16 through Jasper National Park, while I'm taking CA-16 west to Prince George. We'll meet back up in Whitehorse in a week or so, as they're riding the Alcan and I'm taking the Cassiar.
CA-16 cuts north and west up the Robson Trench, through unpopulated moose country. A few towns of course dot the way, but I can't say I remember much - its a wide, fast road (speed limit 100kph/65mph) hemmed in on either side with brush and tall trees. It felt like being on the Alcan again. McBride, BC passed by, then I saw the sign "Last Services For 202km" I did the math, realized I had plenty of fuel, but I slowed down anyways and took it easy all the way to Prince George, rolling into my AirBnB around 8:30pm. Straight to bed, as I have a 6:30am meeting in the morning!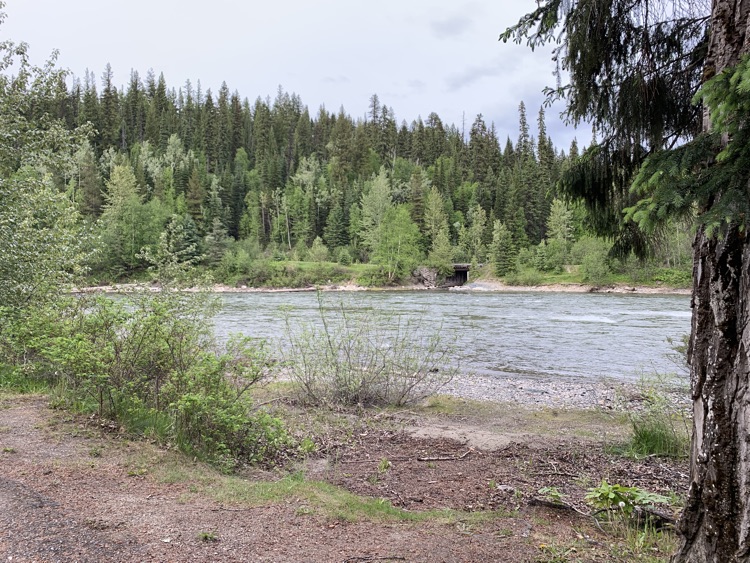 I'll be camping in Prince George until Friday morning, getting a few days of work in, similar to what I did last year.