Finally, hittin' the road!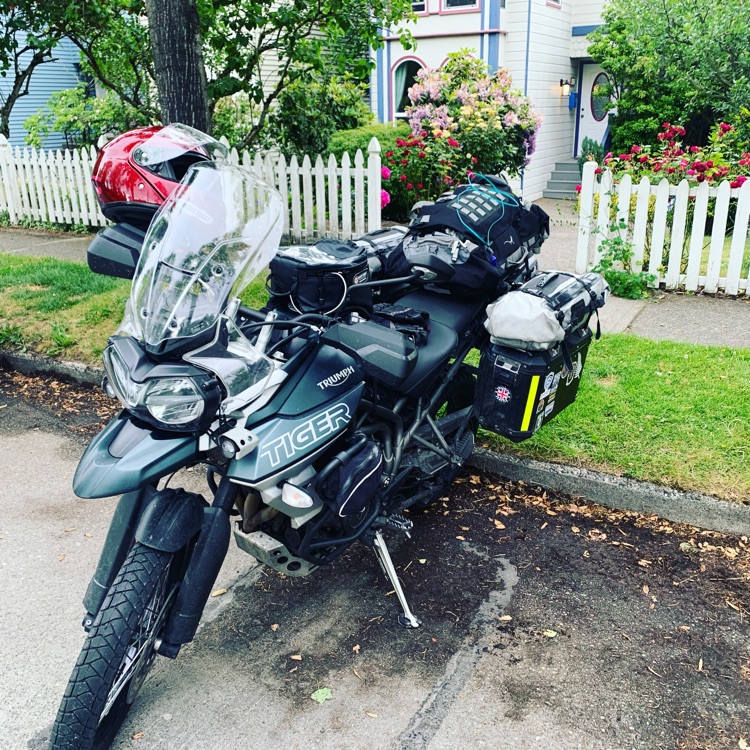 Up a little before 7am, I tried to pack as quietly as I could. Packing the bike is old habit and routine, but it always take a little bit to remember.. muscle memory reminds me eventually. I'm traveling a bit on this trip with Johanna and Jared, friends from Alaska, and I met them at Kerry Park on Queen Anne. Johanna is the Alaska Ambassador for Women Riders World Relay, (WRWR) and will be taking the flag north to Alaska on a "ripple" — a regional ride before the flags all converge back together next year. New folks, Nicole and Brenda, were also there, and after some great shots with Seattle in the background, we headed to Fremont for shots with the Fremont Troll, then off we go!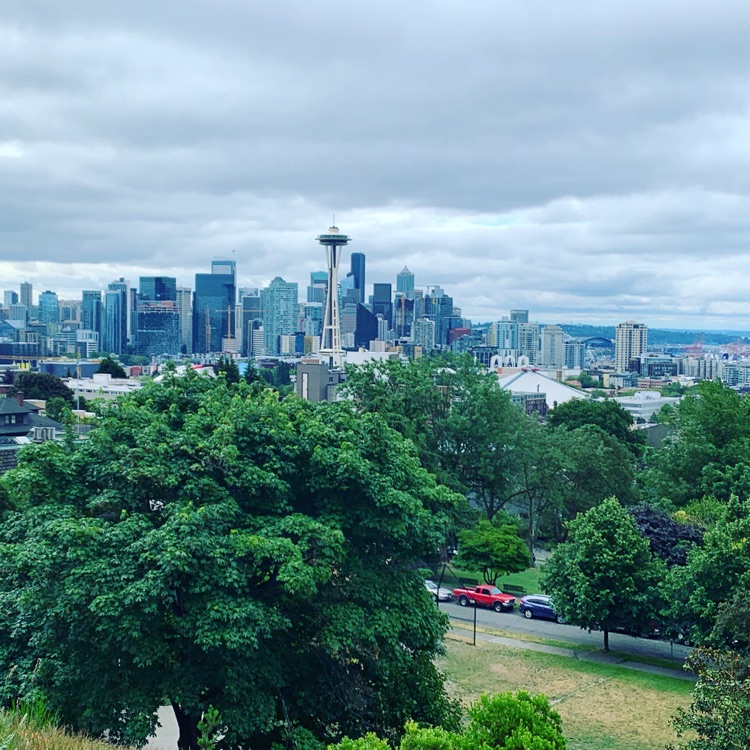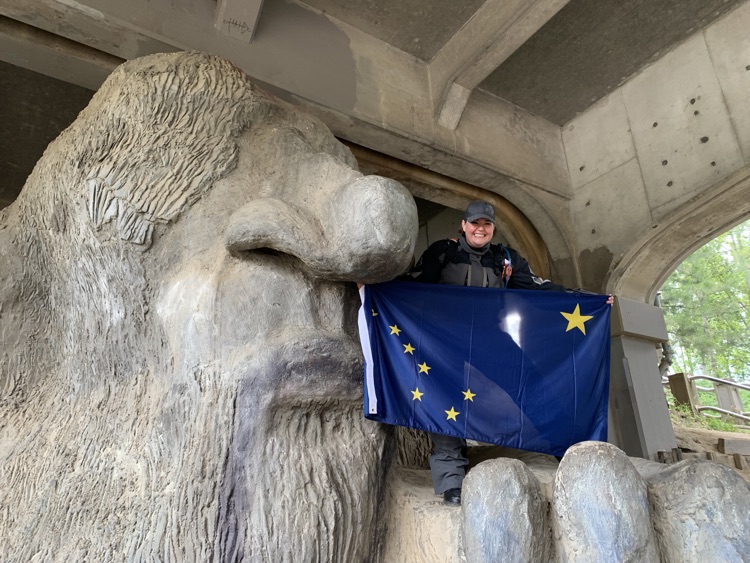 Brenda is riding up to the border with us, as well as her friend Heather, who we picked up at Smokey Point Rest Area, about 40 miles north of Seattle. Heather brought her 2 corgis, who ride in the cases of her Harley — too cute!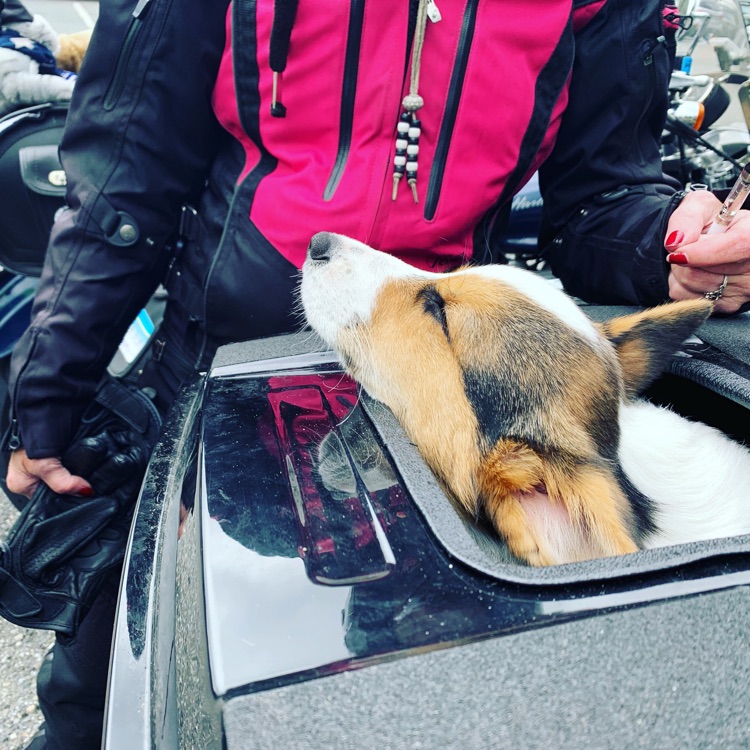 The border crossing signs were warning of hour long delays at the Peace Arch crossing, which we had to take in order to meet up with some Canadian women for more WRWR photos, so we stopped in Bellingham at Homeskillet, my favorite breakfast place - the diet is off for the next 2 weeks! We managed to get our order in before last call at 1pm, and made the final fun up to the border around 2pm.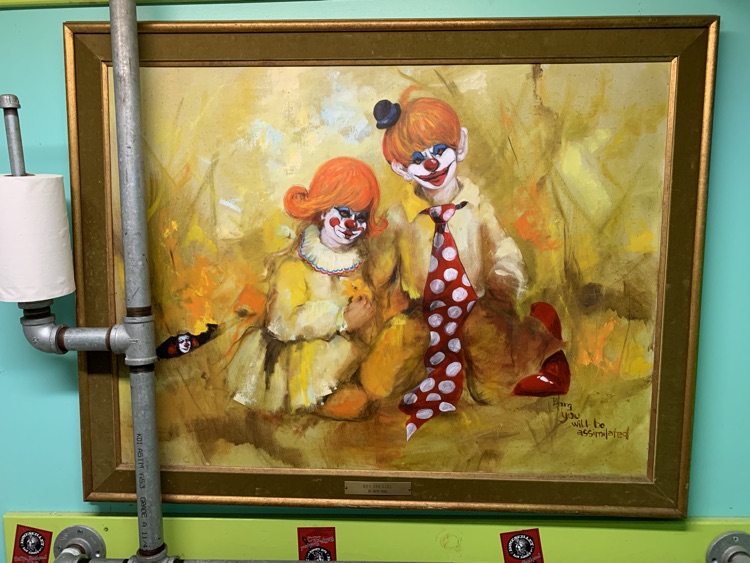 Brenda and Heather peeled off, and we approached the border with trepidation, bracing for long lines… but whatever the earlier delay was, getting lunch was the smart move, as there was almost no one in line heading north! After the usual rigamarole - "Where are you going? Why are you riding there? Are you in a gang?" the Canadians let us cross, and we pulled over into the parking area just north of the border to join up with the BC WRWR riders, 5 strong, and after a dozen photos they escorted us east on backroads to Abbotsford.
From there it was just the three of us, heading east on the Trans-Canadian Highway, CA-1, following the Fraser River to Hope, BC. The plan had been roughly to switch over to BC-5 to Kamloops, but Johanna called an audible and instead stayed on CA-1, leading us up toward Clinton. I wasn't too worried, the weather was nice, the road beautiful, a mountain gorge for dozens of miles.
We stopped at Cache Creek, where CA-1 takes a hard right turn towards Banff and Calgary, and considered our options. Rain was threatening, so we suited up and continued north on BC-97, and soon we were retracing my steps from last year. Stopped at a campground just south of Clinton, where Johanna had camped last year on her own trip south, and secured a squishy-but-cheap tent site, than ran the 10km up to Clinton proper for dinner, then back to the campground to set up, in bed and asleep by 11.