May was a quiet month, as the new day job had me in New Orleans for a week, and I've slowly been doing maintenance on Telos, my Tiger 800, getting it ready for another trip north.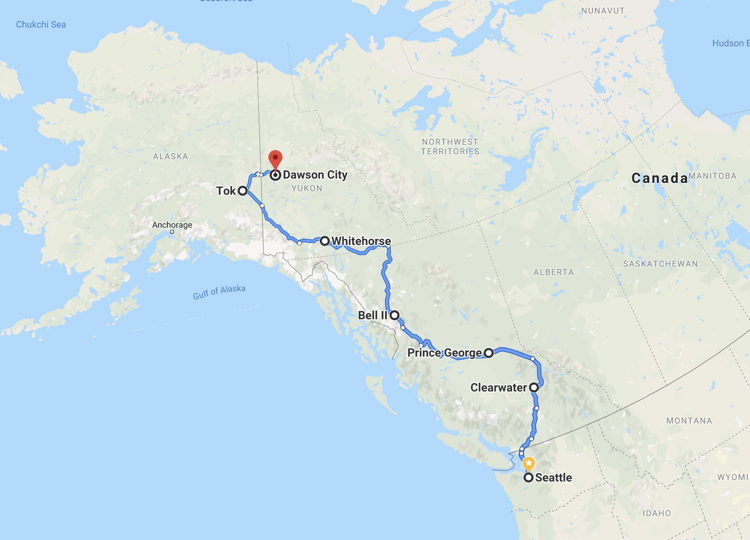 I'll be leaving Seattle on 8 June, taking an easterly route through Clearwater, BC and the western edge of Jasper National Park, taking 2 days to get to Prince George, BC. Like last year, I'll spend a week (more or less) there working, before taking actual vacation time from the day job and heading north on the Cassiar Highway towards Whitehorse, YT. It's roughly 1,000 miles, so I'll stop and camp one night along the way, at the Bell II Lodge. I'm going to stay a 3 or 4 days in Whitehorse, and take some side trips, before heading to Tok, AK, and then over the Top of the World Highway to Dawson City, YT for the Dust 2 Dawson Motorcycle Ride (it is NOT a rally!) I'll stay there a couple days, then heading back south to Whitehorse and the long ride home.
Prepping the Tiger
I got new rear brakes done this past week, and am waiting on a new set of tires to show up at the shop. I'm REALLY HOPING they come through for me. Due to a miscommunication, they ordered the wrong tires for me last week, and so we had to reorder them. I'd hoped to get them scrubbed into before hitting the road, but it is becoming a bit of a tradition now to start my big trips off from the cycle shop…
Packing Nerdery
Experimenting a little bit with packing on this particular ride. Since I have at least 2 nights of camping lined up, I'll need to bring that gear; I could not camp, but it'd be an additional $350 (!) so let's save some money, shall we? I'm ditching my camp chair, since the hard cases make perfectly serviceable stool. I'm also considering not bringing my jetboil, even though it doesn't take up all that much room or weight, because I'd only use it a couple times, what with all my planned camping being next to/near coffee/tea/hot meal options. Strange, considering that I'll be in some of the more remote areas of North America! I'll still bring emergency fire tools, naturally..
The result of this is freeing up 75% of one of my 2 dry sacks that top my panniers, to which I'll move my rain gear. This opens up a surprising amount of space in my panniers, so I can bring the drone and still have plenty of space for pantry items (food and drinks.)