Writing this up a week later, as I got back on Sunday and immediately had social obligations and unpaid side projects to get caught up on, then on Monday started week 2 of my new paid job, and every evening this week has been social events and working on finishing projects… today I can finally breathe.
The time has given me some space to think about the trip, and experience the odd dislocation of "Oh, a week ago, I was in such-n-such a place doing this cool thing!" Its a bit of an odd feeling to come back to "real" life, when there's nothing any less real than traveling and experiencing and breathing the air of fresh horizons.. in some ways, life here at "home" is far less real, a daily grind of coffee and TV shows and traffic jams and people just passing time quietly.
Michelle was an amazing traveling companion on this adventure, and I'm glad we talked each other into it! It wasn't the itinerary we had originally planned, but take a look at this route and you'll see a fabulous 1600-mile tour of the highlights of what Central and Southern California has to offer.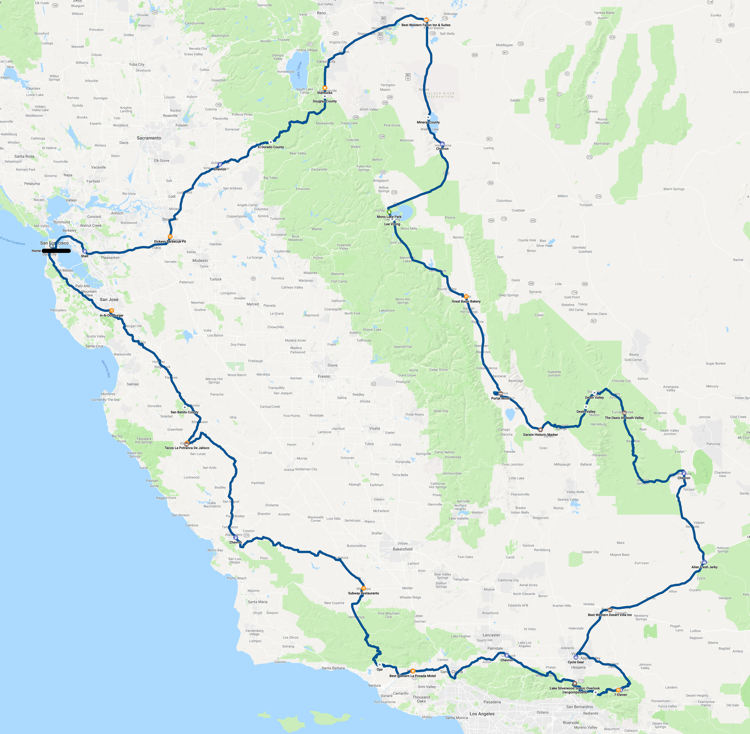 The Tiger performed flawlessly, as expected; I feel like I have too much room, despite having smaller cases and soft bags than most ADV riders — it probably helps that I don't haul around anything more than I need - no excessive "lifestyle camping" gear, no drone, no clothes I don't need Just In Case.. if I've learned anything this past year, its that there's always a Walmart nearby; I don't need to pack everything I'll need for the entire duration of the trip. If I run out of something, I'll buy more.. its far easier to deal with less things and have to go to a drugstore than to pack extra of everything Just In Case.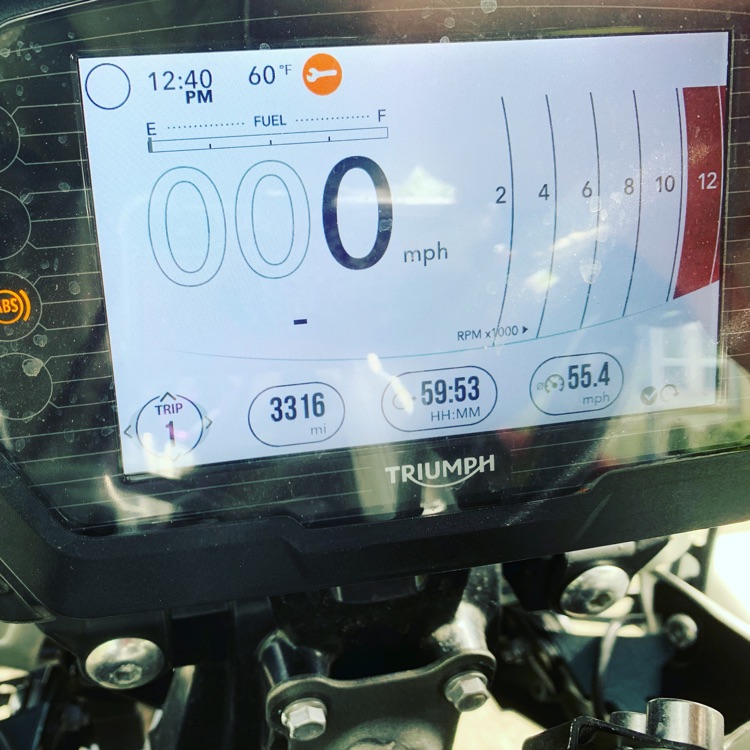 Some minor gripes with the Tiger..
the stock seat is horrible for me after about two hours. 5 minutes off the bike usually cures this, but I'm still going to invest in a new custom seat to see if that helps
mileage is very wind-dependent; I can routinely get low-to-mid 50s if the wind is good, and even on long, shallow climbs I can still average mid 40s, but through in any kind of headwind and we're in mid 30s territory. Not really a huge problem, but more of an annoyance.
some minor wear that shouldn't be appearing so soon - rubber grommets on the windscreen attachment points are looking dry and brittle, and there's a spot of rust appearing near a weld in the luggage racks that needs addressing (fiber sanding it and then sealing the weld in plastic-dip should do the trick) These surprise me, as otherwise the build and materials quality is top-notch (as you'd expect on a bike with this price tag…)
the foot pegs are great, but I'd love to be able to drop them an inch. Unfortunately, the mounting/pivot point is welded to the frame, rather than being a removable or replaceable plate.. maybe that new custom seat can boost me up an inch instead…
All in all, a great trip. I behaved myself, went fast, didn't die, and had a great time with a friend messing about with motorcycles. What could be better?