Parked myself on the patio of Starbucks to get some work done, listening to the Harley guys at the next table complain about how they can't fly to a certain private airstrip in Mexico and taxi up to an airplane version of a drive-in burger stand anymore. Not sure I sympathize with their plight, but we all have struggles. At least the orange blossoms were still perfuming the morning air..
West out of Filmore through endless orange groves, onto a side road to get us into Ojai, CA. Banners and flags for the Ojai Valley Tennis Tournament which I would guess is a Big Deal based on the quality and quantity of the banners. I'll skip it, thanks.
Gassed up, we got onto CA-33 (Maricopa Highway) which squiggles its way across the Transverse Range. A twisty mountain road, all but deserted; I saw one or two cars parked along the road, but no other traffic for an hour! Beautiful high-altitude Californian scrub, which you'll recognize if you ever watched MASH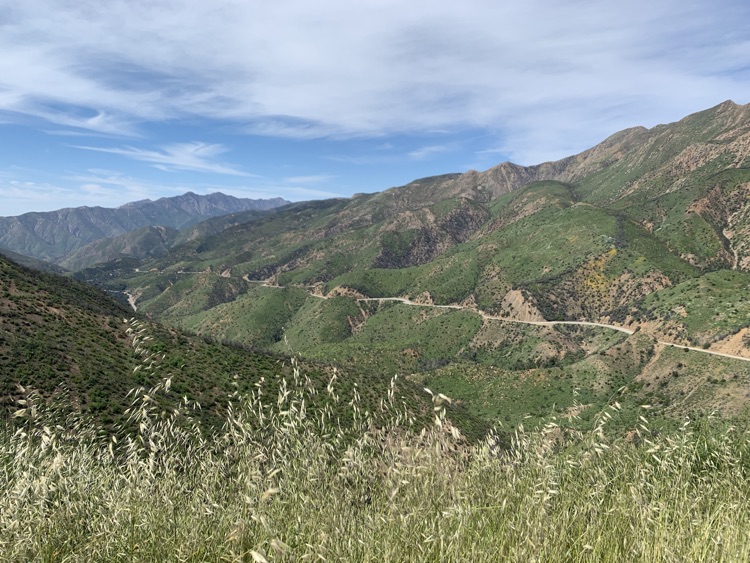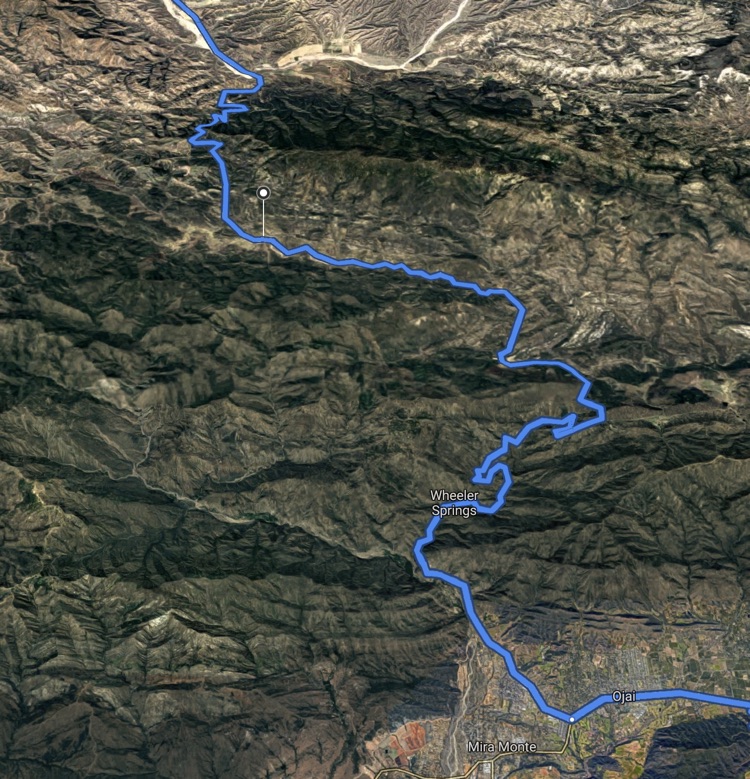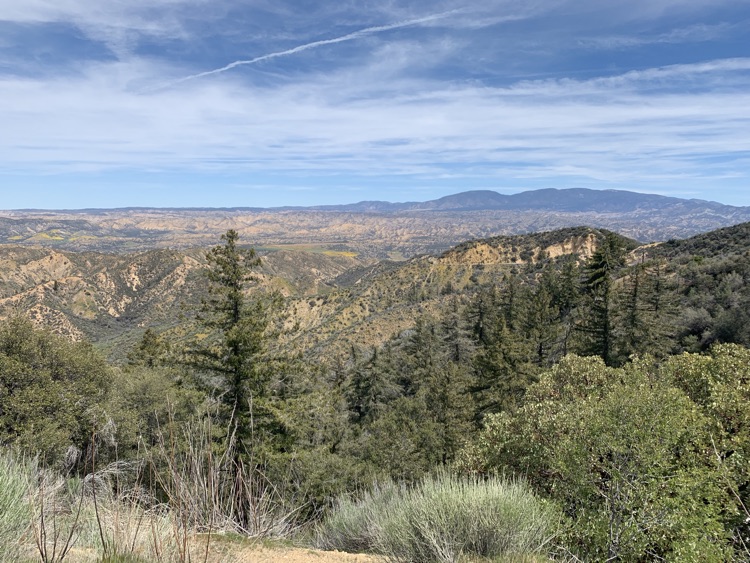 Caught up with Michelle on the other end; I'd stopped to take a LOT of photos. A small snack was had, then on to Maricopa, where we stopped at a Sbubby; I didn't know there was a more substantial town just down the road, and my tummy was complaining about eating only coffee and an orange all morning. Refueled, we got back on 33 through the still-producing oil fields, a tangled forest of nodding pump heads and power poles, with silvery collector pipes running every which-way along both sides of the road for miles; at least the gas fields in Canada hid the well heads back from the Alcan..
Finally the long-straight-nothing of this section of 33 came to an end when we turned onto CA-58, up the Santa Maria Valley, where the road began to twist and turn on itself, trying to find its way into the Carrizo Plain, where it shoots straight across the San Andreas Fault, past massive arrays of solar panels, arranged in neat, shiny rows, so different from the haphazard appearance of the oil fields from earlier.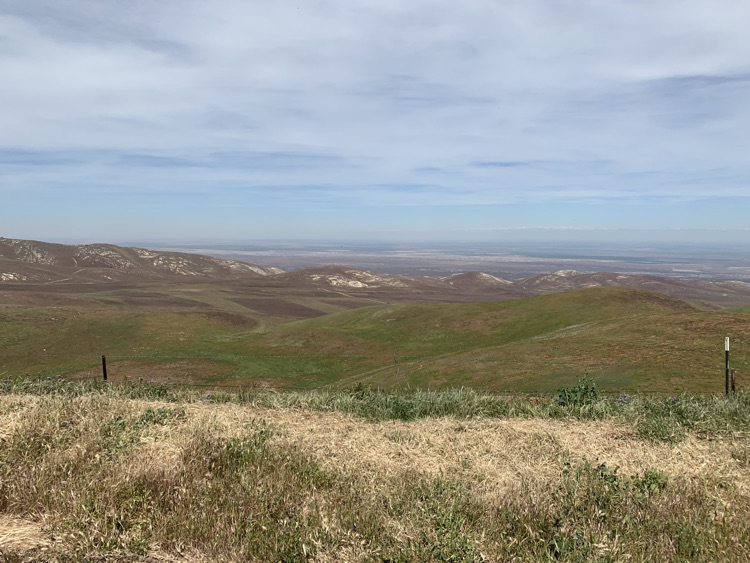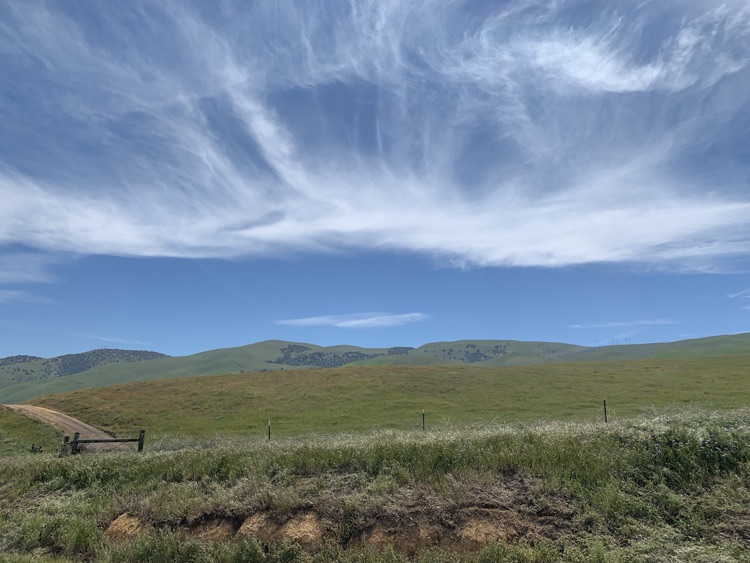 CA-58 then begins to climb again, crossing 2 more mountain ranges using every loop and wiggle it can find. The hills are covered with blue bells and daisies and poppies; we're at the tail end of Super Bloom, but don't tell these hardy survivors!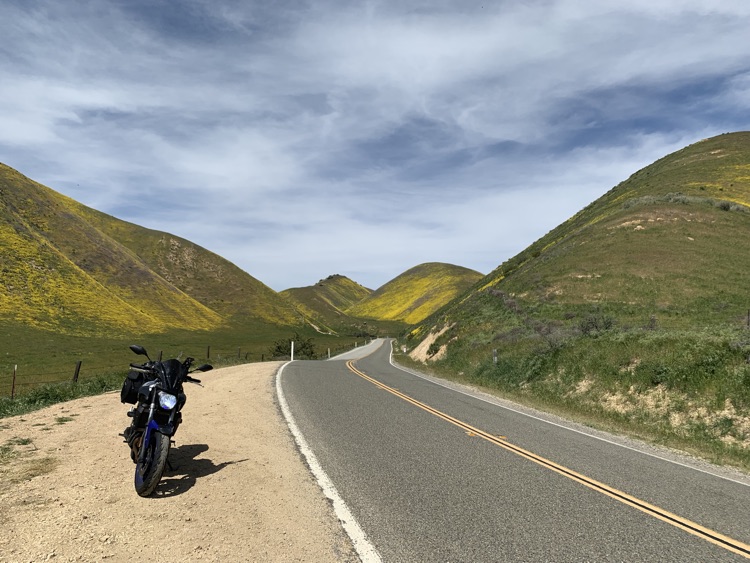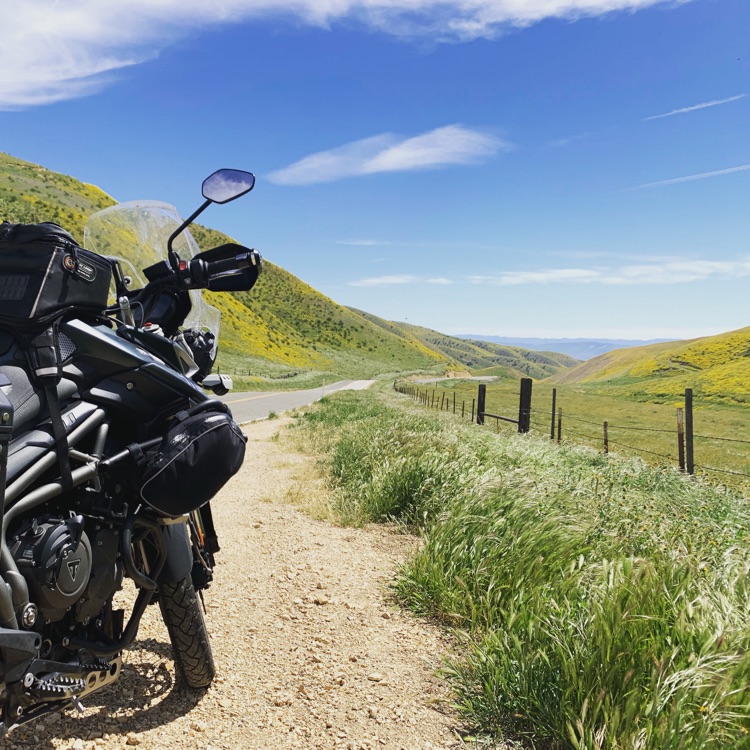 The road was an empty 70 miles of California beauty, but eventually it ended with us in Atascadero, CA, where we stopped to enjoy some well-earned beverages, then back to it, taking an amazing series of backroads 80 miles north to King City. The roads were again empty of traffic of any sort, save for a dozen suicidal ground squirrels that hurled themselves at our tires are we zipped along old tarmac on roads barely a car-width across at times. Vineyards at first, then eventually goat and cattle ranches are all we pass, but see no people nor services for 70 miles. Range land always reminds me of a park - short cropped grass, thanks to the herds, and trees seemingly groomed and raked, they're a soft, orderly sort of agriculture. California seemed to have a few more twists left in its roads budget, and spent them all on this old, tangled goat-path of a road. I was forced to really focus on control of the Tiger, with its weight, wheelbase, and 21" front tire, it is hardly the ideal machine for such a road, but I still felt like I was on E, wanting to hug everyone and smiling and super thirsty (its really dry out here..)
All good things.. we come to King City at last, find a promising Mexican place (Sinaloan, slightly different, and gooooood) and downed cheese and enchilada sauce and beer before crashing out in a family-owned motel on the edge of town.
A long, tiring day of the kind of riding where you have to pay attention constantly to what you're doing, hour after hour, mile after mile, in temps just hot enough to make you sweat but not so hot you're aware you're sweating, so you just end up dehydrated and don't know why…. Back to SF tomorrow!