One of the neat things about traveling with someone else on motorcycles is you're not stuck with that person; you ride your own ride, and have all this time to yourself to have your own unfiltered experiences of the same moments, but then at the next stop or meal you get to share the excitement (or lack thereof) of those moments. Going on a motorcycle trip with me, you get the Full Kerri Experience, but in non-lethal doses.
With that in mind, I took off a bit early and headed by myself down to Victorville, where I wanted to check the local Cycle Gear for a replacement microphone for my Sena. Michelle doesn't take advantage of my inability to talk back at her half as much as I would be if the tables were reversed — she's far too nice for that! Still, being able to say "I'll catch up I just need to pee" or "I would like to eat soon" or having a captive audience to workshop my latest pun-tweet would be stellar. I arrived just before 9am, knowing they don't open until 10, so I set up shop in a Starbucks to work on an unpaid side project. By coincidence, this is the same Cycle Gear/Starbucks shopping plaza I stopped in on my way to BRO last year… am I running out of roads?
Of course Cycle Gear didn't have the part I was looking for, but it was always a long shot. Hopes dashed, Michelle led us out of town along CA-18, which used to be part of the famed Route 66. We branched south after Lucerne Valley, soon climbing up the switchbacks up towards the ski areas and vacation town of Big Bear. Its faux-old downtown reminded me of so many of my other favorite faux-old outdoorsy tourist towns, which are a weakness of mine; money flows through these towns, meaning there's plenty of art, culture, good food, and civic upkeep to please the tourists, but also a solid core of folks who work the jobs that keep these places running smoothly - waiters, cooks, tradesmen, etc… and then of course the same people you'd find in other places - dentists, CPAs, teachers, truck drivers, etc, who just happen to live in super scenic, desirable places.. its an energizing mix to my eyeballs, probably due to being raised in a part of the world full of towns like this, where rural wilderness is slightly tamed, and "culture" is imported to please the tourists. Aspen.. Breckinridge.. Bend, Oregon… Stowe, Vermont.. Talkeetna, Alaska..
Anyways, we stopped at a brew pub, which is always a safe food bet, and sampled some local beers, mine a pineapple wheat, Michelle got a strawberry beer shake, and some solid burgers, then walked off the alcohol, bought some jerky at a specialty jerky store, then back on the damn road!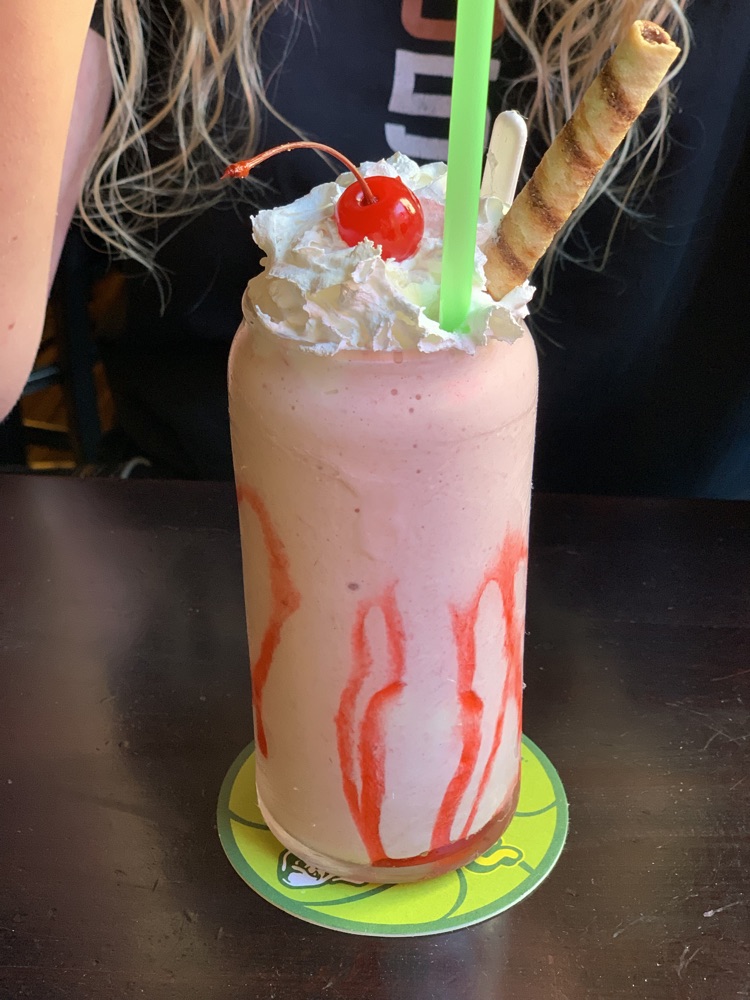 This ride… this ride is worth coming all the way down from Seattle for. Twisty but banked well, light traffic on a Wednesday afternoon, racing along the southern flank of the mountains with the LA valley stretching off into the hazy distance 5000 feet below you, a crisp blue sky, dry, perfect conditions for mile after mile of endless flow. I regret not having a sports bike for this ride, but still manage to get the Tiger leaned way over, more than I usually do. I can't /really/ keep up with Michelle's FZ-07 but I make a valiant attempt.

We stop at Silverwood Lake and evaluate our options a bit; we were intending to take Angels Crest Highway (ACH) but portions of it are closed due to a rockslide (and no, Roko, I don't think I can just "wheelie over it"!) Michelle found us a little-used back route, and off we went. Almost no one on this deserted county road off the back side of Big Pine, CA, coming down the dry northern slopes of the Angeles National Forest into Palmdale, where we're forced to slab a bit through Santa Clarita towards Filmore, CA, our stop for tonight.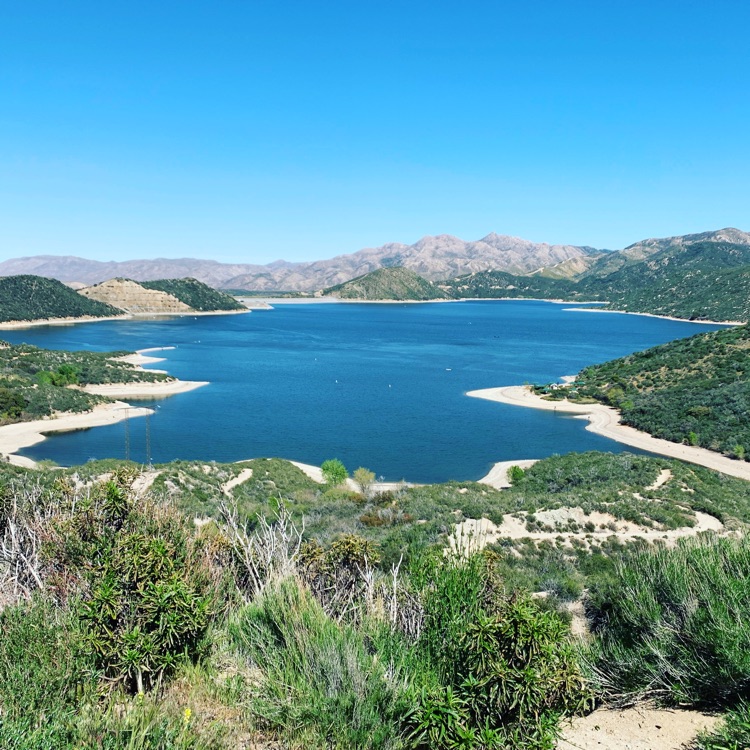 The road is fast, blazing through amazingly fragrant orange orchards in full blossom, rye grass fields, along the Santa Clarita River. An amazing day capped by the sweet jasmine-notes of citrus flowers. I foraged dinner from the "grocery store where everything is in Spanish" next door and fortified with snacks, I watch YouTube until midnight, unable to sleep despite being exhausted because of the excitement and joy still in my heart from this amazing day. They can't all be like this, but when they are, it's glorious.