With our plan shot, we're forced to look at side adventures as opportunities rather than items on a checklist to tick off. While idly poking around Google Maps, I noticed that just outside of town is a road called Movie Road, which is part of Lone Pine's long history with Hollywood using the area as a filming location for westerns. Movie Road is features in countless cowboy movies, and along its dusty, washboard route through the Alabama Hills is a short loop hike that features several stone arches, the largest of which, the Mobius Arch, measures a good ten feet across.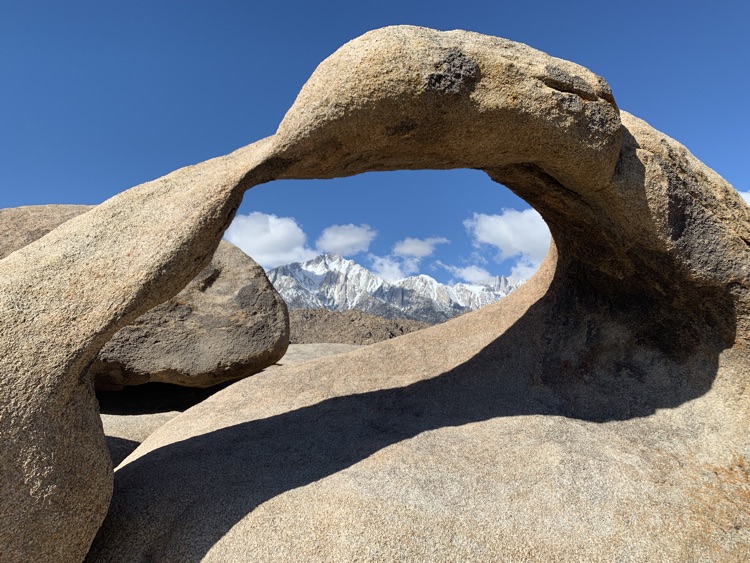 We had perfect weather, but still worked up a sweat due to walking around in riding gear and of course the thin air at 4900 feet (also we're both out of shape!)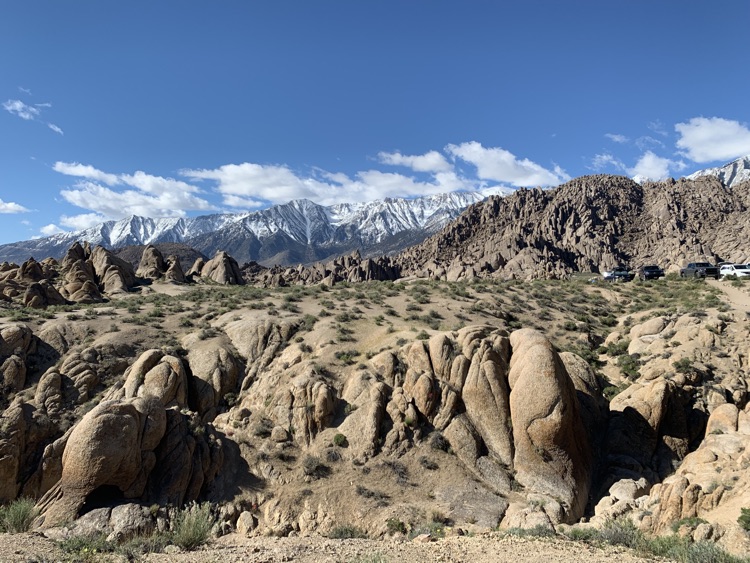 Outside of town, we took CA-136/190 through Panamint Springs and the Panamint Valley. Dropping from over 5000' through a great set of twisties, we cross into Death Valley National Park, but the road flattened out around 2000' of elevation, and then began to climb again, up about 4000'.. and then wow nellie did it drop DOWN into Stovepipe Wells where we flirt with sea level for the rest of our time here.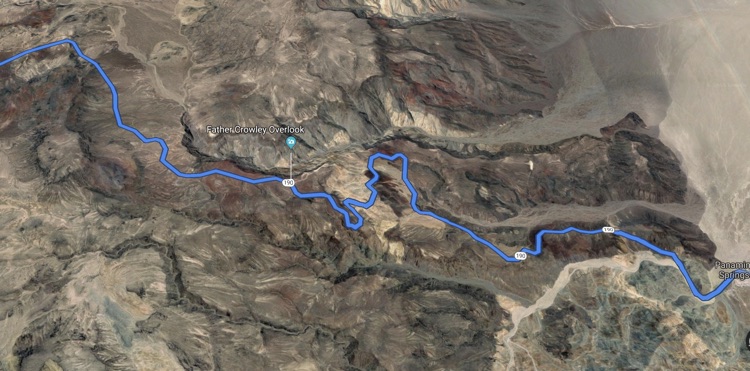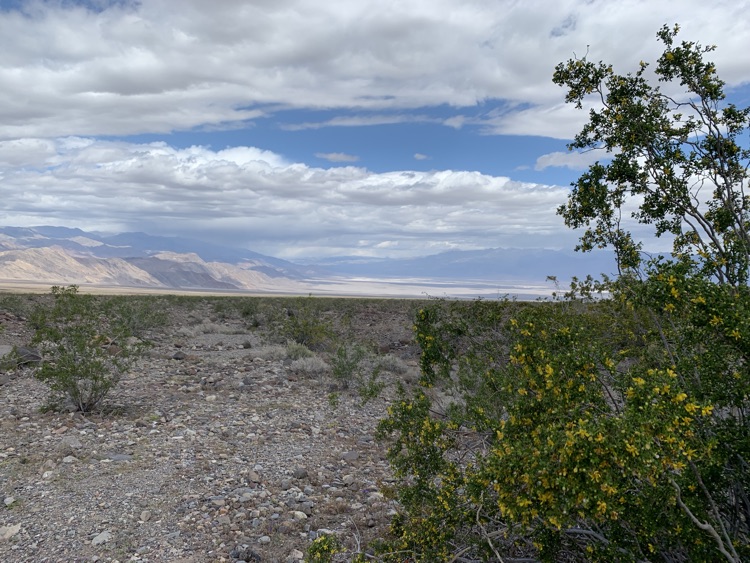 My National Parks Pass saved me another $25; I swear, the $80 spent on it has saved me over $500 since last summer! A stop in Furnace Wells for gas, and we assessed our food options, which consisted of "fry bread tacos" or "fancy enough to wonder if they'll let us in" resort restaurant… normally, I'd dig the fry bread, but I'm already doing a horrible job watching the ol' diet on this trip, so fancy resort salad it is! No, I don't know why there's a resort here in Death Valley, but their advertising slogan is "Luxury in the middle of nowhere you'd rather be" so…
Riding south from Furnace Creek, we passed the it tourist stops, and I toyed with stopping at Badwater Basin, the official lowest point in North America, but parking had overflowed into the actual road, and it looked a bit of a zoo.. and besides once past this popular spot, traffic disappeared entirely, and we had the entire southern end of Death Valley to ourselves!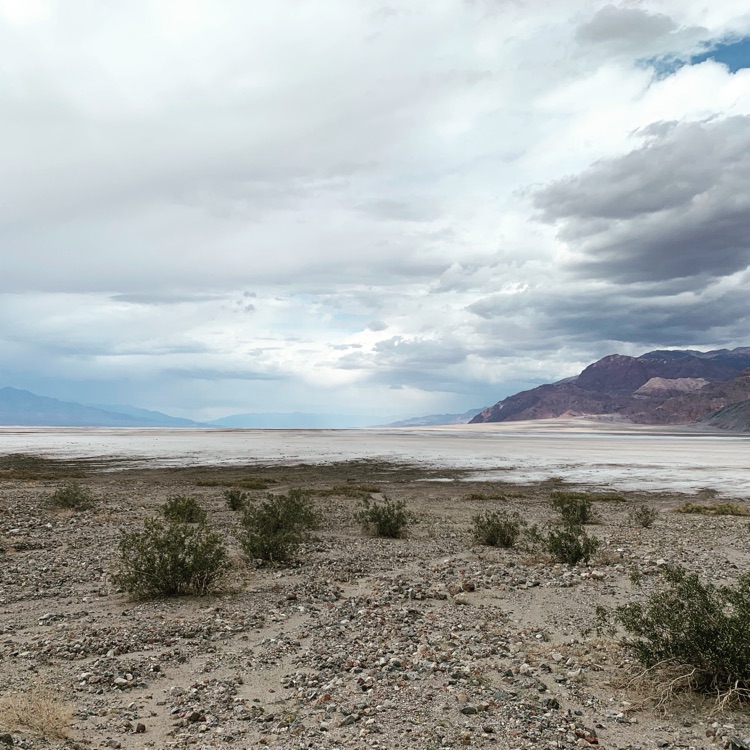 Once the valley ran out, the road dodges and climbs back up to 4000', and the temperature, once a cozy 80F in the valley, dropped to 58F and then the rain hit, a short squall sized such that it made more sense to outrun it than stop and gear up. We stopped in Shoshone for gas and a break, chatting with a pair of guys on a lads weekend in Vegas.
60 miles screaming south across mud flats, sand dunes, and still more sage scrub along the eastern border of the park, rains storms on either side of us, making for wonderful rainbows and gloomy showers in the distance, and raising the sweet smell of petrichor all the way to Baker, a wide-spot in the road. Its grown since the last time I came through, but the principal is the same - gas, cold soda, and tourist knick-knacks! Of course we obliged, and visited the Alien Jerky Store and laughed and marveled at hot sauces and jerky and even a mechanical Alien Trump; someone has invested heavily in a concept, and they are sticking to it! Coming soon: an alien hot-dog/burger drive through, and a "UFO Hotel". Michelle and I both agreed that a UFO themed hotel is worth at least a $50 upcharge.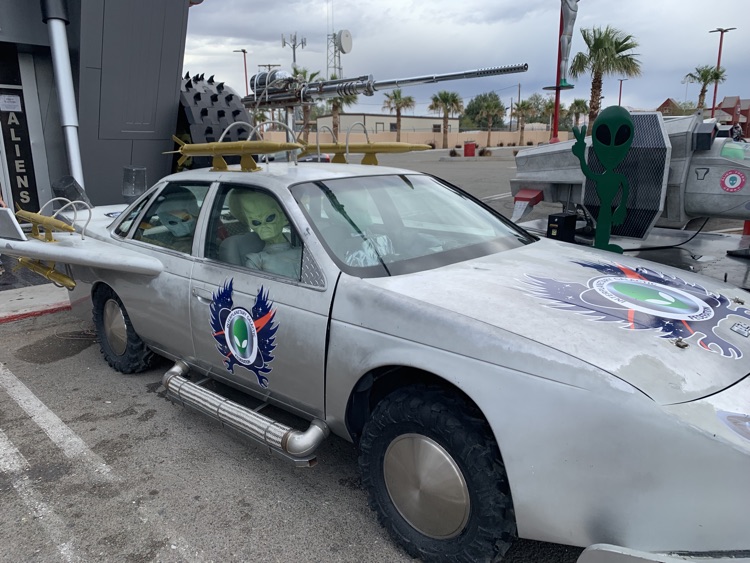 Booked a hotel in Barstow, another 50 miles down the slab, and headed out. Rain and wind followed, and Michelle took off; I don't blame her, I'd want to minimize my time on a naked bike in these conditions, too! I had to stop 2 or 3 times to relax, the wind was pretty gnarly.. not as bad as the Santa Ana's I fought last November, but BAD ENOUGH.
Tonight is delivery pizza and fall asleep ASAP; the altitude, temperature, and weather changes one after another today really zapped us both.. but was amazing.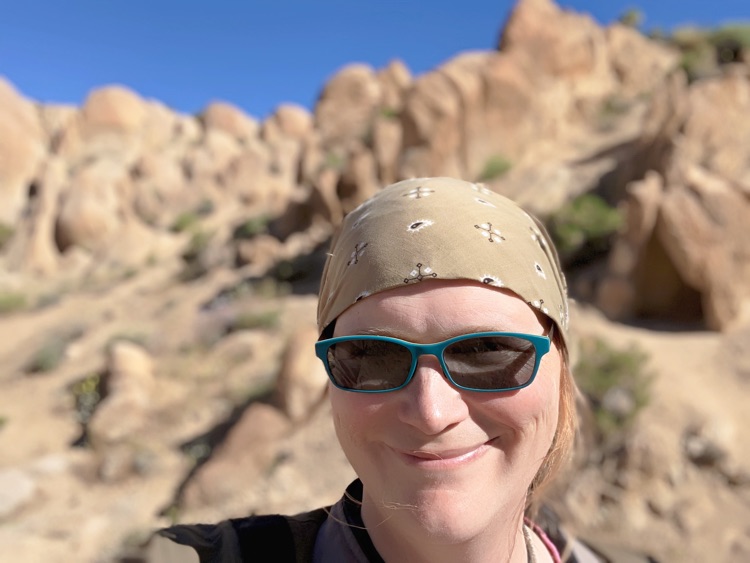 Tomorrow we're off to ride Big Bear and ACH (if its open!)