"What the fuck was I thinking?"
5:00 am is an appropriate time for cursing, and the sound of wheels on wet pavement outside the house was all the prompt I needed. I have 500 miles to ride today, and a rainstorm is not part of my plan. I lazed around in bed until 6, finally convincing myself that I should really just do it if I'm going to. 30 minutes later I was packed and loaded, and by 6:45am we started trundling south, I-5 already busy with morning commuters. I stopped 40 minutes south in Tacoma for coffee and a breakfast sandwich, then back out into the cold mist of Puget Sound. Familiar ground, just grinding miles, but I have a destination in mind that is much further than Portland.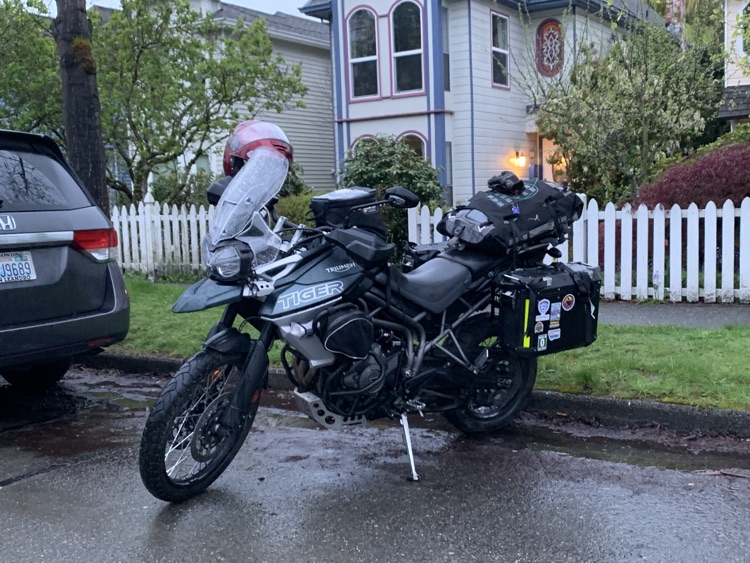 I stopped off at Latus Triumph to pick up a USB adaptor; Triumphs use the same "powerlet" plug as many of the other Euro bikes, so you can't just pick up any old power adaptor at a gas station; oh no, this adaptor will cost $30 and require you to hunt through the entire shop for a dusty, forgotten clamshell package in the backroom. Still, the dealership, a joint Triumph-Harley Davidson shop, was mostly empty, so the sales guy was cheerful to have someone to talk to. I got plenty of suggestions on routes I should take instead of the one that gets me where I'm going, but I didn't mind, as I'll take them someday (just not today..)
Spent my days with a woman unkind
Smoked my stuff and drank all my wine.
Made up my mind to make a new start
Going To California with an aching in my heart.
Delayed for 45 minutes, I was back on the road by 11am, rejoining I-5 to Springfield, OR, where another 45 minutes were spent in a grocery store, eating a salad and the newest flavor of sugar-free Powerade (gotta get those electrolytes in when riding!) sitting by myself in the grocery store Starbuck's small seating area. Truly the finest of dining options while on the road. I also grabbed some snacks for later, pickles, hardboiled eggs, and some meat and cheese packs that'll keep for at least a few hours with no refrigeration.
Someone told me there's a girl out there
With love in her eyes and flowers in her hair.
Took my chances on a big jet plane
Never let them tell you that they're all the same.
I-5 through Oregon was the usual slog. The valley was far greener than when I rode it north in November, the fields full of sheep and goats grazing on the fresh grass. I pulled off into Grants Pass around 3pm, stopping briefly to change up the layering solution, as the sun had come out and the day warmed up to a balmy 64F. Grants Pass itself has one of the longest, slowest downtowns I've ridden through, but soon enough I was free of town and climbing through the Pacific Coast range and the Siskiyou National Forest, dense coastal rainforests, wild rivers. I passed Cave Junction, electing to skip the Oregon Caves National Monument, saving it for the trip back, and soon crossed into California, stopping at the rest area/welcome center/fruit police station to rehydrate and have an afternoon snack before the long twisty descent to the coast, following a branch of the Smith River. US-199 hangs above the tumbling, crashing rapids, clinging to a cliff face, ducking and weaving in and out of canyons and gullies for miles and miles, but soon flattening out as the first redwoods begin to appear and the briny smell of the ocean begins to hint that we're close to our destination.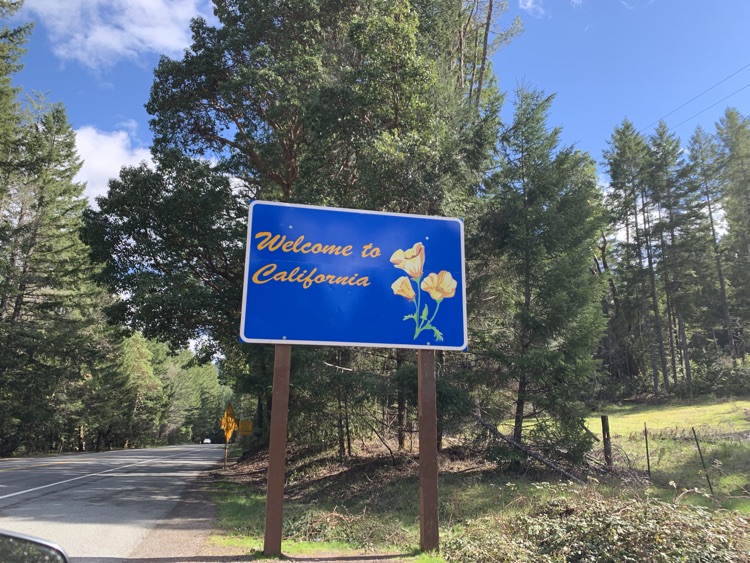 Having quite a lot of time to think while by myself on the road, my thoughts often drift to the people whose memories I carry in my heart still. It has been two years since my ex left me and shattered my world, but I still love them, thinking about them daily with fondness. We made this exact trip early in our courtship, nearly 8 years ago now, and this is my first time retracing these roads. There's the funny sign we laughed at, there's the pull-off where we stopped to pee.. memories I couldn't tell you I still had until they slap me while I blister the road at 65mph. These memories have stopped making me cry when they reappear like ghosts, no longer jumping out of the shadows, but lingering in the corner of my vision, distracting me, prompting not sadness but more the memory of sadness.. as if I'm sad and full of longing more from habit than from an actual pain of loss.
Ride a white mare in the footsteps of dawn
Tryin' to find a woman who's never, never, never been born.
Standing on a hill in my mountain of dreams,
Telling myself it's not as hard, hard, hard as it seems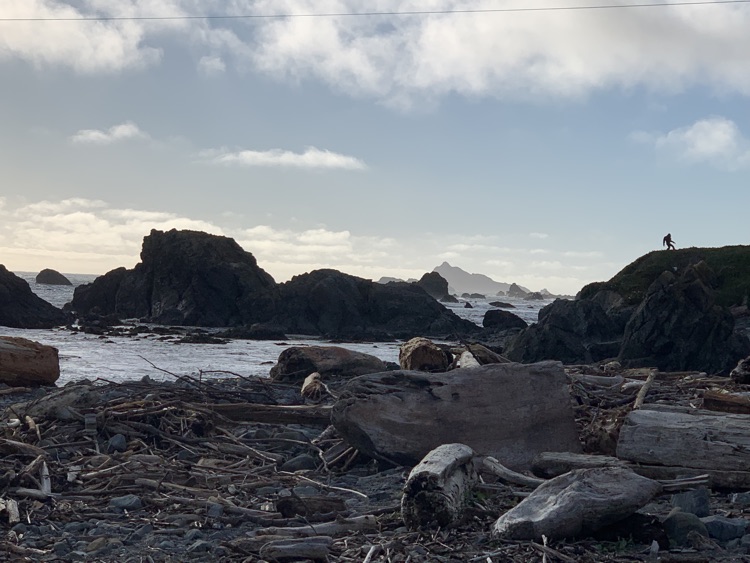 I checked into the independent motel on the north edge of Crescent City and with a couple hours of daylight left, went exploring. There isn't much off the main drag of US-101 that cuts through town, but I walked around the water front park for a bit and explored the private Citizens Marina that operates as a kind of coop effort, built and maintained by a collective since 1950 (according to the sign.) I scoped out breakfast options, stopped by another grocery store for dinner, gassed up and headed back to the motel. After a half-assed job of cleaning the chain (I forgot to restock chain lube, but I had plenty of chain cleaner, a deficiency I discovered after stripping the old chain wax off.. oh well!) I rewarded my efforts by eating an ice cream bar and falling asleep early like a responsible adult who has her shit together.