Who has 2 thumbs and bought a new motorcycle right before leaving on a 5 week trip?
It wasn't supposed to be work out that way. On the first coast-to-coast-to-coast trip of last year, somewhere in the middle of South Dakota, I decided that I wanted a bigger bike. The Morrigan is a VStrom 650, and while she's been dependable, sporty, and a great bike that took me on nearly 40,000 miles of adventure in 18 months, she just isn't powerful enough to deal with both the weight of me and my gear AND the long, empty stretches of highway I was chewing up crossing North America. A bigger bike solved those problems, but what?
I really like the comfortable riding posture and aesthetics of adventure bikes, but really disliked the "you must ride a BMW 1200GS or nothing" attitude that I kept running into in ADV rider circles. KTMs are nice, but a bit more dirt-oriented than I wanted, and the Africa Twin, while a great machine, left me cold. Tenere? Multistrada? Step up to a VStrom 1000? There are plenty of great machines out there, but in the end, the bike that caught my eye and heart is the Triumph Tiger 800.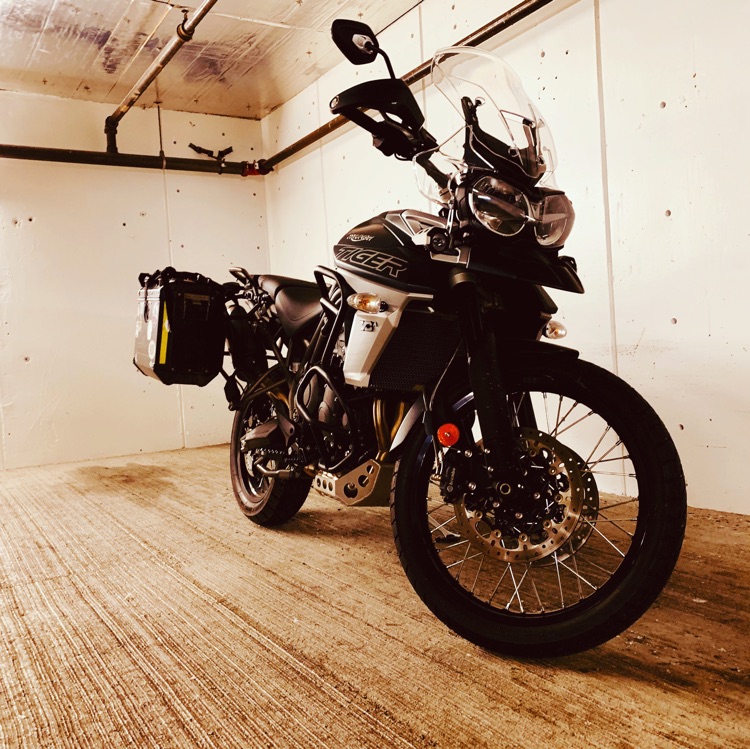 I'd been stopping by the Seattle dealership for month, side-eying the Tiger, and I'm pretty sure everyone there knew me by name. A couple guys would just look up when the bell dinged as I entered, say "Hey Kerri" and go back to what they were doing; they knew I was gonna buy, but that I wasn't gonna buy today. Despite that, they always made me feel welcome. In fact, what sealed the deal for me was I had scheduled a test ride of a 2014 Tiger 800, but when I showed up 5 minutes after they opened on a Saturday, found that they were a little short-staffed that morning. A particularly needy customer come in right before me, and was monopolizing the lone guy working the floor that morning. Every few minutes, the sales guy would step over and quietly say "sorry Kerri, just give me 5 minutes to get this guy settled…" Well, after about 20 minutes, I decided you know what, this is just taking too long, I've got other things I need to do, I'll just come back later… so I left. No hard feelings, wasn't upset, just needed to get on with my day.
Less than 30 minutes later, I had a voice mail from the dealership, apologizing for what happened, assuring me I was welcome, my business was important, that they knew I was serious, please come back and let us make it right.. such a change from other dealerships I've been in. BMW dealer, I was roundly ignored. Ducati sales guy showing me the Multistrada wandered off in the middle of talking to me to help an attractive young woman who came in the door. Classy. The combined Yamaha/Suzuki/Honda dealer? I'm sure they're lovely folks, but everyone I talked to there could just as easily have been selling ATVs, jet skis, or generators as motorcycles. No, the best dealership experience I've ever had was at Triumph of Seattle, and I just have to acknowledge that.
More than that, though, is the machine itself. Power for what feels like days, creature comforts and quality-of-life-on-the-road features, aggressive-but-not-macho design, and a build quality to admire. The XCA came with all the farces, bits, and bobs I'd be adding anyways - aux lights, racks, center stands, heated grips, touring-friendly windscreen, beefy milled pegs.. plus a few options I didn't know I "needed" like cruise control and a heated seat (omg, I love that seat!) I was hooked, and closed the sale on a 2018 Tiger 800 XCA.. and then promptly left on a 5-week trip! The luggage racks compatible with my hard panniers wasn't in stock for a week, so I left the new machine behind to have those added by the shop (along with beefier crash bars!)
I picked it up when I got back, and The Morrigan has gotten almost no ridding since Thanksgiving. I've spent most of the past 4 months, when not buried in snow, breaking the machine in and making friends with it, taking it on many extra-long day rides to get to know it. There's stuff I don't like about it - the stock seat, while yes, heated, isn't the most comfortable I've ridden - taken as a whole, this is a solid upgrade for me, and I'm pleased with the purchase. 4600 miles on the clock already, due for its first major service interval when I get back from my next trip, which I'm leaving for next Friday… so hang in there. Spring is here, and we're ready to hit the road!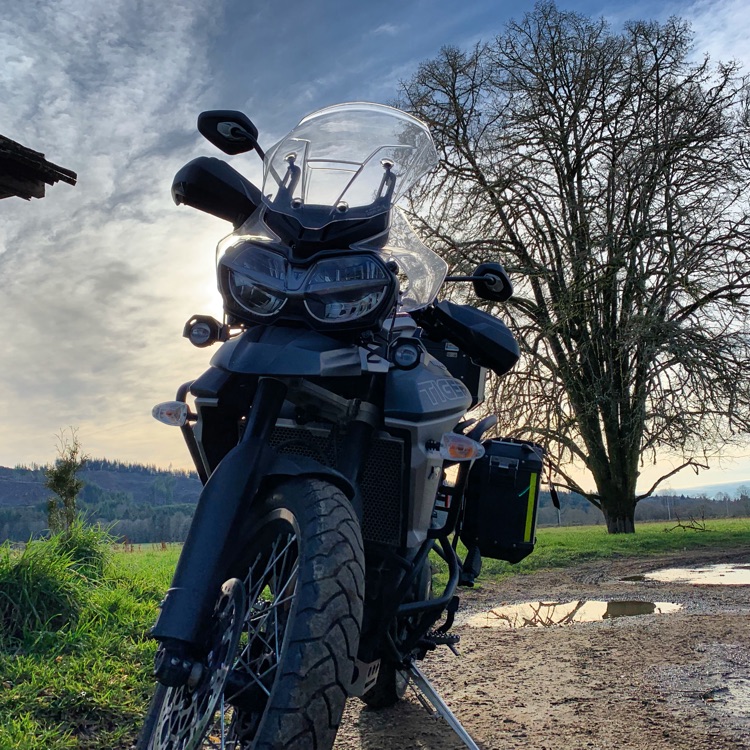 Psssst! Anyone want to but a kitted-out and well-maintained 2017 DL650?