The original plan was to stay in Phoenix until the 23rd, when the dealer was going to replace my fork seals, but the part didn't arrive on time for my service appointment, so I had to stick around Phoenix an extra day. It still hadn't arrived 24 hours later; due to some kind of snafu the dealer hadn't updated their mailing address when they moved to the new shop 3 weeks ago, so the parts were at their old location across town. "Maybe they'll be here tomorrow? Definitely by Friday!"
I decided to push on.
Phoenix sits in a valley that seems to compress the heat and sun into a distilled violence that beats on you with a fury. I wilted under the assault, but managed to get out of the main metro area ahead of rush hour. I stopped at Picacho Peak State Park to get my Arizona stamp, dodging turtles on the 1 mile road in to the park.. turtles! My childhood is full of turtles as a swamp creature, not a desert dweller, so it was strange and exciting to see them slowly shoveling across the road. I waved to all of them as I wove slowly past, and let the ranger at the visitors center know about them; she took off immediately to guard them, as many car drivers will crunch right over them without thinking, leaving me to browse the interpretive plaques and gift shop.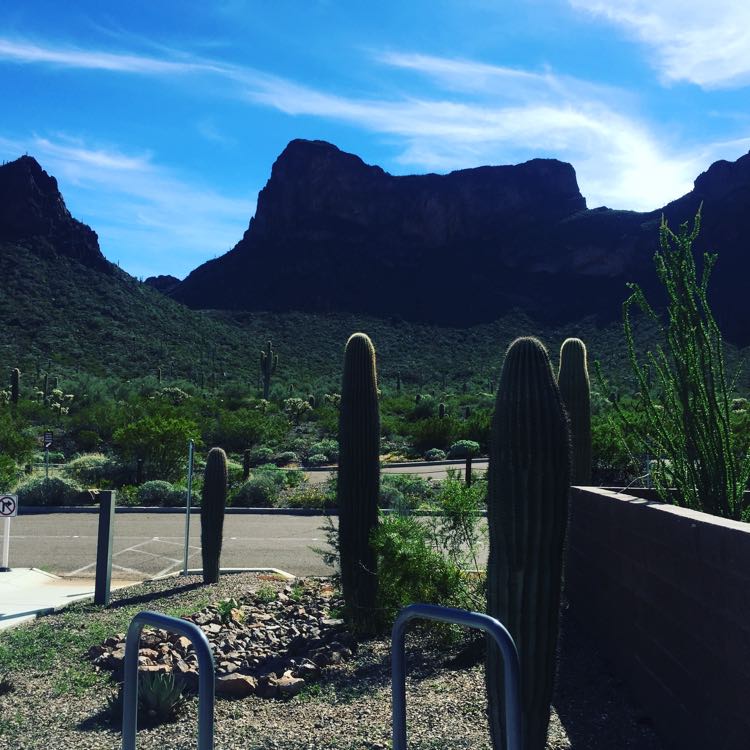 I thought of stopping in Tucson, but there's too many sad memories there still. Past city limits, the road began to climb out of the valley, and the heat dissipated into a pleasant afternoon with a minimum of wind. The New Mexico border was a gorgeous transition from bleak, desolate, desiccated waste lands to pine, mesquite, and tumbled rocks, and then you are flying across 5 or 6 miles of a dry salt pan, but the hills in the distance all have foliage and trees, and indeed the very land itself seems healthier and more fertile than the sad, wasted grit of Arizona. It might not look it from satellite pictures, but fig, olive, and pecan plantations lined long stretches of I-10, and I vowed to stop on my return run to sample the pies, jams, and preserves advertised at each exit.
Stopped this evening in Deming, NM, a sizable town with 3 highway exits, a Walmart, and an airport with 3 runways; this is my first time in New Mexico, leaving only Arkansas and Hawaii on my list of states I haven't yet visited. Tomorrow I'll be in Texas, after stopping at White Sands NM for my New Mexico stamp; I don't know how far I'll get into Texas, but I don't have a place to stay in Austin until the 27th, so I have time.