On the road by 8:15am, a brisk morning. Climbing out of the steep valley carved by the Deschutes River, cautious on cold tires, we popped out onto the charred Oregon grasslands, sun blinding and low. Grateful again for the heated gear, the frost warning light came on and we took it easy to Bend, OR. A delightful brunch at a patio fire pit table in the sun, as the day began to warm? Pretty damn nice!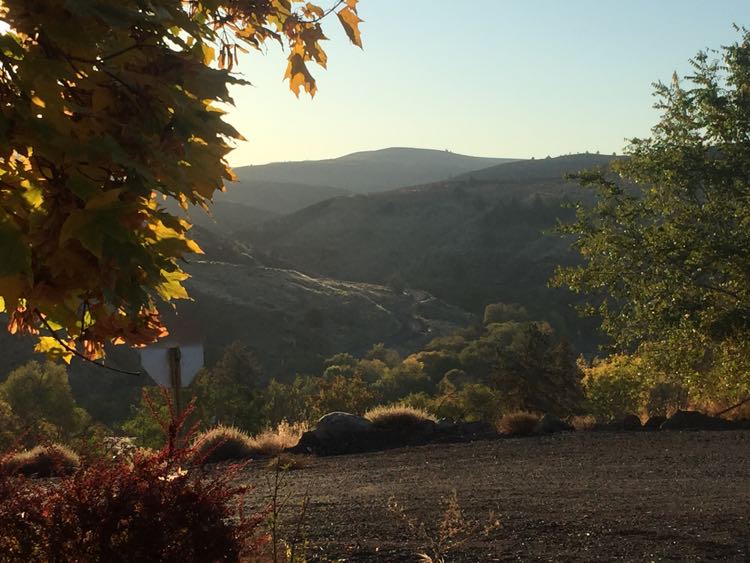 Continued down US-97 through the Deschutes National Forest, past the volcanic lava fields and pines to OR-31, a road I've wanted to take for years — The Oregon Outback Scenic Byway. It cuts east out of the forest, past Fort Rock, a 200-foot high tuff ring, where hot magma rose up below an ice age lake and exploded into steam and ash, creating towering, circular walls in a pipe-like structure. Continuing south, we skirt the edge of the Fremont National Forest, spooking the occasional deer (including one that stood in the middle of the road, debating which way to jump!) Beautiful country, teetering on the edge of forest or plain, sliding along the edge of Summer Lake, a shallow alkali lake with an average depth of only 1 foot! Mostly dry now, it'll fill in the spring…
Uneventful crossing into California, where we got waved through fruit customs; apparently 2 white women on motorcycles are just not a threat to regional agriculture! We got in to Surprise Station, where I just had to stop for gas (I was quite jealous of Suze's GSA and its 8-gallon tank..) We were making such good time, we decided to push past Alturas, CA, our planned stop, and headed towards Susanville, CA, another 100 miles or so down the road.
Susanville was a hoppin' place; any town with a Walmart is sort of a "big town" by definition. [generic cheap motel] secured, walked over for a solid-but-uninteresting Thai dinner that was pretty Americanized (2/3rds of the menu was variations of burgers and fries..) , called it an early night.