Eye masks and ear plugs cure almost every sin associated with camping and staying in [cheap generic motels]. Funny, not turning on the TV or lights, with ear plugs in while lying in bed reading, I'm falling asleep by 10pm every night; up at 4am probably helps with this, too.
Today it was up, packed, gassed up, and on the road by 6:58am. I had hoped for a bit earlier, but the young guy, Raj, manning the front desk, wanted to chat. He bought a Harley Sportster a few years ago and "rides" but gosh isn't it cold? I laughed it off, because hey I'm badass, no need to tell him how much I'm dreading getting on the highway right now - there's frost on car windows and hints of skim ice in puddles by the car wash at the gas station. The bike reads 38 though so I layer up and hope for the best, hopping back on I-80. I stop 4 miles later at the WY/Utah border to document the moment.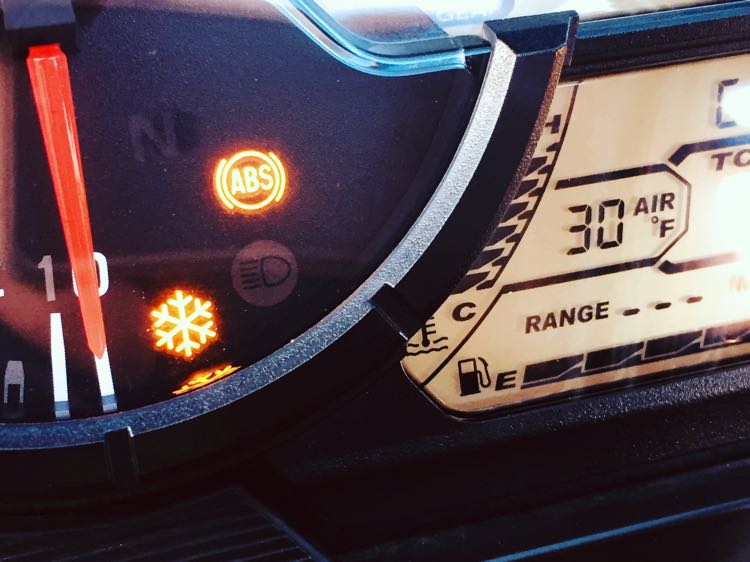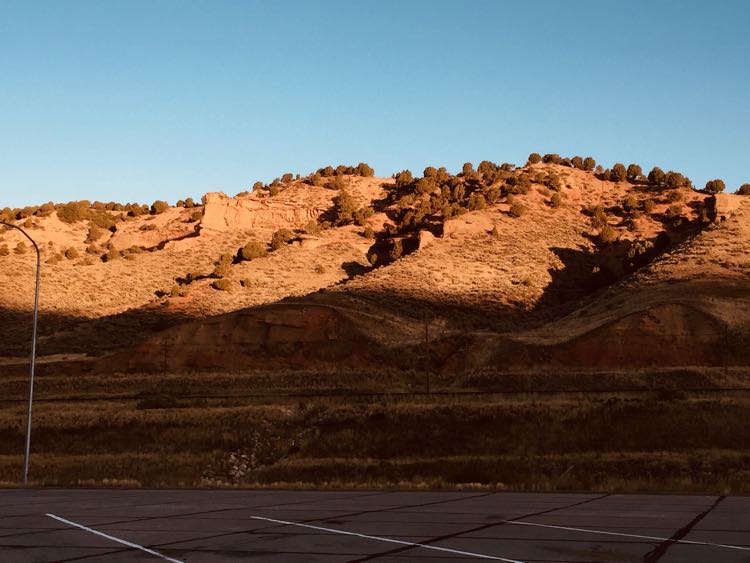 I slip into Utah, which always surprises me with how gorgeous it is; something different from the muddy gas fields of Wyoming's Red Desert, or the scrubby lava fields of southern Idaho. Farms here in Echo Canyon, cutting through the Wasatch range, seem tidy and orderly, small and human-sized, compared to Idaho where massive irrigation projects and industrial farms seems to have scraped and clawed pumice and basalt aside, sifting precious topsoil out into rendered fertility.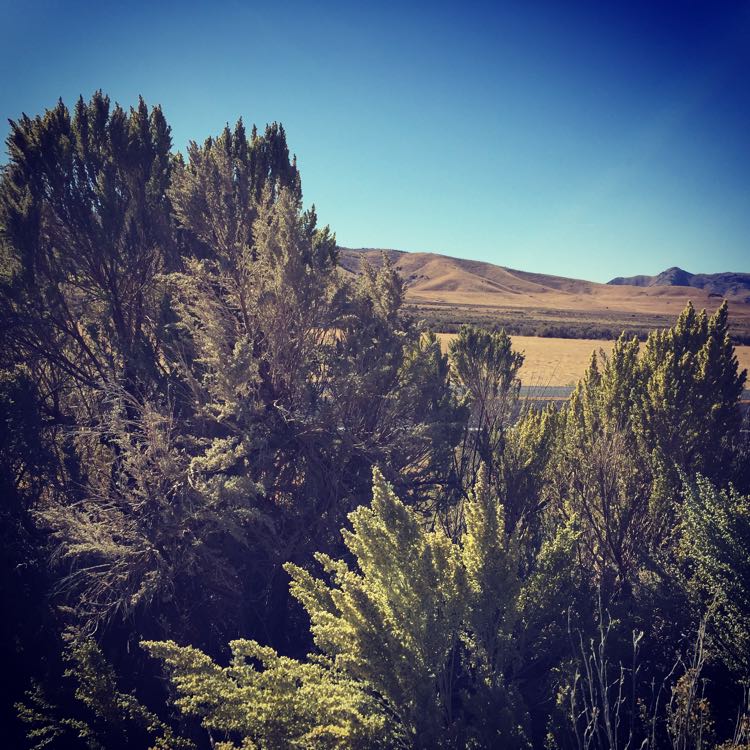 I-80 splits south towards Salt Lake City and Reno, NV, and I head north on I-84 towards Ogden, where I pull into a Starbucks, the temp having climbed to 44F. I sat for an hour, getting caught up on some work things before heading back out to a balmy 60F, perfectly clear blue skies and sun. I-15, skirting through the industrialized north suburbs of SLC, hugging the northeast coast of the Great Salt Lake; you can smell the moisture and the brine. The desiccating lake, sadly, won't be with us in the future if Utah continues to grow and consume water the way it has for decades, but I get some glimpses of wildlife, marshes, drying salt pans as I jump off the slab and cut through Corinne, UT towards Promontory Summit, and the Golden Spike National Historic Site, the location where the infamous gold/silver railroad spikes were driven in, where the first transcontinental rail line was finished, east and west meeting on a high point over looking the Great Salt Lake.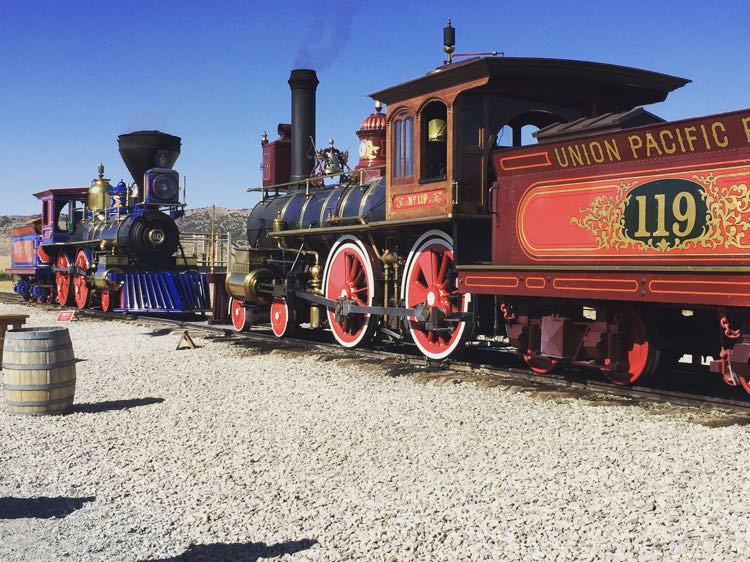 It was a free day at the park, and 50 or so tourists watched a recreation of the moment. Actual period steam engines, now restored, pull up and blow whistles, chewing on wood rather than coal - there wasn't enough coal available in California/NV/Utah to feed the hungry engines, so they were retrofitted to burn wood instead. The park had several unpaved miles along the old rail line easement, but I got my stamp, watched the interpretive film, and headed out. I want to make miles today… I cut back through rural Utah towards Howell to pick up the highway again, passing the Northrup-Grumman rocket engine plant, a sprawling complex that had surprisingly little visible security besides razorwire-topped fencing.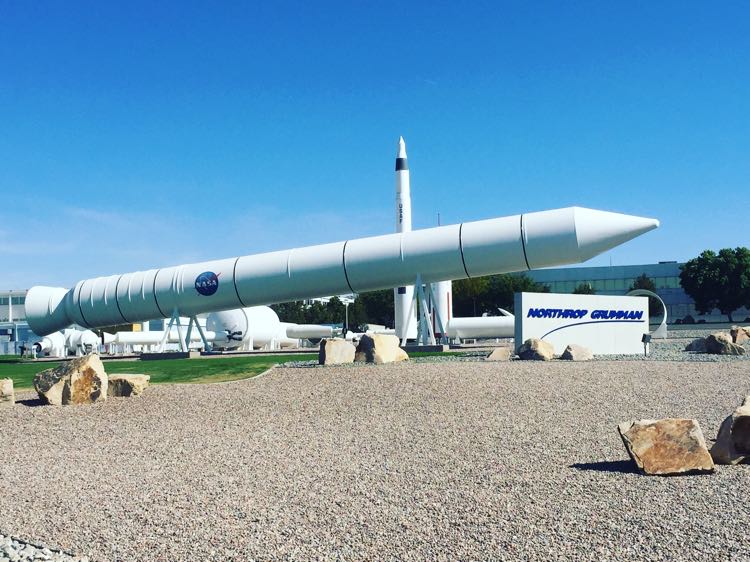 The arbitrary line in the desert between Idaho and Utah would be easily missed, except for the "Welcome" signs on either side of the highway, and the sudden, dramatic stop of irrigated fields. Idaho, apparently, doesn't think much about making this desert blossom. The rest of this day is just riding, riding, riding, the temperature climbing up to 86F at points, making for one hell of a temperature differential today. This part of Idaho is boring and depressing - massive industrial farms, dry, dusty fields of thin, beige topsoil studded with lava rocks and scrub. Big slab, truck stops, mechanics, big rig towing services.. just endless pavement, no trees, and dusty; it feels like waste land to my eyes, raised in the woods of New England, living as I do on the fertile coastlines of the Pacific Northwest.
I make it to Ontario, OR, my original goal, with plenty of time to make more miles today, so I booked a [cheap generic motel] in La Grande, OR, 2 hours further along. The road climbs from the Snake River up into the Umatilla Mountains, the hills and valleys rippling, covered with short yellow grass, stiff but soft somehow, like the pelt of a lion.
La Grande is a college town, home of Eastern Oregon University. A small state school, it is entirely ok for you to not have heard of it. My [cheap generic motel] for the evening is comfortable and clean, with worn but functional furniture and a working jetted tub, but I'm too tired to bother. I get a couple sandwiches from the Burger King next door and gorge myself into a sleepy stupor, asleep by 10pm. Tomorrow will be my last day on the road, short and sweet; I should be home by 2pm.