Awake at 4:30am, I debated just sleeping in, but new it was going to be another hot day, and I had an 8am meeting, so up and on the road by 6:30am was the order of the day, rather than stick around the motel. Felt great to be awake and underway just as the sky began to ease towards day. Out here, with few obstructions, the hearth-orange glow of the eastern sky lights up the entire rim of the horizon, fading from blazing embers to salmon to washed dusty rose-pink to the west, the sky above turning milky. The road towards Kansas City cuts straight across the prairies of southern Missouri, dipping into small hollows and valleys between gentle hills, each depression filled with a furtive fog floating just feet above the ground.
I hop off I-70 and wiggle through Independence, MO, to the Frontier Trails Heritage Museum. Independence was the jumping off point for settlers embarking on the Santa Fe, California, Lewis and Clark/Dakota, Mormon, and Oregon Trails, and the museum was a really stellar showcase of their stories, with a few period wagons with explanations of how they were used on a day-to-day basis, details of construction, etc. They also had a number of exhibits on different branches of the trail, including cut-offs, famous passes, and other landmarks along the journey west. Quite recommended!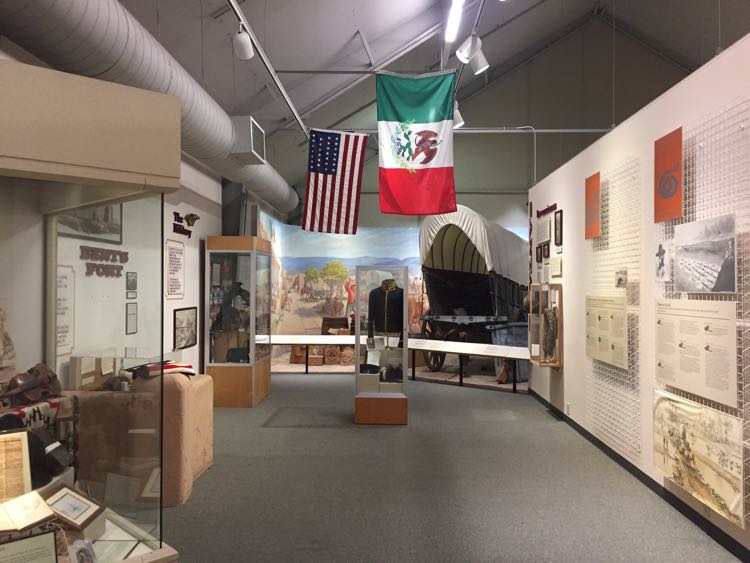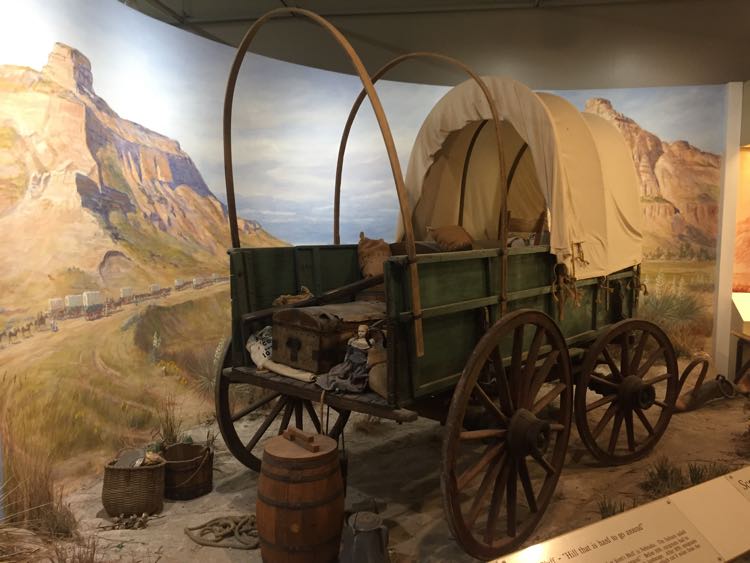 I picked up stamps for all 5 Nat'l Historic Trails, and then wandered back to I-70 to Kansas City, somewhere in there crossing the border into the Kansas-half of Kansas City; its strange, not having a river to cross that marks the border.. I stopped on the west side of the city, by the soccer stadium and speedway, to meet with my friend Juan Carlos for lunch. I hadn't seen him for a couple years, so it was great to sit and chat, hear about his family, photography, and high school football - good luck to the team this year! I was amazed at how high-tech the field where his kids play is! Seriously impressive, especially compared to the rickety stands and scrubby field my high school's team played on.. man, kids these days have it EASY!
Anyways, after a delightful lunch and catch-up, I got back onto the road for more I-70 slogging. The short section between Kansas City and Topeka is tolled, and I had a moment of grump about why they can't just accept EZ Pass, which I guess means I've come around completely on the dang thing..
Stopped in Topeka to visit the Brown V. Board of Education NHS, documenting the fight for desegregation in US schools. There were several powerful exhibits, all situated in the old classrooms of this iconic school, including a video installation that moved me to tears. A hallway between 2 sections of exhibits, a long dark hallway, each side with massive flat-screen displays showing footage of the racist protesters picketing the school, completely silent until you take the first step into the hallway, when the racist chants, jeers, anger, and hatred spew from hidden speakers, at loud volume and in is-it-live-or-is-it-memorex fidelity.. terrifying. :(
I retreated to the gift shop and got my stamp (50 of 50! YES!), chatting (as I do) with the volunteer. Got some great tips for Topeka sites to see, including the Equality House (across the street from the Westboro Baptist Church compound), but after the museum I really couldn't stomach any more hatred, so I opted to head west again. "It gets boring after Topeka," JC had warned me, and for half an hour I was wondering what he meant.. slowly rolling hills, lots of trees, creeks and rivers… then BAM you're on the prairie, pasture land as far as the eye can see, broken only by the occasional field of sorghum, heavy and ripe with seed. The wind and the heat picked up as I moved west away from the water, slowly beginning the climb towards Denver. I played tag with a pair of Harleys and a BMW 1200 GS for several hours, trading waves and head nods and other Secret Motorcyclist Signals until we all exited at Hays, KS and went in 3 different directions.. godspeed, gentlemen… godspeed.
Spending the night in a [extra cheap generic hotel], picking up a sandwich and regional potato chips from a bodega next door. Cheap and functional, with no bugs in the shower and only a slightly-funky odor, that's all I require. Tomorrow I push to Boulder, Colorado, where I'll be staying a few days to see friends and get the tires, now worn to the wear bars, swapped out before I tackle the Rockies. I still don't know my exact route home, but I'm guessing it'll only take me 3 days of riding no matter which route I take; I have far more stamina for piling up miles than I did last summer.