Up at 4:30am, worked on the talk and some open source stuff, and tried to chill; I enjoy public speaking, and I'm good at it, but I'm always nervous ahead of time! Packed and checked out of the hotel by 8am, parking was easy and free at that hour! The talk went fine, of course, and I hit the road shortly after finishing; the weather is going to start turning early tomorrow, so I'm trying to get out ahead of it.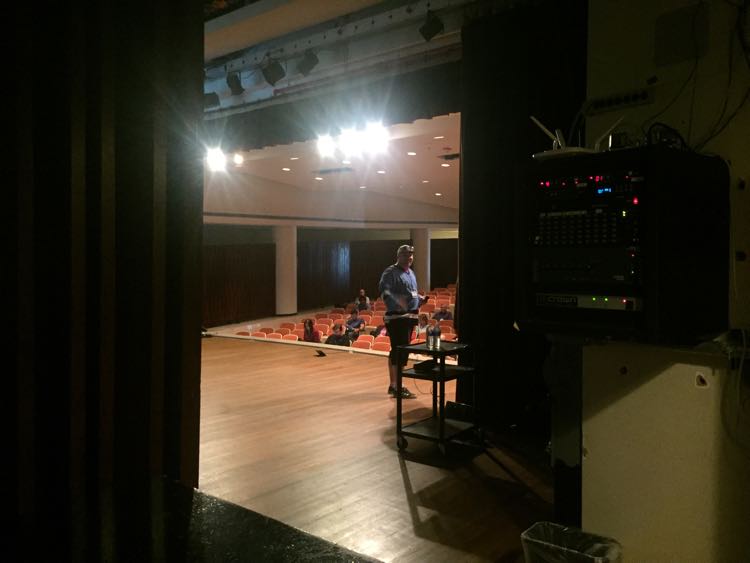 So, 10:50am or so, I rolled out, feeling light and free; I hadn't realized how much I'd been stressing about this talk! Back on I-90, I'm continuing the retrace my steps as I did for the previous 2 days, but shortly after crossing into Pennsylvania, I turned south on I-79 towards Pittsburgh. The heat and humidity continued to build today, and I soon found myself going through water as fast as The Morrigan goes through gas. Most people don't realize how dehydrating sitting in an 80mph wind is! One benefit to the heat, though, is that the grapes in this region are ripe ripe ripe, and the air smelled strongly of them, but once away from the coast farms disappeared, replaced with lush forested hills, reminding me of southern Oregon in a way, a rich land empty of people.
Pittsburgh is a great city, perfectly sized. Apple Lady got REALLY confused about where Fort Pitt National Monument was, but I guessed that she was "off" when I'm on a highway and she says "You have arrived!"
No, I have not.
I've been to Pittsburgh enough to know more or less how to get down the downtown core, so I managed without GPS. Fort Pitt is at the confluence of the Allegheny and the Monongahela rivers turn into the Ohio, built by the British during the Seven-Years War. The outline is preserved in outline form, and the visitors center looked extensive, but I'm pushing for Wheeling to get a West Virginia stamp… if I can get there by closing!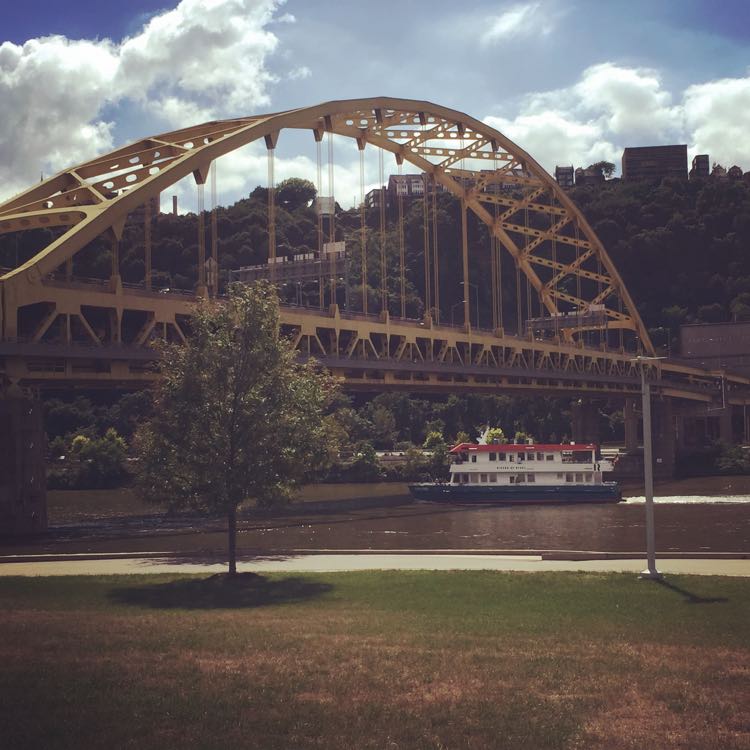 Stamp acquired, I wiggle through a series of bridges and highways, through football traffic, and pick back up on I-79 until it flows into I-70, which will be my route the next few days. Wheeling is only an hour or so further, a city that's seen better times, but has block after block of beautiful Victorian buildings, most with some kind of occupant; poor but not run down? More like.. a classy 1920's outfit that is a bit threadbare, but still gorgeous? It reminded me of Prince George, BC in that way.
I managed to only have to circle the quiet, deserted streets twice to find the Wheeling Artisans Center. It is housed in one of those downtown malls, the ones with a central atrium and 4 floors and only maybe 8 or 9 shops? Surely you've been to one. THIS one, the entire first floor, atrium included, is a sports bar, but you walk up to the 2nd floor to find the Artisans Center, which is… well, I was surprised. Given that they have a stamp, I assumed some kind of museum of local artisans? Maybe some demonstration, uh, looming or whatever? Nope - it was just a big gift shop full of local crafts. I asked about the stamp, and the young lady directed me to the 6 stamps scattered around 6 different sections of the store. I was more than a bit worried that this was NOT what I was looking for, that my info was out of date, but I spotted the stamp on a shelf under the register, and asked politely for it. Talked a bit about my travels with the young saleswoman, and she talked a bit about Wheeling slowly coming back from the edge, then I walked down and had a salad and a sit; I've already done 300 miles, but its only 4pm, so maybe.. Columbus, OH? Only another 130 miles or so, we've got 3.5 hours, lets do it!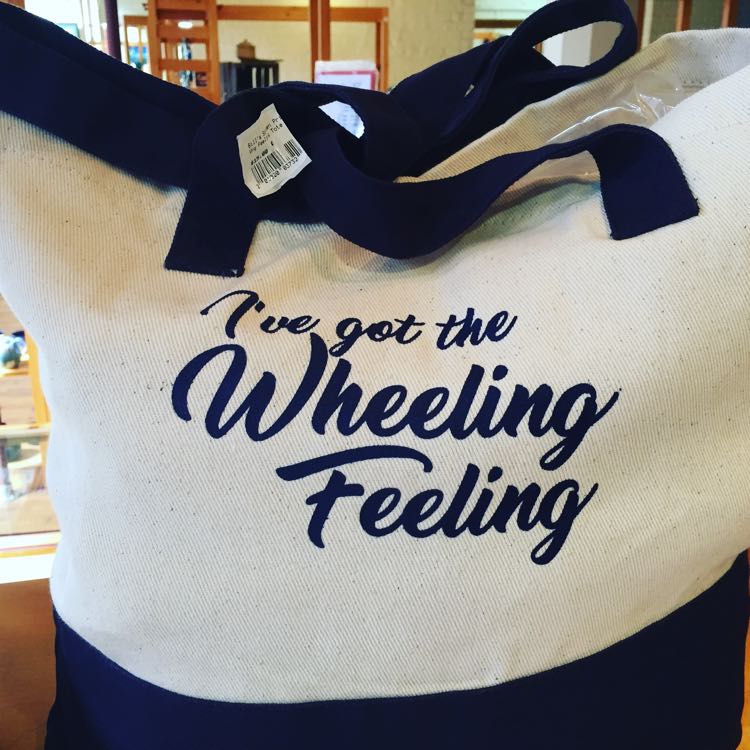 Crossing over into Ohio, we're still in the western foothill of the Appalachian Mountains, still surrounded by hills and trees and not much else, mile after mile, until finally the land begins to smooth out and fill in with farms and small towns. Mile after mile, the slab is boring. I get to my motel no problem, and head to a grocery store for fruit for dinner, and a gas station for The Morrigan. I go the extra mile and deep-clean and lube her chain, and hunker down for the night
Tomorrow I'm aiming for at least St Louis; I'm hoping to leave early tomorrow, I don't have any work to do, AND its alllll highway - no need to sidetrack for stamps until after I cross into Missouri.