I worked on Labor Day, so took Friday off and fled to Maine. I booked a [cheap generic motel] in Bangor, ME, for 2 nights; its about 300 miles from my parent's to Bangor, and while I could iron-butt it out, a 700-mile day wasn't in the cards. Why so far? The nearest National Park stamp in in Acadia National Park.. 350 miles from Vermont.
I rode fast and straight through, stopping only for a snack and gas. Arriving in Bangor early in the afternoon, I had a quick lunch at a local pub - nuclear hot buffalo chicken salad, and conversation with the waiter about life in Bangor. I futzed around for a while at the motel, then went off to explore Bangor a bit. Its a small, tidy place, too big to really be called a town, not urban enough to be a city.. I wandered around a CVS on the north side of town for a while, idly looking for travel supplies, and bought a few things, but mostly was just killing time until dinner. Popped by the local casino to take a look at their poker room, ended up putting my name on their 1/3 and 2/5 lists, parking my butt in a brew pub on site, and had some amazing pulled pork and cole slaw waffle fries.. mmmm! My name finally got called, and I played for 2 or 3 hours, -70, no real poker excitement to be had, although the table captain was loud, drunk, friendly, and had a wicked downeast Maine accent, so that was a thing.
I got up at 6am the next morning, hit Tim Hortons for coffee and breakfast sammies, on the road by 7am for Acadia NP. Fast, a bit of light traffic, the road cuts straight towards the coast for an hour or so. You can tell you're getting closer by the brine in the air and the increasing density of "LIVE LOBSTER HERE" signs. A week past Labor Day, lots of places looked empty, as if the tourists had drained them dry, leaving hollow husks of businesses and towns behind. Still, there were enough tourists to make some traffic as I tried to get into the park, and the visitors center parking lot was half full. On their website, they listed an opening time of 8am, but arriving at 8:10am I ended up waiting with easily 50 tourists for the doors to open at 8:30am (winter hours, perhaps?) they all rushed the hiking/camping permit counter, while I grabbed the stamp and got the hell out of there.
Back onto the mainland, I headed east on US-1 for 2 hours, past small coastal towns, small crofts and boats dry in front yards, most with For Sale signs on them. The road was battered and worn, and I hit 3 or 4 serious construction zones where they'd chewed up the tarmac but hadn't bothered grading or packing the rubble left behind; easily the worst roads since the Yukon. I made it to Lubec, ME, the eastern most town in the continental United States, and headed to the West Quoddy lighthouse, which is the furthest POINT east in the USA. My phone had switched to Atlantic Timezone at some point, but I didn't bother fixing it.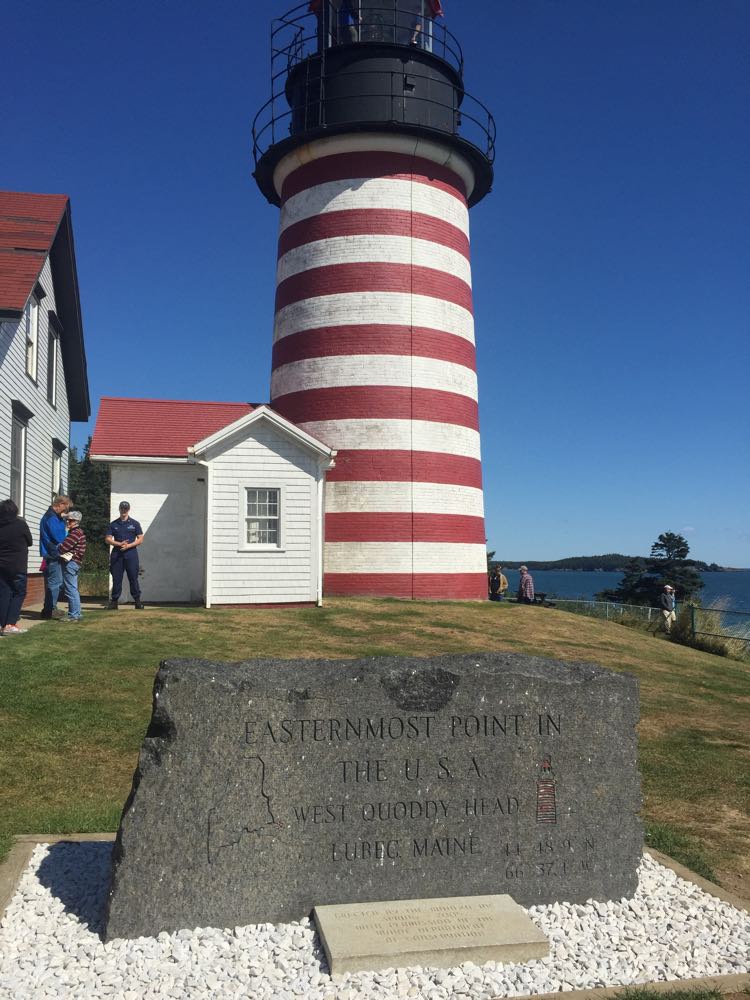 The lighthouse was disgustingly scenic, and the small parking lot was almost full when I arrived; turns out it was Maine's Lighthouse Day, the one day every year that the US Coast Guard opens up all the lighthouses along the massive coast and lets the public climb up inside! The West Quoddy light is small and cramped inside, and they only allowed 5 people in at a time. Waiting outside was fine, I make friends easily after all! I chatted with a woman from Michigan who had road tripped with her dog to visit this lighthouse, and was about to turn around and head home. A gentleman from Boston was with us in line, and he was a former Navy seaman, and gave us a history lesson on lighthouses.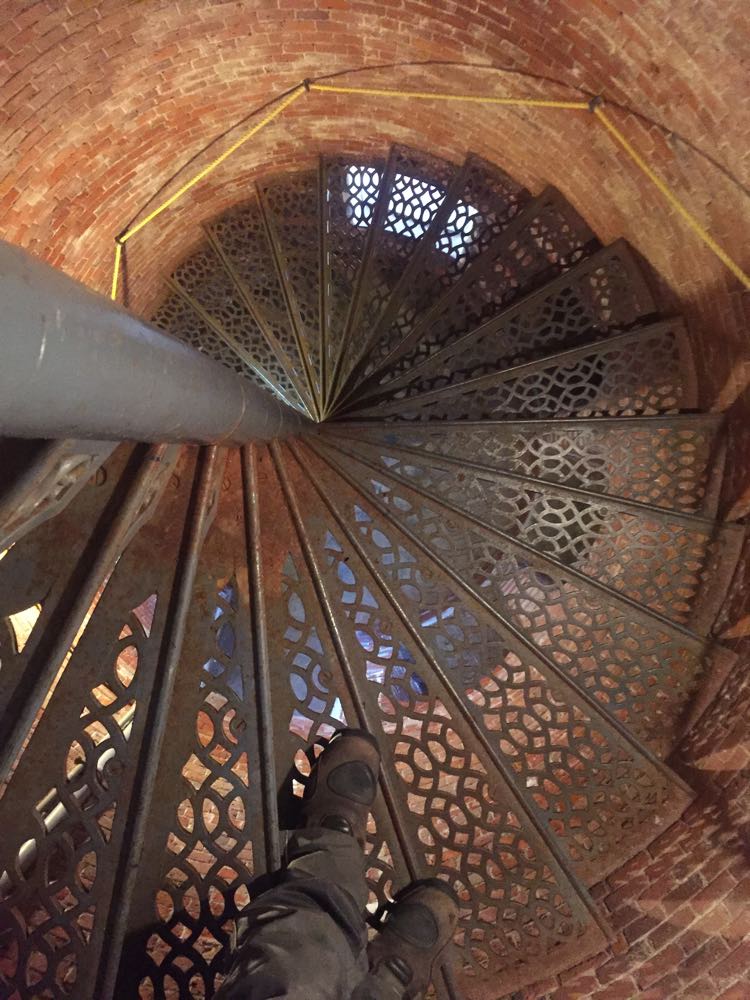 The lighthouse wasn't the only scenic thing on offer today - fin whales were out today in the Bay of Fundy, which the lighthouse overlooks. A group of 3 or 4 were breaching and spouting, and we could see the spray like puffs of smoke over the water.. worth standing in line for!
From the lighthouse I popped over to Lubec proper, a small town, nothing much going on. I considered crossing into New Brunswick but opted instead to continue on towards Calais, ME, following US-1 up the coast. Wild apple trees in the ditches, construction on the road, and the odd bald eagle made for a clean ride in good weather. I detoured through the Passamaquoddy reservation to the town of Eastport, ME, which was having their Pirate Festival - small town parades are the best, the pirates all riding motorcycles, kids on ATVs all dressed up as well, throwing chocolate coins out to the littler kids. Wholesome fun!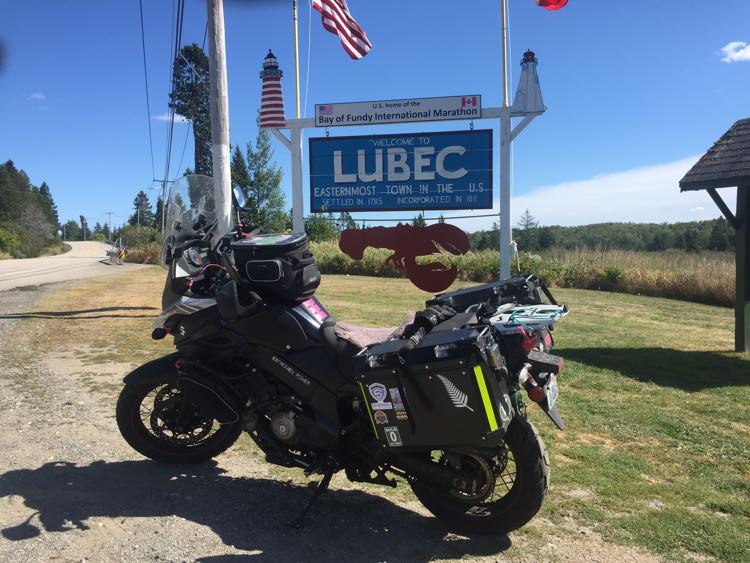 I stopped at the Isle St-Croix International Heritage Site, which has a stamp for me. The young lady at the counter was VERY BORED and eager to give me the 10 minute tour of the 12x12 visitors center - easily the smallest I've been in. She was nice, gave me food advice for Calais, and let me get my stamp and wander outside, where they had an actually really nice 400m nature trail with interpretive plaques and bronze statues. The island was the site of the first French settlement in the New World, and is an important site for Canadian (and New England) history; I was surprised I hadn't heard about it before, but remembering that its CANADIAN history probably explains it.
On to Calais, where I at at Joe's Diner, an actually good stromboli in a somewhat divey place, but hearty and honest. I popped into the town's visitor center for an alternative stamp for Isle St-Croix, gassed up, and took a left, leaving US-1 for ME-9. 2 hours of nothing but woods, the occasional hunting/fishing lodge, and Maine DOT sheds; this reminded me of stretches of Alaska for sure. Finally started picking up farms and small towns, and eventually found my way in to Bangor and a well-deserved rest.
The next morning I was up at 7am, and once more ended up spending a breakfast at Tim Hortons (their coffee is pretty damn good, y'all) waiting for the mercury to rise; it was a chill 44F when I got out of the motel, and the leaves on the trees are starting to go yellow this far north. I got back on the road around 8:20am, stopped a couple times for gas and a quick coffee, but the ride home was an uneventful 4.5 hours of highway. Zzzzzzzz…