I got a good deal on the hotel, but it was still a bit more swank than the [generic chain motels] I'd been staying in. The continental breakfast offered by this hotel had REAL EGGS! My goodness! Such luxury! It was actually a fairly good spread, and after a liquid dinner the night before, some protein and fruit was a welcome meal.
I worked for a few hours, but before packing up and checking out, I walked over to the Women's Rights National Historical Park center and toured the exhibits, visited the Wesleyen Church, which was the site of the Seneca Falls Convention, the first convention organizing for women's rights. Oh, and of course I got my stamps - 3 at this stop, 2 for the park, and one for the New York canal region.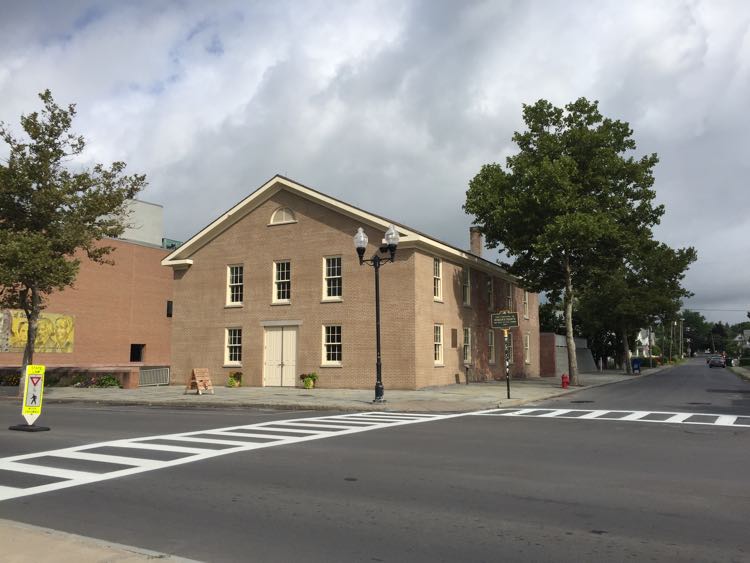 I got back onto the slab, taking the New York Turnpike across central New York. "Upstate" New York is rural and gorgeous, having far more in common with New England than the sprawling urban metropolis that is the 'BosNYPhilWash' corridor. I had a meeting scheduled for noon, which lined up perfectly with stopping at a service plaza - nothing like 2 hours of meetings in what is essentially a very large McDonald's dining area to focus the mind! I took advantage of the lengthy stop over to also pick up an EZPass and getting it set up; don't worry, I'll find something else to complain about, I'm sure.
2 hours towards Schenectady, NY, where I know the route without GPS assistance - I-90 to NY-7, cross the border into Vermont and pick up VT-9 to VT-142 and home. The Giggle Lady had other plans.. I had stopped at the last service plaza to gas up, and she took that opportunity to silently reroute me past my turn! She kept saying "stay right at the fork" and I thought "there must be some traffic and she's routing me around Schenectady and through Albany, and I'll pick up NY-7 there." She was, in fact, routing me around traffic in Schenectady and through Albany.. but then all the way through Albany, until I realized that she clearly wanted me to stay on I-90 through Massachusetts along the Mass Pike. I'm sure it would be faster, but certainly not as nice! The Giggle Lady doesn't understand that yes, I might save 2 minutes, but I'd RATHER stick with the route I programmed her for.. stop being helpful!
Ah well.. the Mass Pike cuts through the southern Berkshires, finally dumping you onto I-91 on the north edge of the Springfield, MA metro area, just one exit south of "The Mall," which exists in my childhood memories as the prototypical shopping mall, given that it was the only one I ever had gone to until I was 19 or 20. So many shopping trips for school clothes… north past Northampton, one of my favorite small cities, through the Pioneer Valley of western Massachusetts, smelling cinnamon and clove.. oh! The Yankee Candle factory - I forgot that it is right next to the highway and you can smell what candles they're making on any given day! Home at last, I take the shortcut over the backroads across the mountain, a barely-named spider network of roads you either know or you don't, and finally arrive at my childhood home, 11 days, 2,973.2 miles, and 16 states after I left.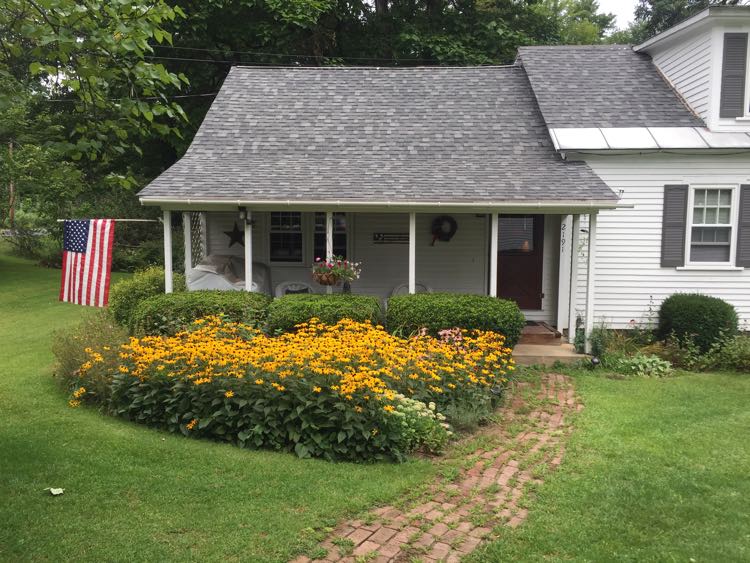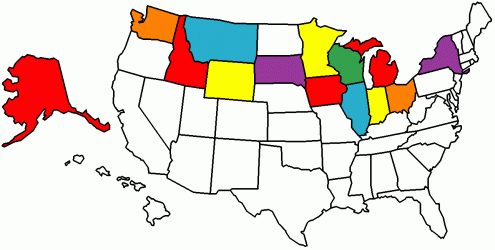 I'll be resting up here a few days, visiting with friends and family, and heading out to get the 6 New England states checked off the list before heading to Buffalo, NY on the 12th for a conference.