Ran from Newport, WA to Sandpoint, ID, where I parked my bike and my laptop at a great independent coffee roaster and cafe. I pulled up and parked outside was a KTM 1290 Adventure and a heavily modded DR650, and a few other bikers pulled up over the next 3 hours I was there working, so clearly it is "on the map" so to speak. Sitting there, I got to overhear 2 different customers give the "Starbucks burns the beans" speech to other patrons, fast WiFi, and more power outlets than chairs.
After enjoying my vegan and gluten-free double-chocolate peanut butter "muffin" I gassed up and headed east on ID-200, winding around the north edge of Lake Pend Oreille, which was the home of a naval training program in WWII that trained nearly 300,000 seamen. The lake was hard to see due to the smoke haze still lingering here, with visibility down to half a mile in spots. Patchy, though.. you'd catch a clear view and a clean breeze, and then a whiff of wood smoke and the haze returns..
The road was fabulous, a great motorcycle road. A fast road (70mph speed limit) with big sweepers, long straights for passing slowpokes and tractor trailers, and beautiful, dramatic scenery that follows the Clark Fork upriver towards its source. I made great time, with little in the way of traffic, construction, or big, traffic-choked towns to slow me down. I passed through a number of gorgeous small towns, all too small to warrant a single stop light, that I'd love to live in, and found myself starting to fall in love with western Montana. I stopped in Thompson Falls, MT, a larger town of, oh, 1,500 people (and 2 stop lights!) for a sandwich and some snacks at a local grocery store chain, spending a restful half-hour people watching and checking email.
I took a detour at the National Bison Range to get my passport stamped, a short 10-mile side-trip to their visitor center. A Ninja 650 with New York plates was the only other vehicle in the parking lot of the visitor center, a young, healthy couple with 2 helmets and one armored jacket between them; I hope they're not going far! The visitor center itself was a bust, a hand-written sign informing of new hours: closed on Tuesdays and Weds. Hey, guys, update your phone message, too! I gotta find a Montana stamp somewhere tomorrow…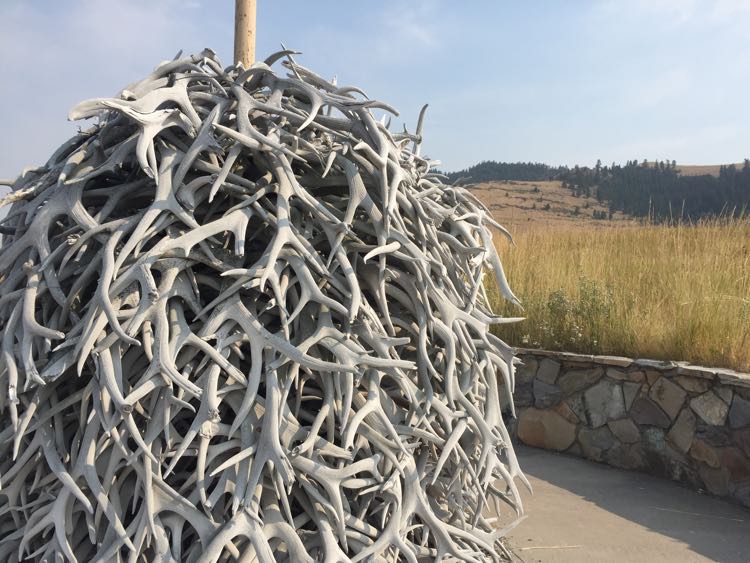 There was one other resident of the parking lot - WASPS! I came back to The Morrigan to find 40 or 50 wasps swarming all over the windshield and panniers, the little cannibals chowing down on the smashed bugs covering the forward-facing surfaces of my machine! I grabbed my gloves and swatted at them a few times, backing up quickly after each flailing attempt to dislodge them. Nothing really deterred them, so I did what I had to – zipped up every vent, tucked everything in to cover bare skin, and made a run for it, hopping on the bike, starting it while still throwing a leg over, and popping a small wheelie as I burned out of a cloud of angry little blighters! They blew off the bike in about 15 feet, except for one particularly stubborn one who clung bravely to the upper windscreen section for a mile before giving up. A small victory over a vicious foe!
Traffic picked up as I got closer to Missoula, and eventually I met up with I-90 around 4:30pm; I forgot about the time zone changing! I did the mental math and realized I still had about 4 hours until sunset, and Butte is only another 2 hours east, so I stopped at a Starbucks and borrowed some wifi to book a room at [cheap generic motel] for the night. I-90 through Missoula was rough, chewed up, and busy, but 2 miles past the last exit I found heaven: wide, clear road, fresh pavement, no traffic, 81F and mostly sunny.. and a speed limit of 80mph! Last summer, these speeds filled me with panic; now I can sit at 85-90 and my only worry is fuel consumption.
An hour or so later, 5 miles before Deer Lodge, MT, golden light filled the valley, the sun at my back illuminating the green and gold of the rolling hills, the Clark Fork now a much smaller, tumbling river only knee-deep, splashing a bright purplish-blue on my right.. and the sky ahead dark and foreboding. The first fat drops splashed on me, but the rain lasted only about 30 seconds, enough for me to feel damp but not soaked.. but then the temperature dropped 25 degrees (F) and the wind started blowing, hard enough that I couldn't steer to the right at all, inexorably driving me to the left. I slowed down and managed to wrestle The Morrigan onto the right-hand shoulder, just in time for the deluge to start again with a vengence! I was soaked through in the minute it took to dismount, dig out my rain gear and throw it on.. then the hail started, reminding me of the storm that his us on the Denali Highway.. Meanwhile, the wind continued to howl, and I stood with my back to the wind, the bike between me and the road. I held on to the pannier and crash bar after seeing one particularly nasty gust cause the bike to rock and tip just ever so slightly…!!!
15 minutes later, the wind died down and the rain began to taper off, so I hopped back on with the intent of slowly proceeding to the next exit, just to get off the highway. I set off at 40mph, and of course, a mere half mile later, the road surface was completely dry – I was just caught in the super-localized downpour of an old-fashioned prairie storm!
At least it cleared out the last of the smokey haze, and I had a great setting sun at my back, warming my slightly. I turned up the heated grips to max – in August! – and that helped a dry me out as well. The temp slowly climbed back up into the low 70s as I cruised in to Butte, MT, making my way through the old downtown. Butte was a copper boomtown, and when their crash happened, dozens of blocks of beautiful brick and glass buildings were left empty. Many are still empty, but they're well-maintained and cared for, so although the town is a bit on the empty side, there's a 6 block by 10 block section of town with amazing architecture, wrought iron, glass bricks.. gorgeous, if a bit sad. My [cheap generic motel] is at the top of the hill that the town is built on, nestled in between 2 defunct open pit mines. The town still lives with its legacy of mining - pollution, sadly, is a fact of life when you live near Superfund sites.
The wifi isn't so great here, but I'm going to try to make it work. I'm aiming for Sheridan, WY tomorrow night, and then South Dakota on Friday; it feels wrong to skip Yellowstone when I'm so close, but if I can make big miles on Saturday and Sunday, I can get across the prairies without stressing the schedule (and leave some padding for bad weather detours..)
Miles today: 334.8