8am on a Sunday morning, and Miami is either still sleeping or busy at church. Regardless, the highways are clear and empty as I load the bike and growl south, taking full advantage of my prepaid road toll plan to take the deserted 6-lane south 45 minutes to Homestead, FL, where I stop at a Starbucks for a stretch and a coffee, taking stock of the gear load, making sure everything it snug and secure. Little do I know that this Starbucks will become a central hub for my next few days in Florida. I top off the tank, hit Publix for a sandwich — how a grocery store can make decent subs is beyond me, but they're decidedly not bad! I pick up some sugar-free sports drinks as well, hoping to stave off what is turning into a mild head cold and impending "keto flu" with electrolytes and food coloring.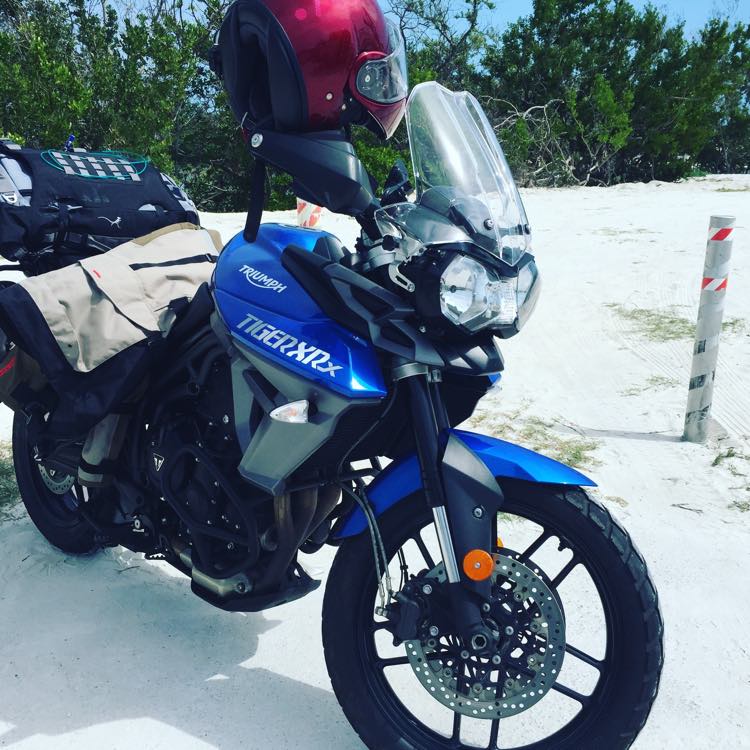 Out of Homestead, US1 shoves like a fist across the last bits of mangrove and prairie to Key Largo, the first of the Keys I'll be skipping across. I opt to skip its manic, barely-controlled traffic by taking the Card Sound Road and bridge to the north end of Key Largo, a sedate 2-lane that ducks under mangroves and hops over swampy setbacks, across state parks and wildlife refuges before reconnecting with US1 halfway down Key Largo itself. Highly recommended, and worth the 10 minutes it adds to your trip.
The northern half of the keys, from Key Largo to Islamorada, seem unchanged from the last time I was here; a long stretch of wide beach towns, rich condos and resorts, snorkel and diving guides, shell, sponge, and beachwear retailers trying to grab the money that speeds past them on its way to Key West. "Why pay Key West prices?!?" one billboard demands of me, asking me to justify why I'm too good to stop here and get 4 t-shirts for $10, 4 t-shirts I don't need and would seldom wear. Still, the beast of capitalism must be fed, as well as the beast of the machine and the beast of my belly, so we compromise, capitalism and I, at a McDonalds.
Now, here's a fact - McDonalds actually have legitimately not-bad coffee. Not-bad CHEAP coffee. Not-bad CHEAP coffee and wifi. Do I need to explain more than that? Well, if I must somehow come up with an excuse for this sort of transgression against my hippie image.. well, the bathrooms are clean, and hey, when I flush I'm costing a megacorp some amount of money!
Further south, the islands, along with the population, get thinner and thinner, as well as the traffic. Evidence of Hurricane Irma begins to appear, the mangroves withering grey, torn up and toppled. Large stretches of moonscape, where once were beach houses and trailers. Stilt houses boarded up, taped off, empty, like so many shells left behind by soft human crabs scuttling towards more secure shells away from the fury of the storm. A careful eye can spot hurricane debris to the sides of the road, distinguishable from the usual roadside trash because instead of Fritos bags and Bud light cans, its stuffed animals, torn clothing, a smashed dresser and lamp. All that was inside and guarded has been splintered and thrown to the open air, and now lies forgotten, bleached and rotting in the sun.
Bridge, island, bridge, island, bridge… nowhere else can you glide across the azure sea, arcing from limestone outcrop to muddy coral atoll like the Keys. Being on the motorcycle, I smell every breeze, salt and fish, the roasting smell of meat on a barbecue at a passing beachside roadhouse, the floral/pine scent of mangrove, the occasional whiff of rot from mouldering homes, damaged and abandoned after the hurricane. A stiff southerly wind brings fruit and spice notes across my nose, and pushes the motorcycle ever so gently to the right. I lean to compensate, holding myself stiff on bridges against the sudden exposure to the open sea. There is nothing but open ocean for a hundred miles to Cuba, and I strain to see even a hint of that long-forbidden island, even though I know it is too far past the curving globe to make itself known. I long for it, to not have this be the edge of my map, for a new land just over there to reach out and touch.
---
Eventually I need to stop again, to stretch and pee and drink more fluids.. always more fluids. The motorcycle is hungry as it slurps petrol, and the blasting wind and heat suck away my own moisture, my body demanding that it be replaced. I pull off at Curry Hammock State Park, with no expectations other than "bathroom!" A small parking lot , but full of Sprinters and SUVs. The beach is crowded with a dozen kite surferss, and I sit amazed at their skill in navigating the edge of where the ocean meets the sky against the land. I linger a while before finally rolling back onto the magic highway strung across these dots of land.
---
7 Mile Bridge is, as the name implies, a bridge 7 miles long. You can barely see the next island from the start, and it slings you across the open sea towards Duck Key, and eventually I land at Big Pine Key where I'll spend the night. I check in, stop at No Name Pub (which, surprisingly enough, is not located on No Name Key) for a beer and some conch fritters, and push on towards Key West.
---
Key West is in some ways my favorite resort town. While being a cruise port and resort destination, it has enough locales ('Conchers' I'm told is the polite phrase) and its glory just enough faded that it has a decidedly upscale seediness to it, mixed with a few hundred years of history and habitation.. Hemmingway's house, and his 6-toed cats.. Truman and the original "Winter White House"… USCG bases… naval planes.. bikinied German and Russian girls, spring-breaking American kids, retired couples, Harley tourers, beachcombers, street vendors, and rum-guzzlers all washing up and colliding and living harmoniously enough, with the tourists providing just enough newness to lubricate the whole mess into a working community of people living at the edge of America. You have to go out of your way to get here, and like all my favorite places, your success is measured in some ways simply to how long you're able to stay here.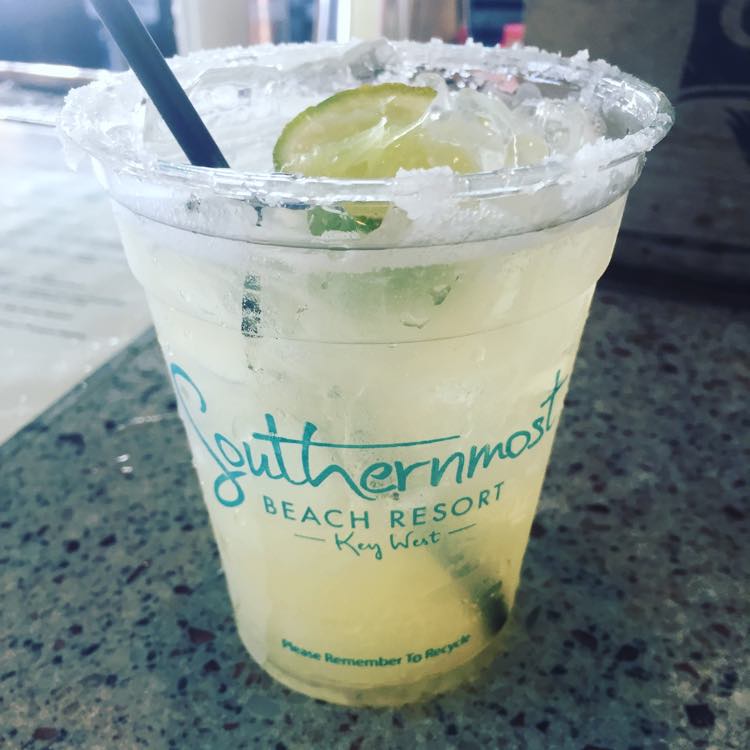 At the recommendation of a friend and former coworker, I stopped for a drink at The Southernmost Beach Cafe for a Cucumber-Chili Margarita. It might have been several hours of riding that sweetened it, but regardless it was one of the tastier drinks I've had in recent memory. I chatted with a guy — Chris — who was originally from Rochester, NY, who now lives in Key West. He had lived and worked for a number of years in Montreal, but got sick of the winters, and when his girlfriend (now wife) had the opportunity to move to Key West for work, he sold everything he owned in 2 weeks and followed her down.
"Sometimes the Keys can get away from you.. you have to go on a proper bender to find them again, y'know?" he explained to me, midway through his 4th beer. "You can get caught up in what the outside world expects of you, but down here.. you've heard the expression 'Island Time'? Yeah, like that.. things get done, things work out.. just get the right amount of sun, good friends, a good woman, and some alcohol to ease things and you'll come out fine no matter what. I like to go out on my boat and just drift and pretend I'm fishin' when really I'm just nappin' and plottin'."
Chris told me all about the trouble he still gets into.. "I still act like a 20-year old kid because I can't believe I'm not one still! I'm glad I have friends to tell me 'Hey, you gotta work tomorrow!' because otherwise I'd be out all night raisin' hell! Wife don't care, she knows who I am, she loves me all the same.. she's a goddamn saint that woman… hey, you married?"
The waitress saved me as I took a large drink and blinked back the tears. She got us another round of orders going, and started gossiping all about how everyone in the bar gets hauled to HR for the resort once a week, and the latest is SOMEONE (but they ALL KNOW WHO!) reported two of the women for having a LESBIAN affair, when everyone KNOWS those two are just good friends and are dating a pair of real manly men. I didn't have the heart or courage to pipe up with an explanation about polyamory or bisexuality at that point; she was on a roll. "They call us in and ask us 'Are those two making you uncomfortable?' Been doin' that for weeks and I don't think anyone has told the two of them what is going on, that Mary complained about their 'lesbian' affair.. oh god its such a joke, but someone's gonna get hurt. Hopefully Mary!"
Gently staggering, I wandered off to the Southern Most Point, a large painted… thing that everyone lines up to take their photo by. Compared to the Southern Most Point in Bluff, NZ, this is gaudy and touristy, and I spin on my heels and take off when I see the line of 50 or more tourists waiting for their chance to get a photo. The rich part is, it ISN'T the actual Southern Most Point - where I was drinking my margarita not 5 minutes before was a whole block further south!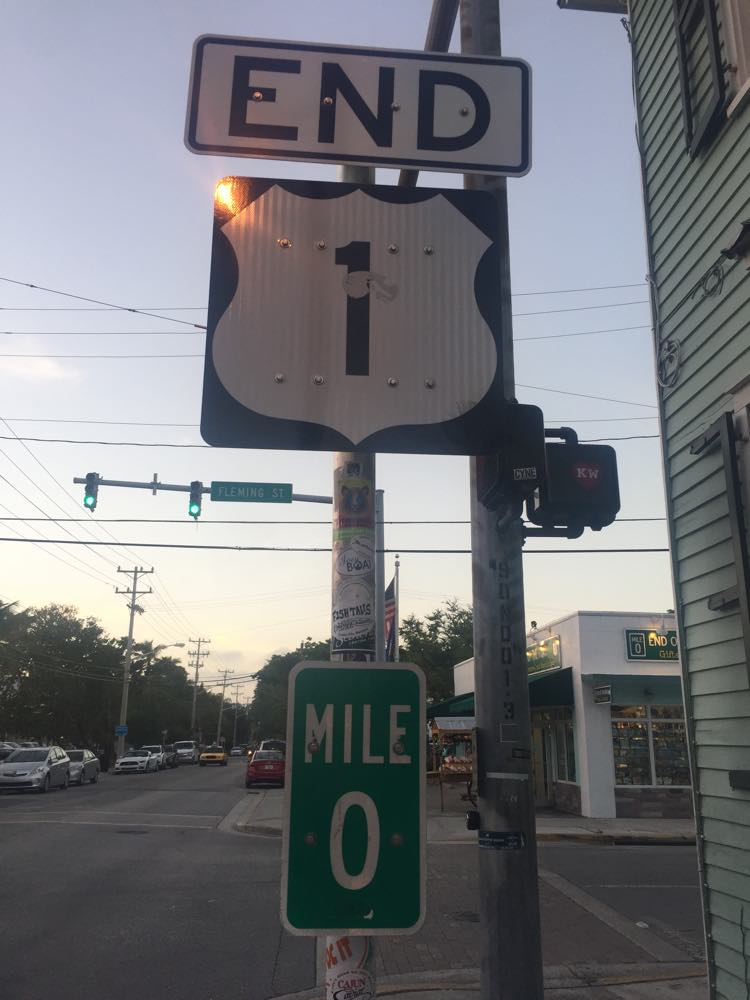 A coffee shop for some sobering caffeine and wifi, getting caught up on email and some work business, then I moseyed off up the main drag, full of bars, tattoo parlors, beachwear retailers (t-shirts $10 each? Wish I'd gotten some back on Key Largo!) and cigar shops. No souvenirs worth the price or hassle, but I take in a photo gallery exhibit and dodge drunk dudes in their late 50's in "cruise attire".. I don't know how to politely say "white guys who look like they're a cross between a New Jersey CPA and Guy Fieri" so there you go..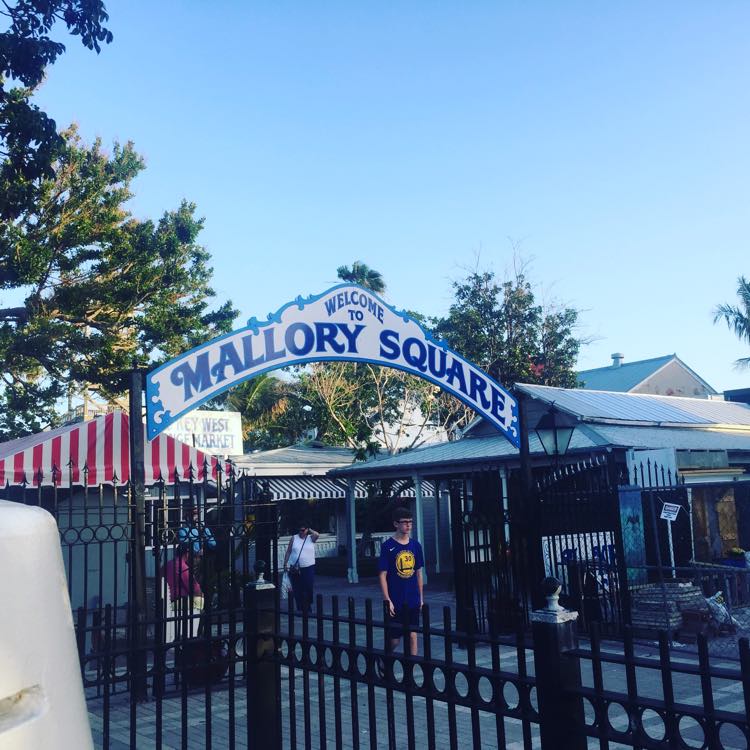 Sunset finds me at Mallory Square, the epicenter of the nightly revels. Street performers and vendors fleece the crowd as we huddle to watch the sun plunge into the Gulf of Mexico. As dusk falls, I take my leave, riding back to my motel, the bike purring in the humid night air. Tomorrow I ride back to the mainland, heading towards Marcos Island on the east coast just south of Naples. I don't have a real itinerary or plan in mind, but riding across the Everglades seems like something to do, so absent any better plans, lets do that.
Mileage: 193