As first dates go, a mermaid bar seems right up there with laser shows and monster truck rallies (ladies, DM me!) A relic of the 19050's car tourism culture and tiki bar craze, The Wreck Bar is a treasure. Designed to resemble the dark interior of a galleon or pirate ship, slight touches of tiki, bubbling fish tanks, and really strong drinks of the "Singapore Sling" and "Mai Tai" variety make the ambience starkly different from the clean, bright hotel in whose lobby it lives. Expect paper umbrellas, and you will NOT be disappointed!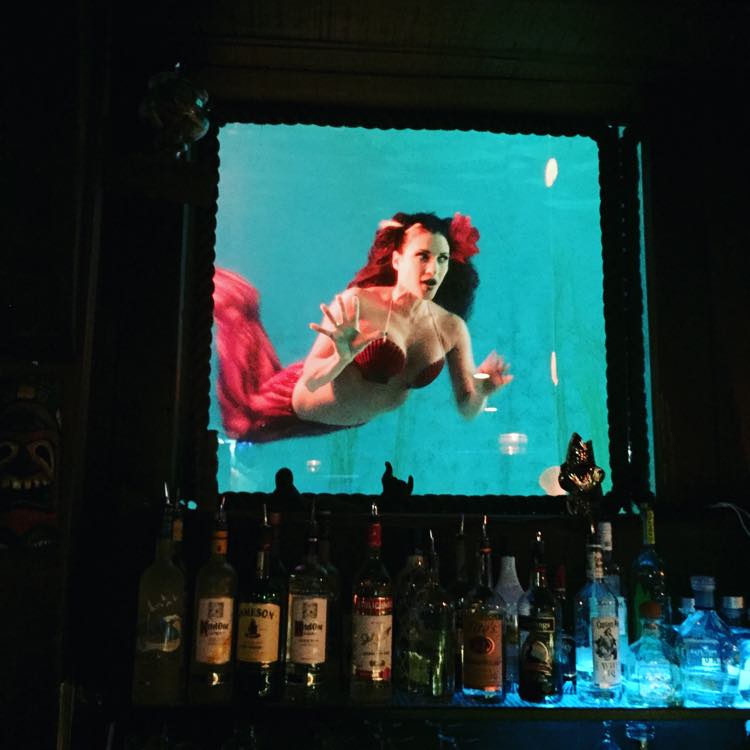 The real jewel, though, and the reason this bar hasn't been updated and renovated to match the hotel, is that it was built on the level below the pool. Behind the bar, instead of the usual mirrored bar-back or rows of liquor bottles marshaled like sad, alcoholic soldiers, are 4-foot square plexiglass windows into the pool, a pool that is lightly decorated with a seaweed pattern and some strings of floating shells.. not enough to be a hazard to swimmers, but enough to give a flavor of underwater ambience.
That alone would be enough to make this an interesting bar to visit, if you were thirsty and in the neighborhood, but what truly makes it a destination/must-see/"travel an hour out of your way" is what happens at 6:30 on Thursday, Friday, and Saturday. That is when MeduSirena and Her Aquaticats perform!
Fully PG13, and only moderately suggestive, the performance swim past the windows, flash a smile, give a little shimmy, and surface, replaced shortly by another smiling beauty in a tight mermaid outfit and curiously flowing hair. The crowd hoots and hollers and the bartenders keep the the drinks flowing for the 50 or so of us crammed into this relic of American vacations past, another time capsule from when road trips and family vacations captured the imaginations of so many Americans defining us as a people on the move, flush with cash, a temporary people, nomads of tarmac. We are a people forever traveling… somewhere. Of course, every action causes a reaction, and a truth as old as any pilgrim or trading caravan can attest to, where there are travelers with cash, there are locals looking to separate the two.
---
The bike itself is a remarkable electric blue, closer to a street bike than a dirt bike, a Triumph Tiger 800 XRx, which is the "street oriented" half of the Tiger 800 line. I've rented this from a national chain that specialized in Harley-Davidsons, and in fact aside from a couple Honda Goldwings and BMW GS1200s, is the only non-Harley, non-cruiser in their fleet. The brand positioning of this rental company is so tied to Harley-Davidson, in fact, that their logo, colors, and even rental policies are easy to confuse with HD - black, white, and orange, a screaming eagle, and a disclaimer I had to sign that even though the state of Florida doesn't require helmets or safety gear of any kind, for insurance purposes they offered such gear to me (which they, in fact, did NOT do..)
The shop itself is managed by a group of Brazilians, and I make friends with them by gamely attempting a little Portuguese. That ice breaker, combined with being the only solo woman they have rented to in a year(AND a 5'11" one at that) and having my own obviously well-worn gear, earns me a friendly enough interaction, and some goodwill all around.. but no discounts.
I ride around the vast parking lot for 5-10 minutes to get the feel for the bike; I miss immediately the "low RPM assist" feature of the VStrom, which allows you to be a bit mis-timed in the clutch-to-throttle ratio when starting the bike from a stop, but I manage well enough, and head off in Miami traffic towards Ft Lauderdale and my evening plans with the mermaids.
---
After the show ends, I toddle around the beach and hotel for a time to get the strong drinks out of my system. Florida bars seem to be in some kind of competition to give their customers alcohol poisoning, so free are the pours here. I've yet to meet a bartender who skimps on the sauce. I don't stay any longer than I have to, as the beach is mostly barricaded as workers set up stages and tents for Ft Lauderdale Pride, but a sidewalk cafe ice cream works wonders, and soon I pour some sauce into the engine, wringing torque and power from the Tiger's 800cc triple engine, dodging club kids and SUVs and ridiculous sports cars down the barrier islands of Hollywood Beach, Miami Beach, South Beach.. all the beaches. I am back in my hotel room by midnight, a nice excursion to clear my head and heart ahead of a conference talk tomorrow.
Mileage: 72.6 Wildlife seen: none, except some club boys and girls