I got back to sleep briefly, waking at 6:30am. I quickly packed up and was on the road by 7am, taking the "summit road" back. Just as twisty as the road in, it winds over the volcanic peaks and folds of this peninsula, skirting small farms and side-roads to even more remote bays and settlements. I was riding through and above the clouds for much of it, but all good things must end, and back to the main road. A brief stop for breakfast at the Little River Diner in, you guessed it, Little River, and I set the GPS for Christchurch.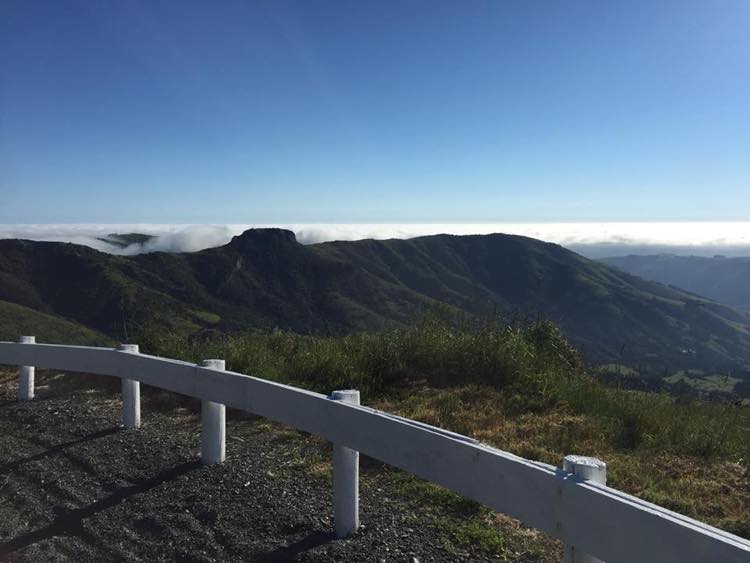 New Zealand had one last little bit of rural magic though. I had to stop and wait for a 600-head flock of sheep to cross the road! At least, at first they were crossing… but then they were coming right for me! They flowed around the bike as I quickly killed the engine so I wouldn't spook them, and they quickly trotted on, guided by a shepherd on an ATV that had not one but TWO sheepdogs perched on the back! The dogs barked and barked to encourage the sheep along, and I got a wave of thanks from the shepherd.
Found an actual coffeeshop with wifi and power outlets and good food a few blocks from my AirBnB. I'm back in a "normal" city apartment this evening, taking advantage of laundry and hot showers before I take the bike back to Clive's farm outside Ashburton tomorrow morning, after which he'll give me a ride to the airport and I have to fly home.