To say I slept like a baby would be inaccurate; anyone who has spent time around an infant knows how restless they can be! I expected to wake around 5 or 5:30am, but somehow managed to get a solid 8 hours, waking at 7:30am when the boldest of the barn cats decided she wanted to come into the cottage and mewed at the screen window. Poor neglected dear! Clearly needed some skritchings…
Loading and unloading the bike is pretty routine at this point, but this is the first time I've really travelled with panniers. Clive runs this bike with soft cases from SW-Motech that use a rigid hook and large velcro strap system. Each bag is essentially a large Cordura dry bag.. Intriguing. I like them more than the hard cases I have, but the hard cases lock shut (and to the bike) saving me a TON of time and effort each evening and morning since I can leave them on the street.
Alex saw me off, as Gloria was in "town", and I rode through the middle of a sheep herd to get back to the tarmac. The day quickly warmed up as I settled into the bike at last, feeling secure and at ease finally, the bike an extension of me. We zoomed down into Rees' Junction, a small one-building town, and instead of turning left to follow the central route, hugging the eastern slopes of the mountains, I opted instead for a coastal route; severe storms had triggered a flash flood an hour or so up the road, and while there was a detour in place, authorities were asking non-locals to stay away while they worked to clear debris from the flood and mudslides. Oh well - gotta save SOMETHING for next time (and there WILL be a next time…)
Coming down out of the foothills we leave the sheep flocks behind and see more and more herds of cattle, both meat and dairy. The country looks like Vermont, rolling hills, pine and willows, tiny farms everywhere. At last the hills lose energy as they run to the sea, the road straightens, and before I know it I'm on the ONLY 2-lane divided highway I've seen in New Zealand, rolling me in to downtown Dunedin, NZ.
Dunedin ("done-eden") is a lovely city, especially compared to Invercargill. Trees line streets off white stone buildings, tech offices, students, mopeds.. Dunedin is alive and bustling in the late morning sunshine. I play tag with a Triumph Tiger 800 for a few miles before he splits off with a wave, and I take the flat, boring NZ 1 north.
Small seaside towns that could just as easily be along US 101 on the west coast.. straining patience for the next passing zone to get around the tourists who consistently drive 10kmh under the limit.. stopping for quick bites to eat and drinks at town parks..
I stopped to see the Moeraki Boulders, large spherical boulders found clustered on one 200 meter stretch of beach. There's some woo-woo hand-waving about the "mystery" of them, but geologists pretty much shrug and offer an actual explanation, but that doesn't stop the gift shop from trying to sell commemorative marbles, crystals, bottle openers, etc, all humbly and politely offered for sale in the cafe/gift shop, at quite reasonable prices. New Zealand may grumble about the tourists, but they really don't take advantage of the situation as hard as they could.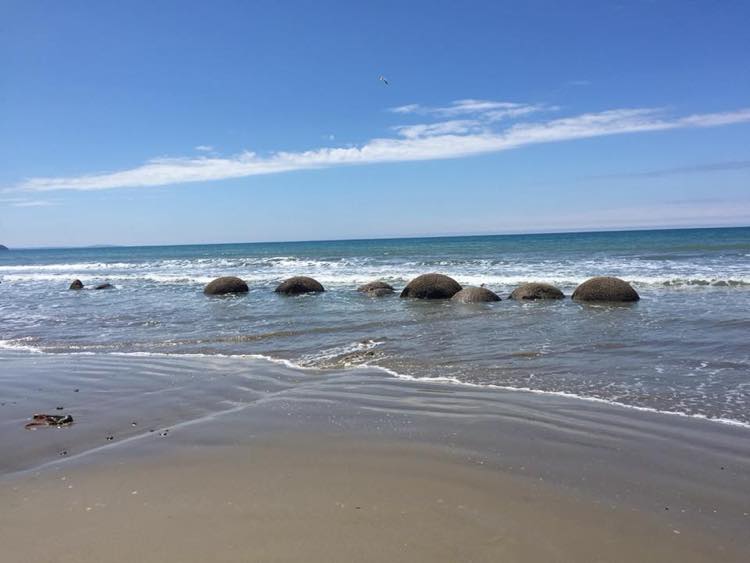 I continued up the coast and got in to Oamaru ("OH-ma-rue") around 2pm, so with a couple hours to kill before my AirBnB was open I went to the Steampunk HQ, an amazing collection of steampunk-inspired sculpture, art pieces, costuming, and light installations. There's a massive steampunk'd train locomotive out front, a steam-powered blimp 20 meters long floating outside the building, etc. Worth every penny of the $10NZ admission. Most of the sculptures were done by a single artist, who passed away in 2010 at the age of 39, but apparently he was huge in the steampunk art community.. anyways, worth stopping by.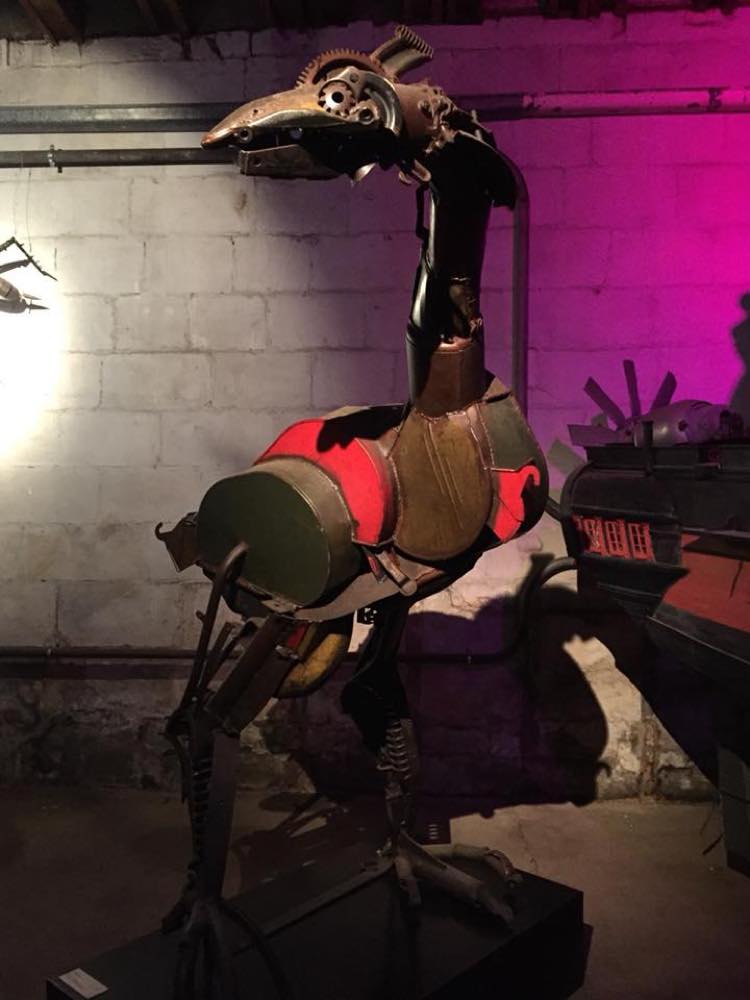 I wandered around the "Victorian District" where the old 3-story stone buildings from that period are still in good repair, filled with vintage shops, art galleries, and the usual "arty folks reclaiming a dead part of town" accoutrement, and bought a gift or two for friends back home.
My AirBnB was a converted Japanese camper van, done in the Romani wagon style. Carved wood, gauzy curtains, fairy lights.. it is parked in the backyard of Christy and Ken, a pair of old hippies who just realized this year they're getting older, so they bought this house 3 months prior and are "settling down" We chatted for an hour or so, swapping my best "lone girl on a motorbike" stories for their tales of flying their ultralight planes around New Zealand (top speed: 65mph! 12 miles to the gallon!) They had dinner plans and excused themselves for the evening, and I did likewise, finding a local pub for a glass of local rosé, a pile of pan-fried lamb, and being called "love" and "dear" endlessly by waitstaff and patrons.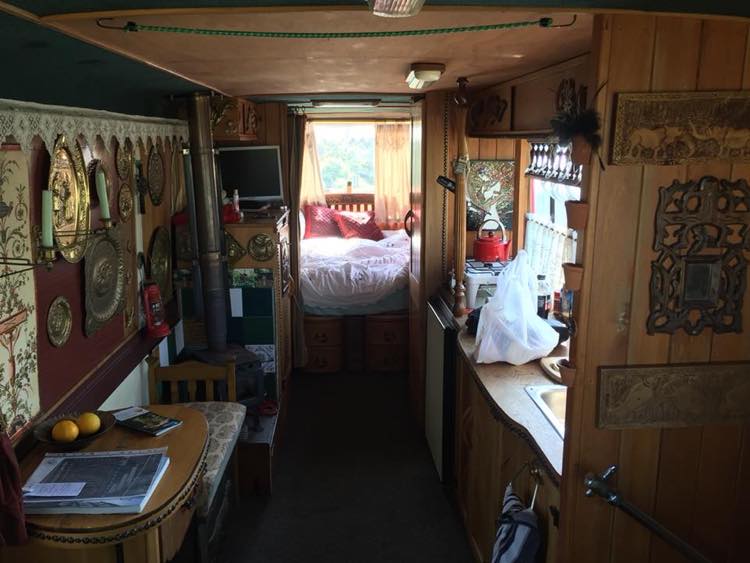 Then… then it was time to go see PENGUINS! Oamaru has one of the largest and healthiest colonies of little blue penguins in New Zealand, and the have constructed special grandstands for viewing the penguins as they return from sea each evening. The colony has over 700 penguins, and myself and 300 or 400 Chinese tourists watched nearly 200 of them returning from the day's hunt, bellies full of food for their 4-8 week old hatchlings..