I seem to be hitting all the "backpackers with money" tourist spots on this trip. Franz Josef Glacier is a town dedicated to getting young, healthy kids from Europe and North America to fork over $200 to fly up to the glacier in a helicopter so they can run around for a few minutes, burning how much fuel in the process and speeding the rate of global oh who am I kidding, I really wanted to go up, too. Alas, they didn't open until 8:30, and were completely booked for days; the topic of conversation in the hostel frequently was "how long were you waiting for a break in the weather to get your flight in?" :D
I grabbed my new "usual" — long black and cheese scone — and after gassing up, hit the road. The petrol stations out here on the west coast don't have card readers at the pump, you just fill up then walk in and tell them how much you owe them, like when I was a kid. The station in Haast had a sign "Please remember to pay before leaving!" How far would an American in high-vis gear on a rented motorcycle get before I was chased down and politely asked to pay? Would the policeman make change for me? 🤔
The ride south immediately became a slow, twisted alpine jungle road, and I feared for my sanity, worried that I was facing another long-slog of a day to make my miles. After a seemingly endless series of 25kmh switchbacks, the road dropped into plains and lowland forests, long straight roads and gentle sweepers, plenty of space for me to pass the never-ending parade of jerkily driven rental caravans. I played tag with a few, losing them as I blew past at 120kmh, but I gave them a chance by stopping at every overlook and historical marker along the way.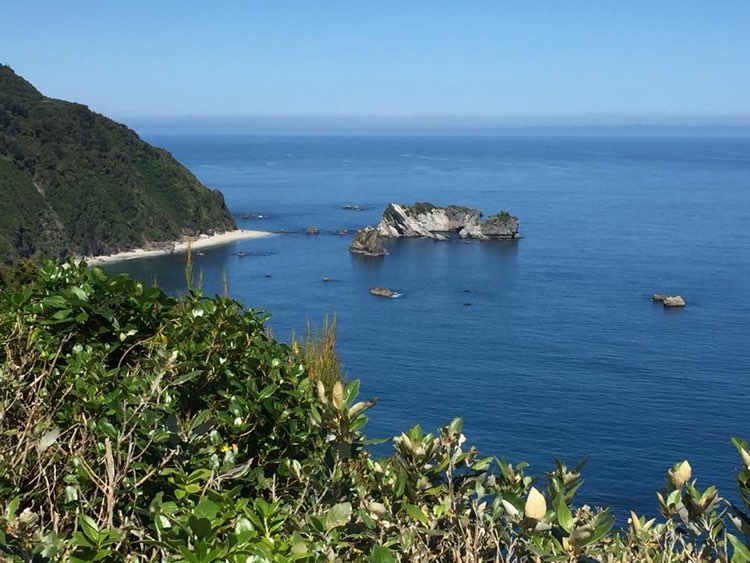 Haast, 150km down the coast, was my first destination, and I ASSUMED I could get a decent lunch there, but alas, it is a gas station and some abandoned sheds, so I bought a candy bar and a fizzy drink and began the ascent of Haast Pass. A deep fjord valley that is now a river due to uplift, its steep walls are a dense New Zealand jungle of verdant green, tall slender waterfalls, and turquoise blue glacial rivers. I soon found the tour buses and caravans bunching at the single-lane bridges crossing the dramatic gorges, and I strained to find passing opportunities.
An hour or so later, I crossed the crest of the pass and started the slow decent back towards the central plains, the rainforest being replaced by chaparral - pine, sage, dry and dusty. Made a pit stop at a picnic area and discovered I was out of water and snacks, but its only 12 noon and Wanaka is ahead of me, maybe an hour so I'll be fine…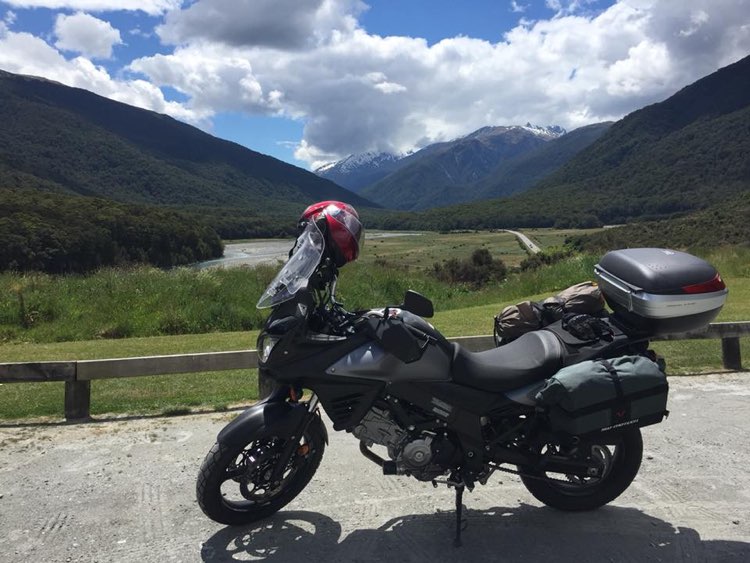 Soon the terrain began to look exactly like eastern Washington - dry, yellow, rocky, filled with vineyards and hops, sheep and deer ranches. I somehow got routed around Wanaka, but hey that's ok only another 75 minutes to Queenstown…
Mistake. Big mistake. I was getting dizzy and really needed water and food, started pushing it. I started to feel like I did in Oregon and Wyoming this summer, and I knew I should get off the bike ASAP but it was still a half hour before I could find a place to stop where I could get a drink and a snack.. pretty scary. I need to plan better and get back in the habit of packing PLENTY of snacks.. I have a special snacks bag but had to dump it all out at customs, and haven't really seen a proper market since I got to the South Island to replenish the treats sack.
The backroad into Queenstown that Clive recommended proved to be just as awesome as he hinted at, with a dozen hairpins as your drop down a bluff into the valley. Fabulous technical riding, and I rode most of it standing up, leaning over the tank.. I could hear Dusty yelling into my headset "Drive your knee into that tank! It can't feel it!"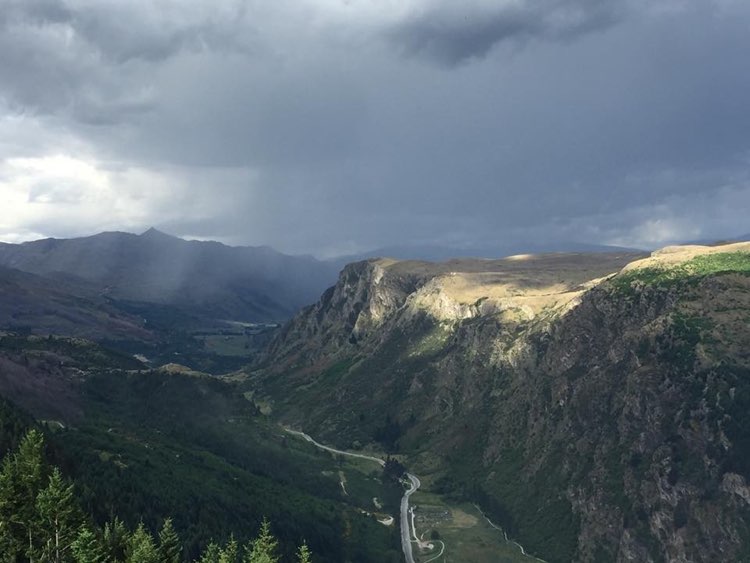 Queenstown is… well, when I asked my New Zealander friends about Queenstown, they sort of look off into the middle distance and say "Eh its alright" which I know realize is Kiwi for "Oh god that place is a shit show" — the culture here is so polite! This place is a tourist trap for foreign backpackers and Asian families, full of mediated "adventure" outings like bungee jumping, parachuting, jet boats, etc, and high end shopping stores for all the usual high-end brands. It is like a cruise ship port.. its just… gross. Everything is expensive, mediated, controlled, and you're bombarded with "OMG AREN'T YOU HAVING FUN? THIS IS FUN! WHAT IS WRONG WITH YOU?!?"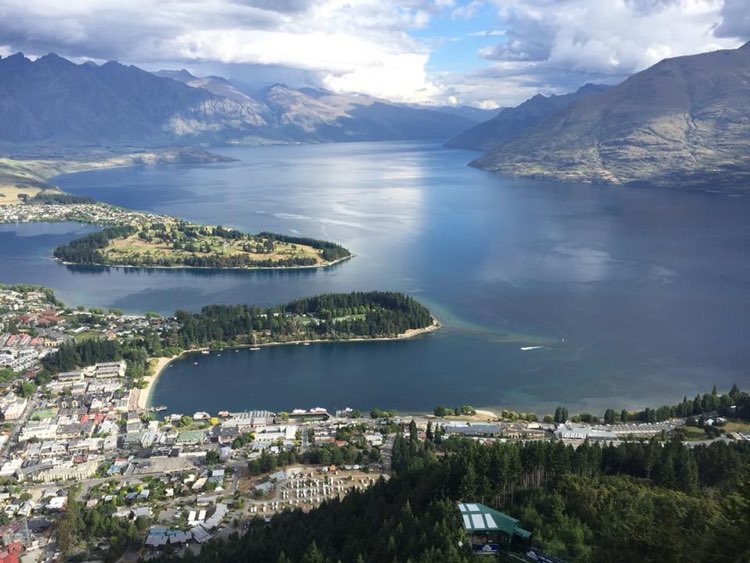 Sorry if you live here or love it. Your town kind of sucks. 😕
I have no place to stay tomorrow, but will be riding to Invercargil to see a SECRET THING that is probably only interesting to motorcycle nerds, then… I don't know, maybe just ride up the coast until I get tired and try to find a place in Dunedin? It's a long ride (over 400km) if I do that, but.. whatever, I can just camp out somewhere if I have to.
Dead possums: 17
Live possums: 1
Slow caravans I got stuck behind: 9