Still in Colorado, and ventured out to play poker at a card room in Black Hawk. Rode home around 11pm, temp between 49-54F. Was plenty warm in my heavier-weight hoodie and jacket, but after about an hour in the dark felt the first pangs of chill creeping into the hands. A Cold front moved in to the area this morning, rain kicked up around 2pm. Gave it a shot with my "waterproof" layer from my Olympia jacket/pants, to see how it fares. I may end up getting a set of Frogg Toggs from a local gear shop after all.. coming home via the "Southern Route" (through New Mexico, Arizona, Californa, Oregon..) means I'll be riding up the coast from Southern California, and while I'll avoid snow, avoiding rain this time of year would be a small miracle.
RevZilla finally came through on getting the Givi racks shipped! They should be here by Tuesday, so I'll be able to get them installed in short order. I swear, I've done more wrenching in parking lots on this trip than I imagined I would!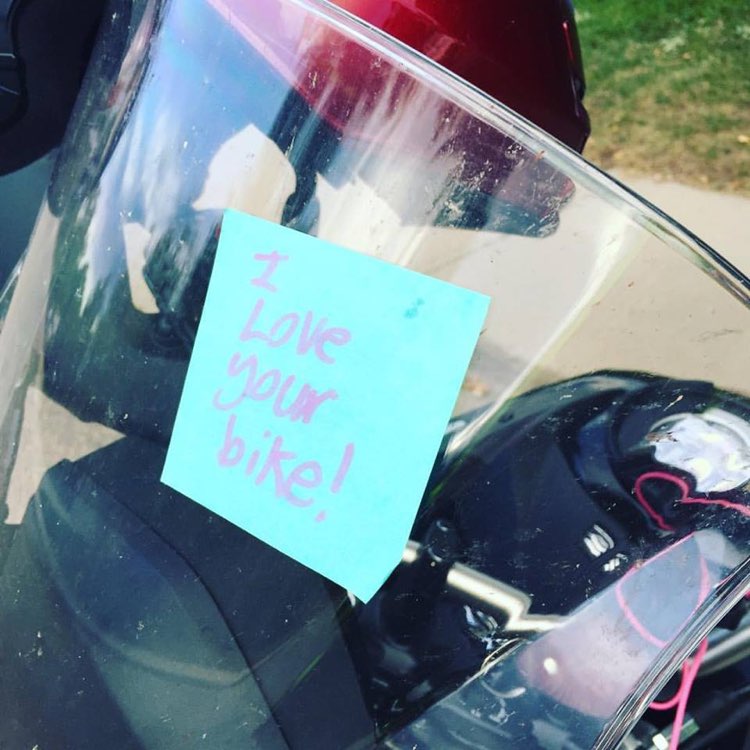 I stopped by one of the only motorcycle gear shops in the Denver metro region that isn't a dealership yesterday to pick up some chain wax. Tried on the Olympia Alpha Loden jacket, and seriously considered buying it on the spot to replace my Olympia Airglide 5. I love the Airglide so far, except that its "sport styling" means it is an inch-and-a-half too short for my torso; it makes me always want to tug it down, feeling like its riding up. The Alpha Loden is about 3 inches longer, and has a less aggressive cut to its styling. The ONLY problem is do I REALLY need to spend another $300 to replace a PERFECTLY SERVICEABLE jacket?
Ok real talk about dealerships. Some are good, some are bad. I stopped by the Suzuki dealer in Boulder when I first got to town, to get a price quote on the center stand.
The OEM center stand from Suzuki: 380$. No haggling (I tried!)
A better center stand from SW-MOTECH, whose stuff is usually stupidly expensive but over-engineered and reinforced: 250$, shipped 2nd day from RevZilla.
..and let's not talk about the cost I was quoted for a new set of no-name brand 50/50 tires.. more than the cost of the two-day class I'm taking on off-roading!! 😡
Sometimes OEM matters, but so often it is purely Brand Loyalty Markup (just look at the higher cost for anything emblazoned Harley-Davidson or BMW!)
Ok moto-rant over
I've been following my dad and my uncle's trip blogs with a bit of jealousy. They're currently just emerging from the great soy fields of the midwest, and will be back in Vermont in 3 days or so. I guess maybe I'm not /so/ jealous, because as magical as riding a motorcycle is, I'm not sure even that would make endless miles of flat corn, hay, and sorghum fields interesting. They break it up with ridiculously bad motels, stop at every vintage farming museum they spot, and reading their daily blog posts, you can see where I get my Miller Charm from.
http://beemerboys.blogspot.com/
I need to SERIOUSLY look at the calendar; I just got invited to speak at a conference in NEW ZEALAND at the end of November, and OMG how can I pass that up? Poor 🐶, he's not going to know who I am!!