Some unorganized thoughts on my 7-week trip to Alaska. Hopefully someone planning a motorcycle trip to Alaska or through Canada might find some tidbits of up-to-date information (at least, as of 2018!)
By The Numbers
51 - Days on the road
8,214.5 - Miles travelled
175 - gallons of gas
$731.54 - cost of all that gas
46.31 - average MPG
$0.10 - average cost/mile
$5.52 - most expensive gas (per gallon)
1 - number of rear tires replaced
2 - number of oil changes
21 - "Zero Days" - no travel or side trips of note, other than trips "around town"
273.8 - average daily mileage while traveling
432.7 - most number of miles in a day (Liard Hot Springs to Whitehorse)
121.0 - least number of miles in a day (last day!)
0 - number of times my bike fell over
28 - black bears
7 - grizzlies
7 - moose
2 - foxes
7 - sea otters
5 - caribou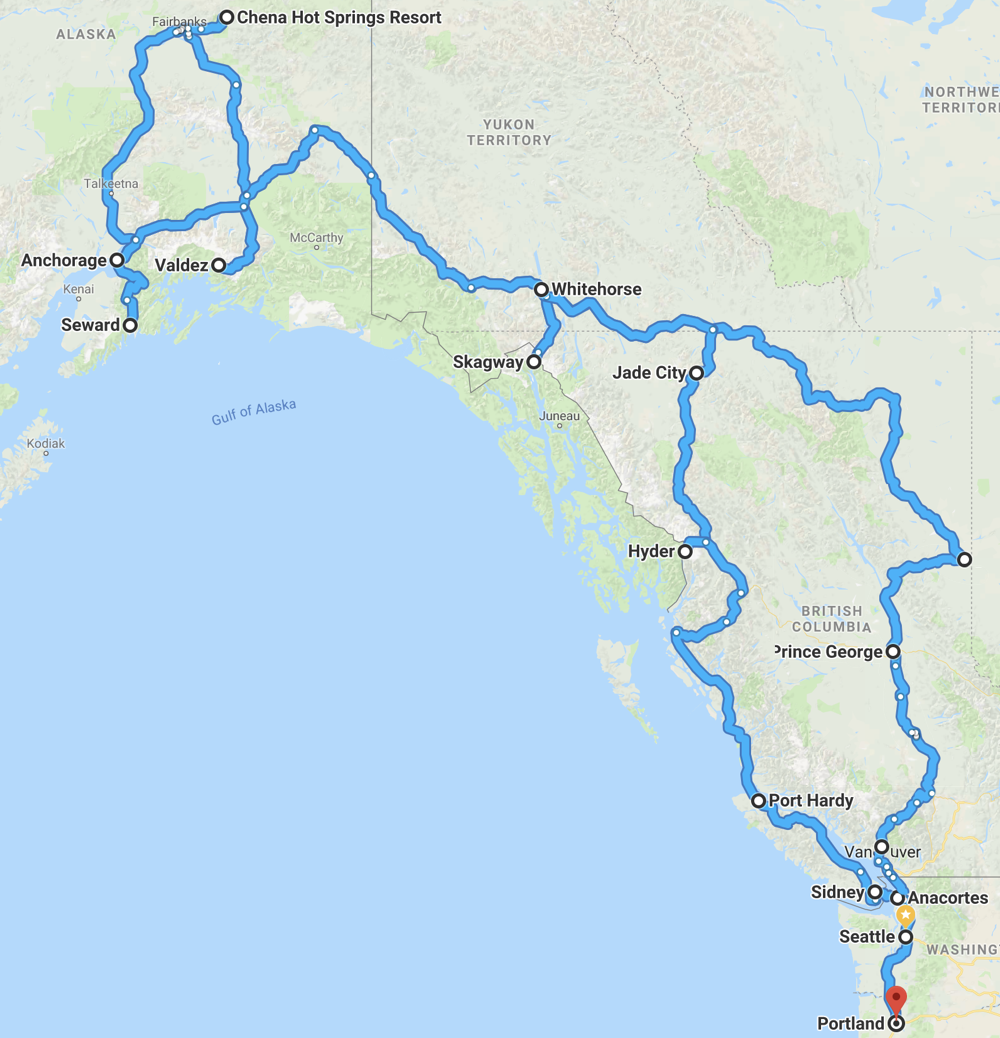 Wow, seems like a long trip!
The average American motorcyclist rides under 3,000 miles a year according to industry studies. Assuming you are like most motorcyclists then, a trip to Alaska from the lower 48 likely represents a sizable proportion of the total miles that will ever be put on your machine. You'll be putting in higher-mileage days than your machine is used to, day after day, and as such, any minor problem, stretched maintenance windows, poor ergonomic adjustments, are going to be exposed and magnified.
How was your motorcycle, The.. The.. what was it again? Was it a good choice?
"The Morrigan" - so named for reasons but primarily because a friend suggested it on Facebook and it stuck 😉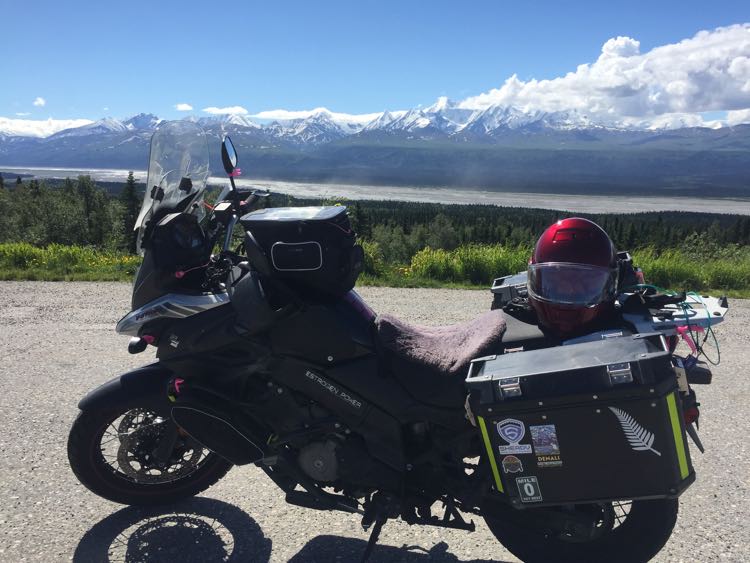 It is a 2017 VStrom DL650 XT, and I really did enjoy it. While a smaller bike, it handled the weight of me, gear, and luggage just fine. There is quite a bit of social pressure to ride certain bikes for ADV touring — I'd wager that 90% of the ADV motorcycles I saw on the road were BMW GS1200s — but you don't need those large, expensive machines to do these kinds of rides. The DL650 is fun to ride, lightweight, maneuverable, got "good enough" mileage, and was easy to maintain. No complaints here!
So what broke on The Morrigan?
The list of things that rough pavement, slippery dirt, churning gravel, hail storms, 22-hours of sunlight, and plain old operator error vibrated off, snapped, wore down, or otherwise broke includes:
2 bolts from luggage rack
2 bolts from fork brace
Left-hand heated grip came unglued, occasionally it spins and blocks the clutch
Clutch cable is super stretched out
The whole FI problem that is yet to be solved
Low-beam LED ran hot and the glue holding one of the surface mounted LEDs melted, causing the bulb to die
Leaky fork seals from rough roads
Worn out rear brake pads
Oil change in a hotel parking lot
Endless chain lube sessions
Front sprocket due for replacement due to Yukon grit jammed up inside
On the grand scheme of possible mechanical issues, these are relatively minor, and solved with trips to the nearest hardware store., but you have to be prepared to accept that the road will give you something different every day - rain, heat, construction, animals, bad RV drivers, gastrointestinal issues — but the joy is in the living through these sorts of issues, and surviving them. These hassles are the trip, not the number of miles you rack up or the stickers you get as proof of your accomplishment.
Any gear surprises?
I was super pleased with my cot for camping. It is a major improvement over sleeping on the ground, and doesn't take up much space or weight allowance.
I also was quite pleased with my DrySpec bags I used as toppers for my hard case panniers - they fit all my camping gear between the two of them, and fit almost perfectly on top of my Givi Trekker Outback 37L cases.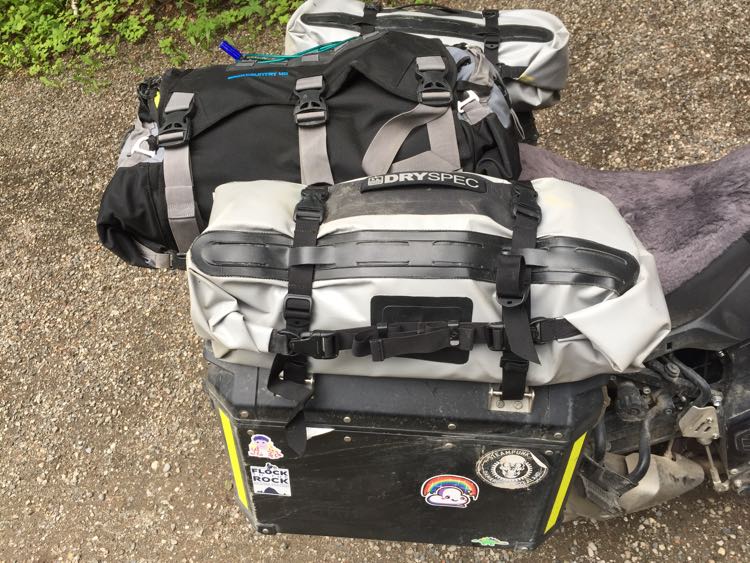 Anything you regret carrying around?
Regret is a hard word.. I'm not sure I made full use of the SPOT satellite beacon, but then, as my dad pointed out, if I needed it I'd be glad I brought it along. I brought a half dozen extra stuff sacks and straps, and ended up not needing any of them, either.
I also ended up not using my hydration pack at all; it was never so hot that I needed constant access to water. The pack added some extra logistics to my packing, and ended up just being a bit of a useless nuisance. I'll probably keep carrying it for a few more trips, but I'm considering replacing it with a hydration pack that mounts into my tank bag.
Otherwise, I don't feel like I had many regrets, either things brought or things forgotten!
I see a lot of people carrying extra fuel..
snort
Look, depending on your bike, you may need extra fuel, but if you've got a comfortable and reliable range of 150 miles, you're fine, and the extra fuel bottles is just ADV flagging, signaling that you're one of those hardcore ADV riders. I never went more than 90 miles without seeing gasoline available. Granted, I started north during the beginning of travel season for tourists, and was traveling north during regular business hours, but gas was plentiful and available. This is where investing in the latest version Milepost, a guide to the highways of Alaska, Yukon, and British Columbia will come in handy, detailing each little town or stop along the way and what services are available there.
I recommend getting and using some kind of fuel tracking app that will help you keep track of your running miles per gallon (or km per liter) as you go, so that you won't fool yourself; I have a 5.2 gallon tank on The Morrigan, and I have it stuck in my head that I get 48mpg, so that's like.. 250 miles? ..except now I have added a ton of gear, changing the aerodynamic profile, the roads are questionable, some days there's a headwind.. don't trust the range meter on your dashboard for more than a rough guess. Track your own fuel consumption from gas station to gas station, and learn what your bike's comfortable range is.
How about tires?
This one is tricky. You do any kind of internet search for any model tire, and you'll find a range of reported mileages, some people claiming "worst tire ever! Ran it bald in a thousand miles!" and other saying "Oh I got 20,000 miles and still had usable tread left!" The thing is, tire wear isn't uniform from rider to rider, and even trip to trip. Think of all the variables involved:
Weight of rider and load
Tire pressure
Road surface
How aggressive on the throttle is the rider?
Ambient temperature
There are of course, going to be tires that tend to get higher mileage than others, based on characteristics of their construction, but there simply isn't going to be a reliable way to guarantee an even halfway accurate ballpark figure. For example, I rode up with brand new Shinko 705s, and saw people report 3,000 miles, and other people report 12,000. They're generally accepted as a tire that doesn't tend to last all that long, but is cheap enough to replace frequently, and I had such a great experience with the OEM Battle Wings that I felt generous towards my tires in general, and took a gamble. I got a shade over 3,200 miles on my rear tire, and chose to swap it out with 35-40% usable tread left (and of course promptly forgot it at the shop in Anchorage, instead of strapping it on the back of the bike to bring it home to Seattle with me.. DOH!) You could ride the same bike as me, with the same load, 30 seconds behind me, and get vastly different results.
So you just bought a new tire in Anchorage?
Yeah, here's the thing though: Alaska is at the ass-end of the supply chain for everything in North America. Anything you want has to be put on a ship or a plane, so you're going to get get dinged with what I informally thought of as "The Alaska Tax" – most motorcycle parts, gear, and supplies were 25% more expensive than I could get them in the lower 48, and that's assuming they even HAVE the thing you want. I had to call 5 different shops before finding an in-stock tire that would fit The Morrigan, and I never did find a rear brake pad set for a VStrom, after calling a dozen shops in and around Anchorage.
So, if you know (or even suspect) you'll need fresh tires, an oil change, or some other kind of maintenance or consumable, you have 2 choices - haul it with you, or order it ahead of time. Personally, I'd opt for the latter; hauling stuff increases your load, and that's a hassle on many levels. Now, you can get a local shop to order things for you, or you can ship things to yourself; most FedEx and UPS storefronts will hold packages for you for a week or more, and that's a generous window of time for planning.
Now, I got lucky with the tire, but it took some work and stressed me out. The oil change was, for me, relatively easy, since its an off-the-shelf filter and wet-clutch oil is relatively available; I found what I needed at a local auto parts store without much hassle, but if you've got a special thing, it pays to plan ahead.. this is ESPECIALLY true if you ride a common bike that needs special parts, like, say, the BMW GS1200, which apparently needs bespoke everything. There's so many of these bikes on the road that there are dealerships in Anchorage and Fairbanks, but they also run out of common stuff. Call ahead.
How was the food? I can't really think of anything "Alaskan"..
This is not a region of the world that is exactly known for high cuisine. You're going to find a lot of bakeries and burger shacks of variable quality. Be ok with eating less-healthy options, and not having many menu options period, or pack a few meals of foodstuff that doesn't need refrigeration. Embrace grazing at grocery stores when you have the opportunity, and stock up on snacks and supplies.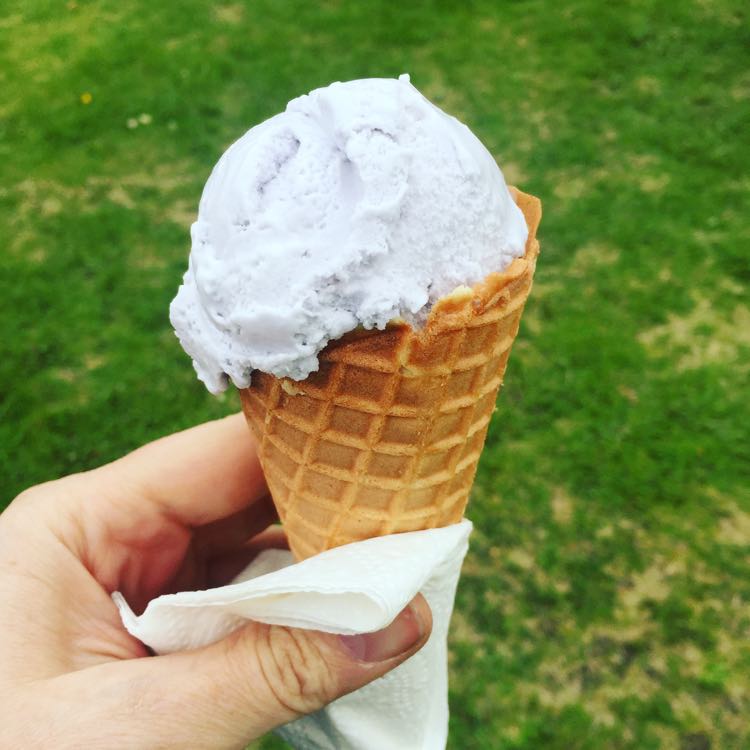 I read I should bring cash?
I only encountered one or two places that didn't accept credit cards, but recognize that you're most often going to be dealing with smaller businesses, locally owned, and possibly only seasonal. Do them a favor and pay with cash when you can, and save them the 2-3% merchant fee. Things are expensive up there, though, and ATMs aren't every where. Plan appropriately.
How was camping?
Oh, I loved it! I used a combination of camping and AirBnB to keep my costs down. Housing is shockingly expensive, but staying in someone's tiny house, garden cottage, or basement MIL apartment at half the cost of a Motel 6 was a way I kept the costs in check. Camping is something I enjoy, but it might not be your cup of tea.. but consider that a campsite at an established campground might cost 1/6th what a "cheap" motel might cost you.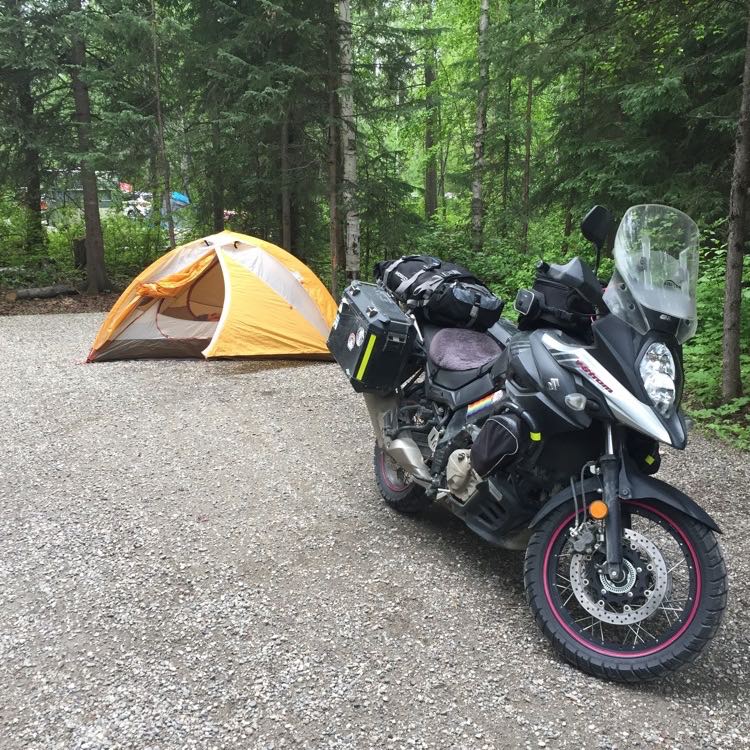 Should I bring heated gear?
Ah man, I don't know, you do you. I never needed it, but a few times I was glad of the heated grips and having an extra layer I could put on under my riding gear.
You saw a lot of bears! I'm worried about being attacked by a bear.. what should I do?
First off, let me tell you that nearly every person on Earth, no matter how reckless, has a healthy fear of injury and death. That said, in North America you are 3 times as likely to be killed by a snake bite as by a bear, and 25 times more likely to be stung to death by a swarm of bees than mauled by a momma grizzly. You'll find literally hundreds of threads about bear deterrents and how to stay safe in bear country, but you almost never see anyone post about carrying an epipen or first aid kit!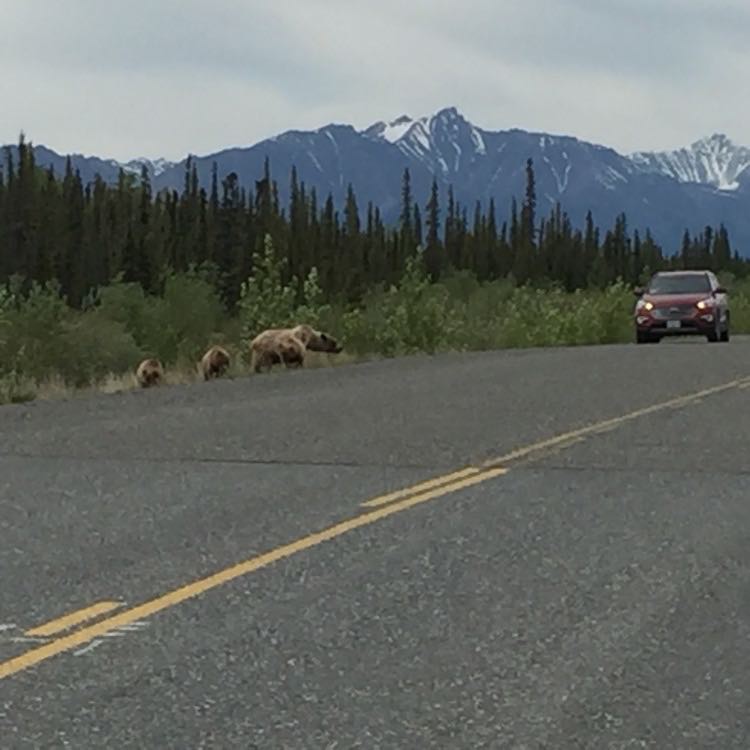 That said, it is a thing to take seriously. Take the sensible precautions you can to ensure that a highly unlikely bear attack will not materialize, as you'll protect not just yourself but also the next person through your actions. How so? Well, bears are most dangerous in 2 situations - you surprising or threatening them and their cubs, or when they've lost their fear of humans through habituation. So if you must stop and take pictures of a bear, stay in your vehicle or on your bike, give them plenty of space, and give them plenty of warning that you're coming when hiking.. and don't for the love of god feed them! This is why campsites have bear-proof garbage, bear cans are required in back country camping situations, and there's plenty of advice on not bringing food into tents, leaving it on picnic tables, etc. Lock it up, or leave it at home.
…that said, I did take some basic precautions. I only camped at established campgrounds, carried a bear banger (which is basically a small pocket-sized flare/flash bang launcher), and I strapped an air horn to my bike (it also helps to wake up drivers who are texting at intersections!)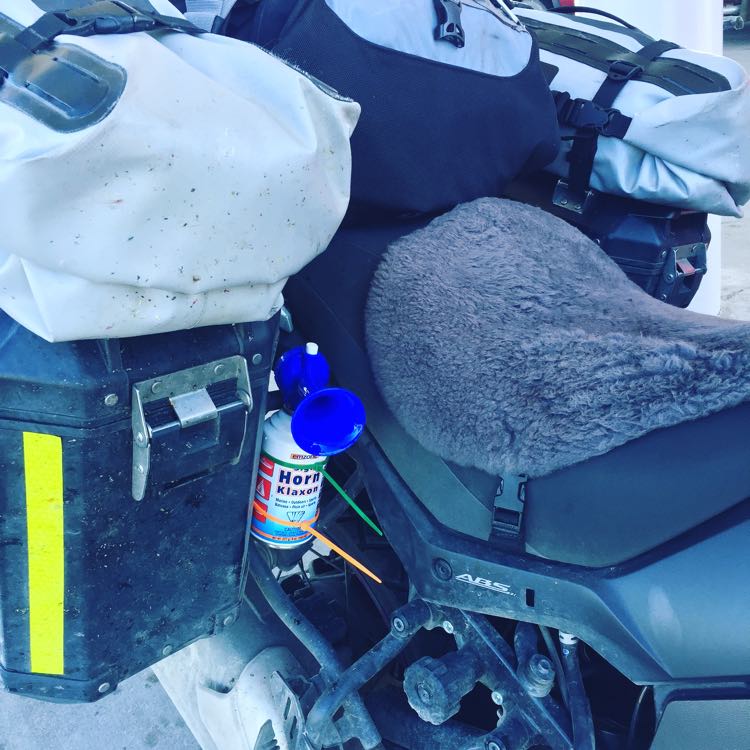 Would you do it again?
Yes! I'm already thinking about 2019, and the routes I'd like to try. I want to spend more time in the Yukon and the Northwest Territories, and spend more time on the Kenai.
Anyways, that's kind of my brain dump about the most common questions I've gotten about the trip. If one occurs to you that I didn't cover, feel free to email me or leave a comment below and I'll get around to answering it.
#motozor/alaska