I woke up 5 minutes before my 4am alarm, confused because it was dark outside! I've come far enough south now that the sun sets around 10:30pm and doesn't rise until after 5am. Bike loaded, I stopped at Tim Hortons for breakfast coffee and a donut, where I noticed that my low beam bulb is apparently not working. Expensive LED light, it is most likely a loose connection but I'm not feeling like dismantling the entire fairing and dashboard to wiggle some wires at 5am! It'll be ok, the high beam and the parking light are still operational, and I'm only riding during the day, so I can figure it out when I get back to Seattle.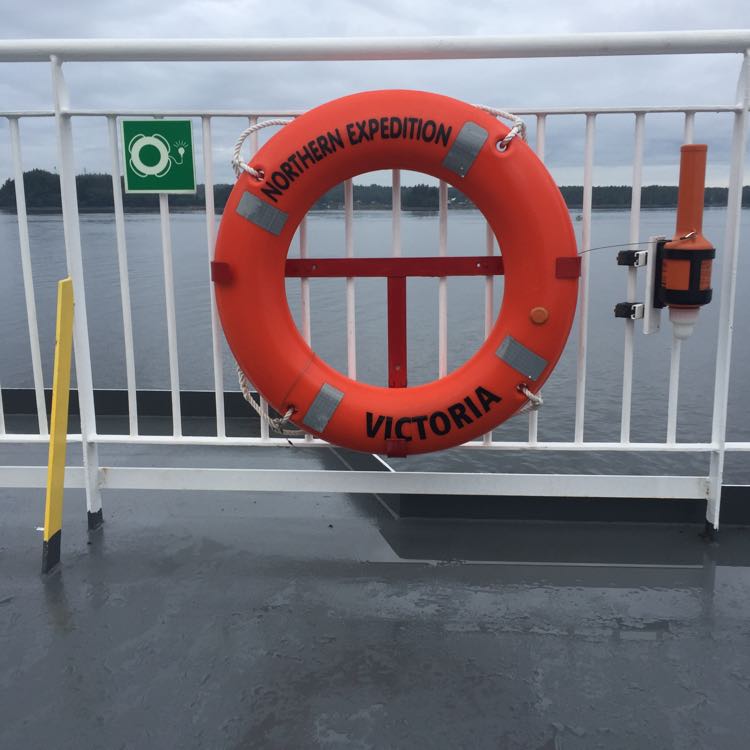 While waiting for the ferry, a wonderful woman and her Australian Sheepdog walked by and started chatting. Caroline is an elementary school teacher, 31 years in the Vancouver school system, and we talked all about how education has changed, kids can't do math or sentence diagrams, the Oxford comma, etc. She was quite taken with the rainbow stickers on The Morrigan, which got us talking politics. She's an NDP supporter, so we talked about socialism in Canada and the US, how our national identities differ, etc — we agreed on the proposition that Canada is a country that is always asking itself what it means to be Canadian, while Americans just know we're the best and that's that! We played fetch with her pup, Samson, and she told me about her husband, Renee, who was in the army and from Quebec, 10 years her senior. She'd grown up a military kid, following her parents around North America and the world on peacekeeping missions, NATO postings, etc — quite a life! She was very sweet and complimented me on my lack of accent in both English and French ("You have a very neutral accent, I thought maybe you were from Vancouver or Ottawa? ..and your French is very Quebecois!") Lovely 45 minutes, waiting for the ferry loading to begin… although poor Sampson has fleas and my left hand is now covered with flea bites.. oh well, that's the price you sometimes pay for good dog skritchin' time!
I was the first to load onto the 120 car ferry, and got The Morrigan tucked up in the front of the bow. The deckhands strapped her down, and I stripped out of my gear and tucked away valuables; the car deck is closed to passengers once you park, except for 15 minutes every 2-3 hours, but better safe than sorry.. and I really don't want to be walking around for this entire 16 hour voyage in my gear!
The ship is full of families returning to Victoria and Vancouver, and a 3-bus convoy of retired German tourists, 90% of the vehicles being RVs and campers. There are 3 motorcycles that boarded at Prince Rupert, myself and the retired Danish couple on impossibly shiny Harleys.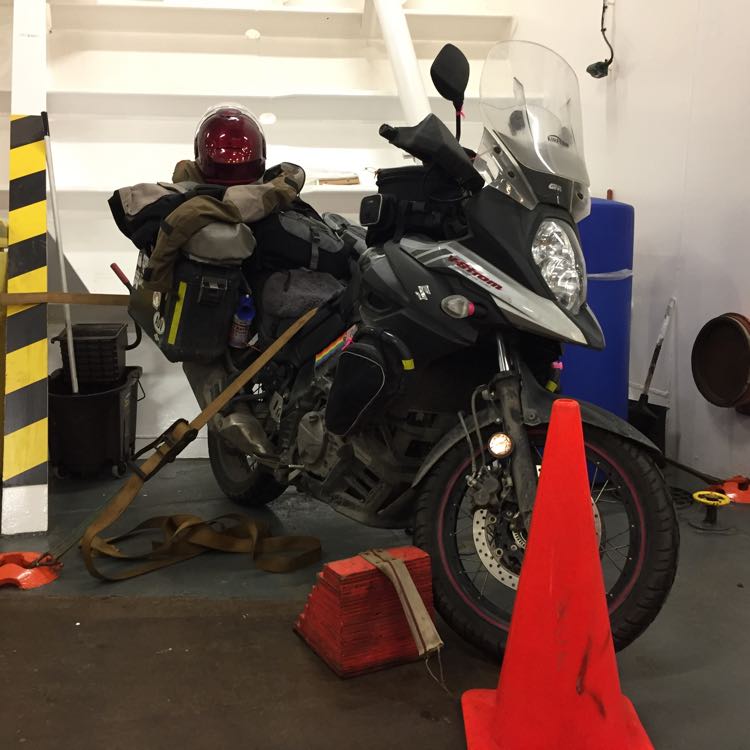 The ferry itself is really modern and is the newest of the BC ferries, having been launched in 2009. 2 restaurants, a movie theatre, children's area, gift shop, and it all feels like a scaled-down cruise ship. Power outlets are few and far between, but as I was first on I was able to scout a number of good locations for charging the laptop throughout the day; it is a 16-17 hour trip, all told, so if I want to do any work on the computer, play a game, watch a movie, etc, I'm gonna need more juice!
The Inside Passage is a series of narrow channels, flooded fjords that cut large, granite chunks off the tattered western edge of Canada, surrounded by hundreds of islands of rocky crumbs, felted with spruce, rimmed with barnacles and bleached logs awash on beaches of quartz pebbles and seaweed. This is not a populated land, a handful of automated lighthouses and crumbling cannery towns, mere ghostly shells now. Sea lions abound, and whales breach and dive as we drive south, the narrow fjord walls closing in.. 2,000 feet… 1400 feet.. and the narrowest passage, a mere 800 feet for this massive ship to thread. Below us, the water plunges to an average depth of 1600 feet, even within a stones throw of shore; we are floating past the tops of mountains.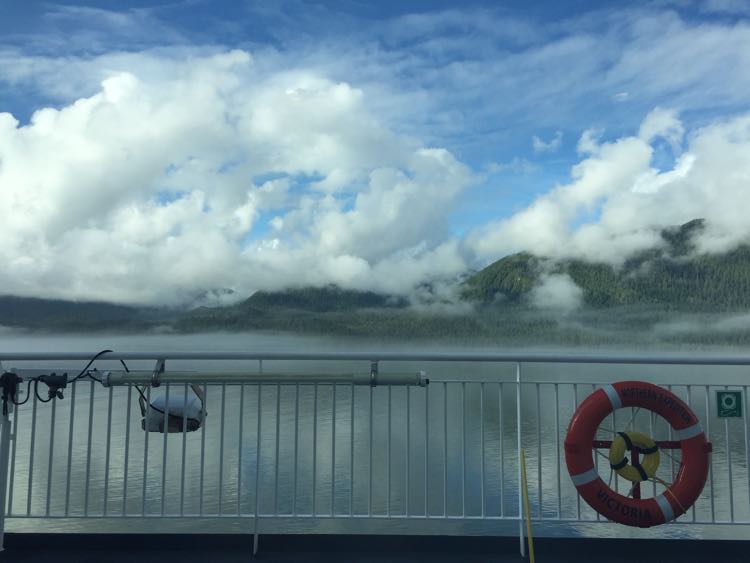 The sky is impossibly blue as the fog burns off, leaving strands to drift high and thin. The air itself is calm, restful, the water often glasslike in the lee of these islands. I snack on pepperoni, chocolate cake, a tuna fish sandwich, and cup after cup of earl grey tea from the cafeteria, and ponder my dinner plans - pay for the fancy buffet? Graze on fried food and prepackaged salads? My body demands vegetables and protein; the diet of starch and carbs and sugar that convenience has demanded of me on this trip has taken its toll; I did a poor job of eating what I needed to repair the daily toll my body, rather than what my tongue craved. I watch a young, world-hungry traveler tuck into his ramen, and I am ashamed, of my good fortunate at winning the career jackpot, despite all my attempts to fuck it up; ashamed of my body, not because I am fat and that itself is morally wrong, but because I can afford an amount of laziness and caloric intake that makes me literally as well as figuratively soft. Am I truly Aware when I am paying attention to the world, drinking it all in, but not paying attention to myself? When I have got up into the gaps, Ezekiel-life, to chance a glimpse of the back of God, if I ignore my grounding existence, can I truly be transcended in those moments? I am only a traveller, after all, strapped to this ship, the rickety and vicious La Vie, that once boarded can not be steered, strapped to the mast as we hurl towards time-shrouded rocks of destruction.
As Duke said - buy the ticket, take the ride.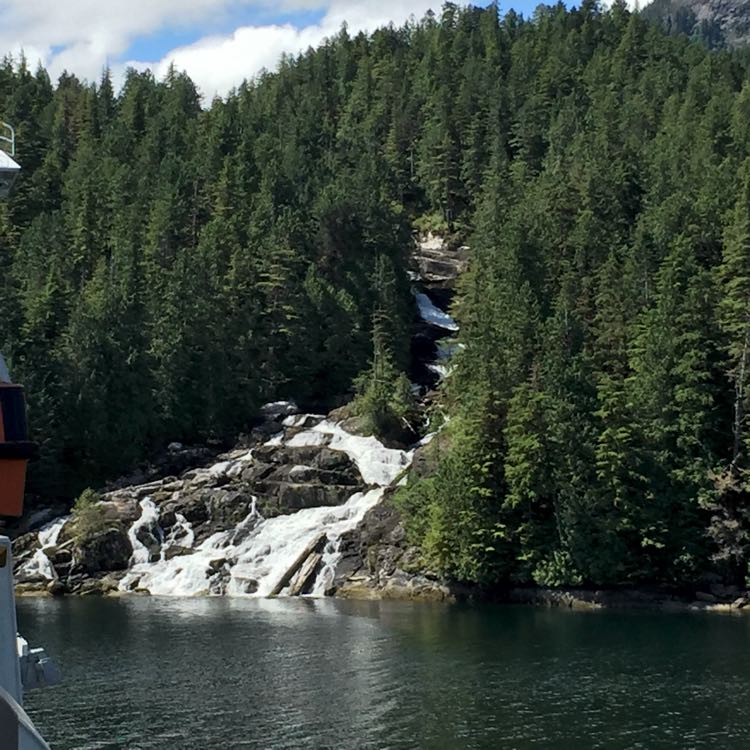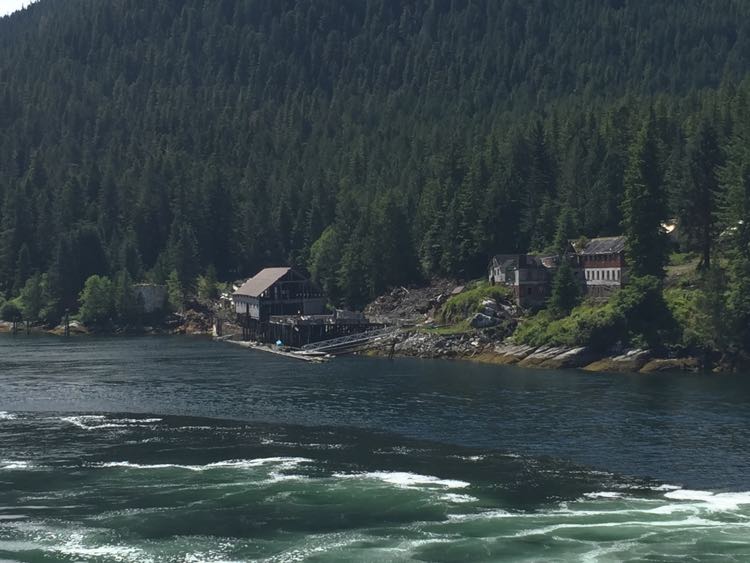 10 hours into the trip, we stop at Bella Bella, a sizable community it would seem, with canneries and lumber mills that seem to be in less disrepair than the abandoned ones being slowing digested by the forest, but still a bit rusty and in need of paint. We disgorge a handful of RVs, and fill our remaining vehicle capacity with big working pickup trucks, the ones with big engines and extended cabs, vehicles that seem patently ridiculous when I see them on Seattle streets, but here they represent a vital tool in the competition to see how long you can stay out here.
Maybe that is the measure of place that I like the most, the ones where your success is measured not by the number of cars, the size of your TV, or the green of your lawn, but by how long you're able to stay there, in the face of swinging seasons, isolation, lack of economic opportunities.. where you're choosing to go to a place and grit it because… you're driven there? You fell head over heels for a landscape? Something got under your skin and you're bound to this time, this place, this community, as best you can. You are not a visitor, not a transplant to the landscape - you become the landscape, and inherit its story.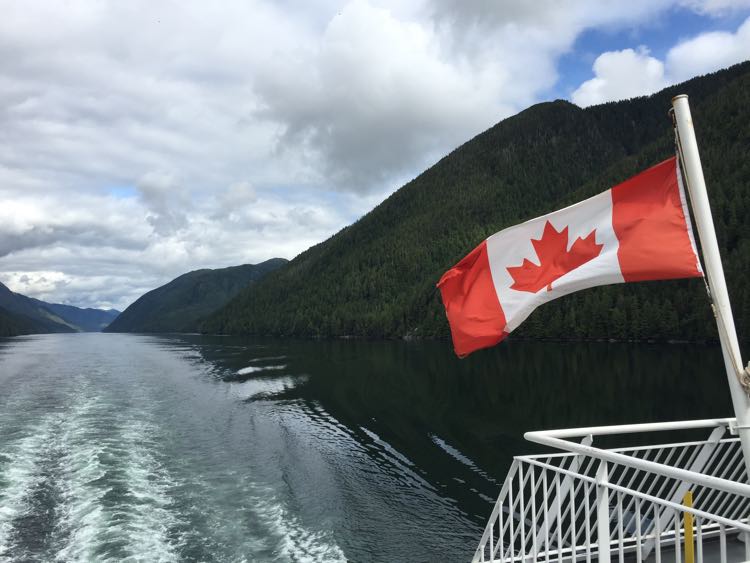 Around 8pm, we started seeing orcas! I've never actually seen them in the wild, so this was a nice treat. I ended up eating a salad and chatting with Caroline (the school teacher from this morning) for 2 hours about socialism and teaching tech, and she was perfectly lovely. At 10:30pm, the whistles blew, I put on my gear (ATGATT) and stood with the Harley riders (who knew you could get Harley-branded fringe leather pants, gloves, jacket, and SOCKS with fringe on them? Apparently you can!) Rolled off the ferry, sorely missing my low-beam bulb, but the cheap motel was only 4 or 5 km away.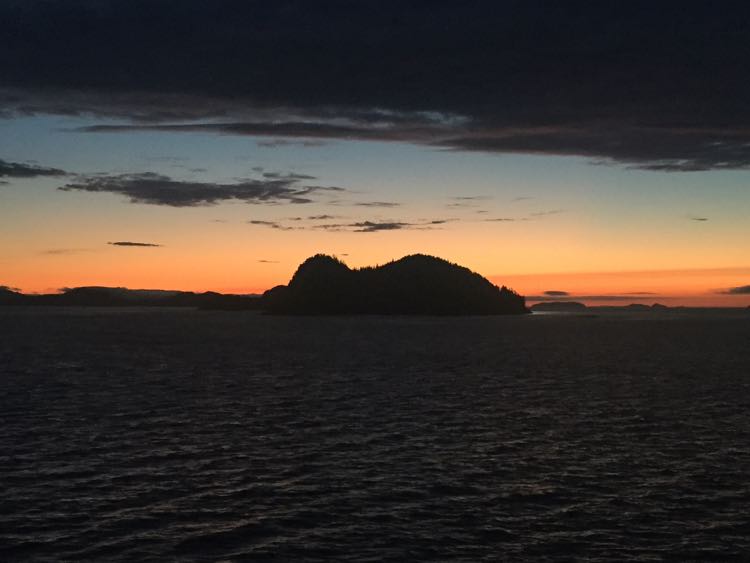 Tomorrow I'll ride Vancouver Island, approximately 300 miles south towards Victoria. I'll be staying at an AirBnB north of Victoria, close to the ferry dock in Sidney, BC, where I catch the ferry to Anacortes, WA at noon. From Anacortes, its only a 90 minute ride home!