I broke camp early again, awake at 5am trying to decide if I needed more sleep or not. Last night is scheduled to be my last tenting night on this trip, and I've relearned the joy of it. Of course, after a long day of riding, and without electronic entertainment or friends to pass time with, I might as well sleep when I'm tired, so truly I'm on a Ben Franklin-esque "early to bed, early to rise" plan.
I lazily broke camp, making instant oatmeal and coffee. I always prefer the picnic, the roadside snack, the grocery store grazing, because the simplest of foods always seems to please most.
While working on folding the tent, a fox padded into view, using my campsite as a shortcut to goddess-knows-where. He blithely trotted by, not 10 feet from me, a large, tortoise-colored thing, white-tipped tail swaying ever so slightly; he obviously knew I was there, he just didn't care one bit. I immediately try to figure out how to incorporate this into my tattoos.
I slowpoke as usual, getting on the road by 6:50am. I tried hosing the bike down again, but not a speck of the stubborn Yukon dirt would come off. 25 minutes into town, I wanted to grab shop towels from Walmart or Canadian Tire, but alas, they don't open until 8am. I park in a Starbucks parking lot and clean and lube the chain, wiping off 800 miles of Alaskan and Yukon grit in a slurry of WD-40 and elbow grease. I break one of my rules and get a tea at Starbucks, because the wifi is fast and the power outlets are plentiful; 2 days of camping and tonight at an off-grid cabin mean my devices are parched.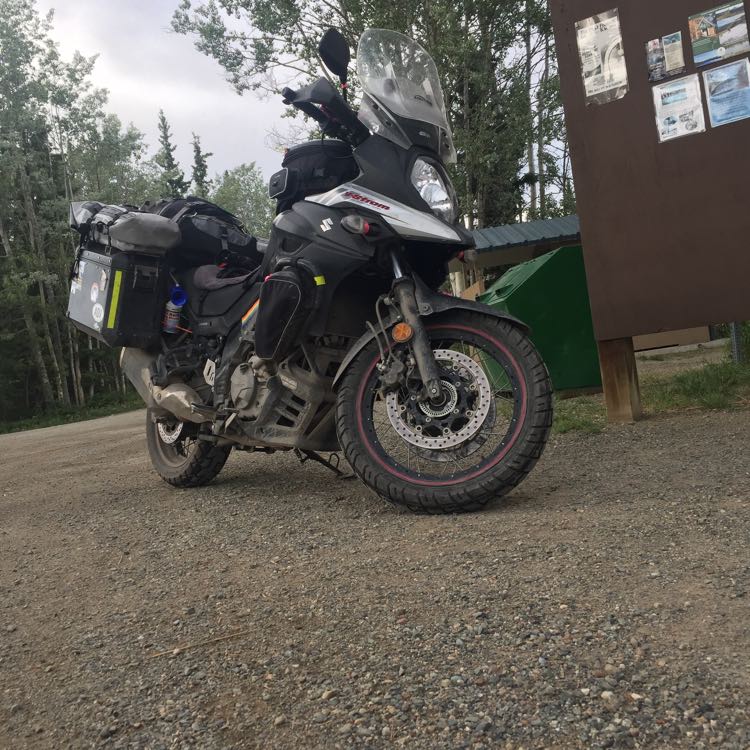 South out of Whitehorse, where I stayed for a week on my way north, the now-familiar streets and businesses drop away until I'm peeling south on roads that only occasionally strike me as familiar - a particularly scenic lake here, a rest area where I talked to the bicyclists, the gas station with the plywood cutout of an RCMP patrol car to trick speeders into slowing down. I stop in Johnson Crossing, the start of the Canol Road, hoping to partake finally of their too-good-to-be-true cinnamon rolls, but the German rafting tourists beat me inside and buy out the last of the morning's batch. I decline the offer to wait 20 minutes for another batch, and head south, getting gas and a quick salad and Denver omelette at Teslin. I trade acknowledgement-nods with another woman on a dirt-covered and well-worn BMW 650GS in the parking lot, and wiggle across the slippery grated desk bridge.
230 kilometers to Watson Lake, with a range of 350 kilometers according to the computer; I seldom let it get even that low, so I keep the speed down for a couple hours to conserve fuel. I spot a black bear and 2 grizzlies. The skies open up a couple times, but never for more than a minute or two, so I push ahead, bored at the wide, sweeping road with big shoulders, guardrails, and well-maintained surface. Lots of Harleys and BMW touring bikes on the road, along with bunches of 4-6 RVs and 5th wheels, all heading north, while heading south are pickups with u-haul trailers, piled with belongings, and cyclists. Time folds, the engine vibrates and chugs, and I laugh, rage, sing, and cry tears of utter sadness as I'm stuck alone with my thoughts again, the headset having run out of juice. Are we all fleeing the impending winter? Are those of us who are southing distrustful of summer's promise? Who hurt us to make us flee the north? What has seduced us to move south now, when winter has been defeated for all time. A sunshine this strong, a breeze so mild, a world so beautiful, winter is banished, never to return, surely.
I finally land at the junction with BC-37, The Cassiar Highway., and gassed up at the ramshackle station and garage. I chatted briefly with an older gentleman on a brand-new looking GS1200, wearing Klim gear so new you could almost spot the price tag still dangling from it. He was having a bit of a crisis, having only just in the previous 15 minutes noticed that on the ride here from San Francisco, his rear tire was worn out, completely bald, cue ball smooth. I could barely make out where there was tread to begin with, and then only in the chicken strips. I advised him to be super cautious if he continued on to Whitehorse, as was his plan, and recommended the Yamaha dealer in town as his best bet for competent help sourcing a tire there. He thanked me in that way men do when you clearly know more about the topic than they do, and they have to acknowledge that you in fact did just give them some assistance, but don't really want anyone who might be watching to know that they needed help in the first place.
Whatever, dude. I sincerely hope you have a safe ride.
The restrooms here were in the detached auto repair garage, and you had to walk through the unlit 3-car garage work area to get to them. I was brave because I had to pee, but did distractedly recognize it as clearly and obviously a set up for the shop keeper, who MUST be a serial killer who preys on passing motorists. His kill-lust must be on the downswing, because I survived.
The Cassiar, when you first get on it, prompts you to think you've made a mistake. It seems a car-width and a half wide, no centerline, and wiggles around trees and small hills like its someone's driveway or access road, not a provincial thoroughfare and one of the 2 main routes through northern BC. It is seal-coat and pebbled pavement for its first 25 miles, griping the tires completely. This eventually gives way to smooth, new tarmac, twisting around pure turquoise ponds and thousands of acres of wildfire damage from 2011. Its straight sections ignore any sort of terrain feature, hillock, ridge, gully, just driving straight forward, then in a new section it decides that no, maybe a cut through this particular small hill is appropriate, and maybe we can curve a little as we come down this one valley.. in short, it is an amazing road for motorcycles. I stop and take a few photos, anxious to get to my off-grid cabin where I'm staying this evening.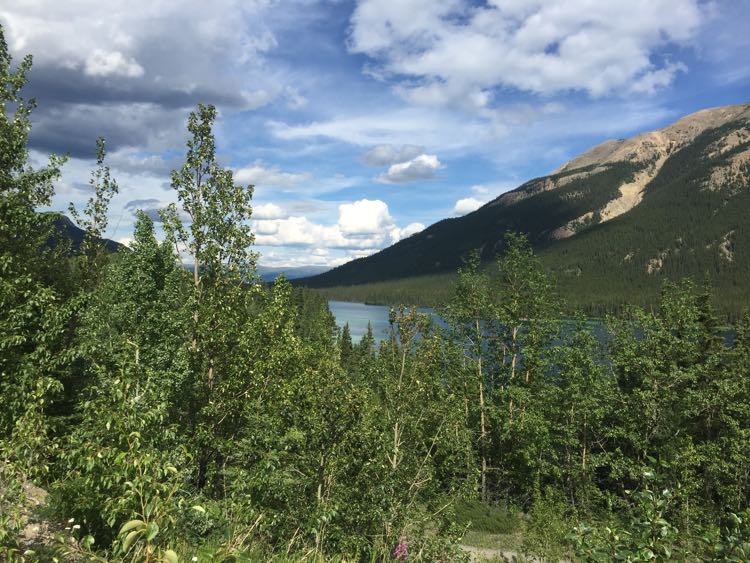 Puppies and Vines B&B is a well-renovated off-grid cabin on Vines Lake. The owner, Kristy, and her 2 giant dogs met me, the dogs giving me massive amounts of love and attention while she showed me the outhouse, the propane-fired open-air shower (yessss!) and around the cabin. It is amazing, I want to live here. No electricity, but propane hot water, stove, and refrigerator, a fire pit, a loft bedroom with a giant bed and balcony, wood stove, overlooking one of those turquoise lakes with its own dock, a canoe I can borrow.. it is my ultimate "almost-a-tiny-house" dream, replete with modern off-grid improvements. The only thing missing is a solar setup; even a small battery for charging USB devices would be welcome.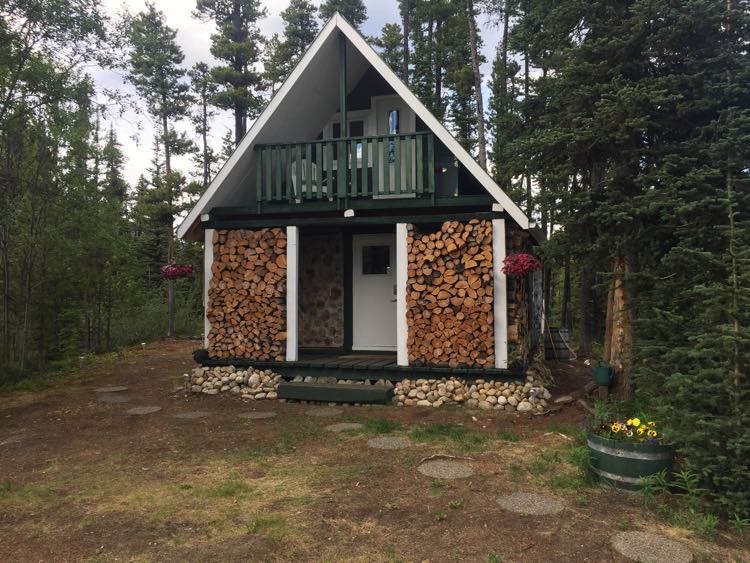 Kristy was a lineman in Alberta and hated it, so bought this place and lived off-grid for 15 years. Her love and care went into so many small touches and comforts, but she's also no nonsense. "There's no one within 4 kilometers of the shower, but if you feel exposed and aren't brave, there's a shower curtain under the sink. Some people freak out." I assure her that I am very brave and will flash any passing moose.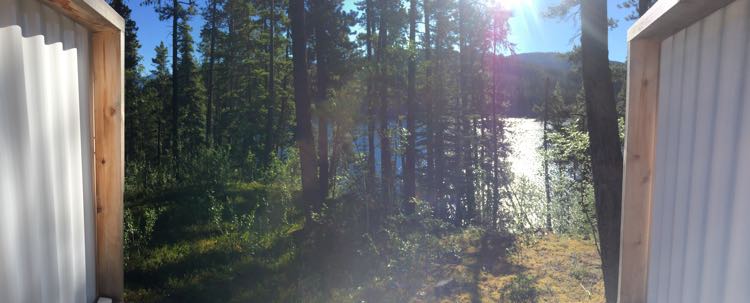 I'm not meeting as many interesting people on this return journey as I did on the way up. Northbound tourists are coming along in much larger droves; 2 weeks ago, I was traveling through just at the start of the season, before the hordes had descended. Already at this point, no one has time or energy to chit chat about their lives, town, or their own motorcycle misadventures. I enjoyed chatting with Kristy for a while (she's a Harley girl, herself) but she had to get back to where she lives now, in a canvas tent-topped cabin 4km away.
Tomorrow's target is Stewart, BC. Its around 300 miles, so a little shorter day than today, so I can dwaddle a bit more if I so choose, but I need to get there by 6pm before the ice cream parlor closes so I can get the key to my hotel room upstairs (YOU READ THAT RIGHT!) I'm debating riding the gravel road up to Salmon Glacier, mostly due to a) time constraints and b) do I want to risk a punctured tire in grizzly county to see yet another glacier?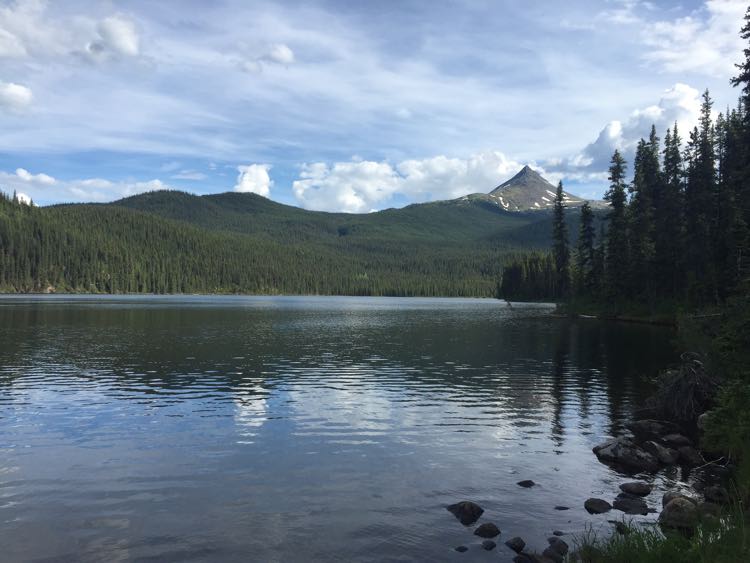 Miles today: 333.7 miles