I can't say I got a good night's sleep, but it was the fault of my neighbors; my tent, cot, and sleeping bag were cozy and comfortable down to 4°C. No, it was the 3 campsites behind mine, each with an RV and 2 tents, a Saturday night partying collection of 20-somethings from California who partied until 11pm, then got quiet. What I didn't realize, at the time, was that they got quiet only because they went to the hot springs for a midnight dip; their small dog noticed, tied to a fender by itself. It started yowling shortly before midnight, waking up not only me and the other campers, but every dog within a kilometer. Someone tended to the poor animal, and around 12:30am I got back to sleep, but was woken again at 3am when the party migrated from the hot springs pool back to the campsites. At that point I gave up and stuffed in the earplugs I normally wear riding, and got 5 hours of restful slumber.
Packing up is slower than unpacking, as my ADD prompts me to fiddle with minor details instead of focusing on getting the job actually done. A fellow ADVRider.com member jogged by and took a photo of my bike, and we chatted briefly; he's from Atlanta and when he heard the road to Tuk was finally open, and that you could finally ride to the Arctic Ocean, he was off on just a few weeks notice. He didn't chat for long, so I wolfed down the remainder of a cinnamon bun from Testa River, stopped at the gatehouse for some postcards, and got on the road myself.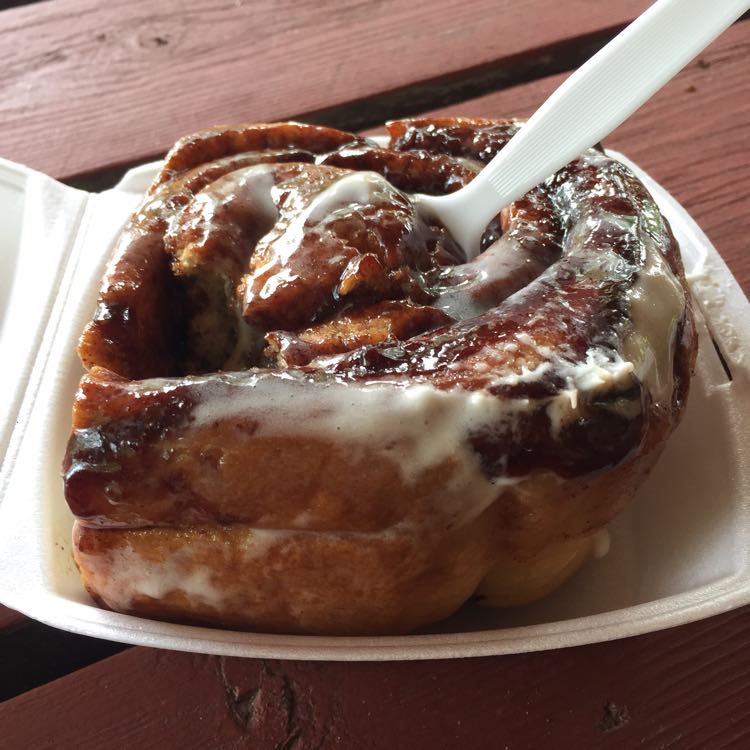 The morning ride to Watson Lake was pleasant, 9°C with a bit of a headwind, enough to drop my mileage below 40, so I had to stop for the most expensive gas I've seen on this trip by far. I don't mind a bit of a markup, but 30 cents more per liter than what I would've paid half an hour before or after felt criminal.. but in the end, it was less than a two dollar difference to me, so ultimately not a huge budget buster on the bike.
97 flirts with the BC-Yukon border, animals flirted with the road, and the wind kept stiffening as I spun westward. I spotted one small herd of bison off to the right of the road, some cows and calves and one giant bull, and I gave half a thought of stopping when I saw the bull start to grunt and stamp and half charge at a calf! I slowed and drifted to the left, just in case. I wish I had stopped, because as I slowly passed I saw he wasn't being aggressive towards a calf, but a fox! The red trickster held its ground, hopping up and down slightly, as if taunting the bull that was easily 100 times its weight; I wish I could've known the entire story of what was happening. Was the fox bothering a calf? Was it just hunting and happened to stray too close? Was it just playing? I'll never know, and I'm ok with this mysterious tableau forever playing out in my imagination.
About 30 minutes outside Watson Lake the land turned from fertile taiga to sandy pine forest, and I stopped for the obligatory Yukon crossing photos. Without a selfie stick or anyone around to help, I don't get proof that is was ME there, but I figure I'll survive.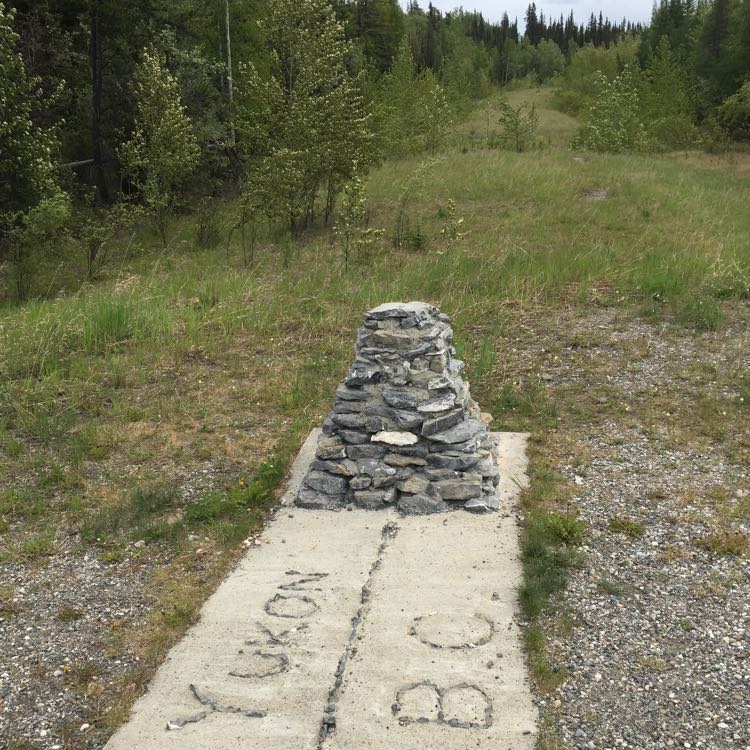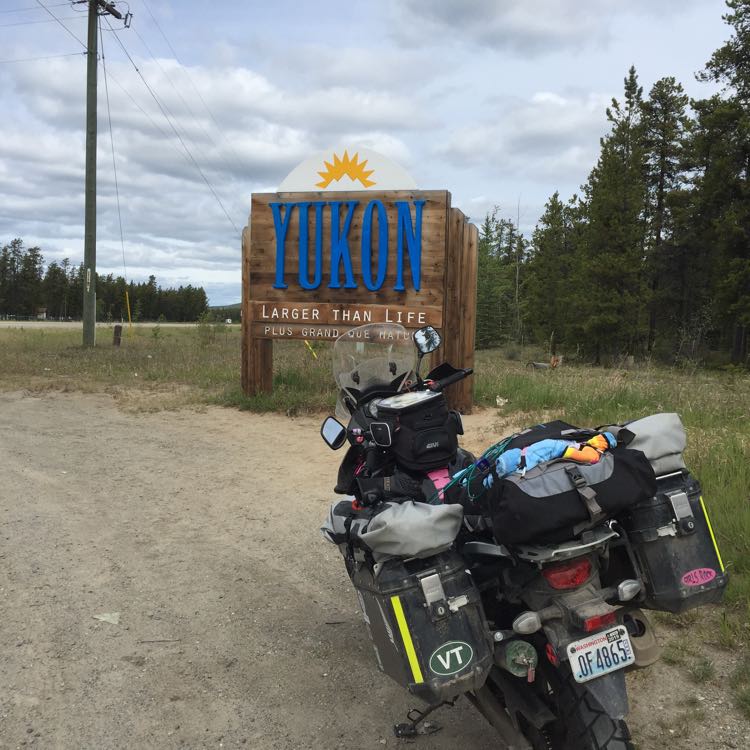 Watson Lake had prominent signs about being out of diesel, but had plenty of gasoline, so I filled up and stopped at the Signpost Forest. According to the visitors center, their count at the end of last summer they had over 83,000 signs from all over the world, with more being added each day as travelers on the Alcan bring street signs, license plates, and handmade commemorative plaques to the collection. I wished I'd thought to bring my Vermont Strong license plate; maybe next time!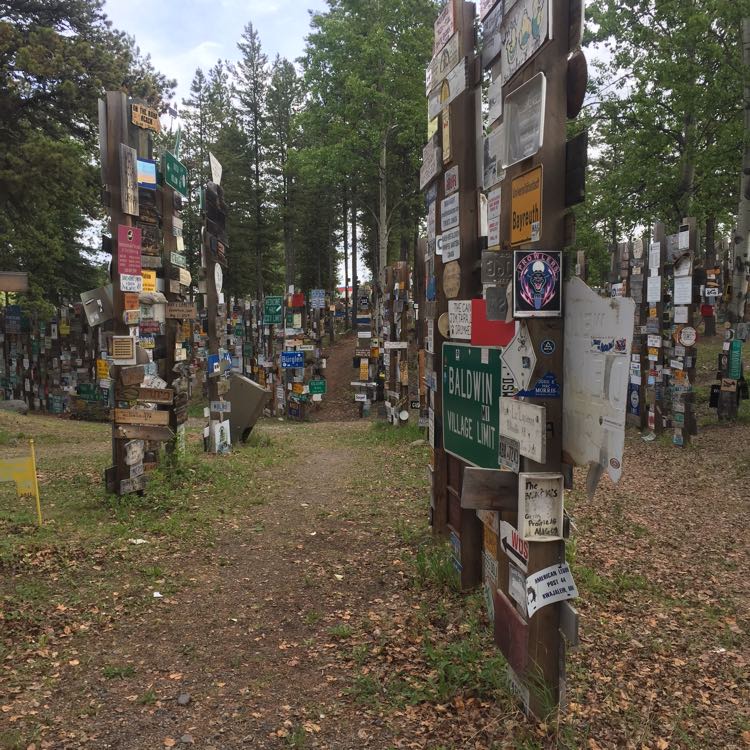 I spent an hour eating lunch and wandering around the Signpost Forest, then hit the road, with an increasingly stiff headwind. I clawed for kilometers, the riding feeling like climbing a hill as gusts battered me left and right, the mere turn of a head causing torque and forcing me to lean against the very air. One particularly gnarly gust slapped the nose of The Morrigan violently to the right, and I had to swerve and steer hard to stay on the road. A true "pucker" moment, I slowed way, way down after that, barely breaking 50mph for the next half hour while steadying my nerves.
Plenty of wildlife and construction zones, including 3 different 10km or longer gravel stretches. The Shinkos gave me a ton of confidence to maintain something resembling speed through these sections. I stopped for gas at one resort, and found out that the reason everyone is out of diesel is because a bearing blew in one of the local hydroelectric dam's turbines, forcing everyone outside of town to run on generators. Diesel was available on an "emergency" basis, which Ronnie, my helpful resort owner, said was "up to me and me alone, and I know who my friends are" — it always pays to be nice when you live rural!
I crossed the Continental Divide again, and shortly thereafter had to slow down to let a porcupine cross. I always think of them as the size of a small dog, but this one was a big, lumbering thing, 2.5 feet tall at the shoulder, not caring one bit about the traffic barreling down on him. I wasn't going to pick a fight so I let him amble around for a bit then I zipped past.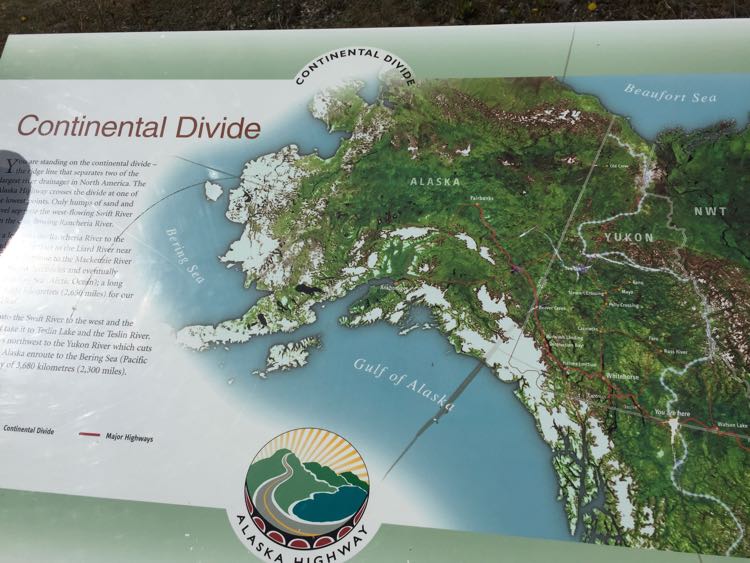 I stopped in Teslin for a slice of pie and coffee when Tom From Georgia caught up with me. We talked bikes and cinnamon rolls for a bit, and he showed me around his Super Tenere, of which I'm only a tiny bit jealous. It is a beautiful bike and well equipped, but I've got my heart set on a 2018 Tiger 800 this winter. It was nice to chat, and I friended him on ADVRider and am following his trip reports up to the Arctic Ocean, sorely tempted to head there myself now.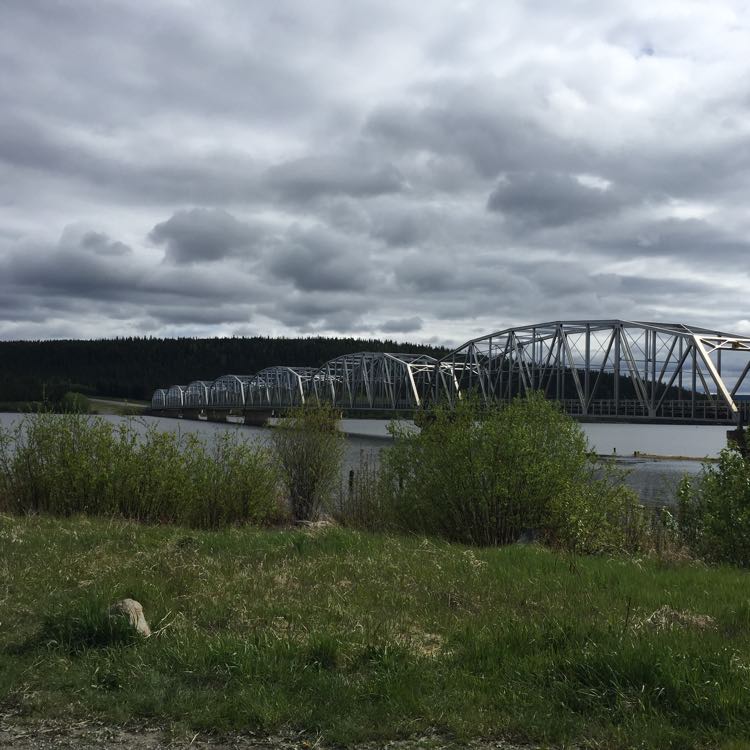 By now the wind had died down, so I ripped up the road between Teslin and Whitehorse, rolling into town almost exactly at the time I estimate. My AirBnB is super cozy, a master bedroom suite with a private entrance in a quiet neighborhood. Whitehorse itself is around 15,000, and has a Walmart and a Canadian Tire, so you know its a "real" town. I'll be here until Friday, when I'm scheduled to ride up to Dawson City. I'm still toying with the idea of sticking around here until the 21st instead of heading over to Anchorage, but it'll be a weather-dependent call at this point, I think.
Actual Wildlife seen:

Caribou: 2
Black Bear: 8
Bison: 14
Fox: 1
Porcupine: 1

Miles today: 432.7