Woke up at 6am to pouring rain and a temp of 6°C, so I crawled back under my covers until 7, when it was merely drizzling and a balmy 7°C. I ventured into the restaurant and had a passable breakfast, although nothing to write home about. I settled up, bought a cookie for the road and some postcards for mailing later, and packed up. The drizzle had become a light sprinkle, but I suited up with all my rain gear; it'd help with the chill, if not required for protection from the leaking sky.
I hopped across the road for gas and tried to talk to a guy on a newer DL1000, but he did NOT want to talk to me, just kept giving me withering looks from the next gas pump, which I found startling; most riders seem overly-eager to chat, but whatever, everyone has their moods.. but this was a first.
Luckily the woman tending the till was much more eager to chat, giving me road advice, which wasn't terribly specific — "When you see a rock wall on your left in 20, 30.. or maybe 50 kilometers, anyways, slow down as you go into the chute.. that's what we locals call it.. lots of loose rock" I also got some weather gossip from her ("Snowed 3 days ago, where you're headed..") and as we were chatting, it came out that she used to be a backcountry hunting guide, taking rich Americans out on horseback for 2-week grizzly and black bear hunts! She told me a pile of stories about helicoptering people out who were injured, being a woman in the hunting guide industry, tending horses in the backcountry.. good stuff!
I finally got on the road at 8:35am, and spent the next hour trying to determine if THIS rock wall was "the chute" or not; suffice to say, no loose rocks on the road. What I did get to enjoy was 100km of rain and 7°C, and of course more of the wide, empty road. Fairly uneventful, and about halfway to Fort Nelson the rain finally stopped and it warmed up to a relatively pleasant 13°C - still on the chilly side, but perfectly comfortable, with my base layers on and my rain gear blocking the wind and helping to trap in some heat.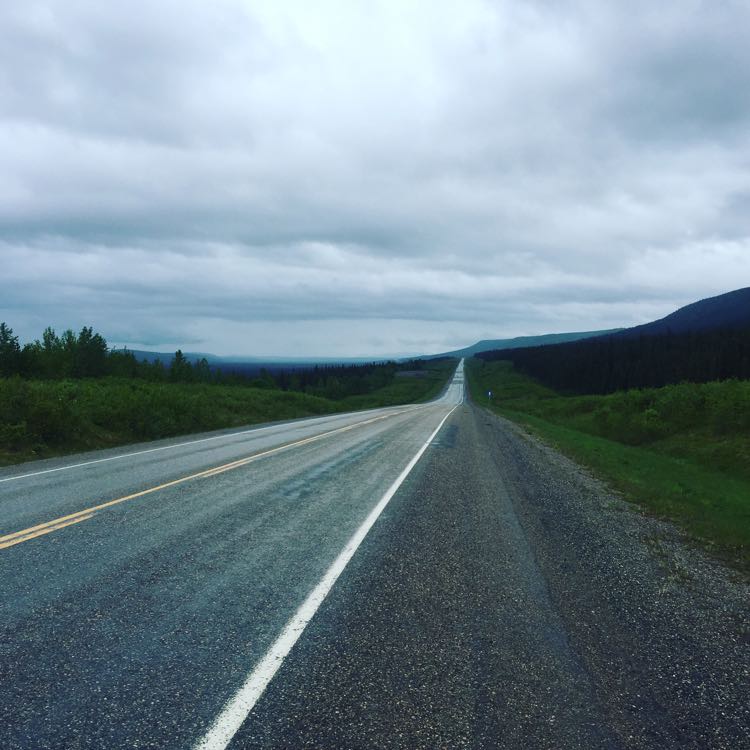 Beautiful and scantily populated, with the occasional "resort hotel" to gas up at, sprinkled every 60-80 miles to get you expensive but needed fuel, for you and your machine. You know you're getting close to town when you see your first cabin tucked back away from the road, with some kind of chain or barrier on the driveway, or when the first farm appears; here is the edge of where people can live and still be part of town. They mark the outer boundary of the psyche of the town, its curtilage, its aura.
So I'm bopping along, listening to podcasts as I do, sitting back 200 meters behind a Cruise Canada rental RV, watching as more and more houses begin to sprout, along with heavy machinery in the middle of dirt lots, when bam goes their brake lights. I slow down as well, and easily spot why — BEAR! It ambled around in the grass off the side of the highway, and then loped off into the underbrush - whew! I'm glad I got that out of the way! I saw my first bear on this trip!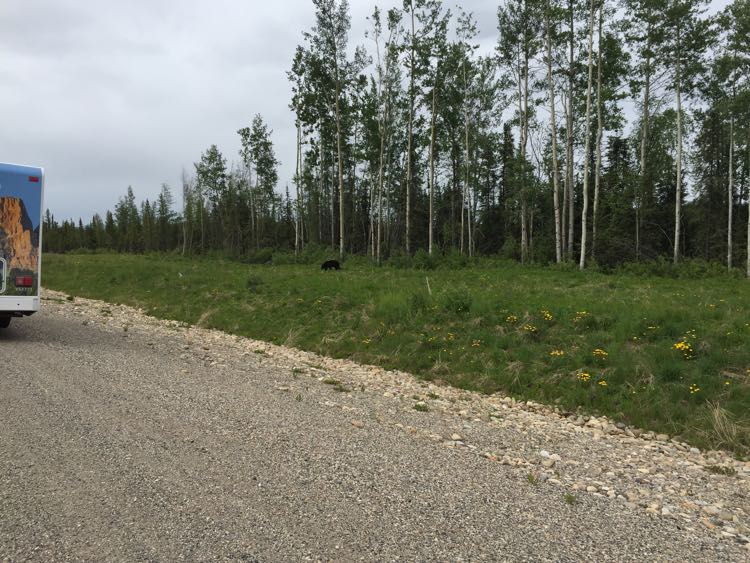 10km more and I'm passing through the true outskirts of Fort Nelson, a gas refinery and power generating plant along with the now familiar constellation of supporting businesses - pipe yards, towing services, welders, and all other manner of heavy machinery repair and maintenance. I pull into the obligatory gas station/Tim Horton's for fuel, get more stink eye from the DL1000 guy, who is just coming out of the convenience store. Go ahead, guy, glare at me, whatever! I'm going for a donut! I pull over to the Tim Horton's parking lot, next to a pair of Honda Gold Wings piloted by two guys from Florida who were doing the Iron Butt Ultimate Coast to Coast and were super chatty with me, but also kind of glazed and one of them actually wandered off while still talk to me and went inside. I don't blame him, as they'd already done some 4,000 miles in 6 days!
Coffee, donut, and gasoline, along with a couple meals of food from the grocery store, and I headed out of town, pushing westward along BC-97 towards Liard Hot Springs. Houses and farms fell away quickly, and within 15km I was back on the long narrow wilderness road with little company. Fine by me! The rain had stopped as well, and I spun up The Morrigan to a comfortable 120km/h heading up into the Rockies.
Twisting the mountain passes, the peaks here devoid of snow and foliage, just large toothy protrusions smashing up from the crust, rock falls abound. The evergreen forests began to be patchy with the lighter green of poplar and aspen, quick to grow in the patchy burns left be previous summer's fires. More wildlife appear, bears, caribou, and mountain goats. A stop in Toad River for gas and a giant burger, then on through a region that, while not exactly treeless, was more rock than plant. This continued as I burned north along the shores of Muncho Lake, the valley finally widening and becoming richer as we follow the Trout River between the Sentinel and Terminal Ranges, the very northernmost of the Canadian Rockies.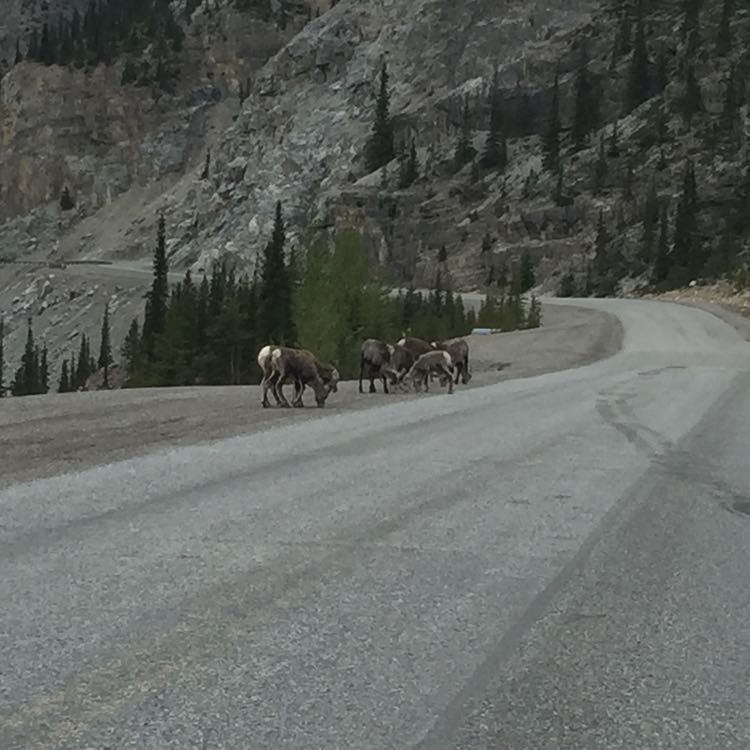 As the land grew more fertile, not only trees and shrubs and grasses had taken root, but signs warning of buffalo, and I'd been looking forward to seeing them on this trip. Traveling down one particularly lush straightway, I spotted a massive brown boulder the size of an SUV grazing on grass — my first wood bison! I stopped and took some photos, of course, and left the poor gentle giant to his feast.
My first wood bison! That was so great, glad I got to see one of the true victories of conservation efforts, they really are a diminished symbol of the western portion of this continent.. oops, better slow down, cars up ahead.. oh, looks like another bison.. no, wait, 2.. 3…5… 37! 37 Bison just handing out, wandering back and forth across the road, 8 of them new calves lying in the short grass quietly, a ring of adults loosely watching them (and, I assume, me, in case I decided to make any trouble!) I took some photos and waited patiently for a break in buffalo traffic to sneak by as quietly as I could — I mean, you wouldn't want some asshole buffalo to come snorting and running through the middle of YOUR dining room, would you??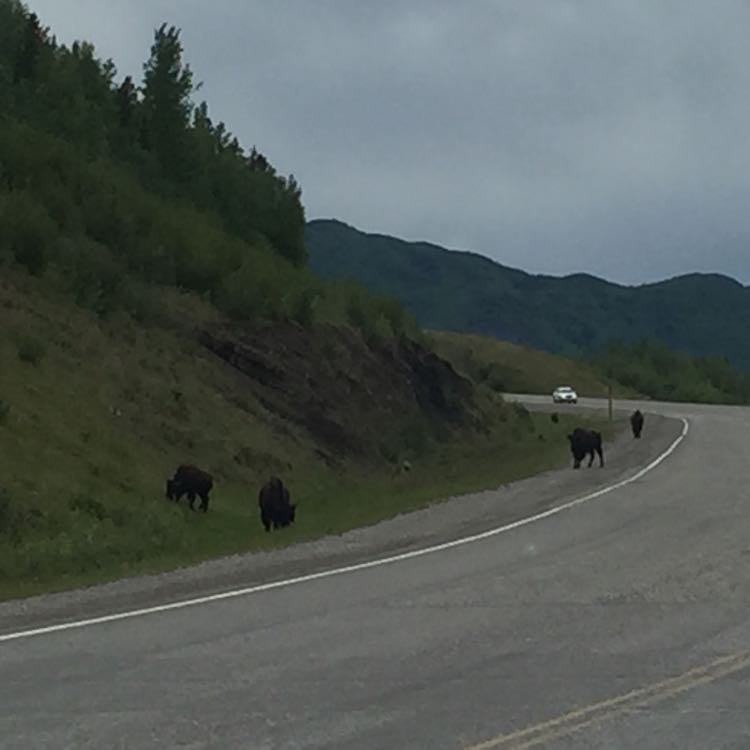 The road dropped down into the Liard River valley, and just past the bridge I turned off into the Liard Hot Springs Campground, a provincial park. Luckily I had made a reservation here months ago, as the campground, its overflow camping lot, and the 2 nearby private resorts were all booked solid. I set up my tent and got unpacked — I've got it down to about 25 minutes, delayed only by my fussing around with trying to find the ULTIMATE strap configuration — and ventured off to the hot springs.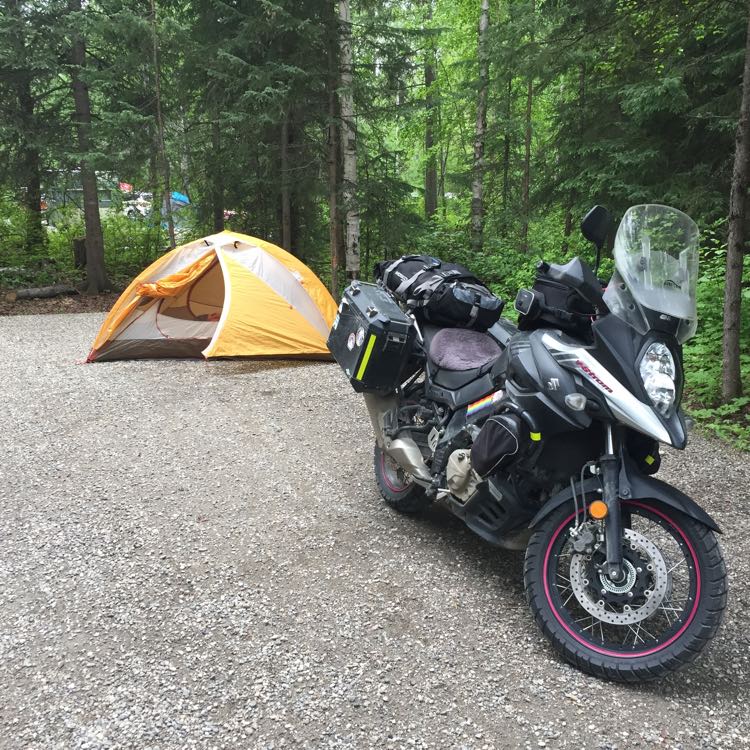 You get to the hot springs by following an 800m boardwalk across the warm swamp; the hot springs drain into this swampy area, which will stay unfrozen all winter long. It is a home for a variety of plants and small critters that normally aren't found this far north (and even a few species that aren't found elsewhere on the planet!) and attract moose, who feed on the algae in the mineral-rich runoff waters. I spotted one, a cow, grazing off at the edge of the swamp, but not close enough to be bothered by my presence, certainly.
The board walk ends at a pair of pools, ranging from 2 to 4 feet deep, with clean gravel bottoms and wide benches for lounging, comfortable changing rooms and bathrooms provided. I lounged in the steaming waters for an hour, and headed back to camp for a quick bite before bed. I chatted with a pair of guys, Tom and Mike, who were also from the Seattle-area, Tom on an '08 DL1000. We talked bikes for a long time, and later on he dropped by my campsite to take a look at The Morrigan and was appropriately appreciative of how cool she is. They're slowly making their way up to Dawson City as well, to ride the newly opened road to Tuktoyaktuk and then sticking around for Dusk to Dawson, the ADV rally in Dawson City on the 21-22.. I'm tempted to stick around until then and at least catch one day of it; I could sneak down to Tok on the 22nd, then on the 23rd burn down to Anchorage in time to meet the women I'll be riding the loop with… hmm, it could work!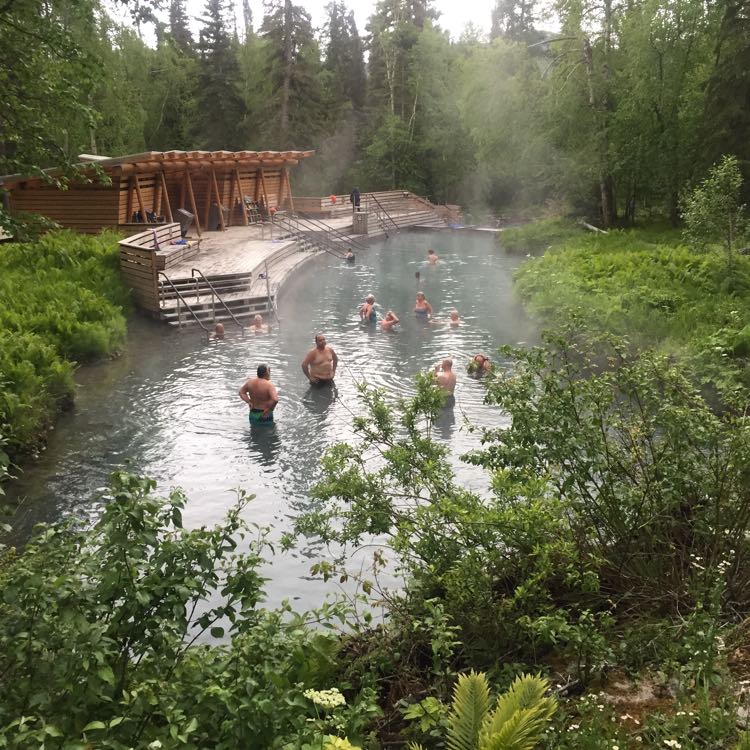 I made really poor time today, mostly due to weather and long stops for lunch and snacks. Local sunset is at 10:25pm, and tomorrow is a long so hopefully I can get on the road early (but I always say that, don't I?)
Actual Wildlife seen:

Caribou: 3
Black Bear: 6
Mountain Goats: 14
Bison: 38
Moose: 1

Miles today: 332.1